there's more than looks to a good landing page.
 Whether you're promoting a product, launching a business, offering a free trial, or selling tickets to an upcoming event, your page will need certain essential features to drive conversions. Must-haves include
a compelling header and visuals, clear descriptions of the value of your benefits/services, social proof (for credibility), and opt-in forms to collect qualified leads.
After testing dozens of landing page designs, I found
 12 that have what it takes to convert.
And if you'd rather turn to a pro to build your landing page, I'll also share a tip on
how to find talented web designers for an affordable price
.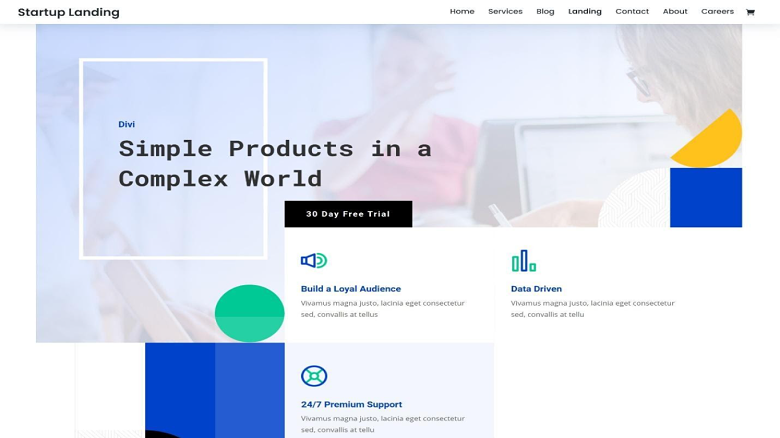 Startup
, a layout pack from Elegant Themes's drag-and-drop builder
Divi
, has a fresh, trendy vibe. Its text-focused design uses geometric shapes, bright colors, and fun illustrations to pique visitors' curiosity about your product or service. This makes
Startup
particularly attractive for an
innovative startup, app, or high-tech company looking to attract new clients or investors.
As your visitors scroll, they can check out
features and benefits, product testimonials, and important partner logos.
 All throughout, CTAs encourage users to sign up for a free trial, become members, or contact you for further information.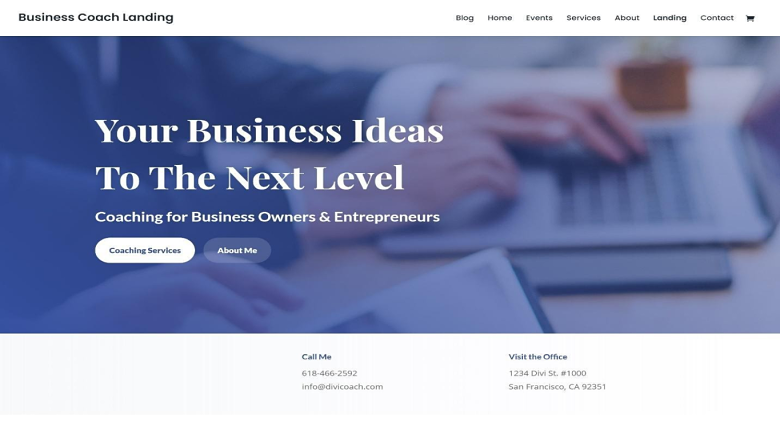 Business Coach
is another optimized landing page from
Divi
that grabs attention with a
bold headline and a couple of well-placed CTAs
. That's followed up with your location and contact info for good measure – and it all happens above the fold. This layout pack
uses every tool in the box – benefits, event calendar, video, social media – to differentiate your business
 and persuade visitors to schedule a consultation, register for a workshop, or subscribe to your newsletter. It's a long-scrolling landing page, but every section is designed to capture and convert.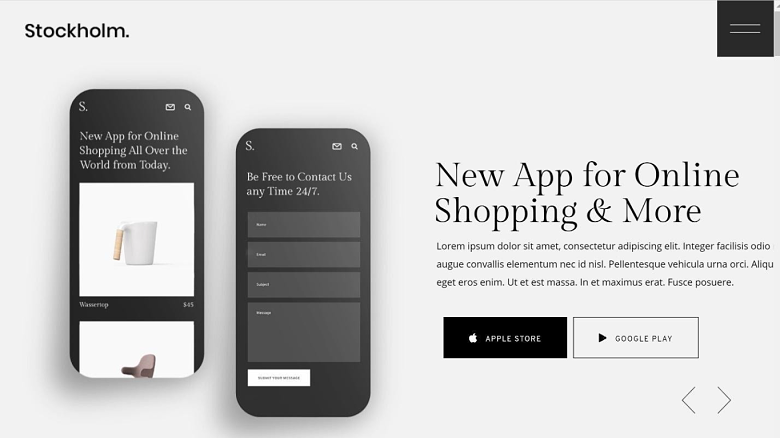 Stockholm
from
ThemeForest
is a great multipurpose WordPress landing page theme
with ten different demos, including
product presentations, professional services, and "coming soon" announcements for films, books, and apps.
One of my favorite demos is
Otto.
 When potential clients hit your page, they'll see a powerful header, photos, and
dual CTAs that prompt users to download your app from the Apple Store or Google Play store.
As they scroll down, eye-catching sub-headers, text snippets, and images lay out the benefits to be gained by downloading and installing your software. While
Otto
 is a landing page that's built for apps, it would also be
a good choice for any digital product, from e-books to podcasts.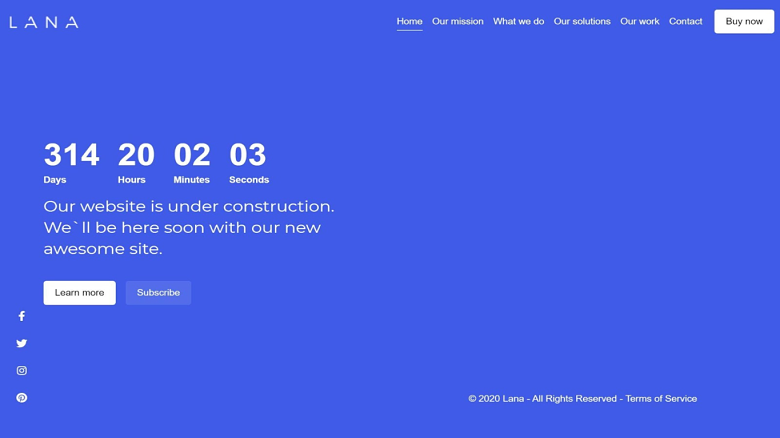 LANA
 is a quintessential "
under construction" or "coming soon" landing page theme
from
ThemeForest
. Its time-honored design has everything you need: a bold countdown header, descriptive sub-header, and side-by-side
Learn More
 and
Subscribe
CTA buttons. But
LANA
is also flexible. You can choose from more than
 35 different layouts and background styles (both text and countdown)
, including solid color, slideshow, slideshow with video, animated gradient, and image with color. You can use
its various content sections to differentiate your business and present your unique solutions to potential clients' real-world problems. It even has a portfolio section where you can upload engaging visuals for design projects.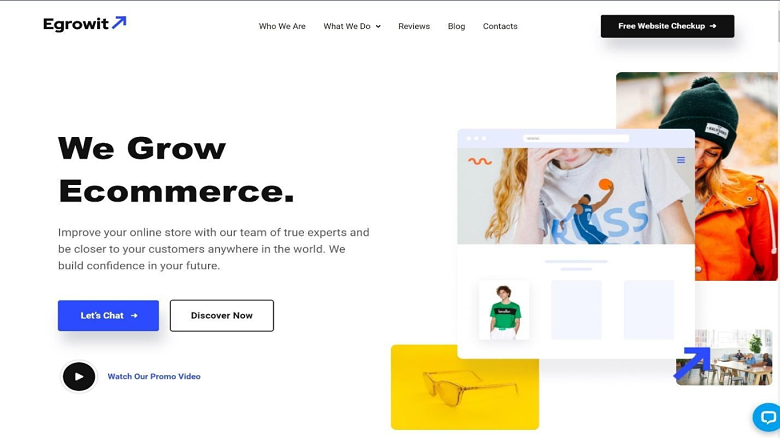 XLand
 is
a responsive, retina-ready WordPress theme
from
TemplateMonster
with 13 one-page templates for different brands and marketing goals, from wedding announcements to events. There's much to like about Egrowit: a photo collage rather than a full-bleed image, clickable contact and social media links, a newsletter signup… and most of all, the bold and
repeated offer of a free website checkup that just calls out "click on me."
The Egrowit template is ideal for
 web designers or SEO and marketing professionals
, as its various sections let you clearly lay out the value-based solutions you offer.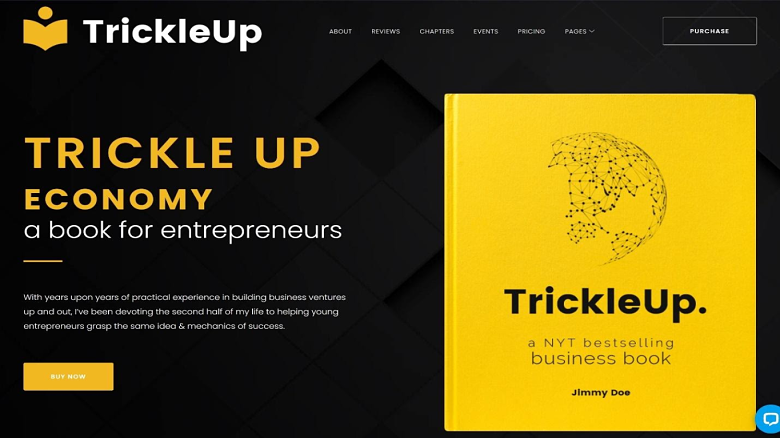 If you're looking for a good
landing page theme to launch your latest e-book
, you may want to consider
TrickleUp
from
TemplateMonster
. Uncluttered, bold, and ultra-focused – it's exactly what you need to
 reach potential customers and convince them to buy.
I love how clearly this template
defines who your book is for and the benefits it offers
prospective buyers. The pricing table with its CTA buttons and engaging on-hover effects is another winner, as are the review sections that allow you to upload
positive comments from both critics and readers.
Naturally, there's also a large, easy-to-fill-in lead generation form you can use to build your mailing list.
Pro Tip: WordPress is undeniably great, but working with a landing page template from a website builder has some unique advantages, starting with how easy they are to customize. You can upload images and text, rewrite headers, and change other design elements to align it with your marketing goals and brand. And best of all, you can preview exactly what your site will look like before you subscribe and publish. Website builders also provide a more comprehensive package, including powerful SEO and marketing tools that you can use to optimize and track your landing page's performance.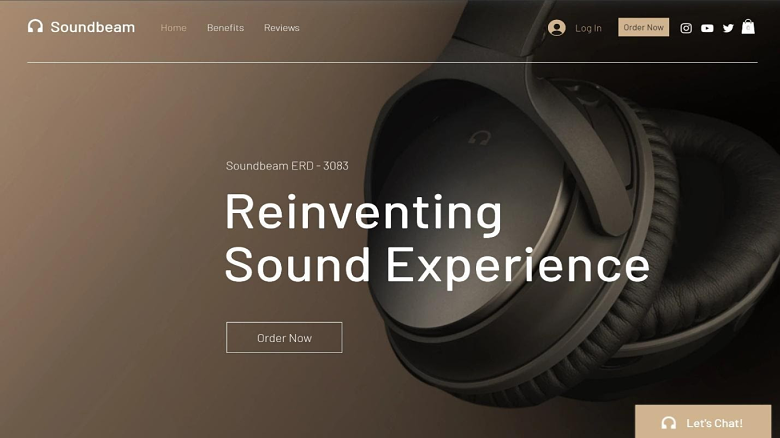 Wix
's
Product Landing Page
 sets the right tone for a
product presentation or new music/video release
. It's a sleek design packed with important features – reviews, testimonials, social media links – that will make it easier to engage online shoppers and move them through the sales funnel.
An online shop is built into the page,
including handy content sections that cover shipping, return, and exchange policies. There's also a subscription form and account registration form for return clients.
Wix Chat lets you connect instantly with site visitors
and respond to their questions. But my favorite thing about this template is that it makes it super easy to add a video from YouTube or Vimeo to your product FAQ.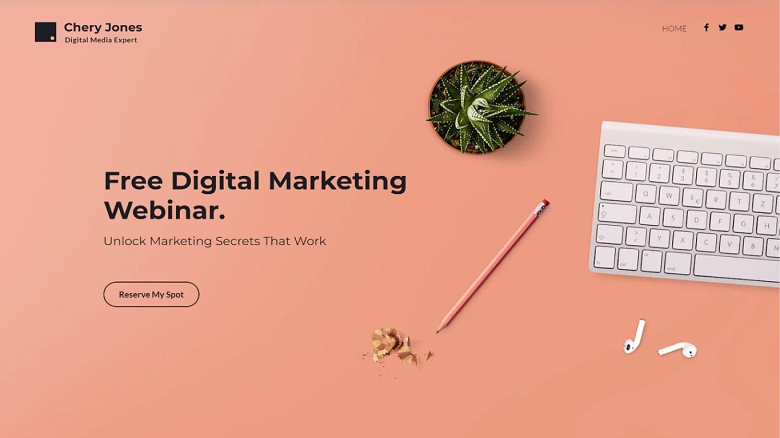 With a homepage CTA that begs to be clicked and a quirky full-screen image,
Wix's
Webinar
Landing Page
 gets the job done well, and is especially suited for
virtual events and presentations.
The simple, uncluttered design makes the
Reserve My Spot
 CTA buttons that much more prominent. Scrolling down, you'll find sections where you can
share detailed information about your event or your speakers' background and expertise.
This template focuses on social proof
, offering plenty of opportunities for you to cite testimonials from satisfied clients and share where your presentations have been featured. It also includes an
 e-news signup you can use to capture client data for future email campaigns.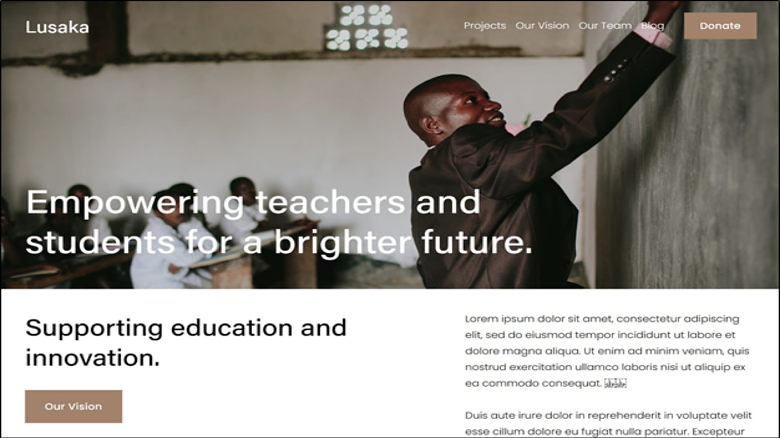 Lusaka
from
Squarespace
combines compelling images, focused text, and a set of effective CTAs in a landing page design that's
ideal for a nonprofit with an inspiring core mission.
This template ensures nothing is left to chance. It maintains your audience's focus precisely where you desire by featuring repeated "Learn More" buttons. Simultaneously, testimonials substantiate your nonprofit's value to the community. And the large contact form at the bottom of your page does more than capture emails – it prompts potential donors and followers to ask questions. It's the
final enticing CTA and lead generator.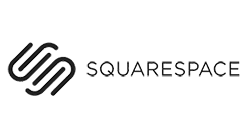 Save up to 30 % on your Squarespace plan today!
Plus get a free domain for one year!
1031 users used this coupon!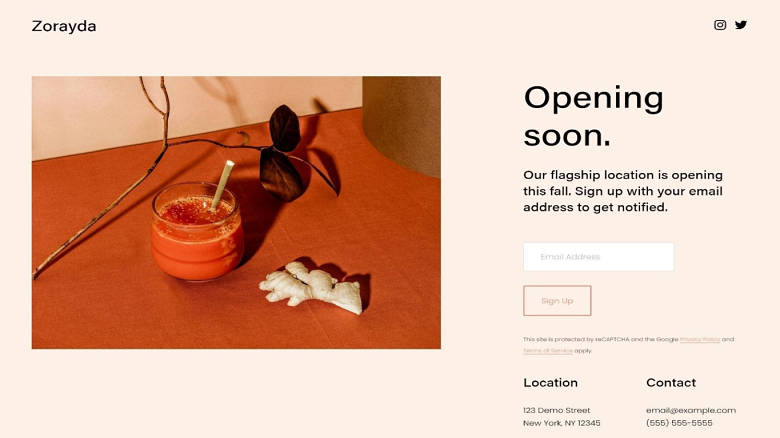 Squarespace's Zorayda
 packs a lot into one page, making it my
top pick for a "coming soon" template for a new business or shop
. The split-screen layout with an image on the left and header and subheader text on the right really makes your CTAs pop off the page. There's so much more to like about this stylish one-pager: an email signup, location info, and a
 clickable contact number (a real plus on mobile!).
Best of all,
Zorayda
 makes it easy to
build a mailing list of high-intent customers
. All you have to do is add a newsletter block in the editing panel to specify where Squarespace will store email leads: Squarespace Email Campaigns, Zapier, Mailchimp, or Google Drive.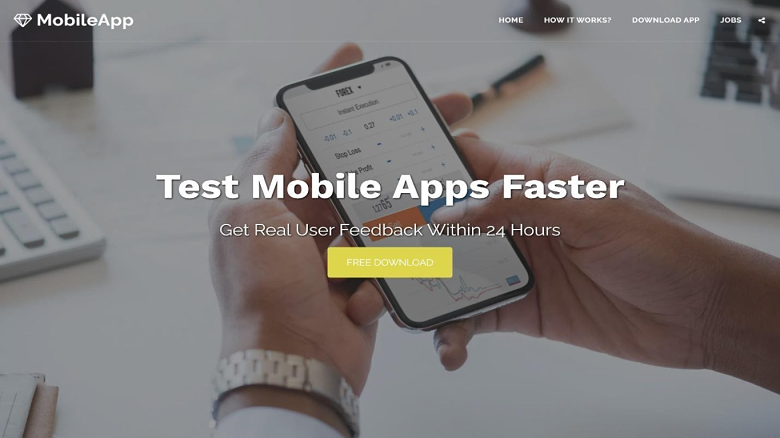 SITE123's
MobileApp
gets it right.
It greets visitors with a big header, a benefit-focused sub-header, and a
bright yellow
Free Download
 CTA
that's hard to resist. Its clearly defined sections make it easy for visitors to take in the information on your page. As they scroll, they'll see a "How it works" section where you can lay out a
compact but visually attractive guide to your app or service
.
Best of all, I love how the white space, neutral color palette, and yellow accent color make all the
Learn More
 buttons really pop.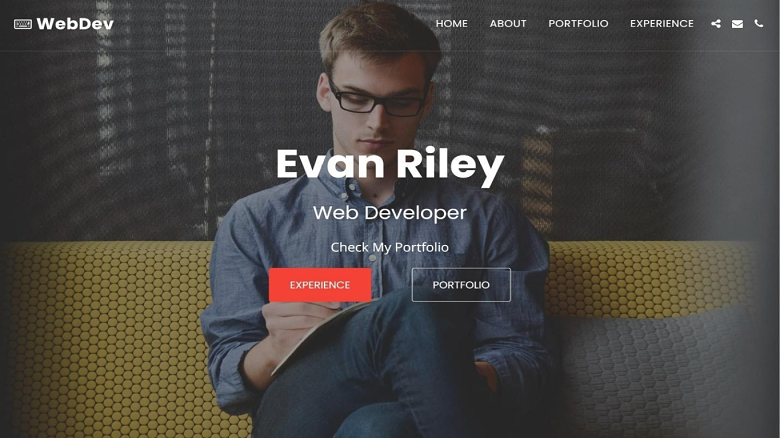 I recommend the
WebDev t
emplate from
SITE123
if you're looking to create a simple, responsive landing page to
connect with new clients and sell your services.
The clean font, straightforward headline, full-width image, and dual CTAs are as clear as they come, inviting users to click, explore your experience, or review your portfolio.
WebDev's
experience timeline is a unique, versatile feature:
 freelancers can use it to share their work history, while companies could present a product development chronology. The template closes with a clear and straightforward call to "Hire me" that includes a clickable phone number and email address, together with a large contact form and bold red CTA button.
Want to Hire an Affordable Pro Instead? Here's How
If you're leery of tackling the job of building a landing page yourself, or you're having trouble finding a pre-built design that aligns with your needs, you may want to turn to a pro.
On Fiverr, you can find top-rated freelance designers who will customize a landing page in a matter of days – or even hours.
For example, Fiverr seller
Tiyam_Foyraz
 has glowing testimonials from happy clients who have relied on him for
responsive landing page designs for products, apps, events, launches, and more.
He offers a pre-purchase consultation and unlimited revisions.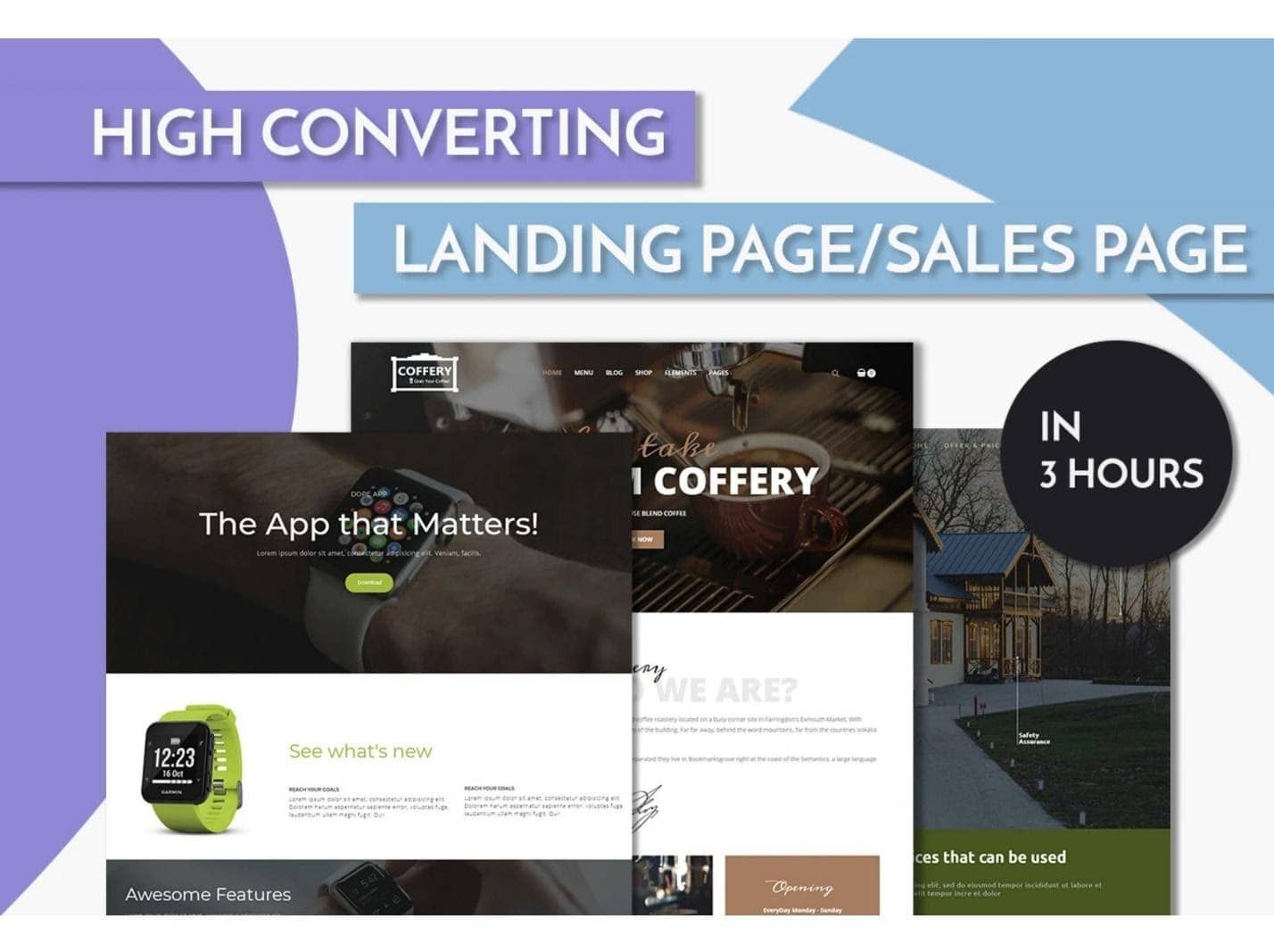 Muhammadtalh851
's standard business package is for a mobile-responsive
Shopify, WordPress, Wix, or Unbounce landing page.
 You can expect your landing page to include features like lead generation forms and an autoresponder integration.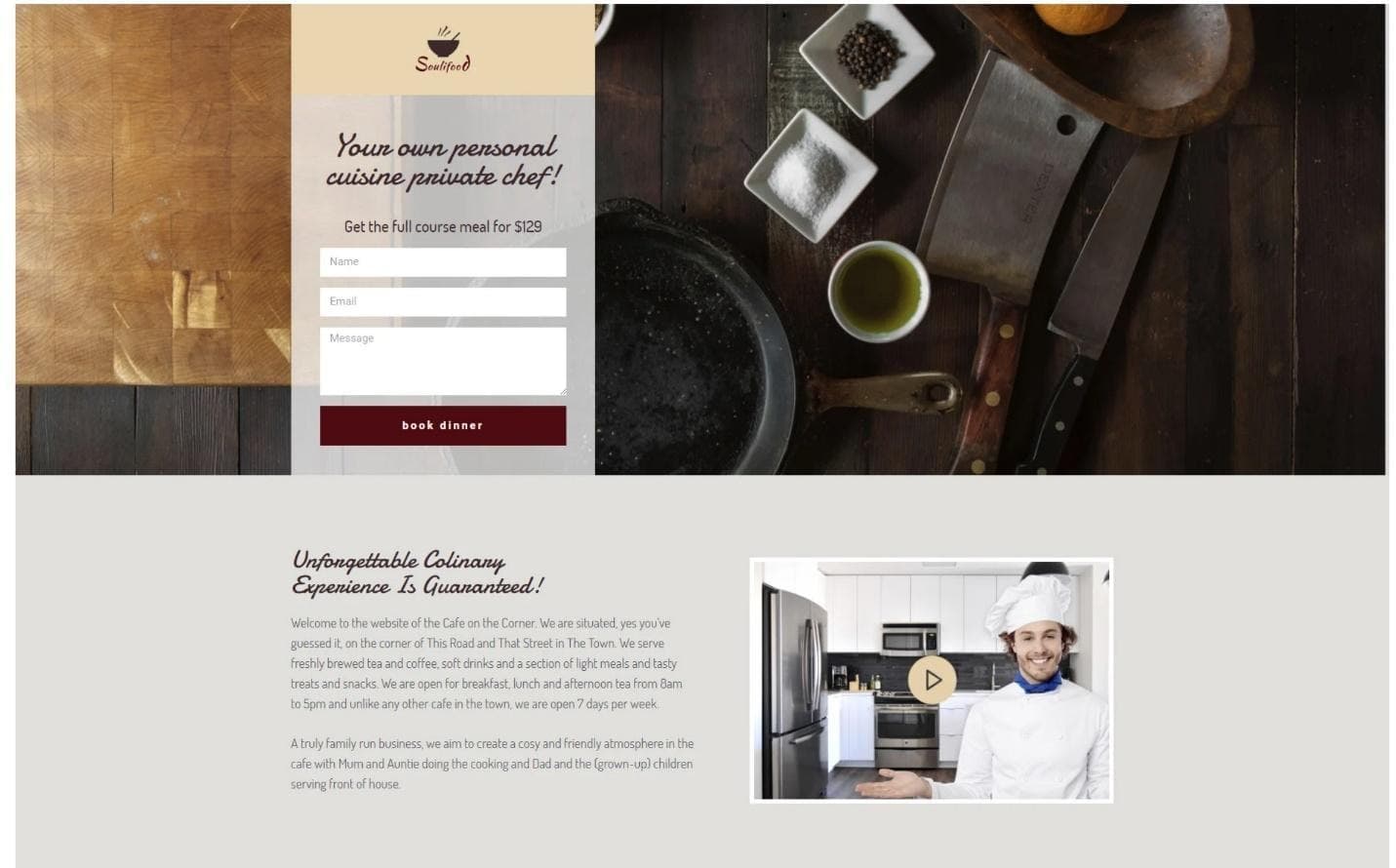 Choose a High-Conversion Landing Page Template
Start with the most obvious step: define your goal and audience.
 Do you want to capture leads, sell a specific product, promote an event, or create a "coming soon" announcement? Your landing page should be designed for conversion, so while it needs to be visually engaging, the
design should be uncluttered and your content clear and focused on your marketing goal.
 Look for themes with
prominent CTAs
that stand out from the rest of your content – the ones on this list all fit the bill. You can use design elements, like color and font, to draw your visitors' attention to the actions you want them to take. Above all,
keep it as short as you can!
Your goal is
to capture and convert potential clients before they lose interest and bounce away, so make every word count.
FAQ
What is a landing page template?
A landing page template is a pre-built layout for a standalone web page that complements your website and serves a particular marketing goal. That might be to capture leads, offer a unique sales opportunity, sell tickets to an event, or launch a new business, product, or service.
How can I create a free landing page? 
You have a couple different choices. Website builders like Wix and SITE123 both offer free landing page templates, though the selection on SITE123 are rather limited. If you build your main website with Elegant Themes's Divi, your layout pack also comes with a landing page. Active Divi members can also use a landing page from any of its other 212 layout packs. On Squarespace, you can create a free landing page for your already existing website by designing a lockdown page (Version 7.1) or a cover page (Version 7.0 only).
What are the best free landing page templates?
You'll likely find the best free landing page templates from website builders like Wix, SITE123, and Squarespace (if you've already built your main website using any of these builders). Adding certain features, like e-commerce, may require fees or an upgrade to a paid plan. If your landing page really needs one of these features, you can save with these awesome coupons.
Which is the best website builder for landing pages? 
Wix has the edge on other website builders when it comes to landing pages because it just offers more: more attractive templates, more categories of landing pages, and more variety in design and layout. Wix's intuitive interface and drag-and-drop editor also gives you more customization options than just about any builder in its class. The Wix App store contains 300+ free and paid apps you can use to add extra functionality and features to your landing page. That said, if you want to explore more options, you'll find some good ones in our list of the best landing page builders in 2023.