bigger
bunch of HostGator alternatives.
The problem is that most of these recommended services are actually not that different from HostGator.
For example, Bluehost performs even more poorly than HostGator – despite being owned by the same parent company. And don't even get me started on GoDaddy. Despite their flaws, such services frequently appear as viable alternatives
. Even though HostGator is probably one of the better EIG-owned web hosts, you can do better in terms of performance, support, and overall value for your money.
HostGator used to be one of the best web hosts available (we all know someone who had a HostGator account in the late 2000s), but those days are long gone.
I've tested all the major HostGator alternatives,
even those that don't invest quite so heavily in marketing. I found 7 that are much better alternatives, including my top pick, Hostinger, which is a far better choice in price and performance than HostGator (and others, as well).
Short on Time? These Are the Best HostGator Alternatives in 2023:
Hostinger – The most affordable, value-packed HostGator alternative, with excellent page loading speeds.
InterServer – Unlimited resources at prices HostGator simply can't match.
HostArmada – Offering excellent customer service, tech support, and an overall user-friendly experience.
What We Look for in the Best HostGator Alternatives
Although HostGator dropped the ball in a number of areas, its hosting plans still come with a lot of features and resources. As the saying goes, it's just… not great, not terrible. I wanted to find alternatives that are actually better, so I've prioritized these features:
Affordability. HostGator's renewals are quite expensive, especially if you don't sign up for the longest-term plans. Most web hosts on my list are more affordable in the long run.
Performance. All the providers on my list deliver better uptime and performance than HostGator. Unfortunately, EIG takeovers have generally led to a decrease in hosting quality. The once-proud grinning alligator is now just trying to smile through the pain.
Value features. My HostGator alternatives have plans packed with resources and value-added features. Aside from making it easier to manage your website(s), these tools can help you boost performance and security.
Data center locations. The weak spot of all EIG-owned brands is their lack of global coverage. Most web hosts on my list have multiple hosting locations around the world, which means that you'll be able to choose a web server close to your audience.
Customer service. Since EIG outsources support for all of its brands (for some mysterious business reason), the quality of HostGator's sales and tech support has decreased considerably. In contrast, the hosts on my list offer professional customer service, and most of them are very quick to respond.

Compared to HostGator, Hostinger is considerably more affordable, and provides better hosting quality, too.
Hostinger's Premium plan costs less than HostGator's entry-level one, yet it includes automatic WordPress updates and backups, a handy collaboration tool, up to 100 hosted websites, and other perks which are not available on HostGator. What about performance?
Hostinger is the fastest shared hosting provider we've tested.
And it's not just for a handful of regions. Our tests show that your Hostinger-based website will load quickly anywhere in the world, which is not something you can usually achieve without the help of a Content Delivery Network (CDN). Unlike HostGator, which has just four data centers (two in the US, two in India, and one in Singapore),
Hostinger has no less than eight data centers located around the world
. You can host your website on the server that's closest to your primary audience, ensuring top-notch loading speeds for them. You might argue that HostGator offers unlimited storage, while Hostinger doesn't. But this is a classic moot point:
most WordPress sites don't exceed 2GB of storage, let alone 50GB,
which is what you get on Hostinger's cheapest shared plan.
A free domain name is included with some hosting plans from Hostinger
Features
LiteSpeed Web Server. Hostinger is the most affordable host to use LiteSpeed Web Server software. This is a best-in-class solution that consistently outperforms the traditional Apache software on HostGator's servers.
WordPress accelerator. Hostinger includes access to LiteSpeed's premium WordPress accelerator, LSCache. This plugin optimizes everything from CSS and images to your PageSpeed score. You can easily enable it from the dashboard to dramatically improve your website's performance.
Excellent protection. Multiple anti-DDoS layers, a web application firewall (WAF) for each server, and Cloudflare-protected DNS are all included.
Easy to use. Unlike HostGator's traditional cPanel, Hostinger has its own proprietary solution: hPanel. The dashboard is user-friendly and fast-loading, and it displays in-depth information about your hosting account.
For performance results, see our expert Hostinger review
.
Data center locations
US, UK, the Netherlands, Lithuania, France, India, Singapore, Brazil
Number of sites on shared plans
1 to 100
Money-back guarantee
30 days
Starting price

$

1.99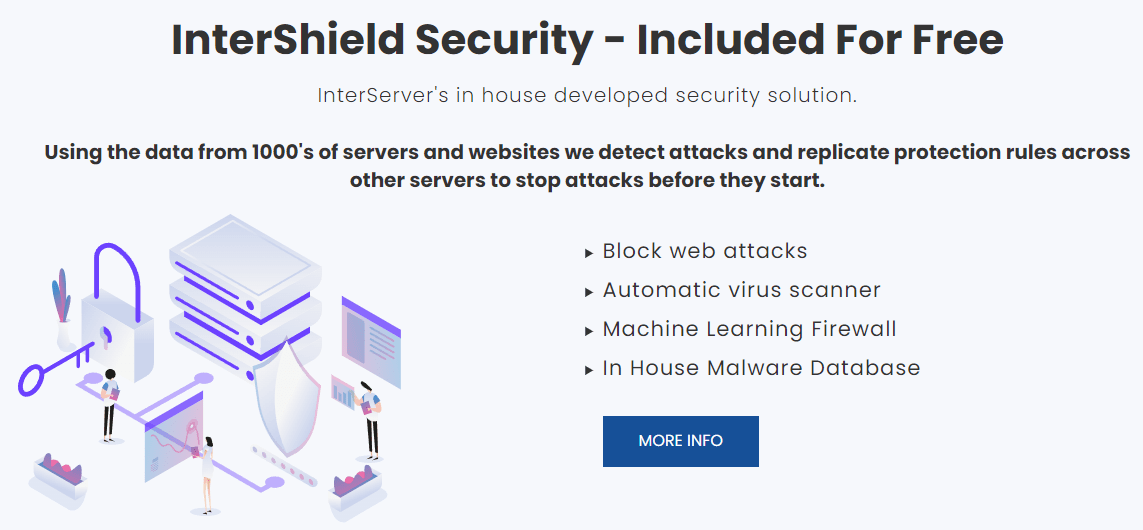 InterServer claims to never exceed 50% server capacity,
which means more stability and better scaling for your website. By comparison, EIG-owned hosting services are notorious for overloading their servers. In addition, InterServer offers unlimited resources
 at even lower prices than HostGator
. And while both hosts increase their fees at renewal, InterServer's rate remains lower – meaning
InterServer is cheaper in the short and long term
.
Unlike other hosts, which charge extra for advanced security, InterServer provides
it by default.
All customers get InterShield Security, which comes with a range of protection layers, including a virus scanner, firewall, and a web traffic analyzer. Even content posts are checked for malware activity. Unfortunately, InterServer's live support isn't always helpful or particularly knowledgeable, but you can submit a ticket to get a professional response in a fairly reasonable amount of time.
Features
Inter-Insurance. If your site is compromised by malware, InterServer's experts will clean it up and permanently fix the problem for you, free of charge. New customers can also transfer their compromised site and benefit from this service.
Inter-Proxy caching. The host's infrastructure comes with a built-in caching solution that uses hardware caching, LSCache, Google's QUIC protocol, and object cache. As a result, InterServer's performance was excellent during our tests.
SitePad website builder. If you don't want to use WordPress or another CMS to build your website, you can take advantage of this free drag-and-drop builder. It includes plenty of themes and a fair number of widgets to get you started.
Free migrations. Unlike HostGator, which offers only one managed migration for each shared account, InterServer will transfer all of your websites. You don't need to lift one finger aside from making sure there's a cPanel backup for the team to download.
Read our comprehensive InterServer review for more
.
Data center locations
US
Number of sites on shared plans
Unlimited
Money-back guarantee
30 days
Starting price

$

2.50

When it comes to being a beginner-friendly host, HostGator admittedly gets some high marks for its ease of use. Where it tends to fall short is in its overall customer experience, transparency, and support. And that's exactly where
HostArmada picks up the slack
. If you're a novice looking for a better alternative, HostArmada might be the best choice for you. HostArmada, like HostGator, offers its users cPanel for website admin
.
And while it's not as user-friendly as Hostinger's hPanel, most beginners have no issue using it. Should you have an issue, though, HostArmada's support crew is standing by with relatively quick, concise responses.
There's also a learning center packed with tutorials for cPanel, WordPress, Magento, and more, so the newbie is never left feeling unprepared or alone.
Another nice user-friendly feature of HostArmada is its openness and transparency.
HostGator isn't known for being transparent when it comes to its pricing, while HostArmada puts it all out there for you. It doesn't use cryptic terms requiring a decoding device to understand its plans and features. HostArmada's use of plain language is quite a refreshing change from a lot of other hosts. Lastly, HostArmada's sales team isn't always trying to get you to upgrade. You won't find support agents attempting to upsell you on a premium feature unless you actually need it to resolve your issue, as you will with HostGator. HostGator has faced criticism from many customers for leaving essentials off its plans just so it
can
market them, making you pay more for things your site needs.
HostArmada, on the other hand, packs its plans with plenty of valuable, useful features and seems to respect that you'll know when and if you need a plan upgrade or add-on feature
.
A free domain name is included with some hosting plans from HostArmada
Features
Security features in every plan. HostGator doesn't include much besides a free SSL in its plans. You have to pay for the Premium plan to get an upgraded SSL or pay for SiteLock's services to truly secure your site. HostArmada, on the other hand, provides top-notch security features on every plan, including DDoS protection, daily backups, and more.
Generous storage and bandwidth. HostAramda's entry-level plan provides 15 GB of SSD storage. That's plenty for most small to medium sites. HostGator, meanwhile, only offers 10 GB of disk space. And while HostGator advertises unmetered bandwidth, HostArmada tells you in plain language what it considers "acceptable usage." In the case of the Start Dock entry plan, that's 30 GB.
Cache Commander. HostArmada offers a proprietary caching solution on every plan. This gives your website a speed and performance boost. You can clear or disable your site's static cache right from your cPanel dashboard.
Support when you need it. HostArmada's support team is available via chat, phone, or through its ticket system 24/7/365. And you receive good, efficient, fast help. HostGator, meanwhile, offers its entry-level plan customers access only to chat support. You have to pay for a higher-priced plan to receive phone support, while it doesn't offer a ticket or email support system at all.
Know more about HostArmada in our expert review
.
Data Center Locations
US, Canada, the UK, Germany, India, Singapore, and Australia
Number of sites on shared plans
1 to unlimited
Money-back guarantee
45 days
Starting price

$

2.99

A2 Hosting offers pre-configured installation packages for the most popular software.
You can opt for the A2 Optimized version when installing content management systems (CMS) like WordPress or Magento, and you'll get a lot of preconfigured features for speed and security right out of the box. For example, optimized WordPress includes W3 Total Cache, Gzip compression, file minification, and more.
A2 Hosting's higher-tier shared plans are hosted on Turbo servers.
These servers have better hardware and software (LiteSpeed Web Server) than lower-level plans, while individual accounts benefit from more RAM (up to 4GB). There's a lot of extra optimization in the background, like custom PHP handling, but the overall idea is that these servers are fast. Really fast.
Features
LiteSpeed Web Server. Like FastComet, A2 Hosting uses LiteSpeed on its more expensive plans. HostGator's outdated Apache setup is outshined by LiteSpeed's performance.
A2 Optimized site accelerator. The site accelerator is a complete, pre-configured caching plugin for cPanel that relies on OPcache, Memcached, and A2's Turbo Cache to improve your website's page loading speeds.
Additional security. Aside from the regular firewalls, DDoS layers, and automatic updates, A2 Hosting also includes free HackScan protection and the Patchman Enhanced Security Tool. With all this protection, your website will be ironclad.
Dedicated IP upgrade. Dedicated IPs are not usually an option unless you purchase a VPS, but with A2 Hosting, you can add this to any of your plans from your customer portal. If you plan to sell stuff on your website, this is a small investment to make that will increase the security and trustworthiness of your website.
For more details, check out our expert A2 Hosting review
.
Data center locations
US, the Netherlands, Singapore
Number of sites on shared plans
1 to unlimited
Money-back guarantee
30 days for a full refund, 31 – 90 days for pro-rata refund
Starting price

$

2.99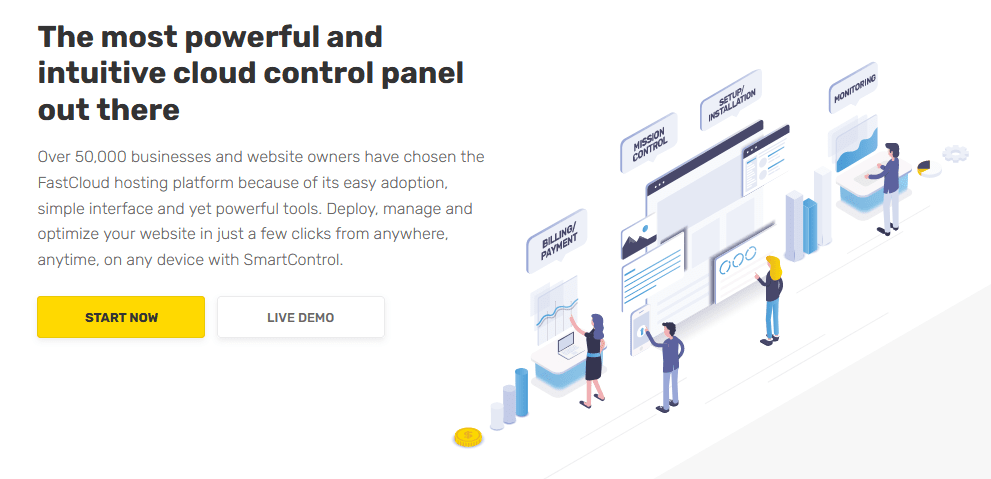 If you're tired of HostGator's resource bottlenecks, FastComet's plans are a great alternative.
For instance, FastComet's entry-level plan gives your account access to 2GB RAM and 2 vCPU cores, while HostGator's Hatchling plan is roughly the same price, yet limits your usage to 25% of a single vCPU.
Like Hostinger, FastComet also includes managed WordPress services
for its shared plans, which means you get automatic updates and WordPress-specific support.
Not only will you have to pay more for managed WordPress with HostGator, but you get none of FastComet's speed optimizations, like built-in CloudFlare CDN, Gzip compression, or file minification.
One of FastComet's best features is its coverage in the Asia-Pacific region.
The service has no less than four data center locations in this part of the world, plus seven other sites in North America and around the world. Imagine how long it would take for an Australian visitor to load your HostGator-based website from a data center in the US.
Features
Website builder. All FastComet plans come with a handy drag-and-drop website builder that includes dozens of pre-built themes. HostGator, on the other hand, requires a monthly subscription to its website builder tool.
Optimized performance. The FastCloud Extra plan gives you access to an impressive 6 vCPU cores and 6GB RAM configuration, as well as advanced caching layers like APC, Varnish, and OPcache – all of which will really boost your website's performance. I just wish this were the case for all of its plans.
Free daily backups. FastComet gives you automatic daily backups, and always keeps the last seven of these for you to restore at any time. You'd have to pay extra to get this with HostGator.
Excellent support. FastComet's support service is responsive and will take your live chat request in a couple of minutes, while HostGator will usually make you wait. More importantly, agents are knowledgeable and tech-savvy.
See our full FastComet review for more features
.
Data center locations
US, Canada, UK, the Netherlands, Japan, Singapore, Germany, India, Australia
Number of sites on shared plans
1 to unlimited
Money-back guarantee
45 days
Starting price

$

2.19

For managed cloud hosting, SiteGround is one of the best HostGator alternatives.
While plans aren't exactly cheap, you'll get 4 CPUs and 8GB RAM right off the bat with the Jump Start plan. Or, if you need something more specific, you also have the option to configure your own server based on CPUs, RAM, and memory.
SiteGround's infrastructure is entirely built upon Google Cloud Platform (GCP).
Aside from the benefit of hosting your site on one of the most powerful global networks, SiteGround uses a custom NGINX caching solution to speed up site loading on all its plans.
SiteGround has an Ultrafast PHP setup,
but it's only available on the most expensive shared hosting plan or with cloud hosting. Seriously, why not spread the love? In any case, if you can afford a GoGeek subscription, the host's custom PHP handling will greatly improve your website's resource-efficiency and overall page loading speed.
A free domain name is included with some hosting plans from SiteGround
A free domain name is included with some hosting plans from SiteGround
Features
User-friendly control panel. HostGator utilizes the familiar cPanel dashboard, whereas SiteGround has crafted its own efficient control panel known as Site Tools. Site Tools enhances the overall hosting experience, making tasks ranging from domain connection to website maintenance more effortless and enjoyable.
Drag-and-drop site builder. Although I'm not a huge fan of website builders, it's worth mentioning that SiteGround offers Weebly to all its customers, while HostGator makes you pay extra for it. It's a solid drag-and-drop builder with a good number of templates and widgets.
Developer tools. You can easily ship sites to clients with a couple of clicks, even on the entry-level plan. However, if you want to grant limited access to your collaborators or offer white-label hosting, you'll have to upgrade to a higher-tier plan.
Airtight security. SiteGround's security has always been strong. A monitoring system checks server status every half-second, while the security team manually improves the firewall rules regularly. Furthermore, support is always quick to respond whenever incidents occur.
Learn more about SiteGround in our expert review
.
Data center locations
US, UK, the Netherlands, Spain, Germany, France, Australia, Singapore
Number of sites on shared plans
1 to unlimited
Money-back guarantee
30 days
Starting price

$

2.99

GreenGeeks has one of the best support platforms I've had the pleasure of testing.
If you're tired of HostGator's mediocre support, this is definitely the right place for you. Agents will go above and beyond to resolve any issues that arise. Live chat is responsive and always available, but you can also contact support via phone or ticketing system. Like FastComet,
GreenGeeks' most expensive shared plan includes a free dedicated IP.
If you just want a starter website or simple landing page, it probably isn't worth it to invest in this plan. However, if you're serious about your ecommerce site, a dedicated IP with premium SSL will allow you to set up secure payments through your own site.
GreenGeeks includes managed WordPress services with all of its shared hosting plans.
Aside from automatic updates for core software and plugins, your website will be optimized to ensure it runs as efficiently as possible. You'll also get free daily backups. And GreenGeeks' support team includes WordPress experts standing by to help you solve any WP-specific issues.
A free domain name is included with some hosting plans from GreenGeeks
Features
Unlimited resources. Similar to HostGator, GreenGeeks provides unlimited bandwidth on all its plans. While it may not be essential for setting up a basic website, it's reassuring to know that there's ample space for future growth.
Eco-friendly hosting. GreenGeeks matches three times the energy it consumes and donates it back to the grid in the form of renewable energy credits. If your brand is green, eco-friendly hosting will bolster your marketing message.
Built-in CDN. This might seem like a common-sense feature, but not all web hosts include it by default. You can activate Cloudflare from your dashboard with one click.
Free malware cleanups. Infected sites can be a pain to restore, so this is a valuable service. Like insurance, you never know if or when you'll need it, so it's nice to have it as a backup.
See more GreenGeeks features in our in-depth review
.
Data center locations
US, Canada, the Netherlands, Singapore
Number of sites on shared plans
1 to unlimited
Money-back guarantee
30 days
Starting price

$

2.95
Which HostGator Alternative Is Best for You?
Even though EIG owns HostGator, they still provide a good web hosting service. However, there are several providers that give superior performance, support, and worth for your cash. In the end, it all depends on what you need.
The most affordable HostGator alternative is Hostinger
. You pay less and your website loads faster – it's a win-win for you. The solid global coverage also means your site can be closer to your audience.
InterServer is a great option for US-based websites
. It offers cheaper access to unlimited resources along with underloaded servers, giving you room to grow and develop your site. When it comes to overall user experience and beginner-friendly features,
HostArmada is the choice to make
. Features such as its Cache Commander, cPanel dashboard, and stock of tutorials make site admin easy and stress-free, even for newbies. This table summarizes the most important features of each HostGator alternative on my list:
Standout Feature
Free CDN
Free Backups
Starting Price
Hostinger
Affordable, LiteSpeed-based shared hosting

✔

 (except for Single Shared Hosting plan)
Weekly

$

1.99

InterServer
Unlimited resources and underloaded servers at a low price

✔

Weekly

$

2.50

HostArmada
Beginner-friendly features and support, user-friendly experience overall

✔

(Cloudflare compatible)
Daily

$

2.99

A2 Hosting
Pre-optimized installations and fast Turbo servers

✔

Daily (except for Startup plan)

$

2.99

FastComet
Resource-loaded shared plans

✔

Daily

$

2.19

SiteGround
Google Cloud Platform infrastructure and dev tools

✔

Daily

$

2.99

GreenGeeks
Excellent customer support and eco-friendly hosting

✔

Daily

$

2.95
FAQs
Which is the best HostGator alternative? 
We consider Hostinger the best hosting service alternative to HostGator. It's more affordable, offers more features, faster loading speed, and superior uptime to HostGator. It's all around a far better host and offers much more than HostGator can.
Are there free alternatives to HostGator?
We don't recommend free hosting services because they simply have too many downsides. Look for an affordable host, such as A2 Hosting, which offers a 30-day money-back guarantee. You'll receive better services, better site performance, and a better all-around hosting experience.
What makes HostGator a bad choice?
HostGator isn't bad; it's just not that good. We didn't consider it a highly rated hosting service for many reasons. One of them is its habit of making you pay for essentials that should be included in your plan, such as security features. Another is the poor performance and iffy reliability of its customer support team. For far superior security and support, HostArmada makes a much better option.
What is the cheapest alternative to HostGator?
While all the hosting services on this list offer an entry-level plan that's less expensive than HostGator's, one stands out for its lower renewal fees. InterServer is cheaper than HostGator in the short as well as the long term, offering both a budget-friendly starter plan and lower-priced renewal fees.