Though Google Sites will let you build a basic website, it only offers 14 templates across a small number of categories.
The
customization options you get are also rather limited compared to
the best no-code website builders on the market
, so you may struggle to build a site that reflects your vision or brand.
On the other hand,
Google Sites is free and incredibly easy to use.
After a week of testing, while not exactly a convert, I can see that Google is onto something. Though the handful of templates are basic, they come with helpful filler text and stock images. Naturally, they also
integrate seamlessly with other Google products and apps.
In the end,
I found 7 templates I'd recommend for different kinds of website.
Take a look to find out if one is right for you,
or jump down now to see my top picks from the best alternative free (or free-to-try) website builders.
Quick Disclaimer!
Though you can create a functional website with any of the Google Sites templates on this list, your design options will be very limited. If you want full creative control over your site's design and access to hundreds of free templates,
Wix's free plan gives you all this and more
.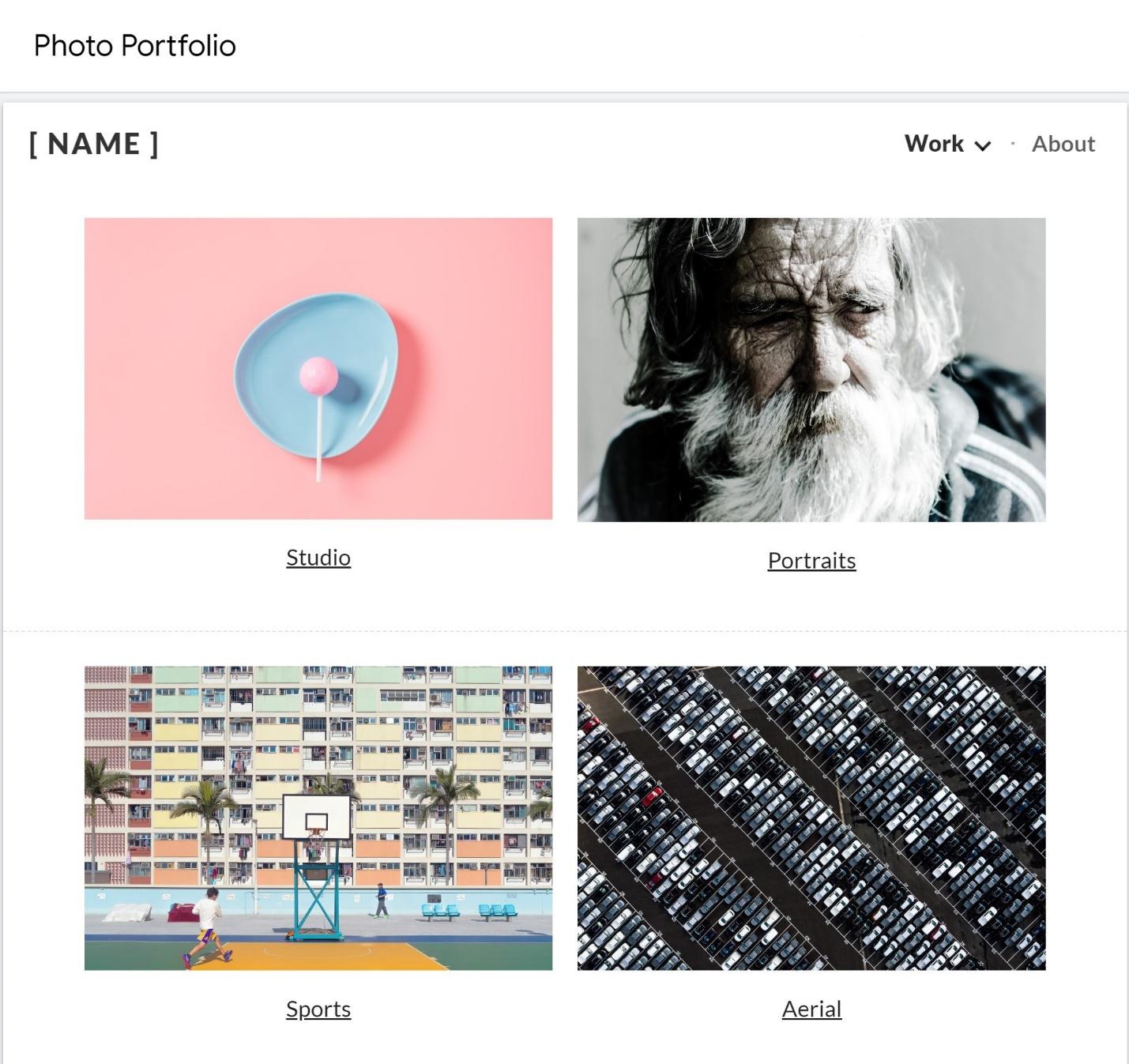 Photo Portfolio
's minimal style keeps visitors' eyes squarely focused on what's most important – your work.
The homepage and project galleries are clean and attractive
. Ample white space gives each photograph room to breathe. Navigation, like the design, couldn't be simpler. Ideal for an image-focused portfolio, the minimalist menu takes up a discreet corner of your page.
Visitors can click on the dropdown "Work" menu to view individual projects,
such as portraits, landscapes, urban life, or interiors. They can also click on each photo caption to view a full gallery of related photographs. Because
Google Sites doesn't offer e-commerce tools
, you can't add a shop to let collectors purchase your work online. But you can invite visitors to sign up for a newsletter, and you'll be able to include your contact information at the footer of every page. And
if you want to connect your Facebook and Instagram accounts, you can use HTML or JavaScript code to embed a widget on your website.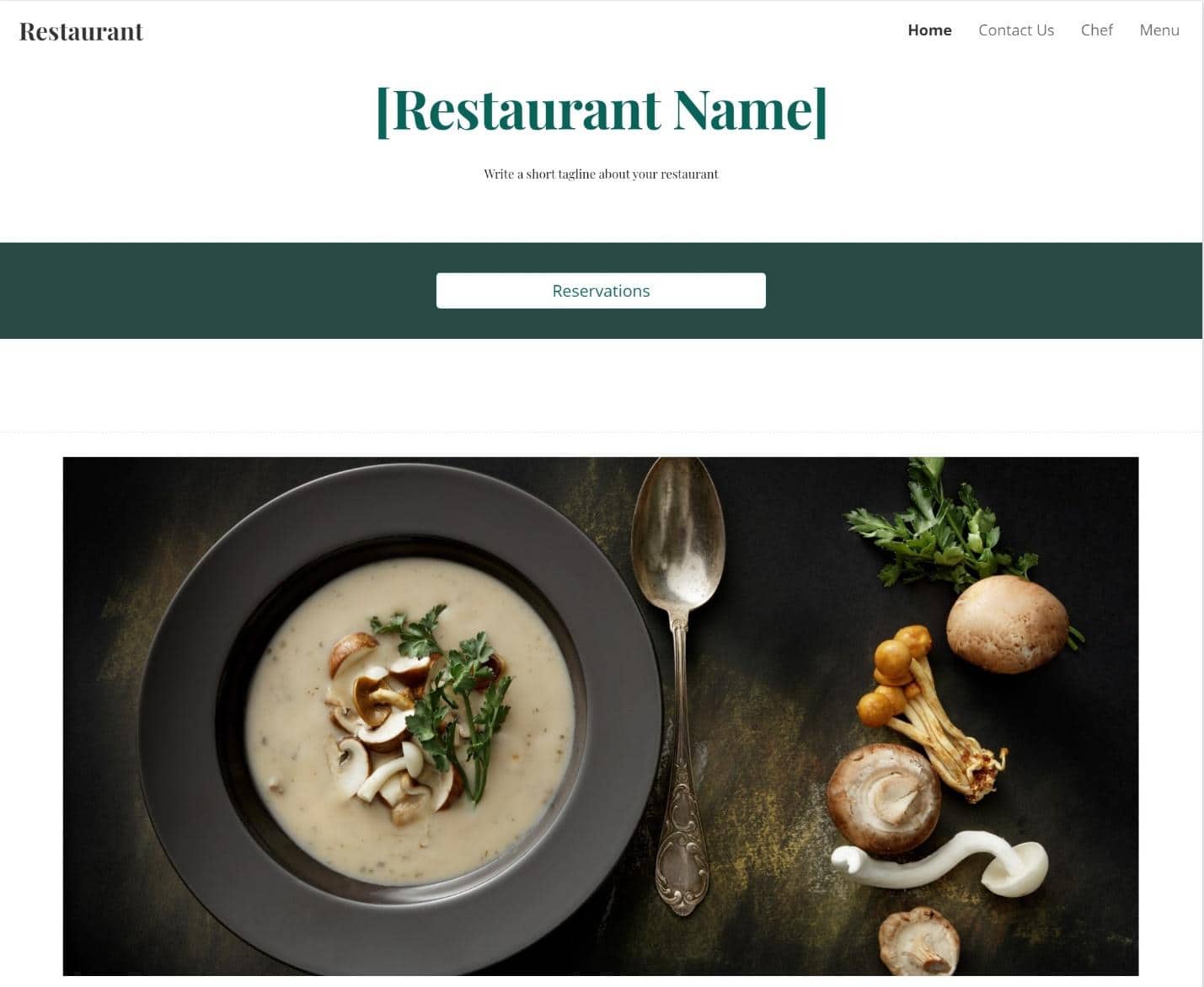 Restaurant
may not have the functionality or
visual appeal of a Squarespace template
, but it does check a lot of boxes:
plenty of photos, chef and menu pages, and well-placed buttons to encourage diners to reserve a table.
It's easy to change the layout, colors, and fonts to capture the personality of your restaurant.
You can add videos and image carousels to give customers a visual taste of your food and ambience
. And with Google Slides, it's easy to resize, adjust color and brightness, and add filters to your photos. I'd suggest you embed the Open Table or Resy app if you want to let customers reserve online. Embedding a Yelp widget will let visitors browse your happy diners' reviews.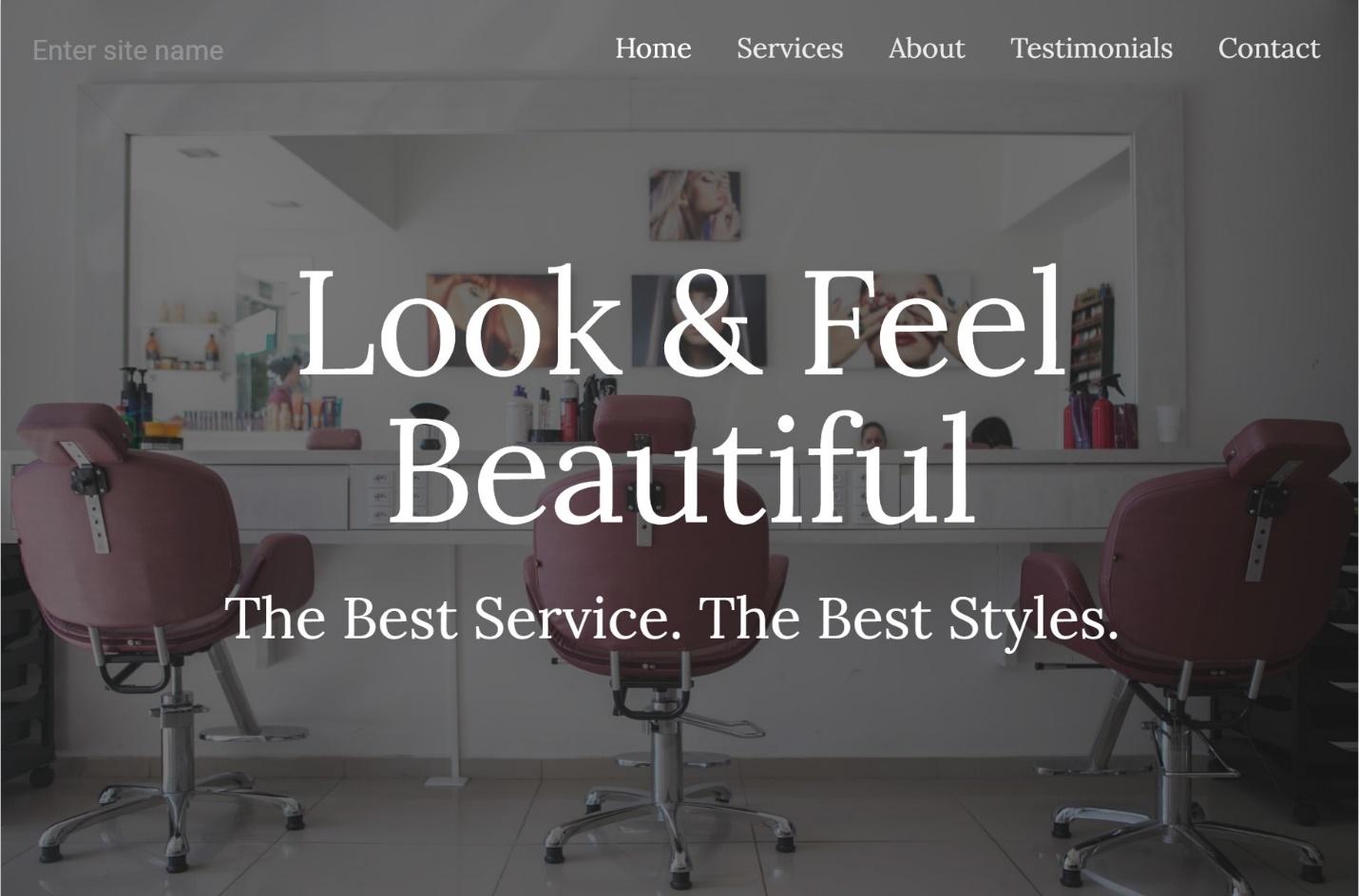 A full page cover image and bold typography give
Salon
a contemporary feel. There are
dedicated pages and sections for your services and fees, your team, and customer testimonials.
Sample text and images make designing a functional website for a salon or spa pleasingly straightforward. You can pique visitors' interest in your services by adding an announcement bar to the homepage to promote sales and monthly specials. Eye-catching buttons prompt clients to call and book an appointment.
All the essential information potential clients need is
on the Contact page
: your business days and hours, location, telephone number, and email
.
They can even use the built-in Google map to get directions.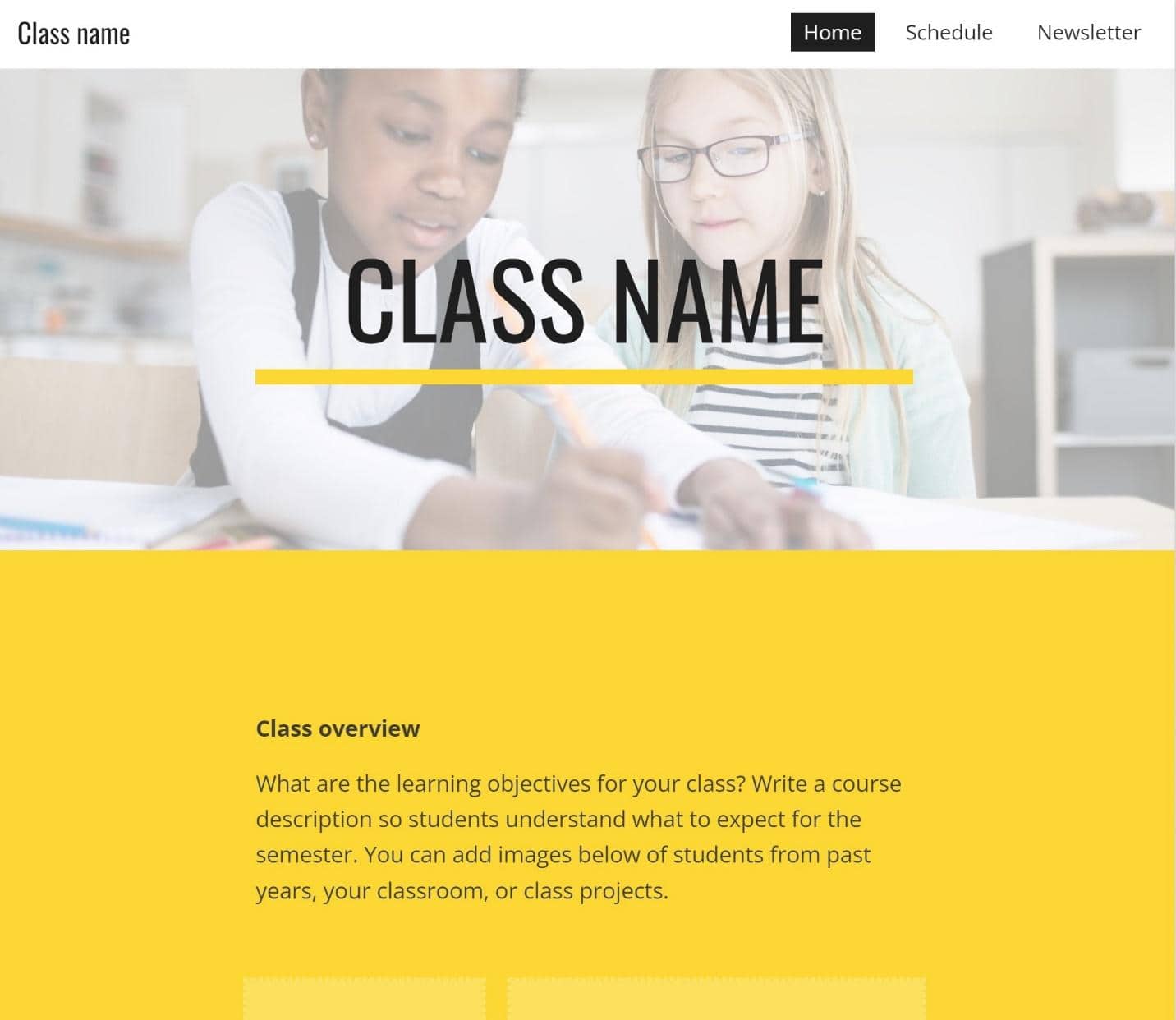 Class has all the collaborative features teachers need
to keep students, parents, and faculty informed about curricular goals, assignments, and special activities. It's also ideal for a project-specific learning site because settings let you restrict access to a select group.
Full integration with Google's suite of free tools lets you upload all your class materials:
files, videos, presentations, and tutorials. Your students can log in, review information, and share their completed assignments. You can add a Google Calendar to share your office hours and remind students of assignment due dates. The biggest downside? Teachers can't link their website with Google Classroom or Google Workspace for Education.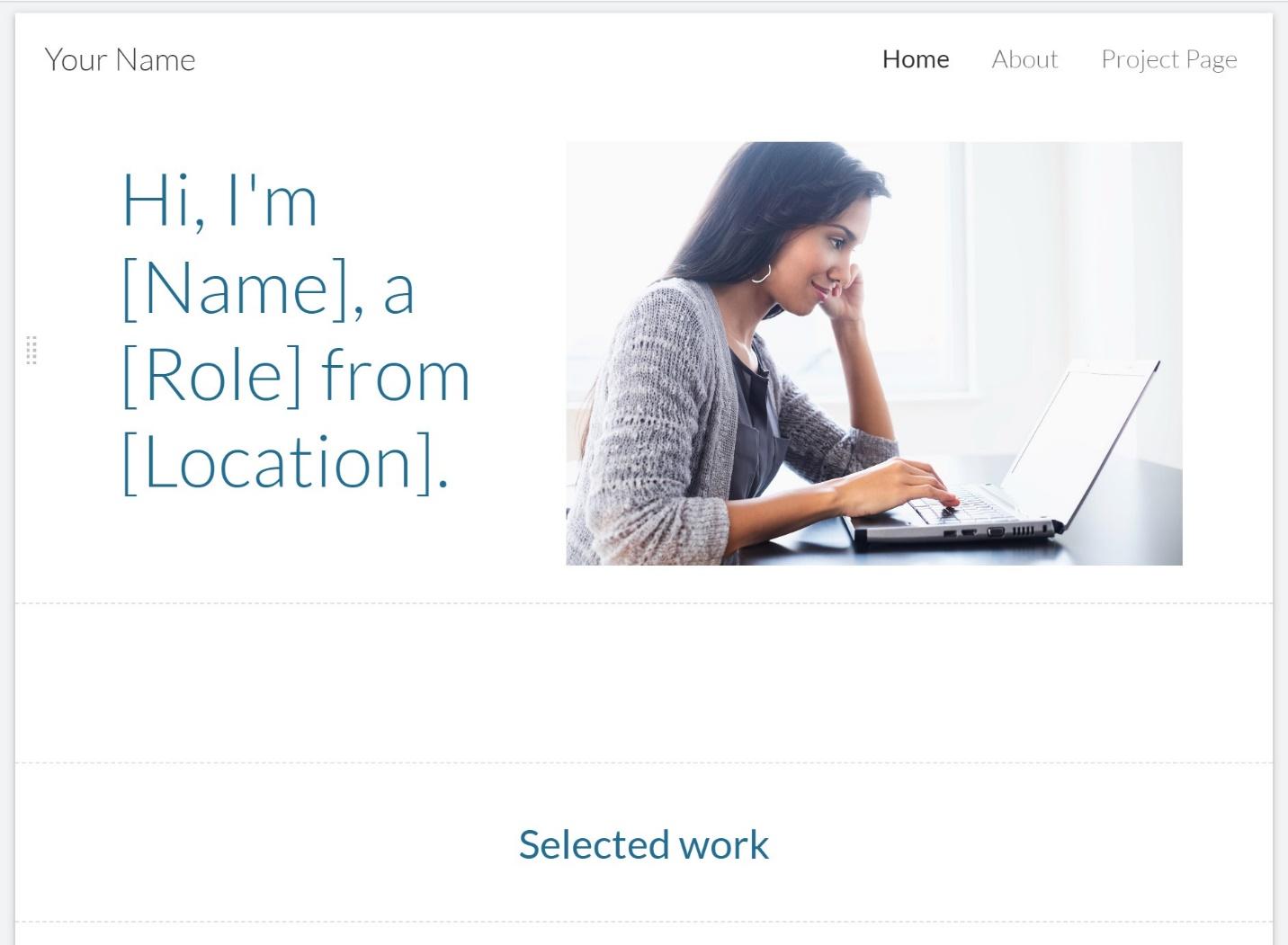 Portfolio
is
a minimalist template for professionals who want to quickly create an online presence
, share their expertise, and capture the interest of clients and recruiters. The homepage gets right to the point, with a crisp introductory header that sums up your skillset and presents a selection of your best work. Visitors who want a deeper look can go straight to the Project page to browse
detailed presentations that use text, image, and video to showcase your skills.
There's an About page, where you can share relevant work experience. To complete your site, you'll want to upload a downloadable PDF of your resume and embed a link to your LinkedIn profile.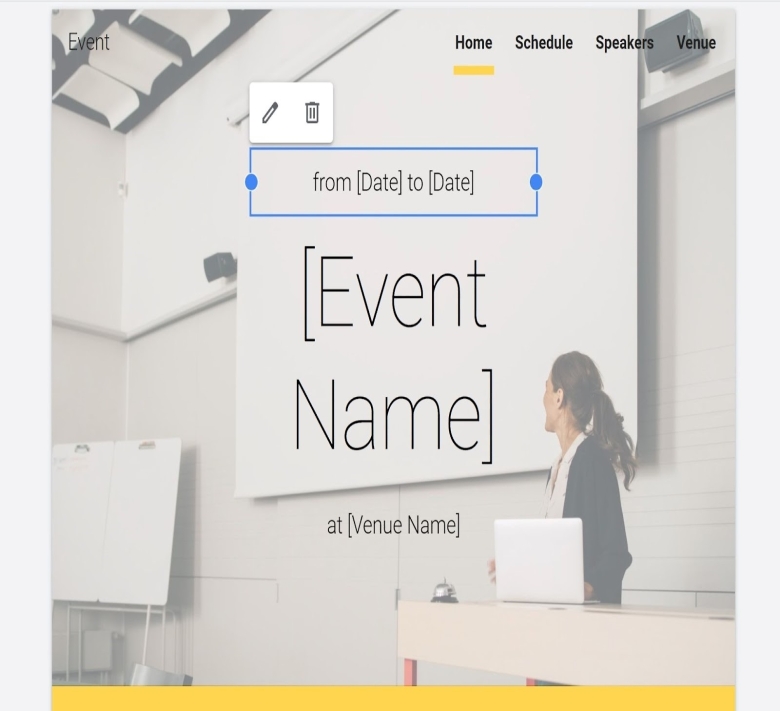 The clean-looking
Event
template makes it easy to design a website for a business meetup or conference. Its simplicity and straightforward navigation lends itself to firms and organizations that want to connect with busy professionals and encourage them to RSVP.
Visitors can quickly
skim the homepage to learn all the fundamentals: the event's goals, key speakers, and venue
. Built-in pages allow interested users to review a detailed schedule, speaker bios, travel options to the event venue, and a Google map showing its location.
Google Sites now lets you add a custom domain
to your website for a more professional look. Simply add your site's current Google or other custom domain, or choose and pay for one from Google Domains.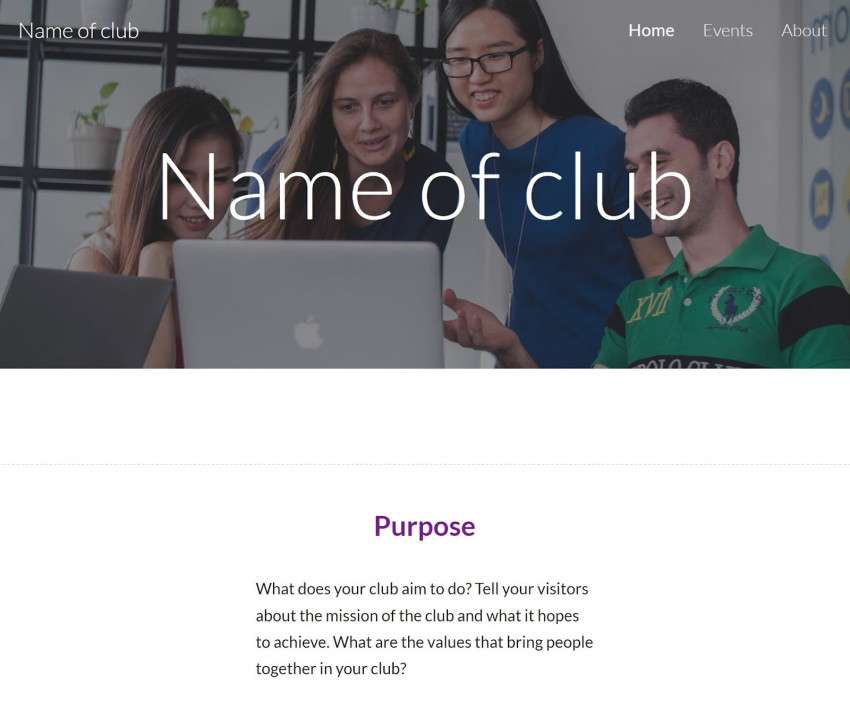 Choose
Club
for a quick way to
design an attractive website for a mission-focused group or local non-profit.
It's suitable for keeping members of a running, gardening, book or any other kind of club informed about group events.
Club
provides features enabling you to convey crucial information about your group's purpose, goals, and history. With a simple click, you can upload a YouTube video or Slides presentation – the sections are pre-built. Additionally, you could integrate a Google calendar into the Events page and use thumbnail images and text to disseminate information about future and past activities.
Each page closes with a bold "Get Involved" footer with call-to-action buttons
that invite interested visitors to sign up for your newsletter, become a member, or email
you
to request additional information.
Didn't Find What You Were Looking For? Check Out These Templates from Our Favorite Site Builders
While you can use Google Sites to create a website quickly, it lacks many of the features and tools you'd expect to get from one of the biggest names in technology.
 It's also worth noting that while
Google Sites gives you a decent 15 GB storage limit, this is shared between all of your other Google Apps.
You could find yourself running out of storage quickly.
Other builders have a far greater variety of high-quality templates, like the ones I've highlighted below from Wix, Squarespace, and Zyro.
These builders make it easier to design a fully functional website with a look and feel that's unique to your style or brand.
They also offer far greater storage than Google Sites. (All Squarespace plans have unlimited photo storage
, for example.)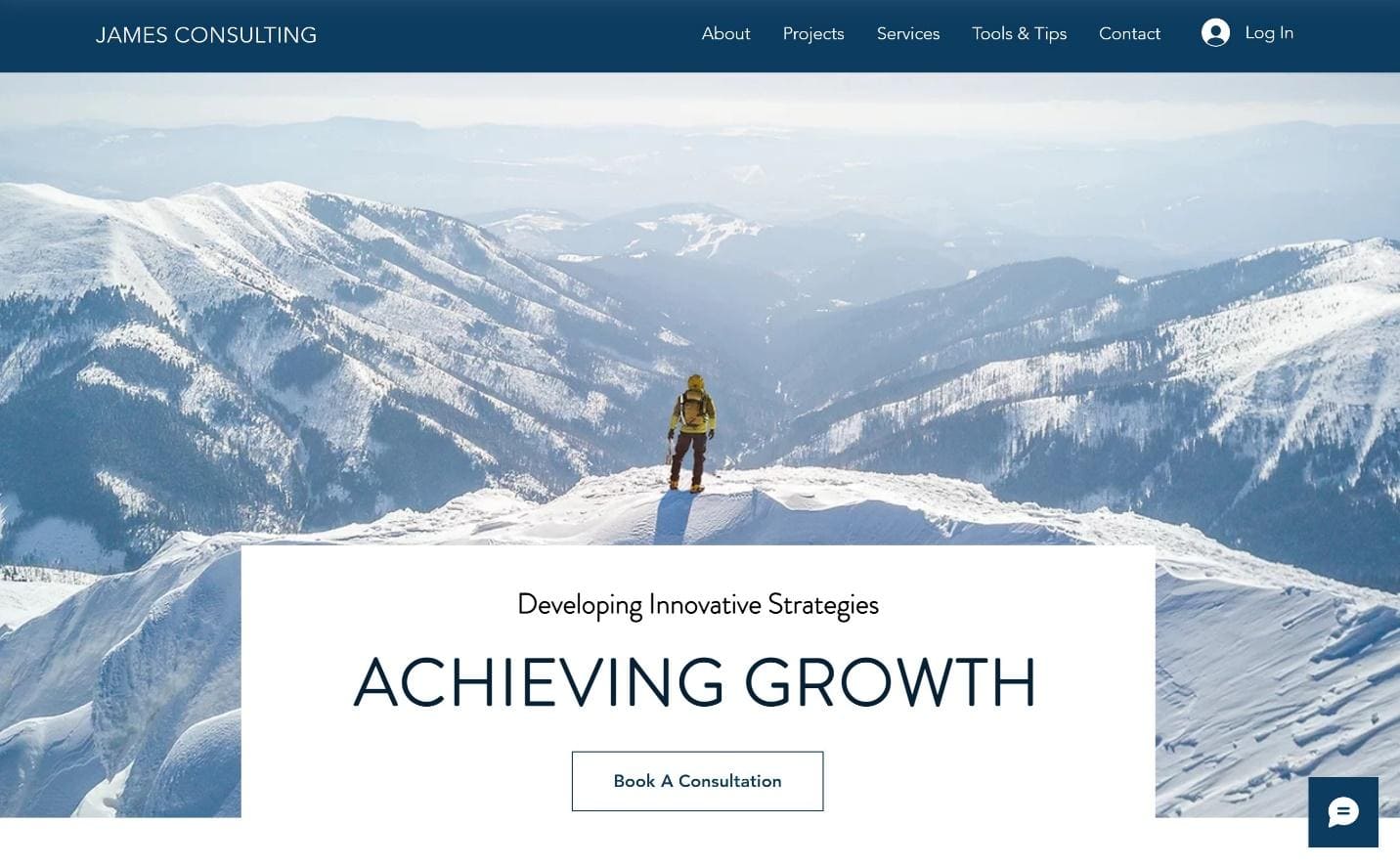 The
Consulting Business
template from Wix has a sleek and informative design that's perfect if you want to launch a business or service, or take an established firm to the next level. With a short scroll down the homepage,
visitors can learn about the services you offer, browse past projects, and view your client list.
Testimonials add further proof of your skills and expertise.
Wix Bookings makes it easy for clients
to check your availability, book an appointment, and pay with a few clicks. Another notable feature is the Tools and Tips page where you can upload any materials that demonstrate your industry expertise. You're even able to choose who can view or download your materials, whether that's all site visitors or only prospective/current clients. Finally, the built-in
Wix Chat app helps you gather leads while also offering site visitors high-quality customer support
.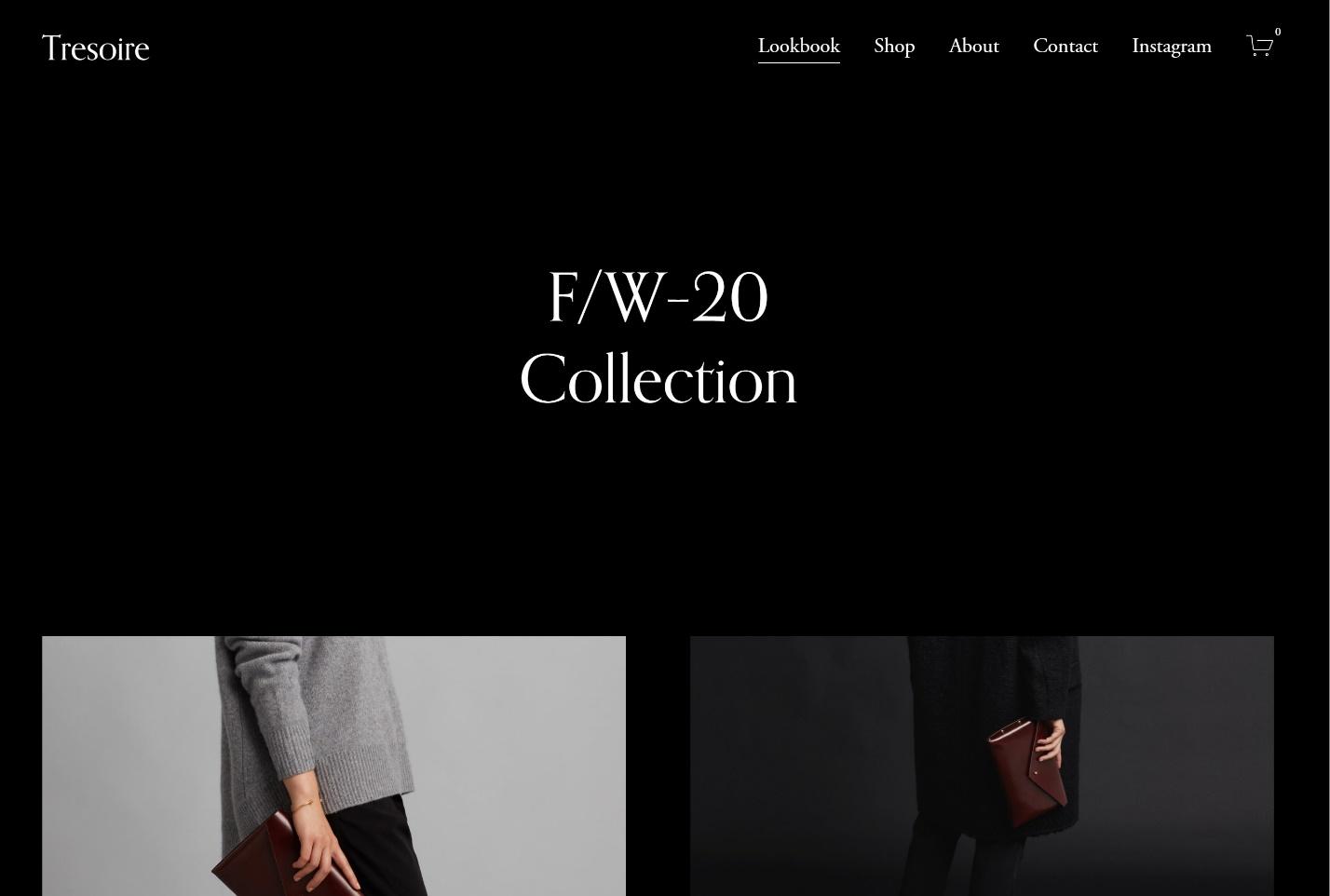 Squarespace's
Tresoire
template has a minimalist style that makes it
my top pick for a
contemporary fashion brand
that wants to position its products as exclusive, and therefore more appealing.
Simple gallery-style store pages make it easy for shoppers to browse your products,
bring up a "quick view" with a click, and add items to their shopping carts. They can then choose from several payment options and create a personal account for a speedier online checkout.
Squarespace's robust e-commerce tools let you
manage and sync inventory across all your locations.
You can prompt buyers to act with limited availability labels, related product suggestions for out-of-stock items, and abandoned cart recovery emails
.
SEO, analytics, and marketing tools are already built in. All you need to do is add an FAQ page with your store policies.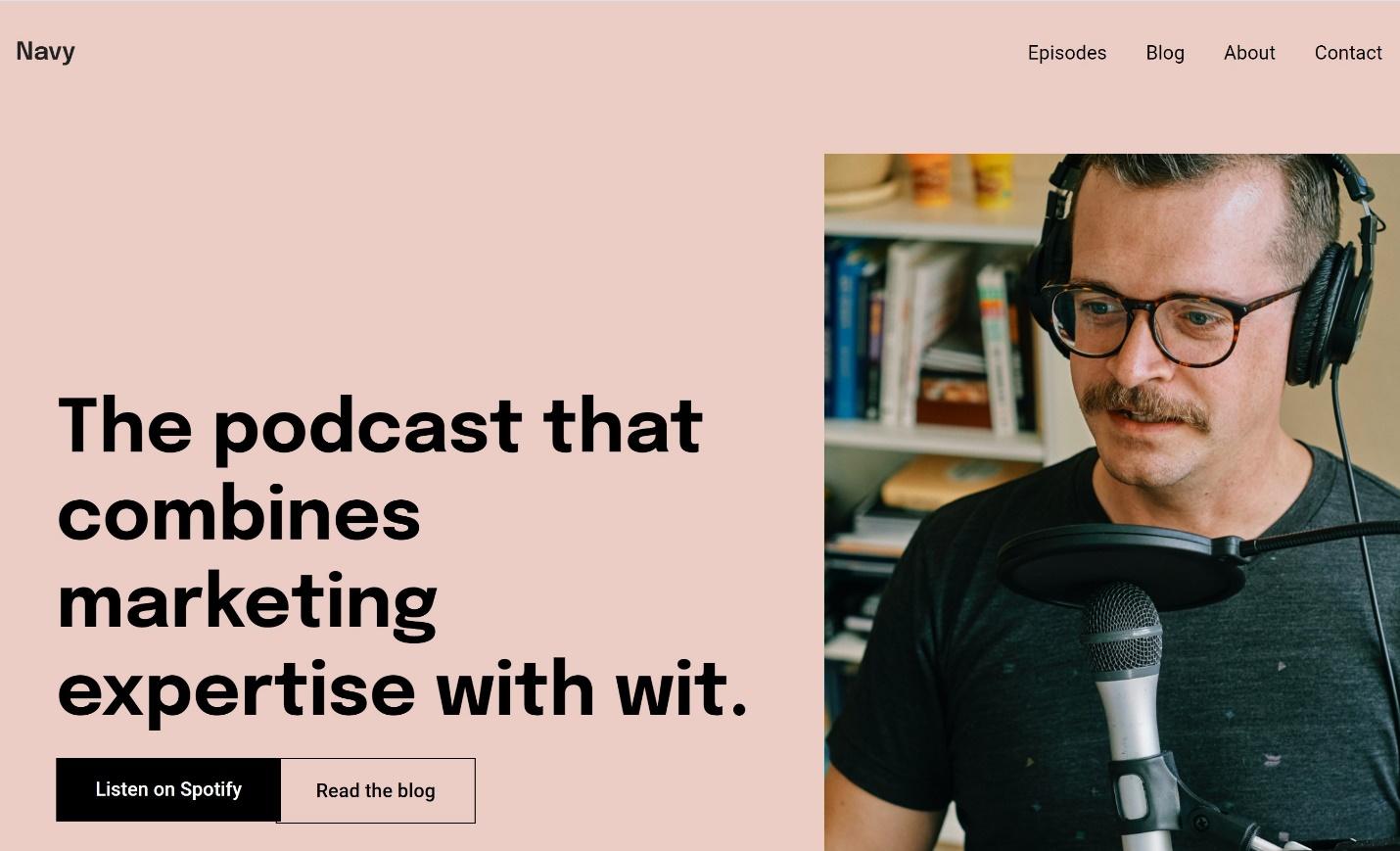 Zyro's
Navy
is a podcast and blog template that's
a good fit for entrepreneurs who want to launch or grow a business by sharing their perspective
on a range of topics: marketing, food, lifestyle, and more. Embed a Spotify or Soundcloud widget and
quickly draw visitors in by letting them stream your podcast right from your homepage.
They can then navigate to your Blog page and search posts by category. Zyro's blogging tools let you add detailed blog post descriptions, save and edit drafts, and schedule publication dates. If you ever need inspiration, you can always
turn to Zyro's innovative AI tools for help
. AI can suggest blog titles, write content, and optimize the placement of call-to-action buttons so your visitors will be more likely to click them.
Is Google Sites a Good Fit for Your Website?
First, consider the type of website you want to build and what you hope to achieve. Then consider your budget and your timeframe.
Google Sites' biggest selling points are that it's free and easy to use.
It might be a good fit if you want to quickly create a brochure-style website for a business, put your creative work online, or design a professional portfolio/CV. It's also the best builder for teachers who want to create a free website for their class. On the other hand, if you're looking to sell products or services, let clients book appointments, or launch and monetize a blog, you'll need to look elsewhere.
I'd recommend Wix if you want a free plan with more templates, features, and control over your website's design.
Here's a list of pros and cons to help you decide if Google Sites is right for you.
Pros:
Seamless integration with all Google apps, including

Maps

, Slides, Docs, and Drawings. 

Google Analytics data gives you key insights into how visitors engage with your site, which you can use to improve your site's performance.

Link popular social media platforms and upload YouTube videos.
Cons:
FAQ
Is Google Sites completely free?
Yes. You only need a free Google account to use Google Sites. Your website will be ad-free and include unlimited storage. You can use all Google's free tools, including Google Analytics, and you'll get access to a small library of free website templates to help you get started. The only thing you'll have to pay for is a custom domain.
What types of websites is Google Sites good for?
Google Sites works well for photography, professional portfolios, and simple business sites that don't need advanced features like the ability to sell products, accept payments for services, or solicit donations. It's also a good option for classroom websites and for corporate intranet sites. Still, Google Sites lacks the features needed for many kinds of sites. To help you make an informed choice, we tested and reviewed the best website builders for 2023.
Are Google Sites templates responsive?
Google Sites templates are mobile-friendly. Text, images, and other elements will automatically adjust to different screen sizes to create a responsive version of your site. This ensures your website will look its best on desktop, tablet, and mobile.
What are the best free alternatives to Google Sites?
I'd recommend Wix for a fully functional website. The free plan gives you access to most features, though you'll need a paid plan to unlock e-commerce. Zyro is a good option for beginners, while Squarespace's free trial is great if you want a visually-striking site, perhaps for a photography or design portfolio. If you're still not sure, our in-depth review of the best free website builders in 2023 can help you pick the right one for your needs.