When you scroll through Weebly's template library, there doesn't seem to be much choice. There are just upwards of 40 free templates ("themes") for you to choose from, divided into seven different categories. For restaurant websites, Weebly has two or three suggestions, and for hotels – just one.
But what is hidden by these groupings is the fact that Weebly templates are actually very flexible – not just in terms of layout and design, but even functionality – so that every restaurant template could easily be used for a hotel, and vice versa.
If you've been browsing through the Weebly template library with a specific website category in mind, you could've missed a great option for your site!
I've spent the last week going through literally every single one of Weebly's themes. For good measure, I've also included a couple of free themes that are best avoided – and, for comparison, a couple of standout premium themes that you might decide are worth the extra cost.
Top 5 Free Weebly Themes
Considering they're free, all 40+ Weebly themes are pretty very well-designed, with a clean and professional appearance, crisp white spaces and eye-catching images.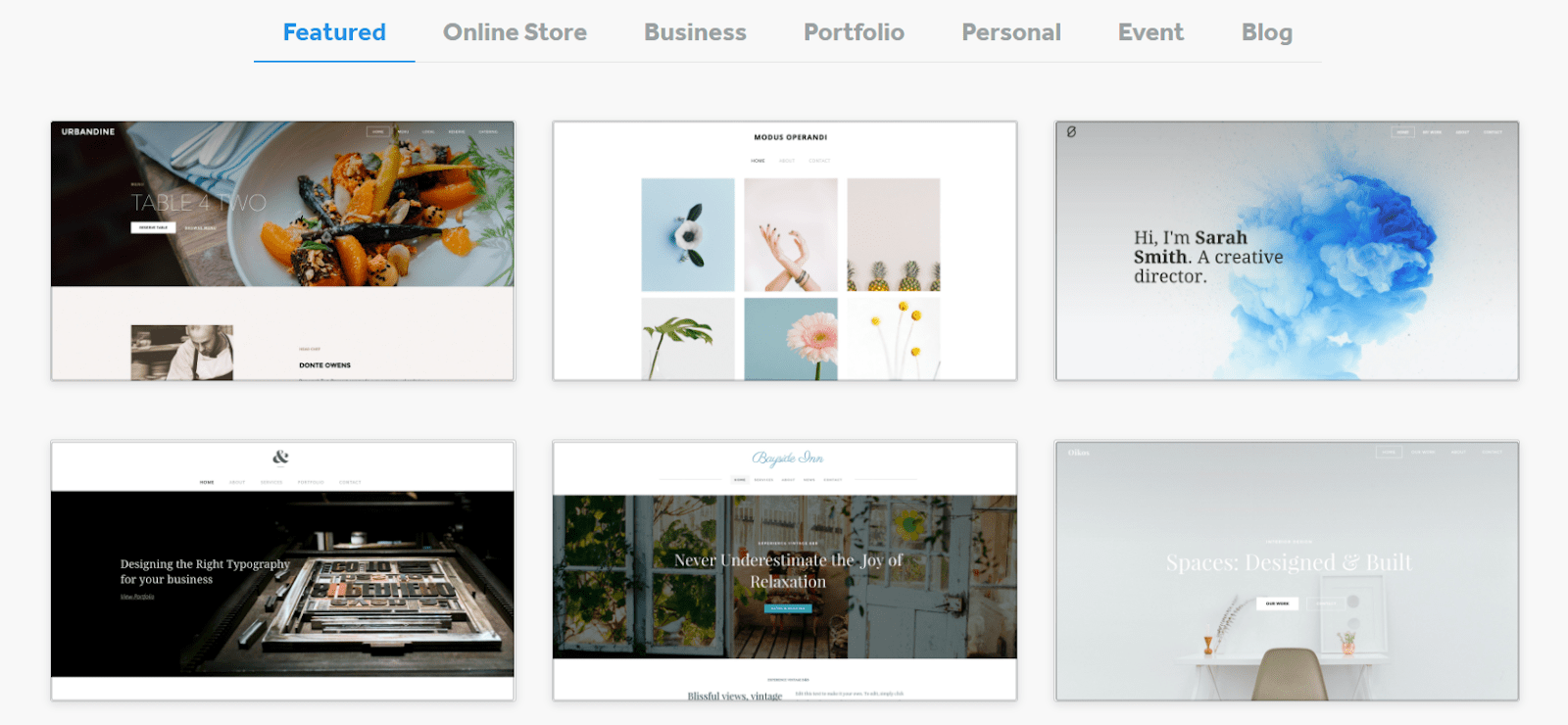 They're all also automatically mobile-responsive, meaning visitors will be able to view your site smoothly on all kinds of different devices. It's also good to know that Weebly lets you change your theme at any point, so if you choose one and end up changing your mind, it's not a major hassle to go back and swap – Wix doesn't even let you do this!
Without further ado, these are the best of the best.
1. Kiko & Miles – Edison
Suitable for artists, photographers, architects, and bloggers, as well as e-commerce websites, the Weebly Kiko & Miles template is a clean, minimalist theme that puts your content center stage, pairing classic typography and minimal text with a modern color palette to avoid cluttering the page.
Kiko & Miles also comes with a number of ready-made content blocks that make it perfect if you ever want to add any e-commerce functionality to your website. This could include featured products, shop collections, and call-to-action buttons. The boxed layout is fully mobile responsive and includes an in-built store that integrates with Weebly's shopping cart system.
The search function add-on is also a great way of making sure your visitors can find exactly what they are looking for.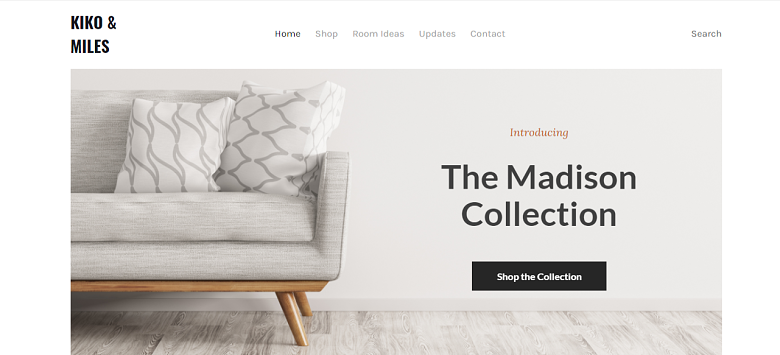 2. Susan Smith – Birdseye 2
Another highly visual design, Susan Smith is a great theme for both personal and business websites – whether you want to make a splash at your next pitch or reel in potential customers with lavish photos of your spa. (Confusingly, the name on the image in the theme gallery is "Sarah Smith", but Weebly has it titled as "Susan Smith" – very weird!)
Susan, Sarah, whatever her name is, this theme features a bold, full-width header image and snazzy fade and navigation elements that transition as you scroll, giving your website a clean, ordered feel and ensuring that your content – the main star – always looks stunning. The simple color palette allows your pictures to do the talking.
The in-built website sections for personal details, case studies and a service list are ideal for presenting important information in a clean, uncluttered manner, with minimal text – meaning that this portfolio template could easily be adapted for other types of service businesses as well.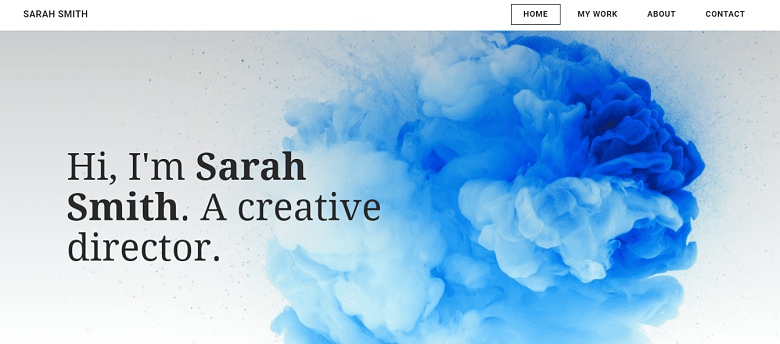 3. Upstart – Haberdasher
Blogging is not just for globe-trotters and fashionistas – it's also considered a key component of an effective content marketing strategy. No matter what type of website you're creating, you'll find blogging features built-in with Weebly's Upstart theme.
While content blocks like the read more break, blog archives, and social icons will help you get started, you can transform your blog into a business with newsletter forms, contact forms and maps.
Upstart draws visitors straight in with its ultra-clean, modern design that pairs a sleek black and gold color palette with plenty of call to action buttons. The readymade "About," "Contact," and "Community" pages provide you with a blank slate to introduce yourself or your business and start connecting with potential clients. And, if e-commerce is your thing, adding products can be done in just a few clicks.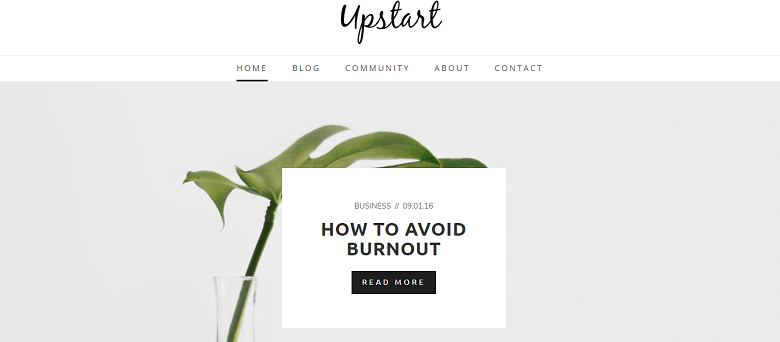 4. Urban Dine – Birdseye 2
Urban Dine has taken the concept of eating with your eyes to a whole new level and dedicates a significant amount of space to photo blocks – including a full-width header image – to allow you to showcase your business's best side. There's even an in-built portfolio section, perfect for filling with photos or projects. You can toggle between a light and dark theme, whichever offsets your images the best.
This Weebly theme also comes with a number of in-built features clearly designed for restaurant websites, including a menu page layout, a contact page, call-to-action buttons, maps, YouTube videos, and a reservation function, which you can link up to Weebly's integrated scheduling system.
But, don't let the name fool you – Urban Dine is clearly designed with restauranteurs in mind, but many of its features would work equally well for other types of businesses that need service and price lists, contact pages and appointment scheduling – including hotels, spas, personal trainers, and therapists.

5. Bayside Inn – CleanLines
As the name suggests, Bayside Inn is a Weebly theme designed with hospitality businesses like hotels and B&Bs in mind – but it would work equally well for service businesses, shops, consultants, nutritionists, and the like.
The crisp, professional theme is centered on a highly visual layout that makes use of full-width images, slideshows and videos, allowing to show off your establishment's best features. It also includes multiple inner-page layouts for highlighting your facilities or services in a classy way.
Bayside Inn also offers sections describing services, news about the company, a contact page, and even a call-to-action reservation button, which can be linked to Weebly's integrated scheduling system. There's also a number of other in-built features that business owners shouldn't be without, including contact forms, newsletter forms and maps integrations.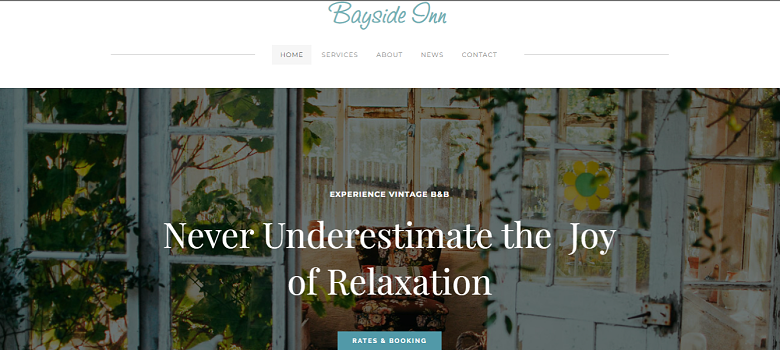 Free Weebly Themes to Stay Away From
Of course, no builder can do everything right. If you're on the hunt for a great, free Weebly theme, I'd recommend steering clear of Sol de Terrace – which is aimed at businesses – and Modus Operandi – a portfolio template.

There's minimalism and then there's, well, too much minimalism. I'm all for clean lines and pared-back designs, but (in my opinion) this is taking it too far. Sol de Terrace, in particular, presents you with acres of white space that, far from conveying the sense of cool minimalism it's aiming for, make it look like an unfinished website.
It's this same pared-back quality that causes issues with Modus Operandi, which on the face of it looks like a great, ordered way to display your portfolio work. However, this particular theme sacrifices design for the sake of functionality, since the pictures on the home page can only be enlarged, with no space for extra text or links – and therefore no space to sell yourself, which sort of defeats the point of having a portfolio.
Paid Templates that Might Be Worth the Extra Investment
As I mentioned, compared to some website builders out there (like Wix or Squarespace), Weebly doesn't offer the greatest amount of choice – but you can upload a theme from a provider like Theme Forest. So, if none of the free options get you excited, here are a couple that might be worth the extra cost.
inspiron
Designed to work with e-commerce, portfolio, blog and business websites, inspiron is a Weebly app template that brings together a clean and modern design with a bunch of powerful features. Not only does it come in five predefined colors, so that you can change your website palette with the click of a button, but it is also extremely simple to edit – making it a perfect template for absolute beginners.
It also comes with some pretty cool features – like a bunch of ready-made portfolio template pages with clickable and enlargeable images, plus a clean, easy to use, in-built store.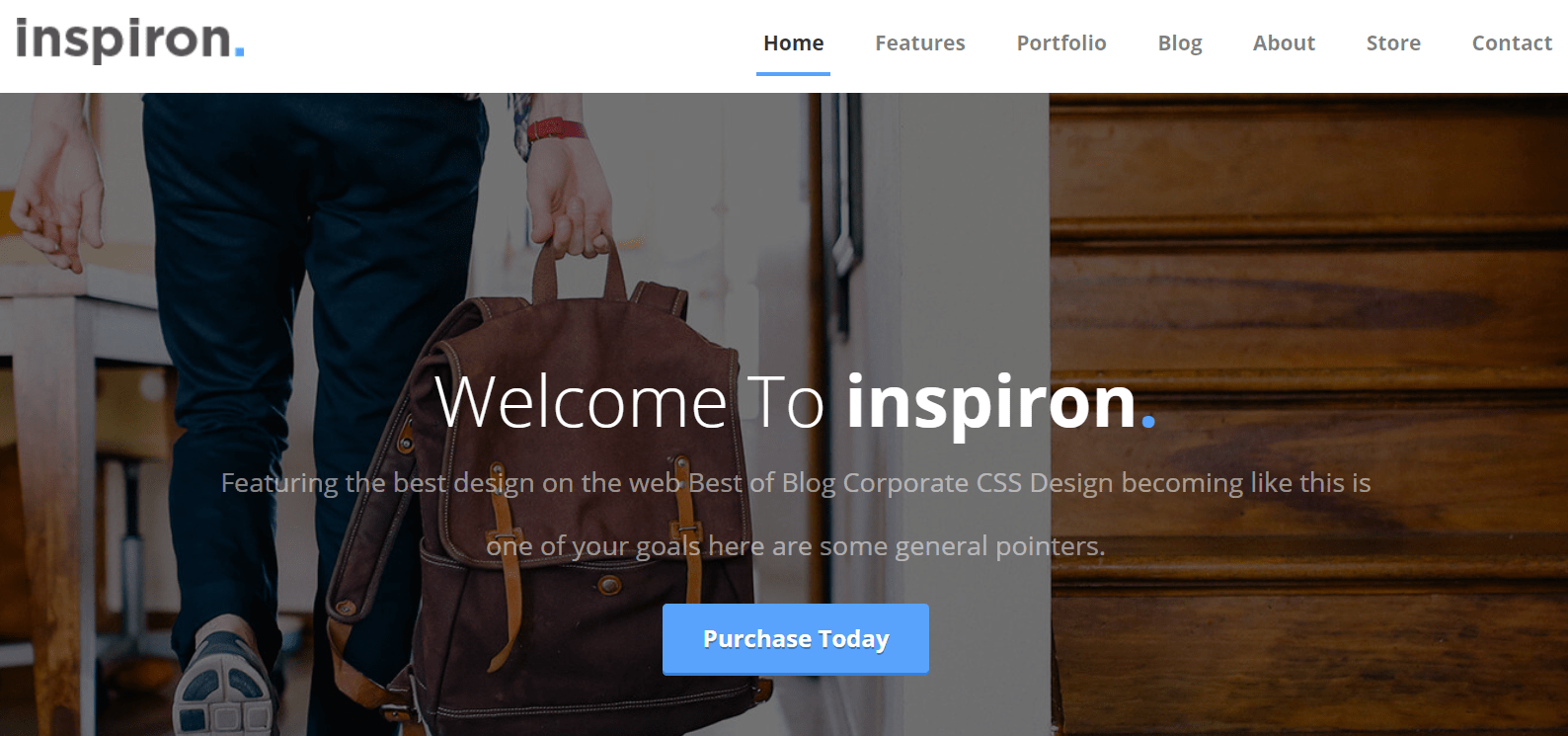 Kudos
Kudos is another easy-to-use premium theme, suitable for all different kinds of websites, that comes with a number of great custom features, including custom headers, additional fonts and animated widgets like a number scroller, hover boxes, color text boxes, line dividers, and icon lists.
It also comes with styling for all the standard Weebly widgets, including newsletter signups, buttons, contact forms, YouTube videos, blockquotes, and social icons.

Plenty of Good Choices, Even if You Don't Want to Pay
It might not have the biggest selection, but compared to a lot of web builders out there, Weebly actually offers a good number of high-quality free themes, and most are universal enough that they can be customized to suit all kinds of websites.
You need a good template to send out the right message to visitors, since your site's design is probably the first thing they'll notice. You'll have lots of good choices with Weebly, but if you'd like more, check out our list of the top website builders, most of which offer free templates.
FAQ
How do I make my own Weebly theme?Of course, you're not just restricted to the ready-made themes Weebly offers you – you can use the Code Editor in Weebly to create something of your own! The easiest way is to start with an existing theme and change it as you need. Simply open up the theme, and then click Edit HTML/CSS at the bottom of the Theme Page. You can either edit HTML, CSS, and JSON files directly in the editor, or export them to an external editor and re-import your new theme once you're finished.Which Weebly themes are mobile friendly?Weebly's designed all its standard themes to be automatically mobile-responsive, meaning they'll look good on any device, without any need for extra editing.Is Weebly good for small businesses?Weebly offers a lot of basic features and an easy-to-use drag-and-drop editor, making it an ideal website builder for small business owners who just want to establish an online presence. However, a lot of its more advanced features are hidden behind a paywall, so if you're looking for serious e-commerce functionality, you might want to check out our list of the top website builders in 2022.Is Weebly really free?Weebly has a wide range of pricing options – including four paid plans as well as the free options. The "free forever" plan is exactly that – free forever – and includes free hosting, 500MB storage and access to all of the Weebly themes featured in this article. If you want e-commerce features, additionally functionality and extra security, however, you'll need to upgrade to a paid plan. If you do decide to upgrade, make sure you take advantage of any current coupons or discounts.