Shopify's themes all look good – they're professional, stylish, and inviting. But a good ecommerce theme has to do more
. You want a theme that shows off your products, makes your store easy to navigate, and delivers a pleasurable shopping experience.
That's
what gets shoppers to buy, and first-time buyers to return. Since finding the right theme for your store is such an important first step,
I tested each of Shopify's free themes and picked 6
 that can help you build a store that sells. Before we dive in, I admit I couldn't resist also recommending a couple of my favorite paid themes. If you have the budget, these promise to take your store to the next level.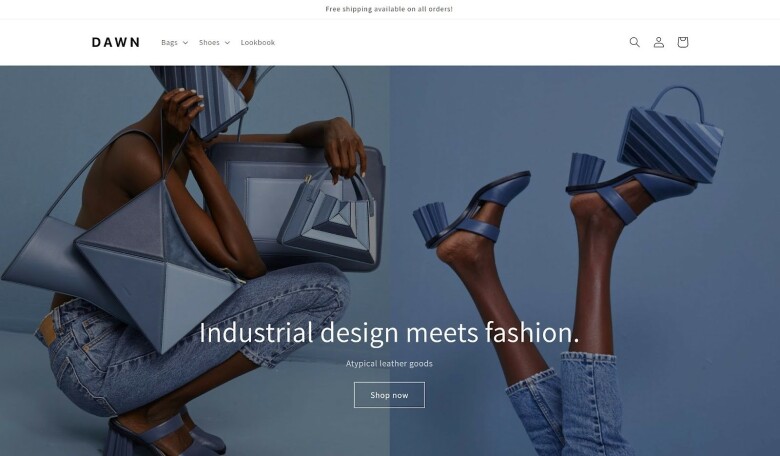 Dawn
is the default theme for Shopify stores and is suitable for both large and small retailers. A chic Shopify theme with a clean layout, its smart use of media will present your products at their best. It features
a well-designed homepage gallery, large images, videos, and rollover and zoom effects
that create a more engaging experience for shoppers. The straightforward navigation and enhanced search and product filtering features also make it easy for people to find exactly what they're looking for. I particularly like
Dawn's
"Lookbook" page, which forgoes storytelling about the latest styles and trends for a dramatic media gallery
. The page is a visual extravaganza that closes with a contrasting double row of featured products. It's an approach that entices shoppers and makes them more likely to click and buy.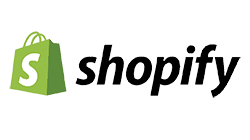 Save up to 25 % on your Shopify plan!
Limited-time offer - Don't miss it!
293 users used this coupon!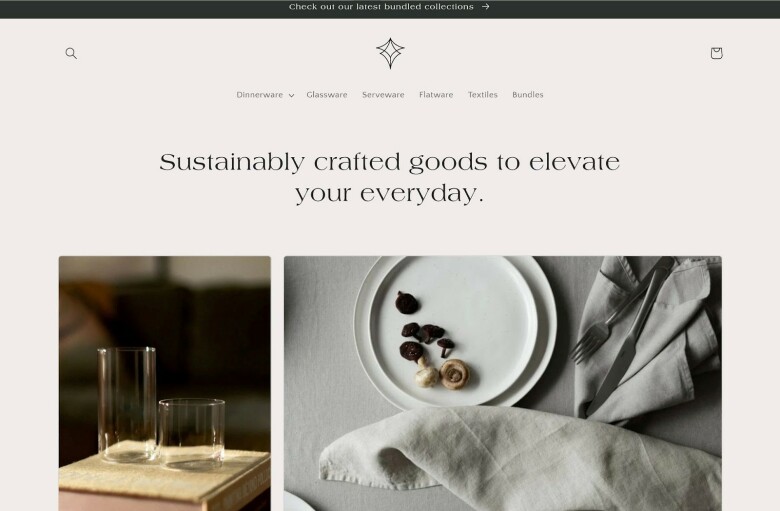 Craft
is a clean and elegant theme that's perfect for stores featuring select or handcrafted products for the home. The neutral color palette, ample use of whitespace, and
striking image galleries help show off your homeware products
. A simple navigation bar organizes your store by product collection. There's space for you to share what makes your brand unique, whether that's sustainability credentials or your design process.
Testimonials and product reviews establish trust
and highlight the quality of the items you sell.
Craft comes with Shopify store features that let visitors bring up a quick view or full product description
, add it to their shopping cart, and pay in full or in installments. They can also choose in-store pickup or delivery, adding to a smoother shopping experience.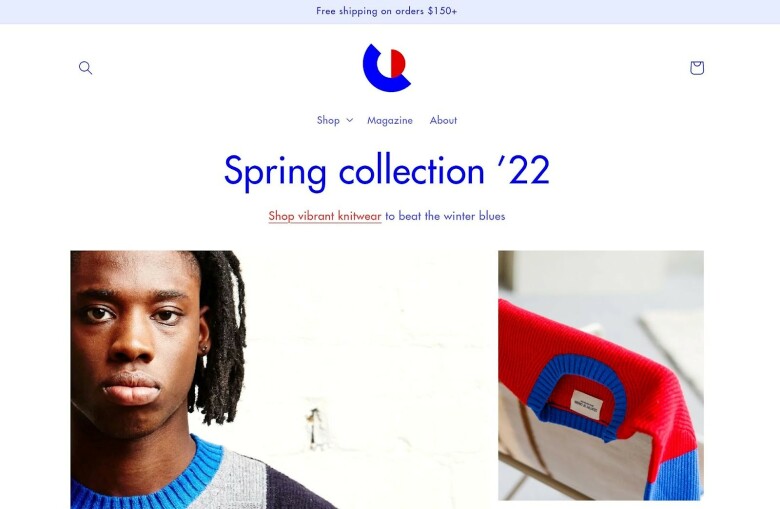 If you want a theme designed for sharing your brand's story, look no further than
Colorblock
. Its
bright hues, colorful icons, and cropped images create a trendy vibe, while call-to-action links invite visitors to explore your fashion
or learn more about your design process. In keeping with this theme's unconventional mix of lengthy text sections and high-quality visuals,
the homepage also offers shoppers a different way to filter goods: by color, not type
. Borderless product images float against the theme's white background, making everything look that much more inviting.
Colorblock's
expandable navigation menu and advanced product filtering capabilities make it a good theme if you have a large catalog, whether you sell clothing, music, electronics, or services.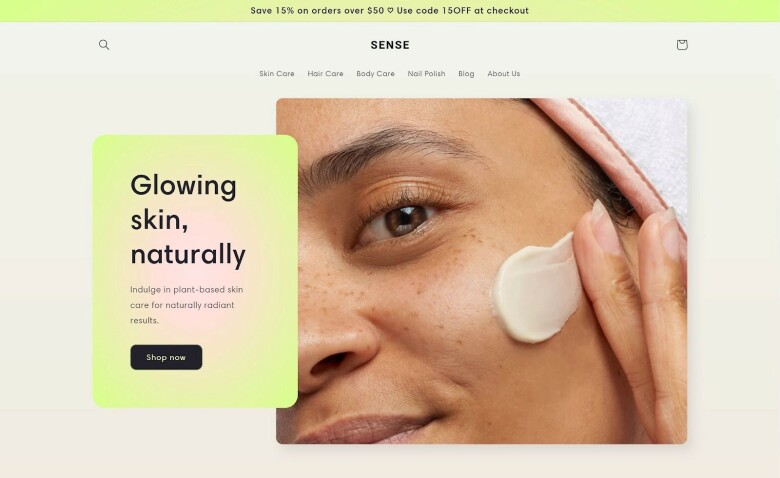 Sense
uses
a multimedia homepage gallery to create a dynamic shopping experience
that engages visitors and keeps them coming back. Shoppers can click on thumbnail images of featured items or use the top navigation menu to get where they want to go. They can also view product benefits. Once on your store's product pages, shoppers can filter items by bestsellers, availability, price, and more.
Comprehensive product descriptions include ingredients, how-to details/videos, and shipping and return policies
. There's a lot to like about
Sense
. In fact, I liked pretty much everything – except how long the scroll can feel on mobile, which could discourage some visitors.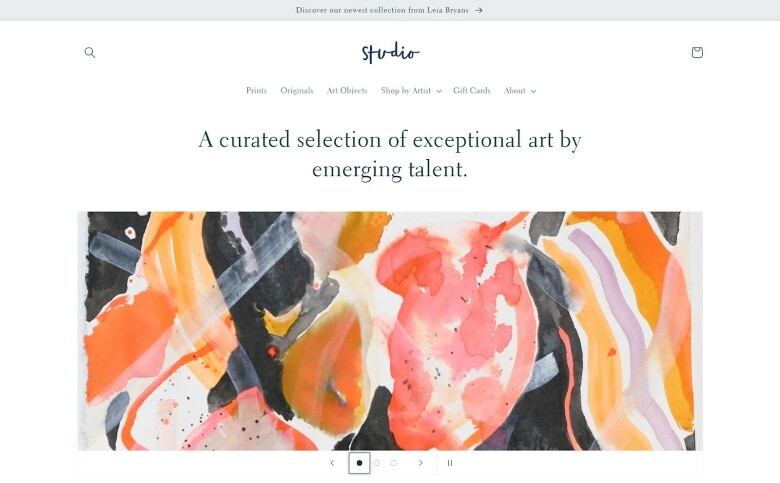 The aptly named
Studio
is a free Shopify theme for stores that want to show and sell artwork. It neatly
organizes your shop by collection, artist, and new arrivals
.
This makes it easy for visitors to browse
and zero in on a particular type of art or a specific artist whose style they like. Well-designed image galleries with subtle zoom and rollover features inspire collectors to buy. The Journal page (nested under an About page) is where
collectors can explore an individual artist's profile and learn more about their creative approach
. The default contact form lets potential clients opt out of sharing their name and phone number (they only have to submit an email), which is a smart way to capture leads and encourage collectors to get in touch.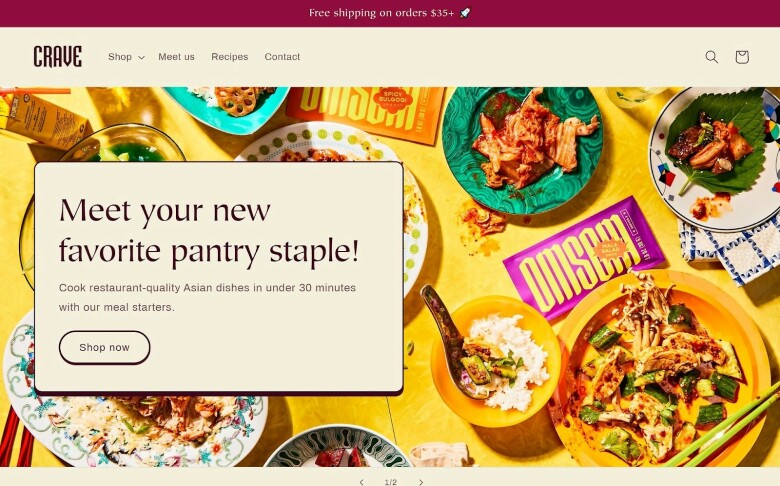 Crave
screams bold and fun design, from its bordered text and image blocks to its playful animations. This is
a theme best suited to food brands with a vibrant personality and a younger target audience
. Everything you need to quickly design your store is included, such as your Shop, About, and Contact pages.
There's also a Recipe blog, and the deep footer includes links to all your social media platforms
, from mainstays like Facebook, Pinterest, and Twitter to (no surprise!) TikTok. While all Shopify themes are responsive,
Crave feels like it's custom-made for mobile shoppers
. The layout is exceptionally user-friendly on a small screen, with a slide-in hamburger menu and hard-to-miss "Shop Now" buttons.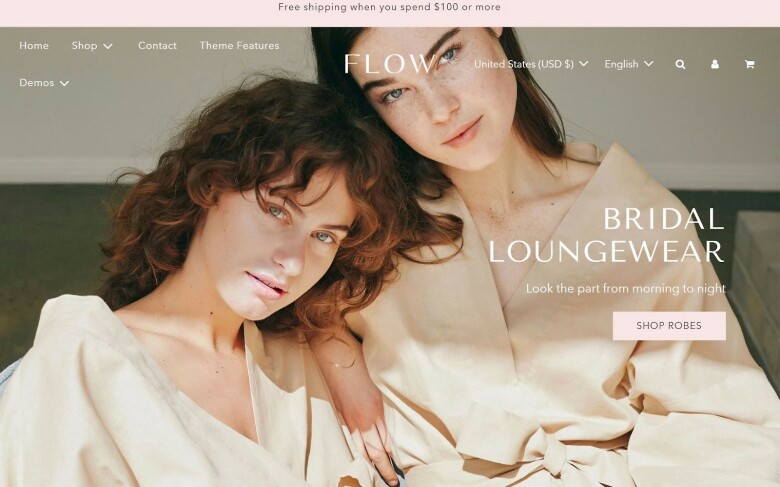 Flow
is a super-customizable Shopify theme with three demos: Cannes (wedding loungewear), Queenstown (organic juices), and Byron (shoes). These demons show how
you can adapt this theme to any retail niche
. Whether you're selling to brides-to-be or sports enthusiasts,
Flow
has the tools you need to design a store that moves shoppers through the sales funnel. Product gallery features like
video and 3D rendering create a more tangible experience for shoppers
. You can also boost sales with back-in-stock alerts, size guide pop-ups, gift wrap options, and more.
Flow's
flexibility and built-in functionality come at a price, making it one of Shopify's more expensive premium themes. But I was impressed by the
positive reviews and the tributes to the developer's high-quality and responsive customer support
.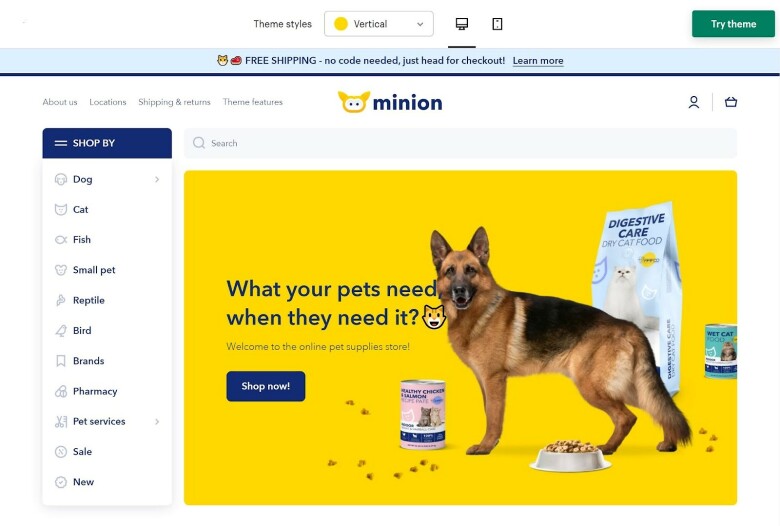 Minion
is a popular Shopify theme with the flexibility and features to suit a variety of niches – pet supplies, t-shirts, electronics, and everything in between. It's
a good starting point for a high-volume store, especially one that relies on dropshipping
. There are 5 theme styles (Vertical, Tiles, Classic, Red, and White) and 3 navigation styles (sidebar, classic top menu, or tiles) to choose from.
Minion
also comes with tons of page, layout, and store features. After you pick a product page layout, you can add a variety of tags and badges to individual items.
Videos, reviews, pop-up size guides, and "ask a question" boxes, can also help nudge shoppers to buy
. If all the options seem overwhelming, they can be. That, along with Minion's cost, may render it a less suitable theme if you've never built a website before. However, the unlimited free trial period (you only pay when you publish), detailed set-up guide, and dedicated customer support ensure you won't be out on your own.
Didn't Find What You Were Looking For? Check Out These Templates from Our Favorite Site Builders
There's no doubt – Shopify provides a multitude of essential ecommerce features and offers a variety of appealing free themes tailored to different store niches. However, it may not be the only, or necessarily the best, choice for your online store.
Website builders like Wix and Squarespace offer equally robust ecommerce tools and make it easier to find the right template and build your online store
. BigCommerce also offers some impressive free themes that are definitely worth a look.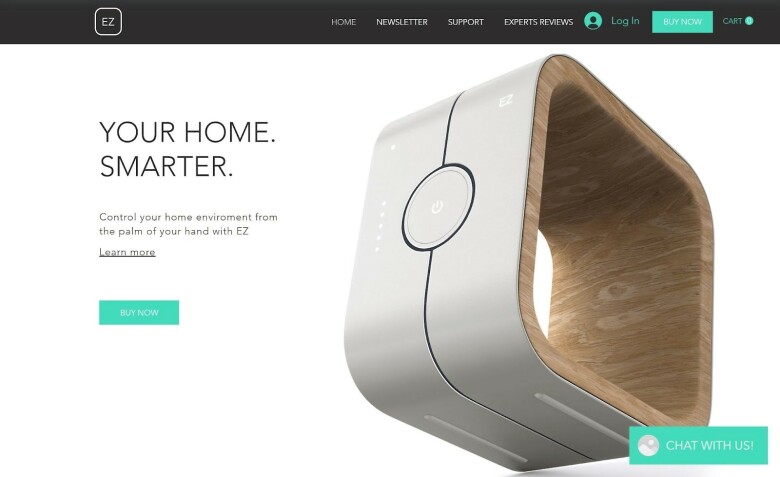 The sleek Wix
Electronics Store
template has the right look and features for stores selling innovative products, like cutting-edge electronics, smart home devices, and other hi-tech items. A short scroll down the parallax-enlivened homepage gives potential customers a clear understanding of your products' unique benefits.
The Expert/Reviews page makes a professional case for what makes your product special
. There's even a built-in Support page where customers can find a downloadable handbook and other helpful options.
Wix Chats is built in, so you can respond to prospective buyer's questions and concerns in real time
. This can help establish your credibility and get cautious shoppers to commit.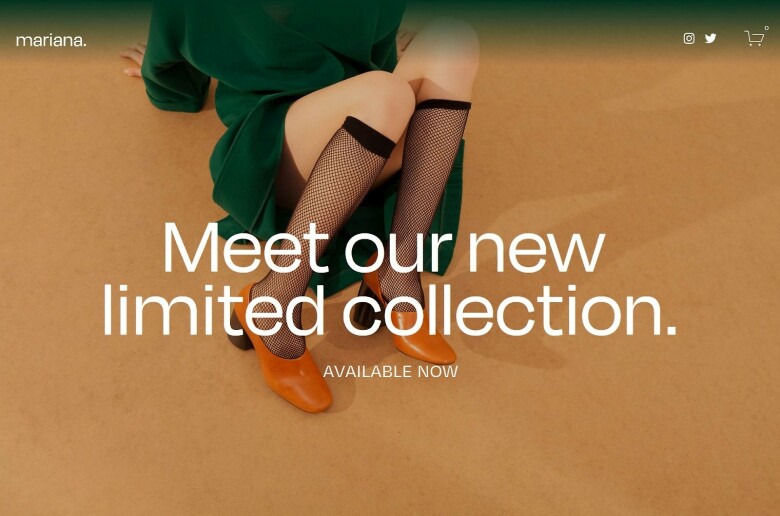 Mariana
is a Squarespace template that puts the essential features your store needs on a single attention-grabbing page:
a built-in shop, your "About" story, and stunning product galleries
. It's ideal for retailers that offer a limited collection to a select clientele. As shoppers scroll your website, text and images fade in, keeping them engaged and focused on your items. You can adjust the speed or change fade-in to glide-in with a few clicks.
Squarespace Commerce tools also let you enrich product descriptions with multiple views, videos, and related-item suggestions
. Marianna closes with a striking product gallery that converts to a slideshow when shoppers click on an image.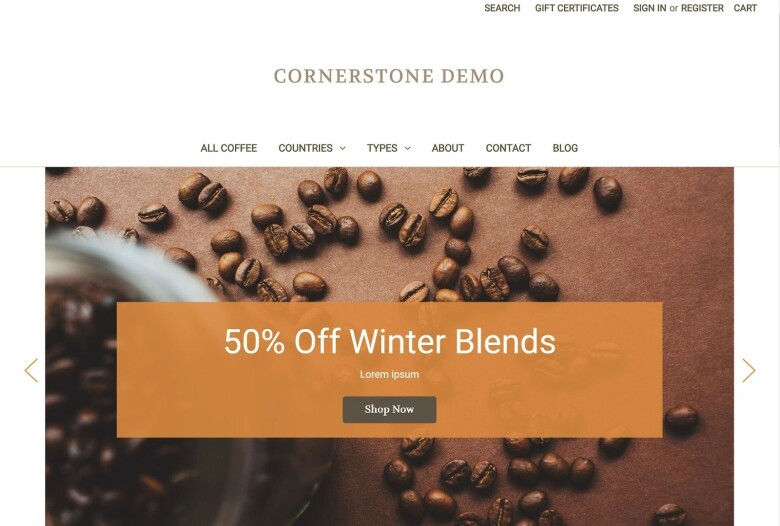 Cornerstone
is a free BigCommerce theme that comes with three variations: light, warm, and bold. It's a fully responsive theme for a clean, modern store that's suitable for a range of businesses and brands.
A
homepage carousel that features up to five rotating banners with full-screen images
immediately grabs visitor's attention. When a shopper's cursor or finger moves over a product image, it triggers hover effects that link to a quick view or prompts them to add the item to their shopping cart. Since
Cornerstone
is the default theme for new BigCommerce stores, it's the first to support new features and improvements. That said, some advanced features require a Pro Plan, which can increase your costs. It's also worth noting that
BigCommerce is mainly geared to high-revenue ecommerce businesses
.
The Best Free Shopify Themes Can Help You Build a Store that Sells
Your website is your store's calling card. It's the primary way you connect with potential buyers, build your brand identity, and convert casual browsers into dedicated customers. Building a great ecommerce website starts with choosing the right template. So,
take the time to review the Shopify themes in this review
, make a list of your goals and must-have features, then choose the one that best matches your vision.
FAQ
What is the best free Shopify theme?
I'd strongly recommend any of the free themes in this review, but which is right for your store will depend on your particular needs. For example, if you're looking for a refined, minimalist design, go with Craft. If your customers mainly shop on phones, however, Crave would be best.
Which free Shopify theme is easiest to customize?
All of Shopify's free Online Store 2.0 themes are easier to customize than its vintage themes because they allow for drag-and-drop editing. The multipurpose Dawn is the most popular. It's ideal for clothing, accessories, beauty, and jewelry stores, but its adaptability also makes it suitable for other niches.
Are Shopify's premium themes worth the cost?
That depends on your budget and needs. While premium themes can add hundreds to your store's startup costs, they may also include more built-in functionality and customization options. Fortunately, you can test as many paid themes as you want with an unlimited free trial period – you won't have to pay until you publish.
Which website builders are good alternatives to Shopify?
Wix and Squarespace both offer easy-to-customize, designer-made templates with everything you need to create a high-performing online store. If you go with Wix, you'll have 120+ free ecommerce templates to choose from, covering virtually every niche out there. Squarespace store templates are visually stunning, though fewer in number.