If you want clients and customers to take you seriously, you need an email address @yourdomain.
 Back in the day, you could get away with a Gmail or Yahoo! address, but now that web hosting is so incredibly cheap, there's no reason not to have a professional email address. In fact, you can get an address @yourdomain for free, but it can be tricky to find the right provider. You don't want to get stuck with an interface plagued by ads or an inbox so small that you have to constantly delete your old conversations to make room for new ones. If you're going to get a decent service, you have to know
where to look
.
To save you the frustration of trying dozens of underwhelming options, I've done the research and testing for you.
The email hosting services that made it on my list are actually free (with no hidden fees), and they come with excellent features.
 Most even offer web hosting services at no additional cost, so you can create a beautiful website to showcase your work while you're at it.
In a hurry? These are the best free email hosting services:
InterServer (Almost Free) –

unlimited email with a huge mailbox and cheap monthly pricing

Googie Host – speedy, reliable, and ad-free email hosted in the cloud
Hostpoco – global email hosting with more than a dozen servers around the world and live chat support
What We Look For in the Best Free Email Hosting
I've tested all of the popular free email hosting providers to find the ones that offer the best packages for zero cost. During my research, I've prioritized these features:
Custom domain. I've only considered hosts that let you create a professional email address @yourdomain. In some cases, you can use the same provider to register the domain at a discount.
Multiple email addresses. You might want separate email aliases for different aspects of your business, such as sales or customer support. Plus, if you work in a team, each colleague could use their own address.
Decent mailbox size. You'll need plenty of storage space to archive emails, especially if this is your main channel of communication with clients and customers.
Security features. Despite being free, some email hosting providers offer spam and virus protection for your email. It can save you time if, for example, spam is neatly separated from the rest of your inbox.
InterServer offers a lot more than basic email hosting.
Its Standard shared hosting plan gives you everything you need to create and secure an unlimited number of email addresses – plus web hosting.

InterServer isn't free, but
its monthly Standard plan is affordable
 and offers plenty of room to scale up. This means you won't have to undertake a massive email transfer to a different provider as your business grows.
In addition, you don't have to pay for a whole year of hosting up front. To keep costs as low as possible, you can start with a monthly plan.
Features:
Impressive mailbox size. Each mailbox comes with a huge 25GB of storage. Even if you send and receive a lot of media files, it's unlikely that you'll ever have to delete old emails to make room for new ones.
Guaranteed email delivery. InterServer ensures that the emails you send are never categorized as spam.
Spam and virus protection. With InterServer's premium filtering, you don't have to worry about malicious emails. Spam is stored separately from the rest of your mailbox, and viruses are blocked before they can cause any harm.
Unlimited web hosting. You can host an unlimited number of email addresses and websites on one account. You also get unlimited storage space and unmetered bandwidth for your site, in addition to other useful features such as a one-click installer for WordPress, free SSLs, and automated weekly backups.
Read more about what you get with InterServer in our in-depth, expert review
.
| | |
| --- | --- |
| Email addresses | Unlimited |
| Email box size | 25GB per mailbox |
| Professional domain | Not included, but heavily discounted |
| Spam protection | Yes |
Of all the free email hosting services I've tested, GoogieHost offered the most attractive package.
 You get two email addresses with spam protection in addition to one website, a one-click installer for WordPress, a site builder, and a content delivery network (CDN). You'll be hard-pressed to find another free provider with as many features.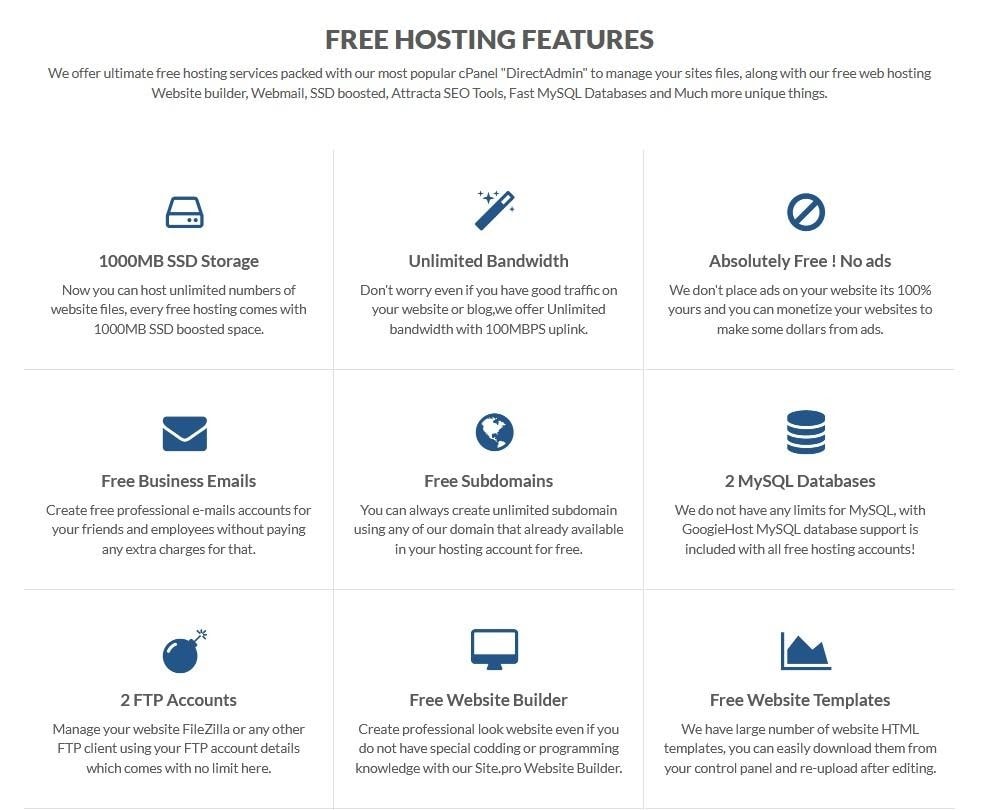 One drawback with GoogieHost is that your storage space is limited to 1GB. This includes email and website storage, so you might run out of space quickly if you use a lot of media in your emails.
That said, the storage is full SSD, which is significantly faster than the more traditional HDDs.
GoogieHost will ask you to write a short review of its hosting in exchange for the free plan, sometimes
before
you get to try the service. It's not a great thing to do, but hey: It's free email hosting.
You can read more about GoogieHost in our in-depth, expert review
.
Features:
Built on a reliable cloud. GoogieHost is an all-cloud service, which means that you can expect your email to load quickly and almost never go offline.
POP and IMAP access. Most users prefer IMAP email access, which allows them to store emails on a remote server and view them from any device. If you want more privacy, however, you can use POP access instead. With POP, the emails you open are stored on your device and removed from the server. This can also help you better manage the limited storage space included in GoogieHost's free plan.
No ads. Most free web hosts monetize your website by placing ads that you can't remove. GoogieHost doesn't, which means that you can create a professional-looking site or portfolio for your business.
| | |
| --- | --- |
| Email addresses | 2 |
| Email box size | Up to 1GB |
| Professional domain | Not included |
| Spam protection | Yes |
If you want the freedom to select your own data center from an impressive range of locations, Hostpoco is an excellent choice.
With servers around the world, this web host brings your data closer to you and your business.
A free domain name is included with some hosting plans from Hostpoco

Like other providers on my list, Hostpoco has a complete web hosting package with free email and a website.
 However, you only get 200MB of storage, and your bandwidth is also limited to 200MB. As such, you won't be able to build a very large website on the free plan, nor will it accommodate a lot of traffic. But if you just need a personal site and email, Hostpoco is more than suitable. If you outgrow the free plan, Hostpoco's hosting starts at just
$
0
.
Features:
Live chat support. Most free email hosting providers offer email or ticket support only. Hostpoco is also available through live chat between 7:30 AM and 12:30 PM (EST), every day.
Servers around the world. Locations include the US, the UK, Canada, the Netherlands, France, Italy, Germany, and more. By choosing the closest server, you can ensure that your email loads faster.
Free website builder with 350+ templates. Hostpoco uses the SitePad website builder, which includes hundreds of professional-looking templates for your website, as well as a simple drag-and-drop interface.
Find out more about Hostpoco in our expert review
.
| | |
| --- | --- |
| Email addresses | 2 |
| Email box size | Up to 200MB |
| Professional domain | Not included |
| Spam protection | Yes |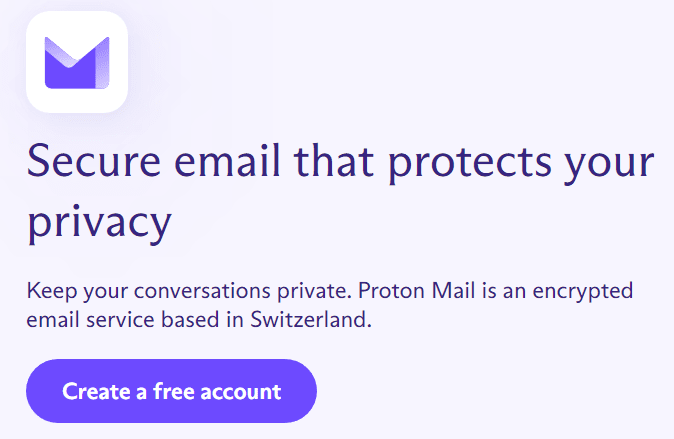 If you'll be using your email to send and receive sensitive information,
Proton Mail's robust privacy protection
is far superior to any of the alternatives in this list
. It's fully committed to ensuring that your emails are protected by end-to-end encryption.
Proton Mail is based in Switzerland, which has some of the strongest privacy protection laws in the world. You won't have to worry about Proton Mail storing your data without your consent and misusing it. However,
Proton Mail goes a step further – it applies another layer of encryption which prevents even Proton Mail itself from seeing your emails
.
This also ensures that your emails will be safe in the event of a data breach – everything will be encrypted and effectively useless to a hacker. However, it's worth noting that the free plan only allows you to have one email address, though you will have a generous 1GB mailbox to work with.
Features:
Shortened domain email address.

Interestingly, Proton Mail allows you to activate a version of your email address with a shortened domain for better memorability. For example, if your regular email was

[email protected]

, your shortened address would be

[email protected]

. 

Password-protected messages.

In spite of Proton Mail's encrypted platform, messages sent to email accounts on other platforms may not be secure. To remedy this, you can add password protection to your messages. With the password, your recipient can access the message in a secure and encrypted environment.

Proton Drive cloud storage.

The gigabyte of storage you get with Proton Mail's free tier can be shared on Proton Drive. This is a cloud storage platform that offers the same level of encryption as the email service. 
| | |
| --- | --- |
| Email addresses | 1 |
| Email box size | Up to 1GB |
| Professional domain | Not included |
| Spam protection | Customizable spam filtering system |
If you already have a website but your web hosting package doesn't include email, Zoho could be the perfect solution for you.
The free plan
 comes with five email addresses and an impressive 5GB of storage space per mailbox.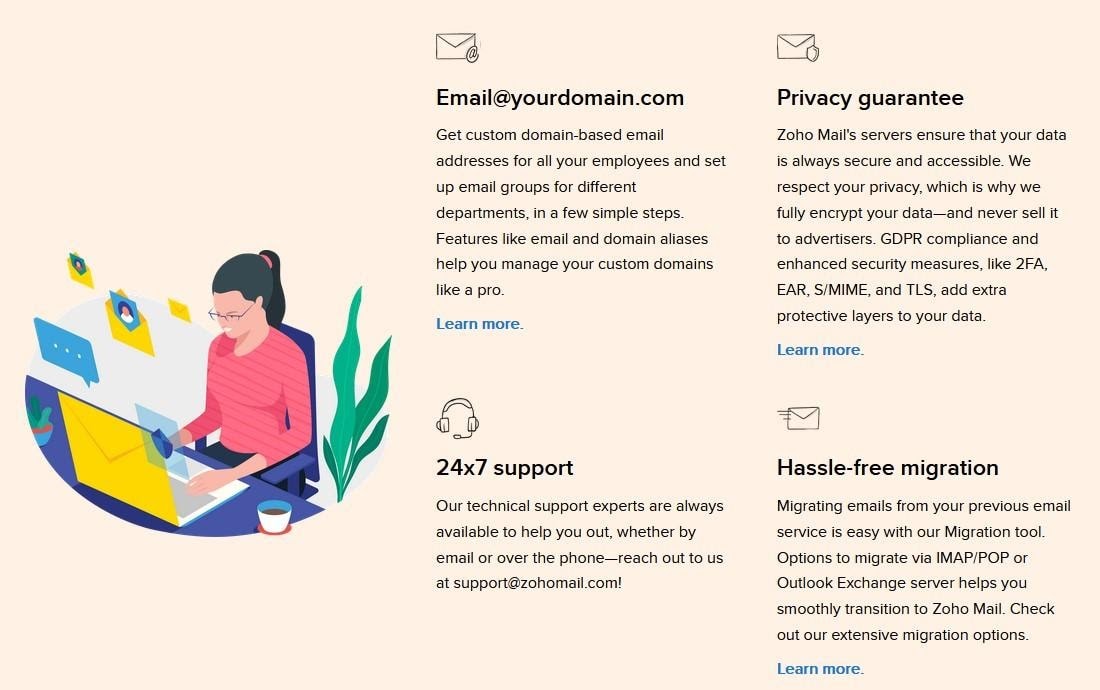 The only downside is that web hosting isn't included in the deal. Otherwise, Zoho Mail gives you everything you need to create a professional email for yourself or your business.
The dashboard is designed exclusively for email, so it's even easier to navigate than the cPanel control panel you get with other hosts.
The best part? Even with the free plan, you get plenty of extra email features that can help you keep your inbox organized.
Features:
Advanced search function. No matter how little you remember about a specific email, you'll be able to find it in your inbox with the help of Zoho Mail's advanced search.
Email filters. If you like to keep an organized inbox, you can set up filters to automatically send incoming emails to the right folder.
Automated responses. Going on vacation? Create an automated out-of-office response to let your clients and customers know that you're not currently available. You decide whether the response applies to all of your contacts or just certain groups.
| | |
| --- | --- |
| Email addresses | 5 |
| Email box size | 5GB per mailbox |
| Professional domain | Not included |
| Spam protection | Yes |
Which Free Email Hosting Service Is Right for You?
There are some surprisingly good options out there, but the right choice ultimately depends on your needs. Each free email hosting provider has its pros and cons, so it's up to you to decide which features are most important for you. For instance, most email hosting services on my list also come with free web hosting, but if you already have a website, you might prefer an email-only solution like Zoho.
The big advantage with Zoho
 is that you get more email addresses and significantly more storage space than with other hosts.
Alternatively,
Proton Mail
is another email service with a focus on privacy and security
. While you're only allowed a single email address on the free plan, Proton Mail can be useful to freelancers or other individuals who commonly work with sensitive information.
For speedy email and a website with decent performance, you could go with GoogieHost instead.
 Its free, cloud-based hosting plan includes only 1GB of storage space but has unlimited bandwidth.
Alternatively, if storage space is not that important to you, I'd recommend Hostpoco for its impressive fleet of global servers.
Just remember that bandwidth is quite limited with this host, which makes it unsuitable for a website with heavier traffic.
Although InterServer is not free to use, its Standard shared hosting plan is very cheap, and it includes unlimited email with 25GB of storage space per mailbox.
If you want to avoid a time-consuming transfer later down the line, my recommendation is to choose InterServer.
Still not sure? Here's a side-by-side comparison of the email hosting services on my list:
| | | | |
| --- | --- | --- | --- |
| | Standout Feature | Best For | |
| InterServer | Unlimited email addresses with 25GB of storage per mailbox | Small businesses, agencies, and freelancers | |
| GoogieHost | Cloud-based email hosting with no ads | Users who want free but fast email | |
| Hostpoco | Servers around the world and live chat support | Non-US users | |
| Proton Mail | Switzerland-based email hosting with multiple layers of encryption | Users who prioritize data safety and privacy | |
| Zoho Mail | Five email addresses with 5GB of storage per mailbox | Users who already have a website but no email hosting | |
FAQ
Which is the best free email hosting provider?
It depends. If you're looking for email-only hosting, I'd recommend Zoho Mail because its free plan gives you the most email addresses and storage per mailbox. The clean dashboard makes it easy to create and manage accounts, and there are plenty of features to help you stay organized. If you want free website hosting with your email, go with GoogieHost instead. You get less storage space overall but enough to host your email and create a small business presentation website or an online portfolio. Alternatively, you can get unlimited email with a huge mailbox if you opt for a paid host like InterServer. To discover other cheap but reliable web hosting with email options, check out our list of the best web hosting services.
How can I know if my email hosting is secure?
Not all email hosting services filter spam and viruses, but most of the providers on my list do. This means that spam is isolated from the rest of your mailbox, while viruses are blocked before they can cause any damage. That said, it's also up to you to make sure that you're following best practices in terms of email security. For instance, you can better secure your email if you use a strong password. Some hosts also give you the option to enable two-factor authentication.
Can I get email hosting without hosting a website?
You don't need a website to get professional email hosting. You only need a domain. If you go with an email hosting service like Zoho Mail, your dashboard will consist of email functions only. If you go with a more complete hosting package like GoogieHost's free plan, you'll have the option to create and launch a website, but you won't have to do either of these things if you don't want to.
Is it worth paying for email hosting?
Yes, for two reasons. To begin with, free email hosting has its limitations. For instance, you only get a small amount of storage space, so you won't be able to archive your email over long periods of time. In addition, some free providers bombard your dashboard with ads, which can become annoying quickly. Secondly, paid email hosting has become so cheap that you can now get a professional email address for pocket change. In fact, a lot of web hosts include free unlimited email with generous storage, even in their entry-level shared hosting plans. Some, like GoDaddy, offer free premium email from Microsoft365. To get a better idea of just how affordable these plans can get, head over to our coupons & deals.