choosing the right card processor for your restaurant goes beyond just looking for the lowest transaction fees.
To stay competitive,
you'll also need to look out for specialized features like check-splitting, POS (point of sale) devices with table-tracking, and more.
A smooth onboarding process and excellent customer service can't hurt, either. That being said, in an industry filled with vague promises and sales jargon, how do you choose the right card processor? That's where I come in. After days of meticulous research – including a deep dive into hundreds of merchant reviews –
I found the very best credit card processors for helping all kinds of restaurants to thrive.
Though every processor on my list has its pros and cons, each one comes with a great combination of dependability, value, and features for your restaurant. Read on to find the ideal option for you.
Short on Time? These Companies Offer the Best Credit Card Processing for Restaurants in 2022
Stax – Subscription-based pricing saves busy restaurants up to 40% on processing fees.
Payment Depot – Cheap and reliable service with outstanding merchant reviews.
Leaders Merchant Services – Plenty of specialized features and custom plans for every restaurant.
What We Look For in the Best Credit Card Processing Companies for Restaurants
Being able to process all major credit and debit cards efficiently is the bare minimum – restaurateurs have unique needs that set them apart from other business owners. Specifically, I made sure to only include processors on this list that meet the following criteria:
Value for money. Although some processors on this list are more expensive than others, I only included companies that score highly on customer satisfaction and offer a variety of useful features for restaurants.
Reliable service. Though reliable payment processing is important in every industry, it is paramount for restaurants. With the large number of daily transactions you'll likely be handling, you'll want to avoid any unpleasant surprises at inconvenient times.
Quality POS devices. Most (if not all) of your transactions will be card-present, so I made sure to only include services that offer top-of-the-line POS devices. Double points are awarded if the hardware comes with features uniquely tailored for restaurants.
Outstanding customer support. Though I made sure only to include reliable credit card processors, hiccups can still happen from time to time. That's why it's important your processor can resolve any issues in an efficient and friendly manner.
Specialized restaurant features. It's a great bonus if a credit card processor includes specialized plans or features such as table tracking, customer analytics, and loyalty programs to help you run your restaurant as smoothly as possible.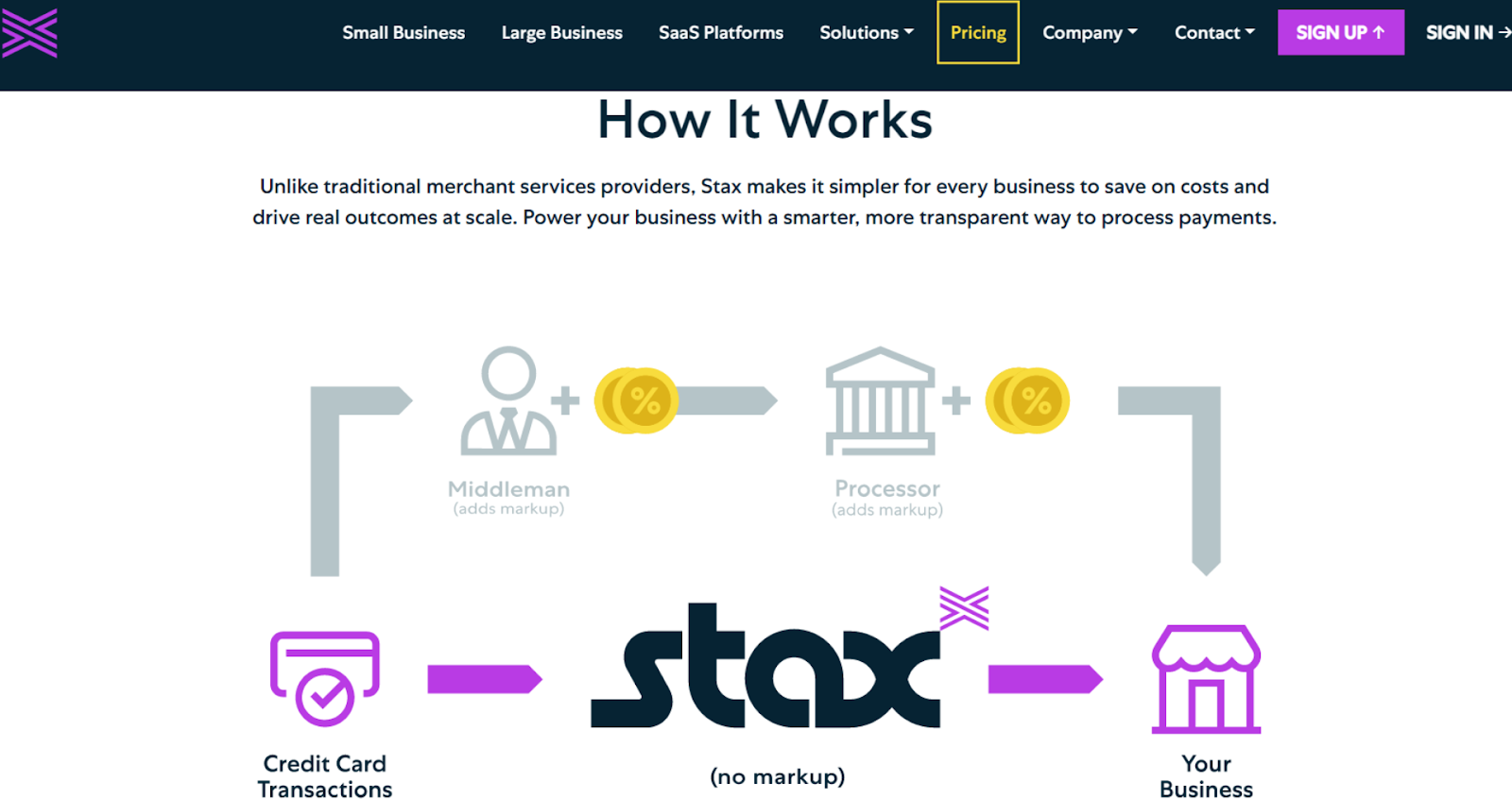 If you've opened a restaurant, you're probably comfortable with some degree of unpredictability. One of the great things about the restaurant industry is that it's entirely possible for a new restaurant to perform far beyond expectations. While this is obviously great news, it also means
you need to find yourself a processor that will save you money as you grow.
That's why Stax is an ideal choice for most, offering savings of up to 40% to restaurants processing over $5,000 in card payments per month.
Instead of charging a percentage fee on each transaction, you pay a set monthly amount for all your processing. This gives you stability in an industry where earnings can vary drastically month to month. It also means you save more money the more you earn (instead of the other way around). So far so good, but Stax offers much more than an attractive pricing model.
Its built-in software includes advanced finance, customer, and employee monitoring features
that give you actionable data for running your restaurant as efficiently as possible. When you first sign up, you get a free countertop terminal for the duration of your contract, but you can also purchase your equipment directly if you prefer.
Stax offers a wide range of mobile and countertop terminals with unique tools for restaurants
(such as the Clover station or Dejavoo terminals). Stax's pricing model isn't for everyone. Slower-paced restaurants might find the monthly subscription a little too costly, and you'll still have to pay the interchange rates charged by the various card brands (usually around 1% + 15¢ per transaction). Still,
if you run a bustling dining business, Stax could save you a significant amount in processing and software costs.
Features and Benefits
Analytics dashboard. Stax provides a powerful analytics dashboard you can use to keep track of everything from your most popular menu items to your busiest business hours.
Bookkeeping software integrations. Stax seamlessly integrates with popular bookkeeping and accounting software like QuickBooks and Xero, making it easy for you to keep your accounts up to date.
Secure credit card storage. Do you have any regulars? Stax gives you the option to securely store customers' credit card details on file, which is ideal if you want to open tabs for your loyal clientele.
Gift Cards. Stax lets you create custom digital gift cards. If happy customers can give gift cards to friends and family, you're bound to see more customers walking through the door.
Read our expert Stax review
for more details.
Specialized restaurant plan

✘

Payout times

24–72 hours
Same-day funding available (for a fee)

POS pricing models

One free terminal for the duration of your contract
One-time purchase of additional devices
Integrates with over 90% of third-party devices

Transaction fees on cheapest plan
0% + 8¢ (in-person) or 0% + 15¢ (online)
Monthly subscription on cheapest plan
$99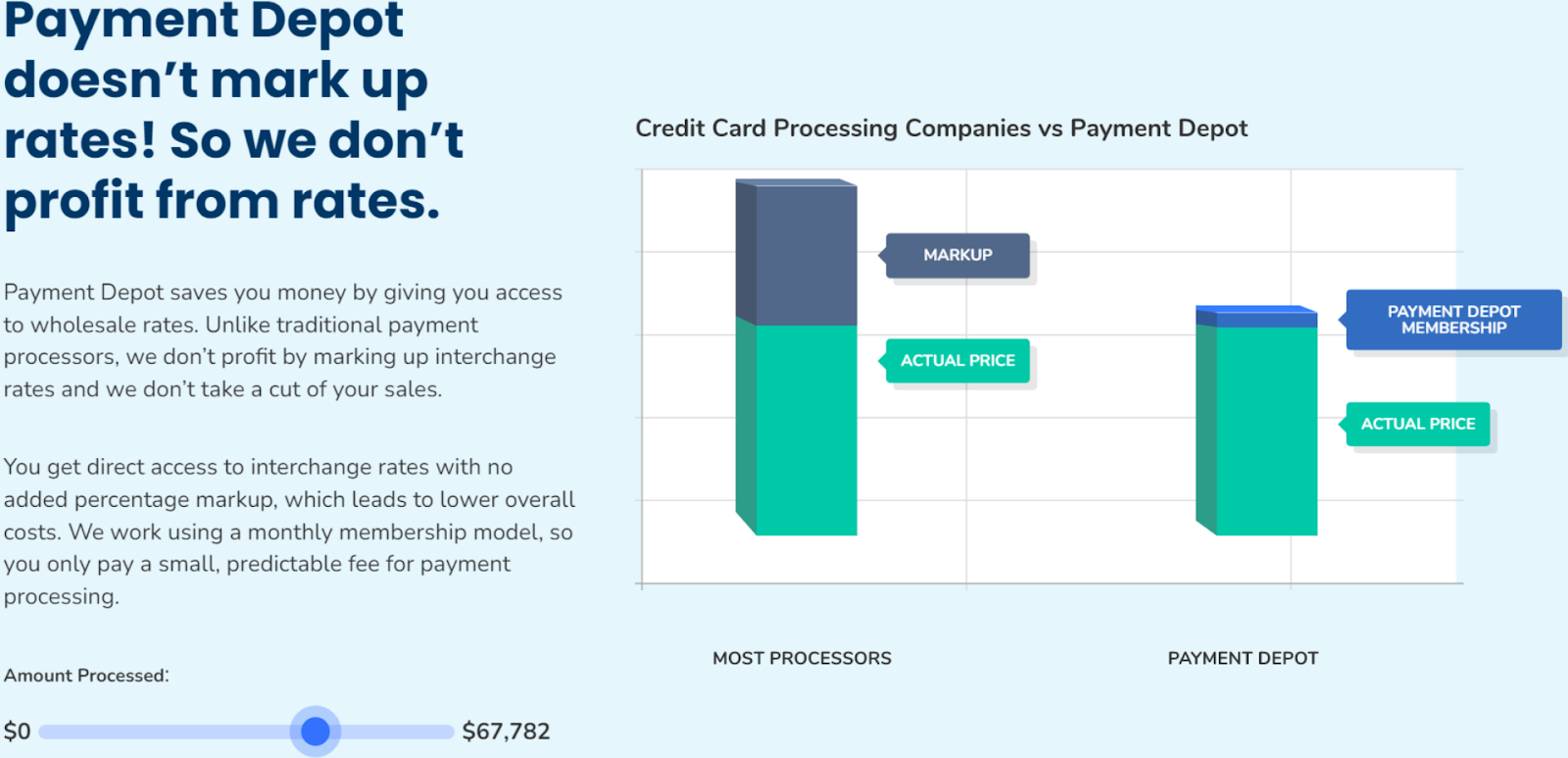 Restaurateurs that have been in business for a while will know the value of experience. That's where Payment Depot comes in – it's one of the most established credit card processors on this list, with over two decades of experience.
In all that time, merchants have overwhelmingly reported positive experiences with Payment Depot.
As a subsidiary of Stax,
Payment Depot also offers 0% markup on transaction with its monthly fee.
But whereas Stax's pricing starts at $99 a month, Payment Depot's cheapest plan is $59/month. This comes at a tradeoff, though. Payment Depot doesn't offer the same advanced analytics and reporting tools as Stax – tools that can be incredibly useful when trying to grow a business. That said, if you're running an established restaurant and are looking for a good, reliable service with top-notch customer support, then
Payment Depot could save you money while still offering a great service
.
Features and Benefits
Rapid onboarding. Payment Depot stands out for its quick onboarding process that can have you processing credit cards in as little as 24 hours after applying.
Free payment equipment. When you sign up for Payment Depot, you get a free Dejavoo Z11 terminal for the duration of your contract. This small handheld terminal is great for direct-to-table service.
Next-day deposits. As a restaurant owner, you can't afford the luxury of waiting days on end to access your funds. Payment Depot promises to have funds in your account within 24 hours of each transaction.
Useful sales dashboard. Though not as advanced as Stax's dashboard, Payment Depot offers a simple sales dashboard that you can use to monitor the health of your business.
For more,
see our in-depth Payment Depot review
.
Specialized restaurant plan

✔

Payout times
Around 24 hours
POS pricing models

Free Dejavoo Z11 terminal
One-time purchase options with discounts for Clover devices

Transaction fees on cheapest plan
0% + 8¢ (in-person) or 0% + 15¢ (online)
Monthly subscription on cheapest plan
$59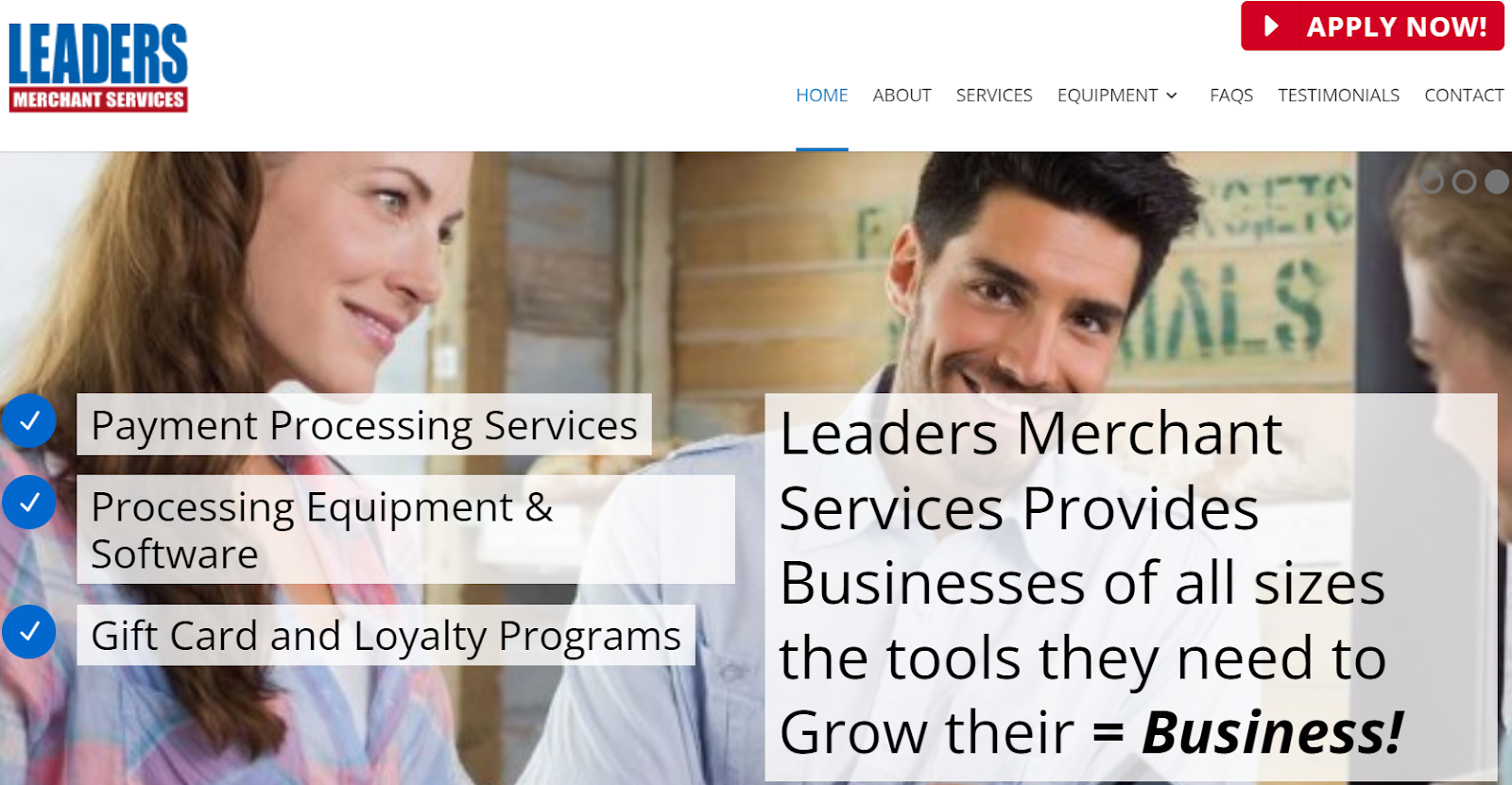 If you're a first-time business owner, you'd be forgiven for feeling a little overwhelmed when it comes to setting up your credit card processing. It can be especially hard to determine which plans and features are ideal for you. Thankfully,
Leaders Merchant Services (LMS) offers tailored plans for your business.
LMS's sign-up process is much more in-depth than most, so you can discuss your business's needs from the get-go and work with LMS to create a plan that includes only the tools you actually need.
LMS even encourages negotiating on rates, which means that you can walk away confident you secured the best possible deal.
LMS offers a great variety of restaurant-specific features
, including loyalty programs, online ordering options, and custom gift cards. Its equipment offering is equally impressive, with the full range of Clover products and the wireless First Data FD150 terminal available. Overall,
LMS is a great choice if you want some wiggle room with your rates.
Features and Benefits
96% approval rate. LMS accepts almost all applicants regardless of business experience.
Merchant cash advances. If you need a little help getting your business off the ground, LMS offers merchant cash advances you pay back through an additional percentage commission on your credit card sales until the loan is covered.
Same-day set up. If you decide LMS is right for you, all you have to do is go to LMS's page and click on the "Apply Now" button. Once approved, the onboarding process can be as quick as 24 hours.
Advanced security. Every piece of hardware LMS offers comes with advanced security features like end-to-end encryption. You can also purchase Clover Security Plus for your Clover POS devices, which gives you a slew of security tools to ensure that your transactions are always protected.
For more on LMS,
read our expert review
.
Specialized restaurant plan

✔

Payout times
1–3 business days
POS pricing models

One-time purchase options
Free leasing of equipment with long-time contracts

Transaction fees on cheapest plan
Around 2% + 0¢
Monthly subscription on cheapest plan
$9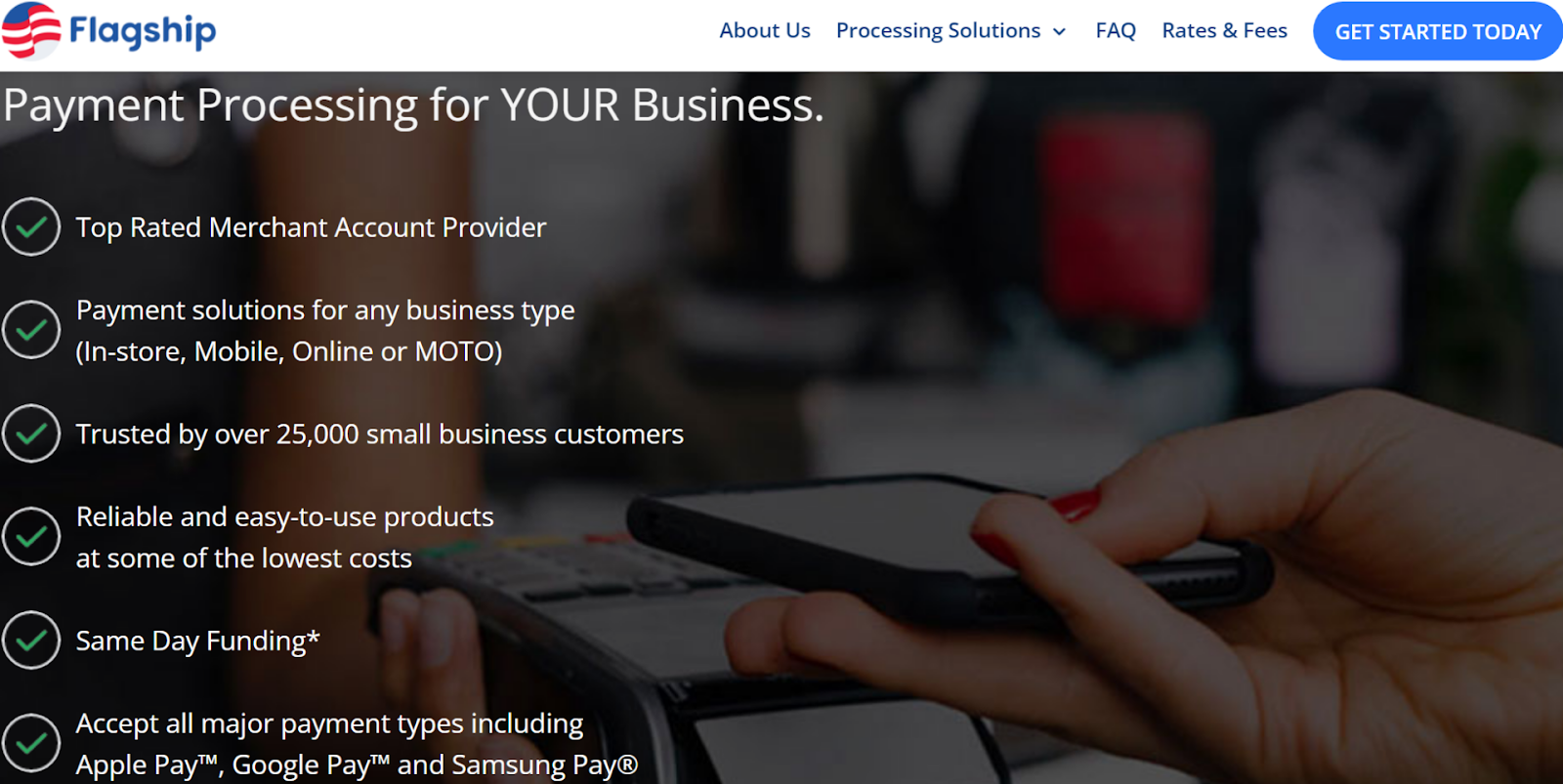 If you can't wait to start accepting cashless payments, then Flagship's extremely fast and easy onboarding make it a great choice
. The amount of documentation needed to apply for a Flagship merchant account is considerably less than other services. All you need to get started is your name, a phone number, an email address, and an estimated monthly processing amount. Unlike other processors, Flagship doesn't ask for voided checks, bank statements, or EIN numbers. As for the service itself,
Flagship offers reliable processing at very reasonable rates
. (You're free to negotiate these to get the best possible deal). Once you sign up, you'll be assigned a dedicated account representative to help you get set-up and answer any questions. What's more, Flagship's month-to-month contracts do wonders for establishing trust. Because there are no cancellation fees,
you only have to pay for the service for as long as it works for your business
. So, to keep your business, Flagship's only choice is to continue providing a quality service month after month.
Features and Benefits
iAccess Business Management. When you sign up to Flagship, you'll get access to the iAccess Business Management portal. This specialized software gives you access to useful analytics and custom activity reports.
Same-day funding. If you need to keep your cash flow circulating, you can pay a small extra fee to receive your funds in less than 12 hours after transactions are made.
Loyalty programs. Flagship comes with the option to create loyalty programs for your business, which gives you a tremendous advantage for attracting regular clientele.
Gift card program. Flagship's simple-yet-effective gift card program can increase traffic to your restaurant and help build customer loyalty.
See our expert Flagship review
for more details.
Specialized restaurant plan

✔

Payout times

Around 2 business days
Same-day funding available (for a fee)

POS pricing models
Free equipment for the duration of your contract
Transaction fees on cheapest plan
Around 1.58% + 19¢ (qualified transactions only)
Monthly subscription on cheapest plan
$7.95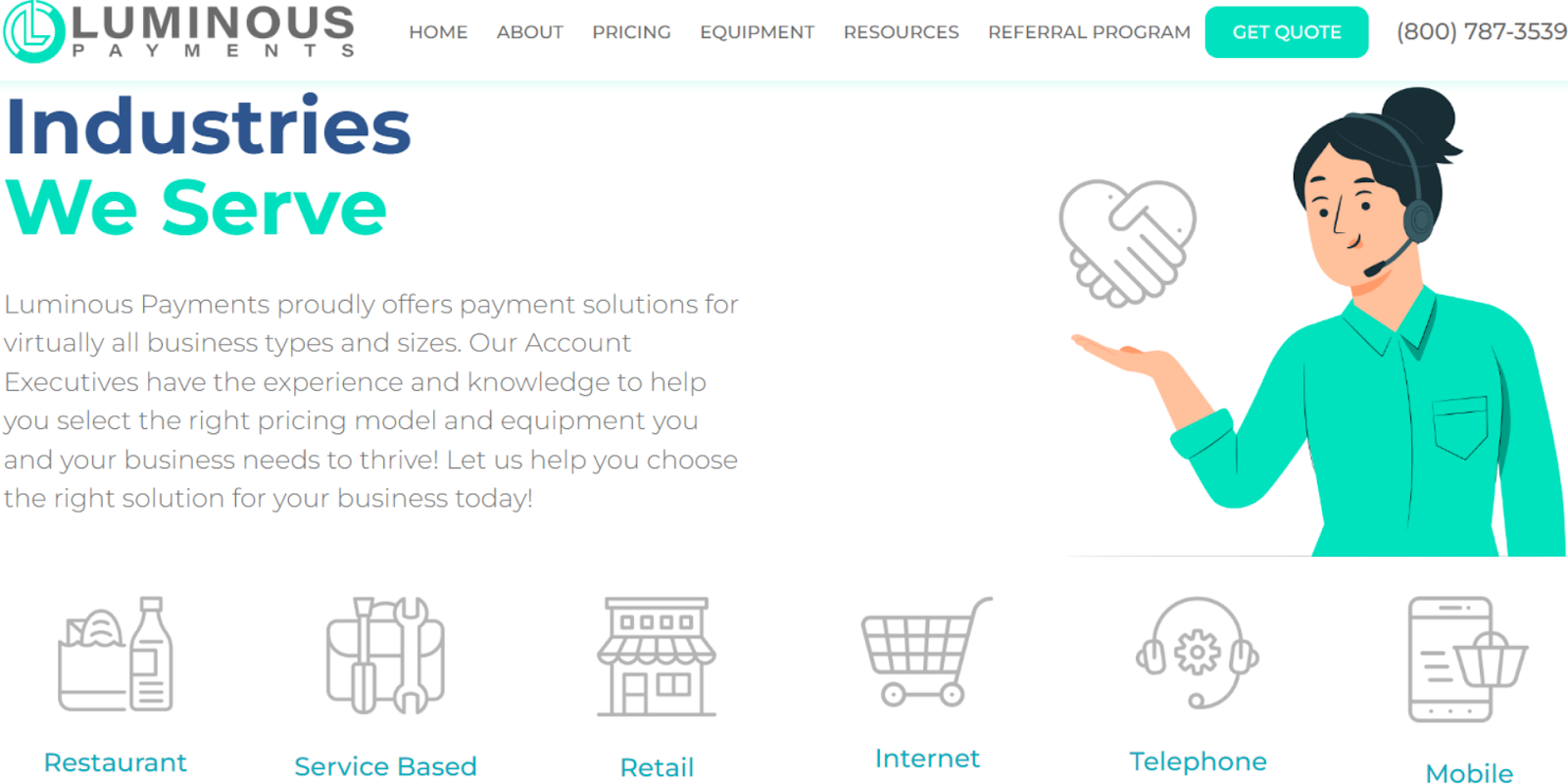 Luminous Payments is a credit card processor that targets its service to small, US-based businesses.
Though it's relatively new to the market, it's quickly positioning itself as a reliable processor with the dedicated support and specialized knowledge needed to give small business owners a service best-suited to their needs. Although Luminous Payments is tailored for smaller businesses, that doesn't mean it's scant on features.
Luminous offers a large variety of top-of-the-line POS equipment
with advanced features like table tracking, analytic integrations, and more.
Luminous Payments' cash discount program could be especially attractive for restaurant owners.
By applying a small markup to each item on your menu and then offering a discount to cash-paying customers, you can effectively pass up to 100% of your processing fees onto your card-paying customers. This is a great option for food trucks and other small restaurants that mainly receive payments in cash. A relatively short time in operation might give some merchants reason to pause, but considering that it offers great rates, quality features, and outstanding customer care,
Luminous Payments is definitely worth considering
.
Features and Benefits
Multiple pricing models. Luminous Payments is the only processor on this list to offer five different payment plans: Cash discount, Flat Rate processing, Tiered Rate processing, Interchange Plus, and a custom plan. This variety means that you're bound to find a pricing plan that works for you.
HotSauce POS. A standout from Luminous' POS offering is the HotSauce POS countertop terminal. The HotSauce POS is a point-of-sale terminal designed specifically for restaurants, and it includes advanced integrations to help you run your business.
$1000 meet-or-beat program. If you're looking to switch processors, Luminous promises to give you $1000 if it can't at least meet your current processing fees.
Top-notch support. Though it's not available 24/7, Luminous' customer service is responsive and helpful (we tested it!). While quality customer support was a requirement for every processor on this list, Luminous stands out for its exceptionally knowledgeable and friendly support agents.
Our Luminous Payments review has more
.
Specialized restaurant plan

✔

Payout times

Typically 1 business day
Same-day funding available (for a fee)

POS pricing models

Free B250 Bluetooth reader
One-time purchase options
Free hardware reconfiguration

Transaction fees on cheapest plan
1.59% + 5¢
Monthly subscription on cheapest plan
$10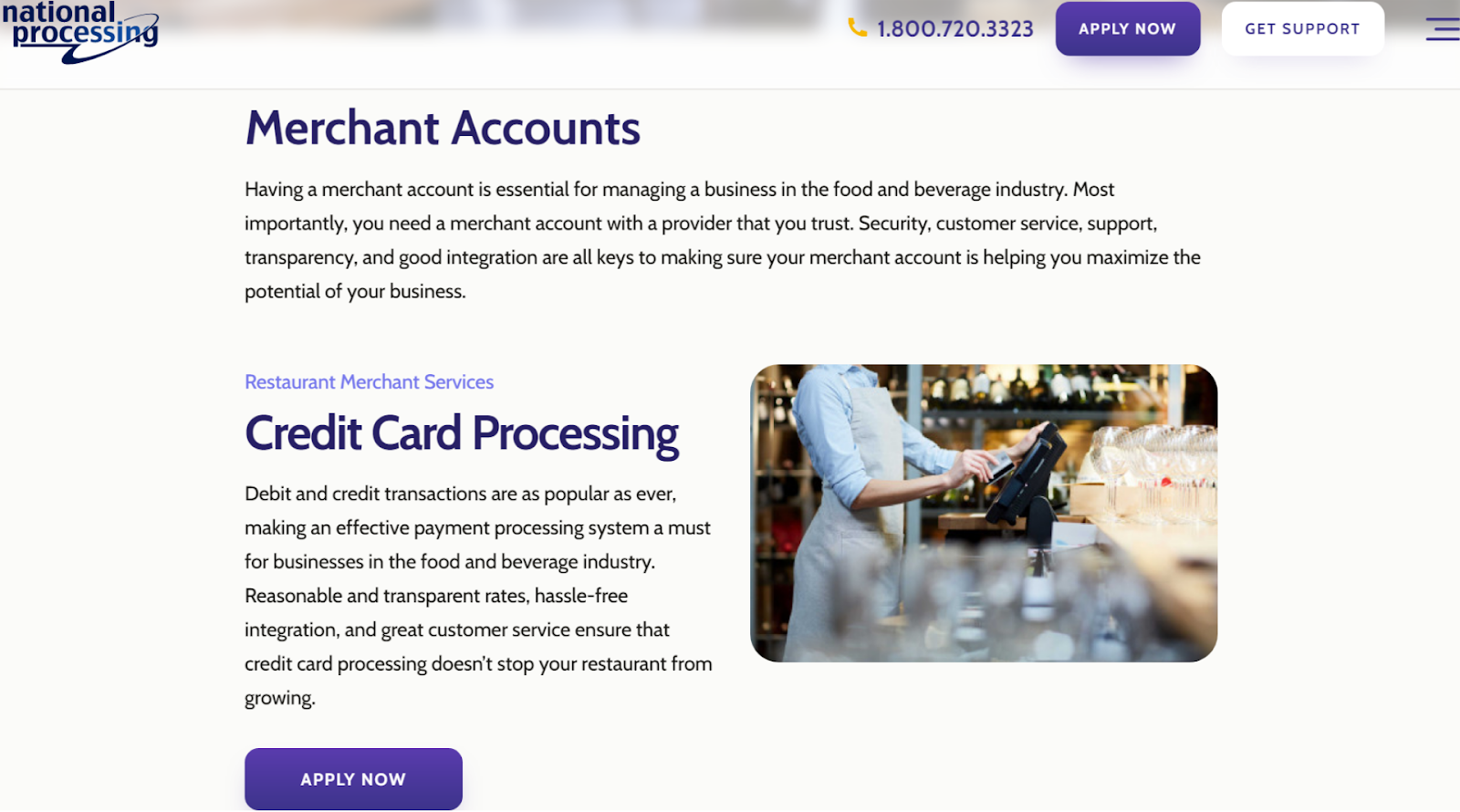 National Processing offers high-quality POS devices and integrations with popular accounting software like QuickBooks. Aside from this, it doesn't offer quite as many features as the other credit card processors on this list. That doesn't mean it's not worth considering, though. It might be a little simpler, but
National Processing's rates are extremely affordable
 and transparent.
With National Processing's dedicated restaurant plan, you'll only have to pay a fee of 0.14% + 7¢
per transaction
.This makes it a great choice if you need to save every penny. Its dedicated Food & Beverage plan also includes a free mobile reader, free reprogramming of pre-existing PoS hardware, and access to POS devices with fine-tuned features to help keep your restaurant running smoothly. In an industry filled with hidden fees and hard-to-find information, it's also refreshing to see that
National Processing's website tells you everything you need to know
about its service and pricing to make a truly informed decision.
Features and Benefits
Pricing calculator. National Processing's website offers a pricing calculator to help you determine exactly how much you'd be paying on processing fees if you sign up.
Proprietary POS hardware. Besides an impressive line of third-party POS devices, National Processing also offers the NP POS, a countertop terminal device made to work exclusively with National Processing. This terminal includes a cash register, an easy-to-use menu, and seamless integrations with every feature that National Processing offers.
SwipeSimple app. When you sign up, you'll receive a free SwipeSimple Mobile reader along with the SwipeSimple app. The app can help you manage your employees and receive instant sales reports.
$500 signing bonus. National Processing promises to give you $500 if it can't beat or at least meet your current credit card processing fees.
For more,
read our National Processing review
.
Specialized Restaurant Plan

✔

Payout times

1 to 2 business days
Free same-day funding available (if approved by bank)

POS pricing models

Free SwipeSimple Mobile Reader
One-time purchase options

Transaction fees on cheapest plan
0.14% + 7¢
Monthly subscription on cheapest plan
$9.95
The Right Processor Can Help Your Restaurant Succeed
There are plenty of "good" credit card processing companies out there, but the ideal processor for your restaurant should go above and beyond in those areas most important to this fast-paced industry. With reliable service, competitive rates, and tools uniquely tailored to your needs, you'll have all the ingredients you need to make a success of your restaurant.
If you manage a high-paced diner or coffee shop, Stax could save you a ton on transaction fees
. Its advanced analytics software and high-quality POS offerings also give you the tools you need to maximize your restaurant's efficiency.
For established restaurants that value experience, Payment Depot is the way to go
. It offers affordable monthly fees in exchange for 0% markup on card transactions, and its glowing reviews speak for themselves.
Finally, if you're just getting started as a restaurant owner, LMS's high approval rates make it a great option.
It also offers plenty of room to negotiate on rates so you can be sure you're getting the best possible deal. If you want to see how our top processors stacked up, take a look at the table below.
FAQ
Do I need to accept credit cards in my restaurant?
If you live in the US, you don't have any legal obligation to accept credit cards at a food establishment. However, over two-thirds of restaurant customers prefer to pay with credit cards, so you stand to lose a significant amount of business if you don't.
How much do restaurants pay in processing fees?
The price that a restaurant pays in processing fees will vary considerably depending on its credit card processor. While different restaurants will have different needs, I highly recommend Stax. Stax lets you pay a monthly fee for credit card processing in exchange for 0% markup on transactions and a small flat transaction fee, which takes a lot out of the guesswork of how much you'll pay each month. It also offers fantastic analytic features to help you optimize your business.
What's the best credit card processor for restaurants?
It depends on the kind of restaurant you're running, your experience in the industry, and your particular needs. This article contains a list of the best credit card processors for all types of restaurants. If you're still unsure, I recommend checking out our broader review of the best credit card processing companies in 2022.
Can restaurants pass processing fees onto customers?
As long as you choose a credit card processor that offers this, you'll be able to pass on your processing fees. Luminous Payments has five plans, including a cash discount plan that effectively lets you pass on your processing costs to your card-paying customers. This option isn't for everyone, though. Many restaurants will benefit from paying a small fee on credit card transactions if it means every customer pays the same price for a given menu item.