get Bitcoin consulting for as little as $5
. What's more, I've saved you the hassle and found nine of the best Bitcoin experts for hire on Fiverr, all with extensive knowledge at affordable rates. I've considered ratings, response times, and previous experience to make sure you find the best crypto expert for you.
9 Best Freelance Bitcoin Experts for Hire in 2021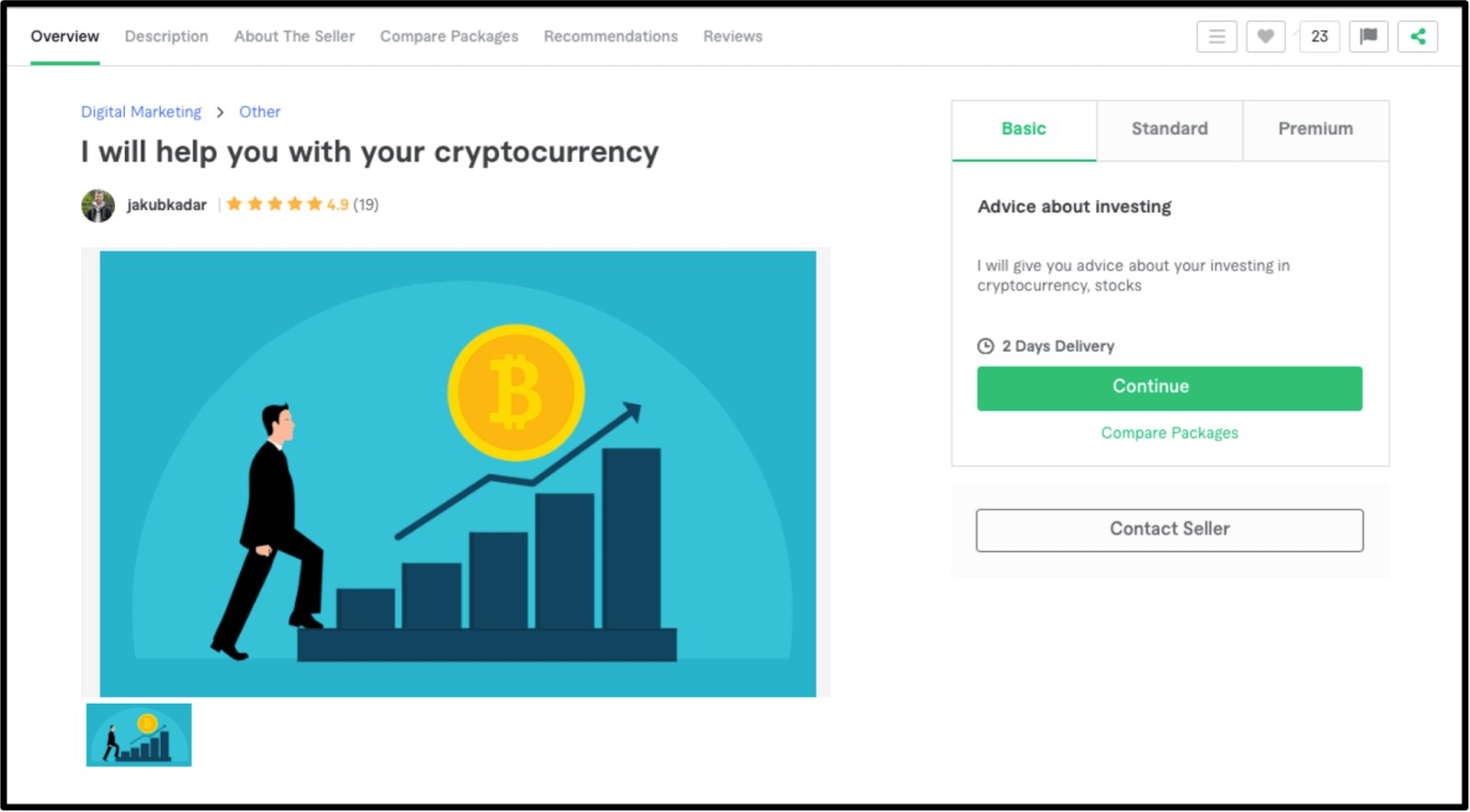 This freelancer tops my list because of his affordable
 starting rate of $5
 and
a
 4.9-star rating
. If you take a quick look-through his reviews, it's not hard to see why his rating is so impressive. Jakubkadar's customers have praised his work as
nothing short of excellent,
consistently hitting the mark and delivering on his promises. You can expect
good communication
 throughout the entire process, which makes working with this freelancer a hassle-free experience.
Even his premium gig is an affordable $20.
 With this gig, Jakubkadar provides advice on the best places to invest your crypto, along with help to create your portfolio. Accessing his industry experience and insights is a worthwhile investment.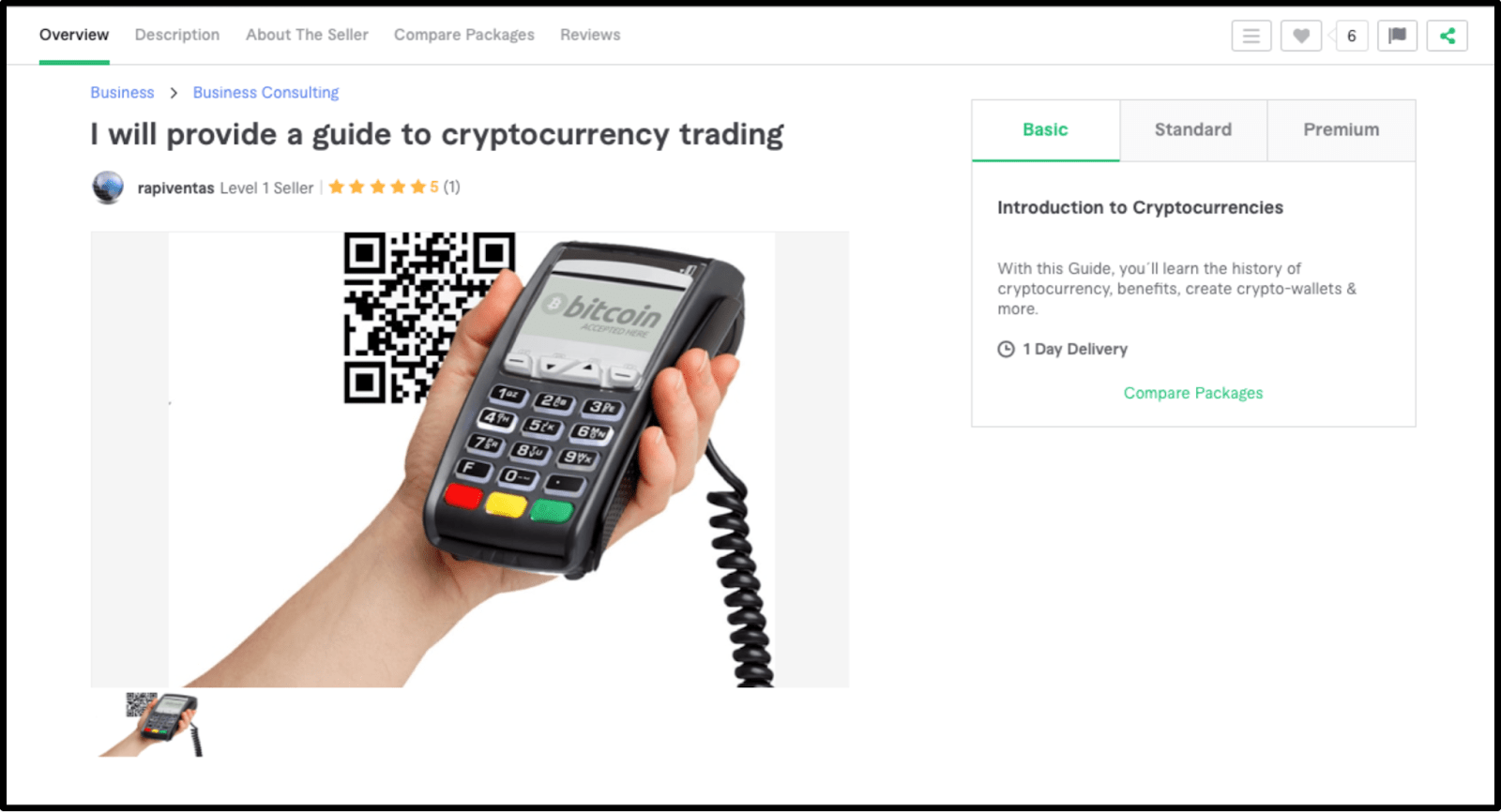 With
a 5-star rating and over fifteen years of experience
, this expert has earned
 Level 1 seller status
 on Fiverr – meaning they've completed over ten jobs, made at least $400, and maintained a 4.7-star rating over 60 days. They're consistently good at what they do. With prices ranging from $5 to $25,
Rapiventas offers an introduction to cryptocurrency and its benefits and helps you create a crypto-wallet
. The premium package also includes an in-depth breakdown of charts and market prices.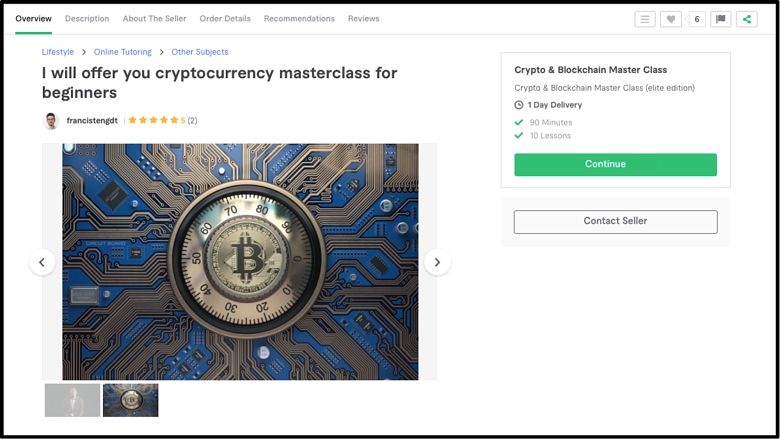 Francistengdt is an experienced business coach who promises results and won't waste your time. It's no surprise he has several 5-star ratings on Fiverr. He and his dedicated team offer a Crypto and Blockchain masterclass. They've prepared a course to initiate you with the cryptocurrency industry, believing that everyone should have a slice of the pie and not just those "in the know." The best part? You get all of this for just $5
.
 That's hard to pass up!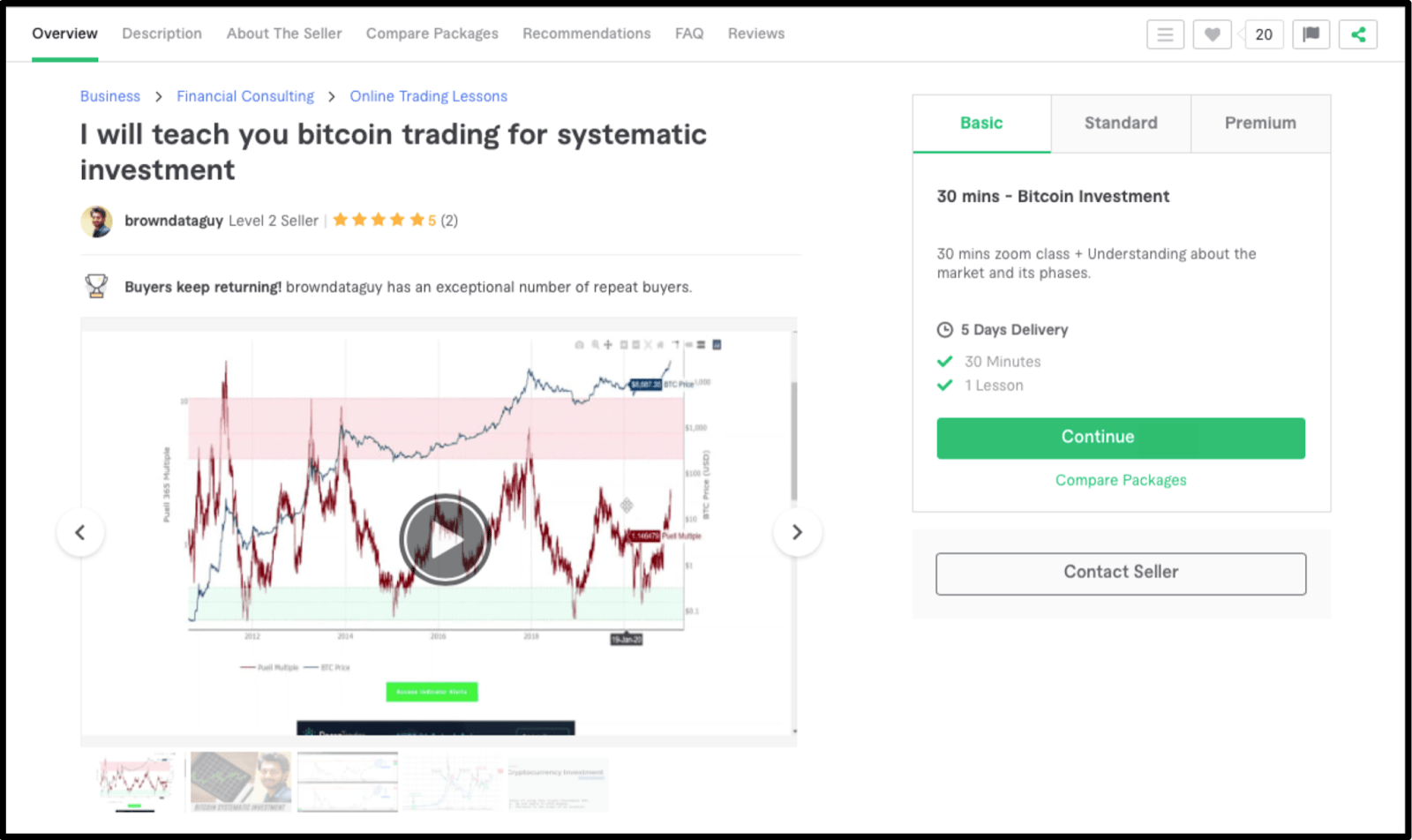 Browndataguy is a Level 2 Seller, meaning he has completed at least 50 orders, earned over $2,000, maintained an average star rating over 4.7, and has been active for at least 120 days. He has
more than four years of experience
 trading cryptocurrency. While his rates are a little higher than others on this list, almost endless 5-star reviews promise you'll be getting your money's worth. Browndataguy's prices range from
$20 to $80
. The basic package offers a 30-minute Zoom class that will help you understand the market and its phases.
For $80, you get lifetime access to a Discord group that will help build your network.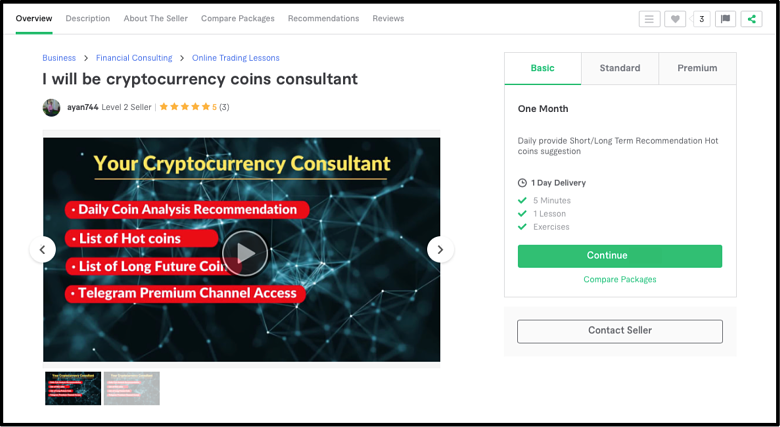 Ayan744 and his team of highly-trained traders have more than five years of experience
 trading cryptocurrency and hundreds of 5-star ratings on Fiverr. They use a combination of in-depth technical analysis, AI algorithms, and fundamental research to provide advice at a starting point of just
$30
. If you're looking to delve deeper into cryptocurrency, the $480 package may be a good fit.
It includes lifetime access to premium and complete consultancy,
ensuring you will never need further assistance from anyone else.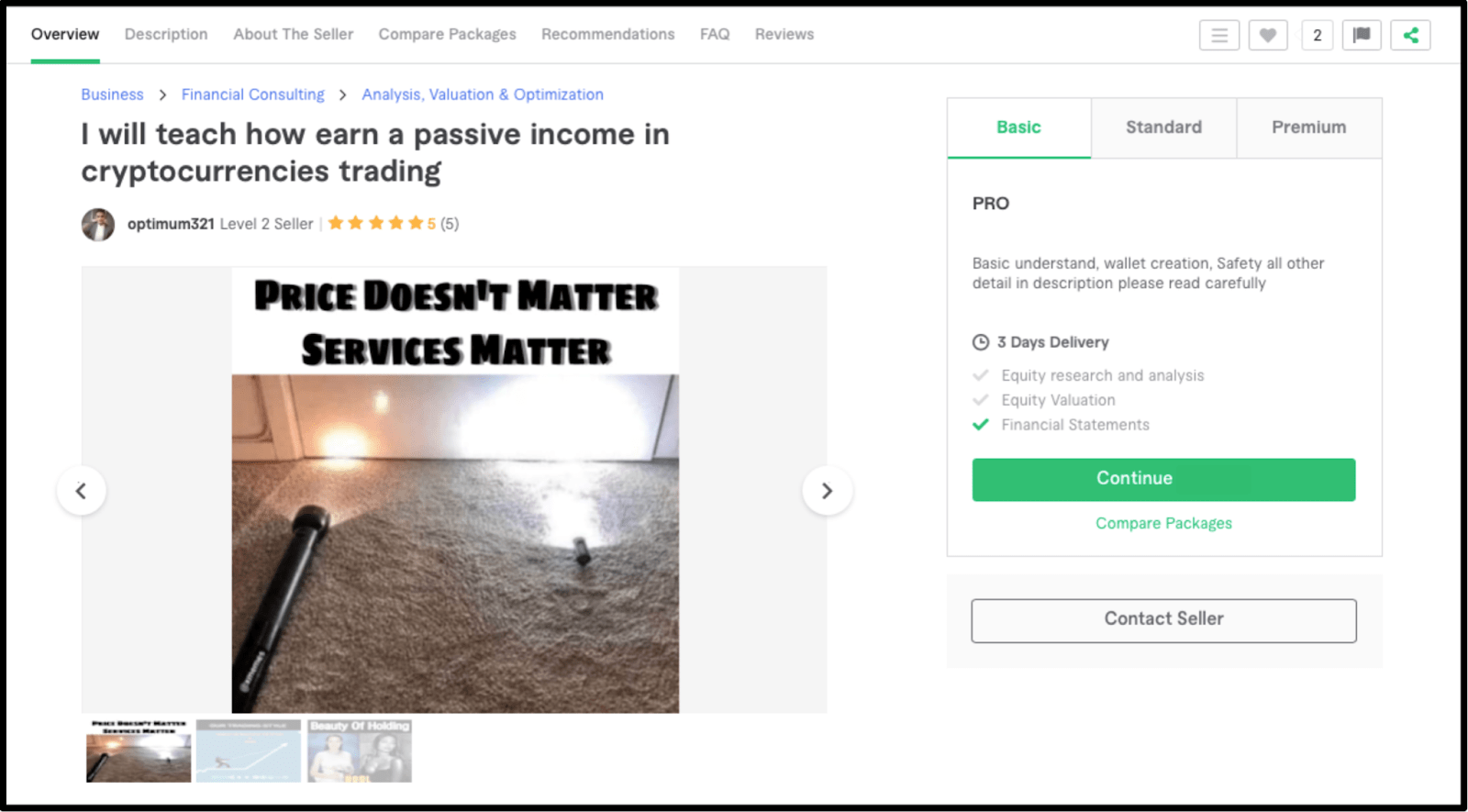 This expert has
over a decade of trading experience
 and an average
4.9-star rating as a Level 2 Seller
. His rates are pricier than the others I've mentioned, but as one of his customers noted, "This guy is the real deal, and he delivers as described." I'd say that's the textbook definition of getting value for money. The basic package offers an in-depth walk-through of crypto wallets, portfolio management, and everything you need to know to avoid getting scammed.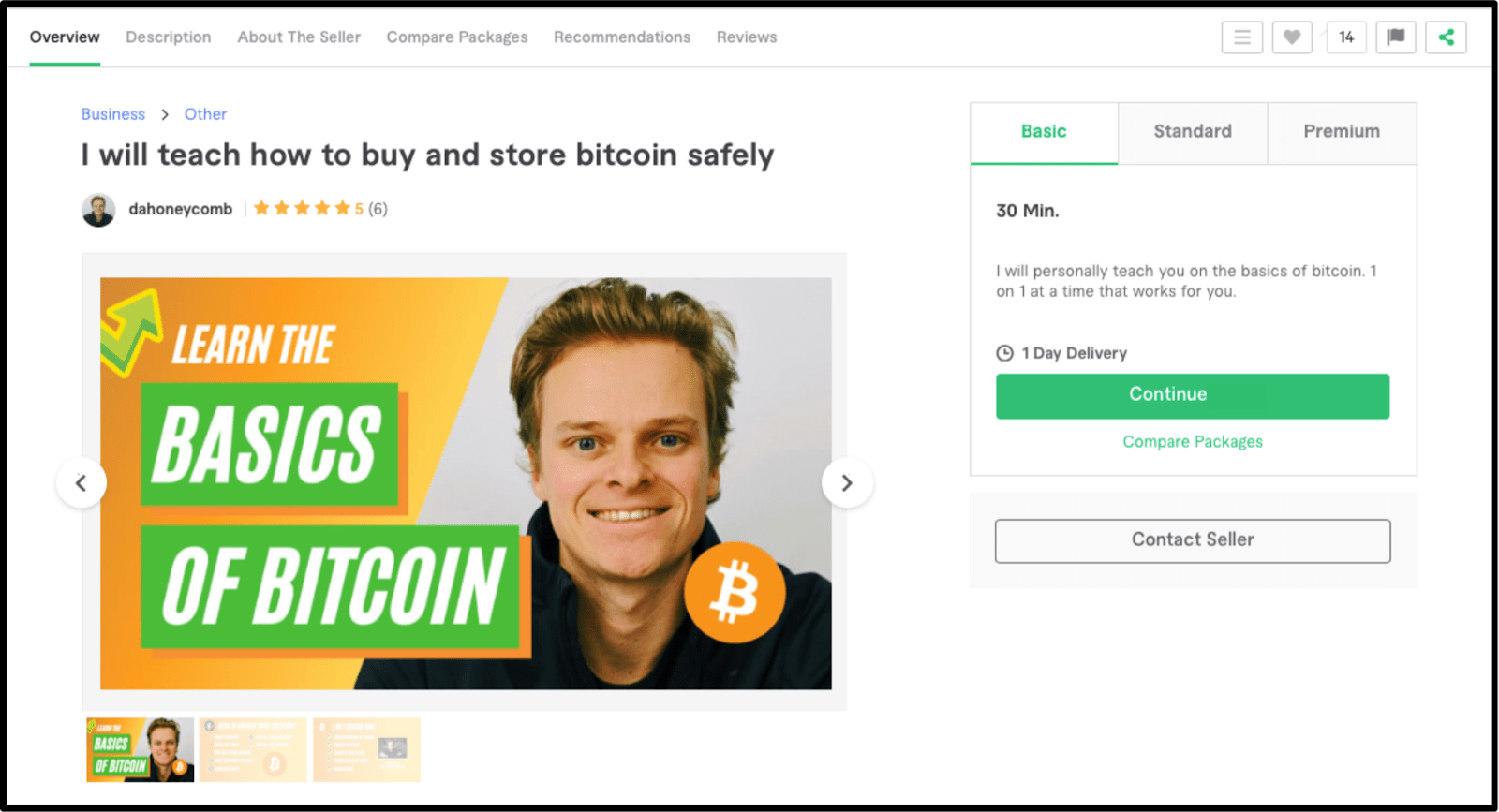 This
 5-star rated
 freelancer got to where he is in less than a year. Previous customers describe his work as "excellent," thanks to his habit of going above and beyond what's offered in the packages. His
prices range from
 $30 to $120
. I recommend the $120 package as the more knowledge he can share, the more confidence you'll have to buy, store and spend Bitcoin safely and securely. Dahoneycomb's Bitcoin consulting might be exactly what you need.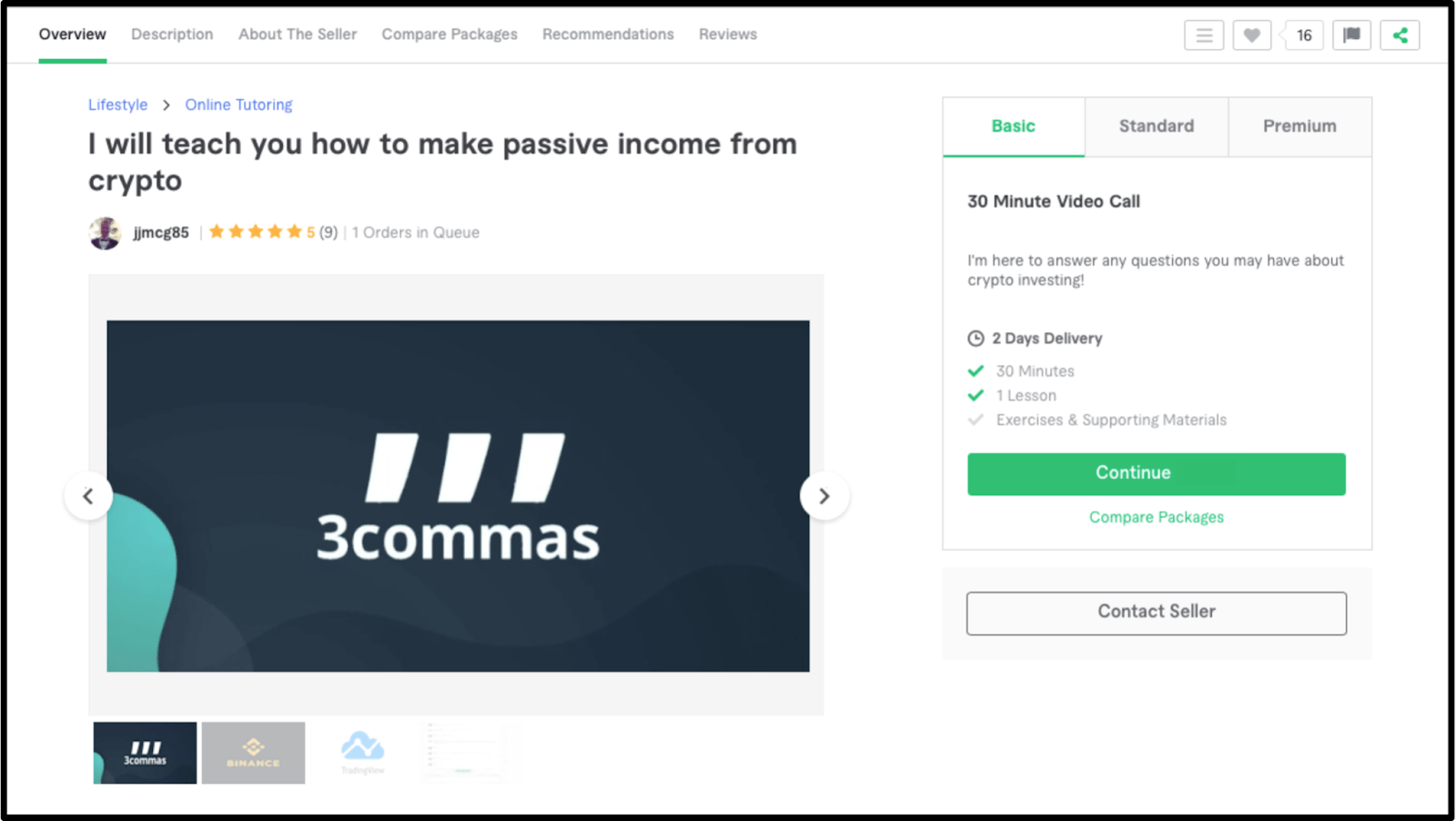 With over five years of experience as a cryptocurrency trader, Jjmcg85, better known as James, knows exactly how confusing it is for beginners. That's why he's dedicated to answering any and every burning question you have about Bitcoin.
He'll tell you which crypto to invest in, which ones to avoid, and help you execute a profitable investment strategy.
Prices start at just $25. If you're looking for an introduction to Bitcoin and crypto investing, the basic package is definitely for you.
If you want something more sophisticated, I suggest the $500 package.
 In a 2-hour long call, you'll learn about the world of technical analysis, how to read crypto charts and make a profit, and get custom tools designed to aid your success.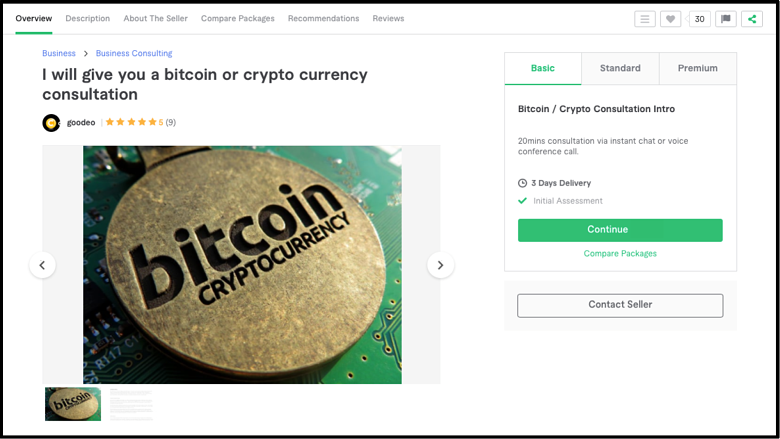 Meet another qualified freelancer dedicated to a 5-star customer experience. Have a look through their reviews, and you'll see recurring words like "outstanding" and "extremely knowledgeable," a true testament to Goodeo's quality service.
Goodeo has experience as both a consultant and crypto trader
, so you can trust the advice you'll receive. The cheapest package is $25, where you'll get
an introduction to Bitcoin and cryptocurrency to kick things off.
How to Hire a Freelance Bitcoin Expert on Fiverr
Say goodbye to endless scrolling and searching for the right freelancer. Not to mention dealing with the whole vetting process yourself. With Fiverr, you get access to talented freelancers from all over the world, and your ideal seller is just a few clicks away. My favorite thing about Fiverr is that I can easily compare freelancers to one another and pick someone who meets all my needs.
Step 1: Find a freelancer for your specific needs
Once you've opened up Fiverr's website, you'll see the homepage in the image below. Type the service you are looking for in the search box. In this case, using keywords such as "
Crypto Consulting
" will lead you to all freelancers providing this service.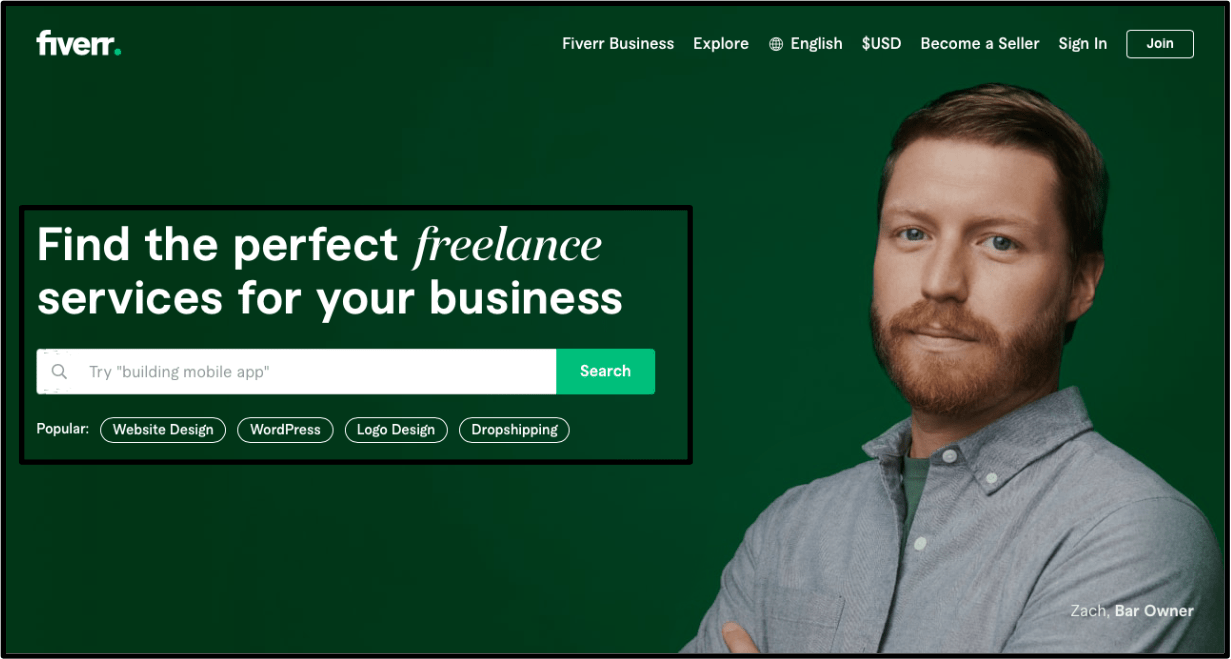 After clicking Search, you'll see a page of listed freelancers. Use the filters and dropdown options to customize your results to match your budget and requirements, as you can see below.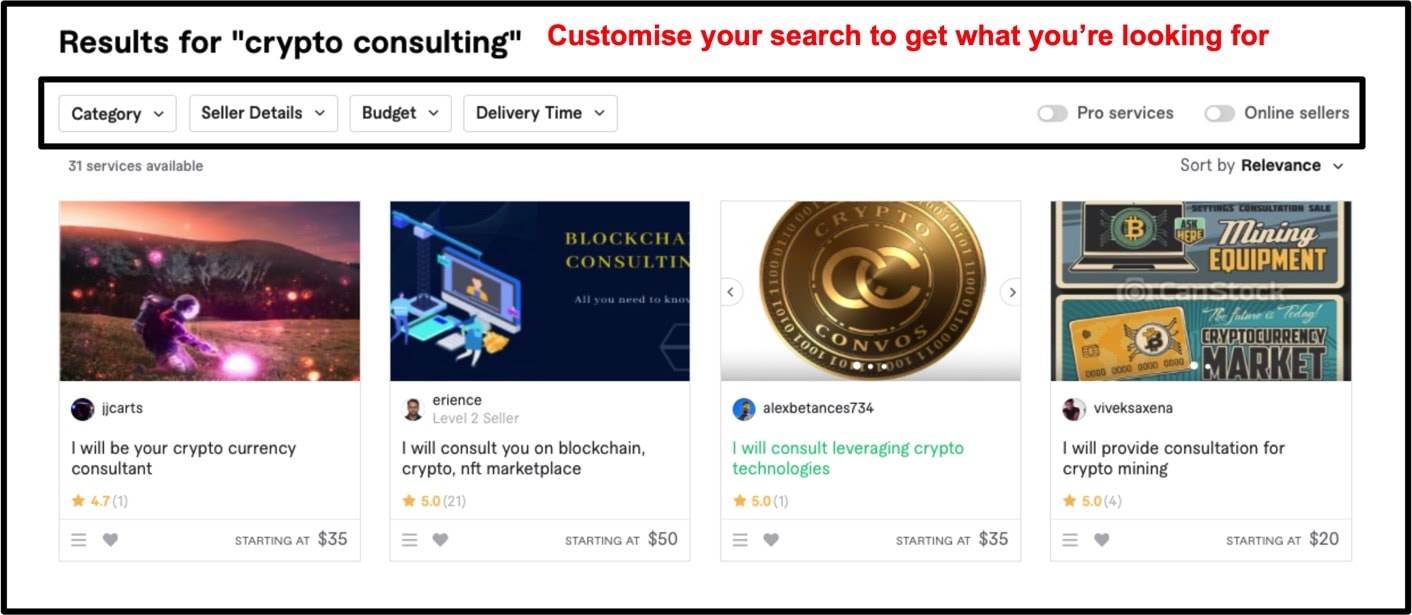 Once you've picked a few freelancers that interest you, browse through their profiles to learn about their experience and the services they provide – known as 'gigs.'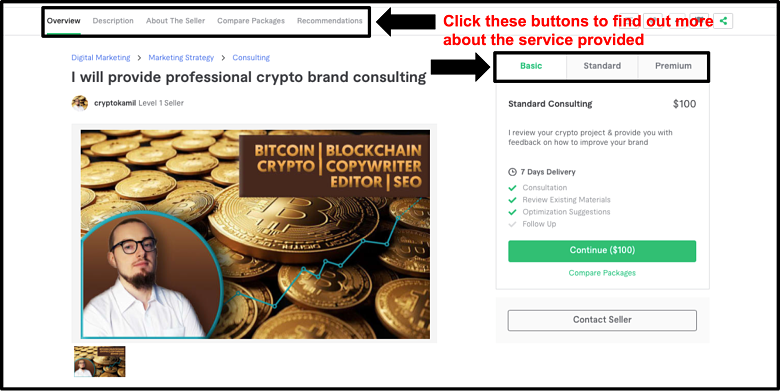 Step 2: Compare packages
Most Fiverr freelancers offer three package options, all with different price points and services. Once you've compared packages, I'd recommend contacting the freelancer so they can:
Understand your project better, and
Provide you with tailored services and advice.
I would also advise reading through the comments section to look at the experiences of previous customers.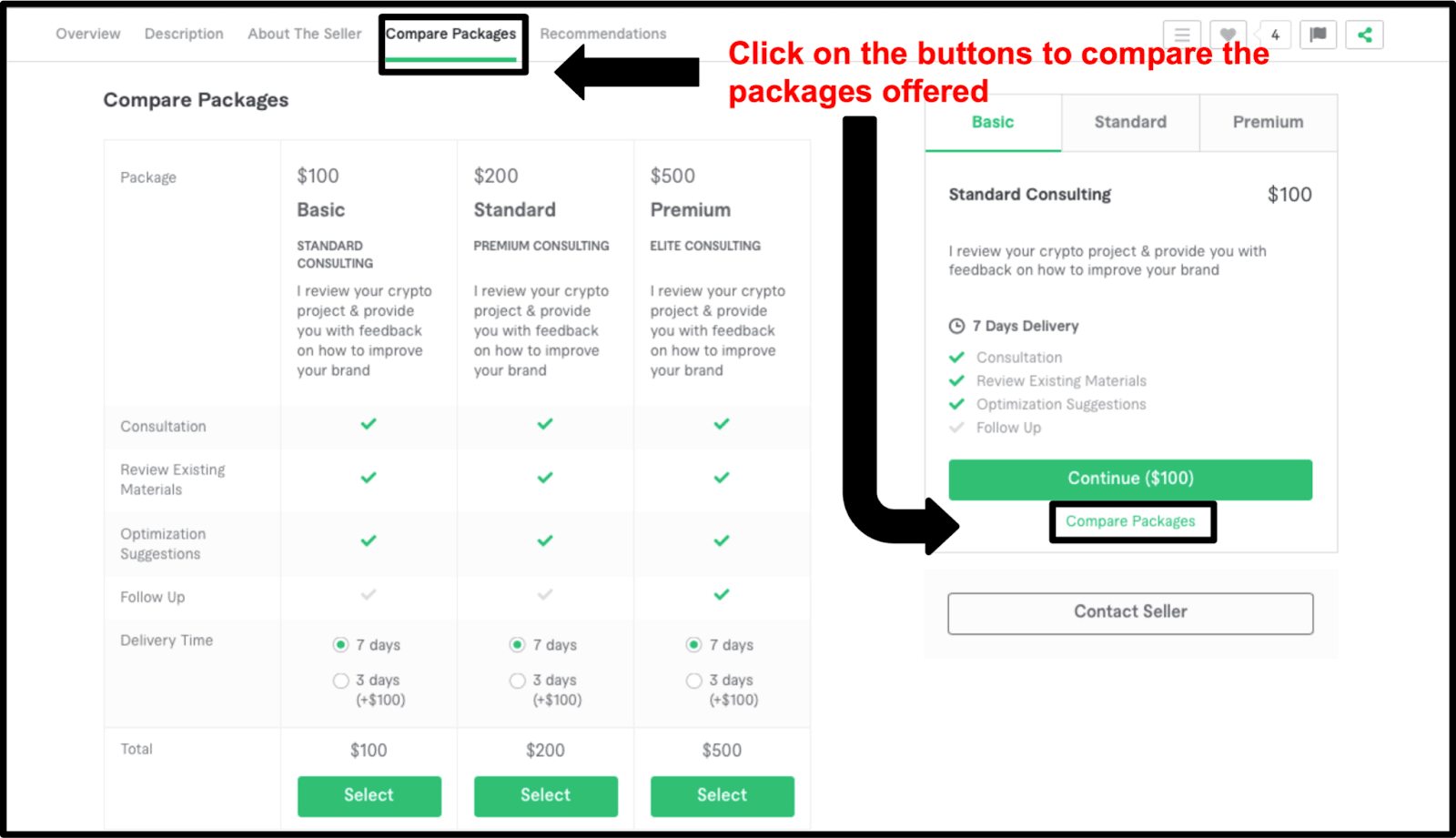 Step 3: Contact your chosen freelancer
You can learn more about a freelancer's average response time, project background, and work experience by contacting them. Many freelancers even prefer you to get in touch beforehand so you can discuss the project and make sure you're both aligned.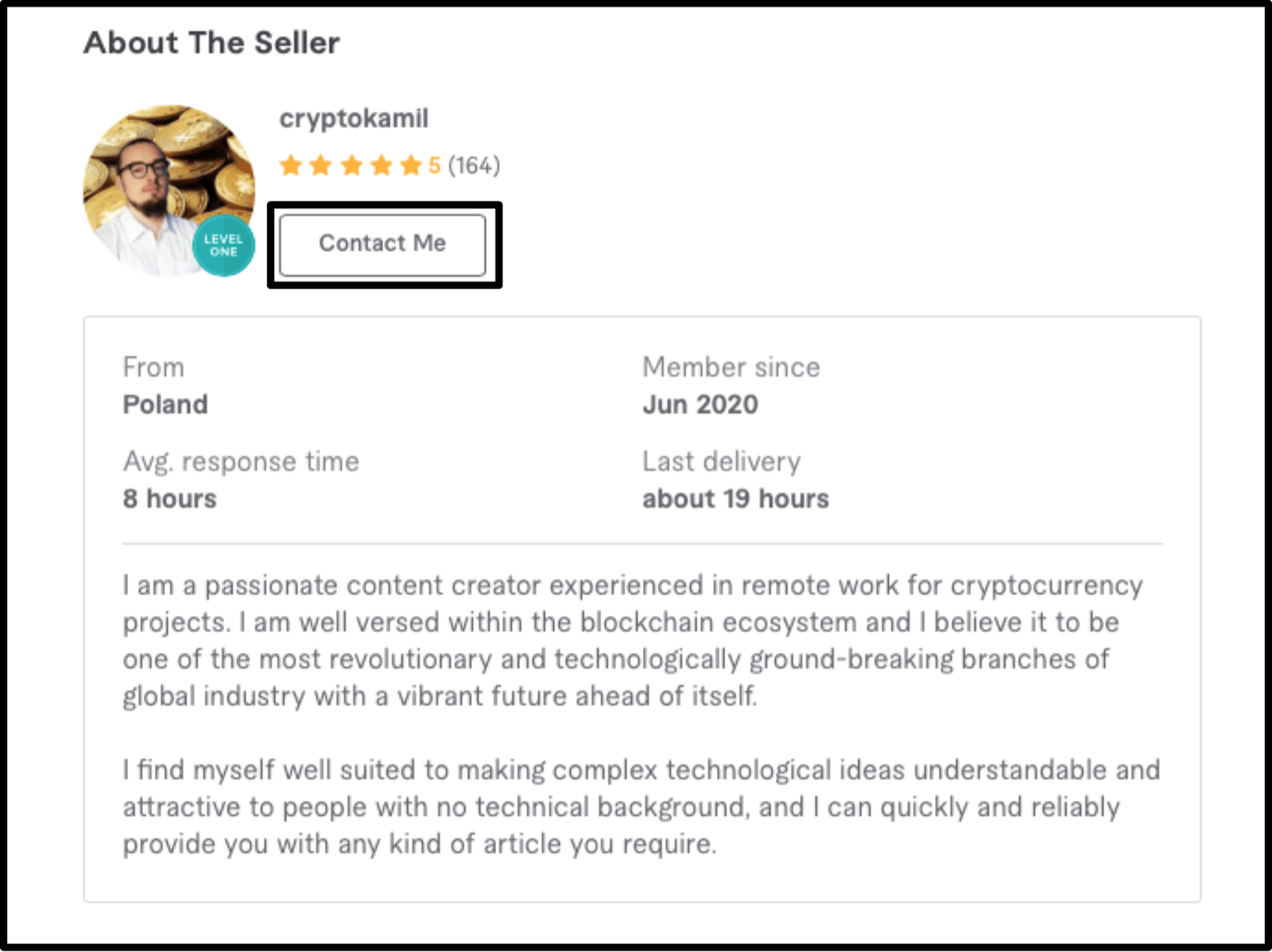 However, you may like to dig deeper before reaching out. For example, you can see the other services they offer by clicking on their username and going to their profile.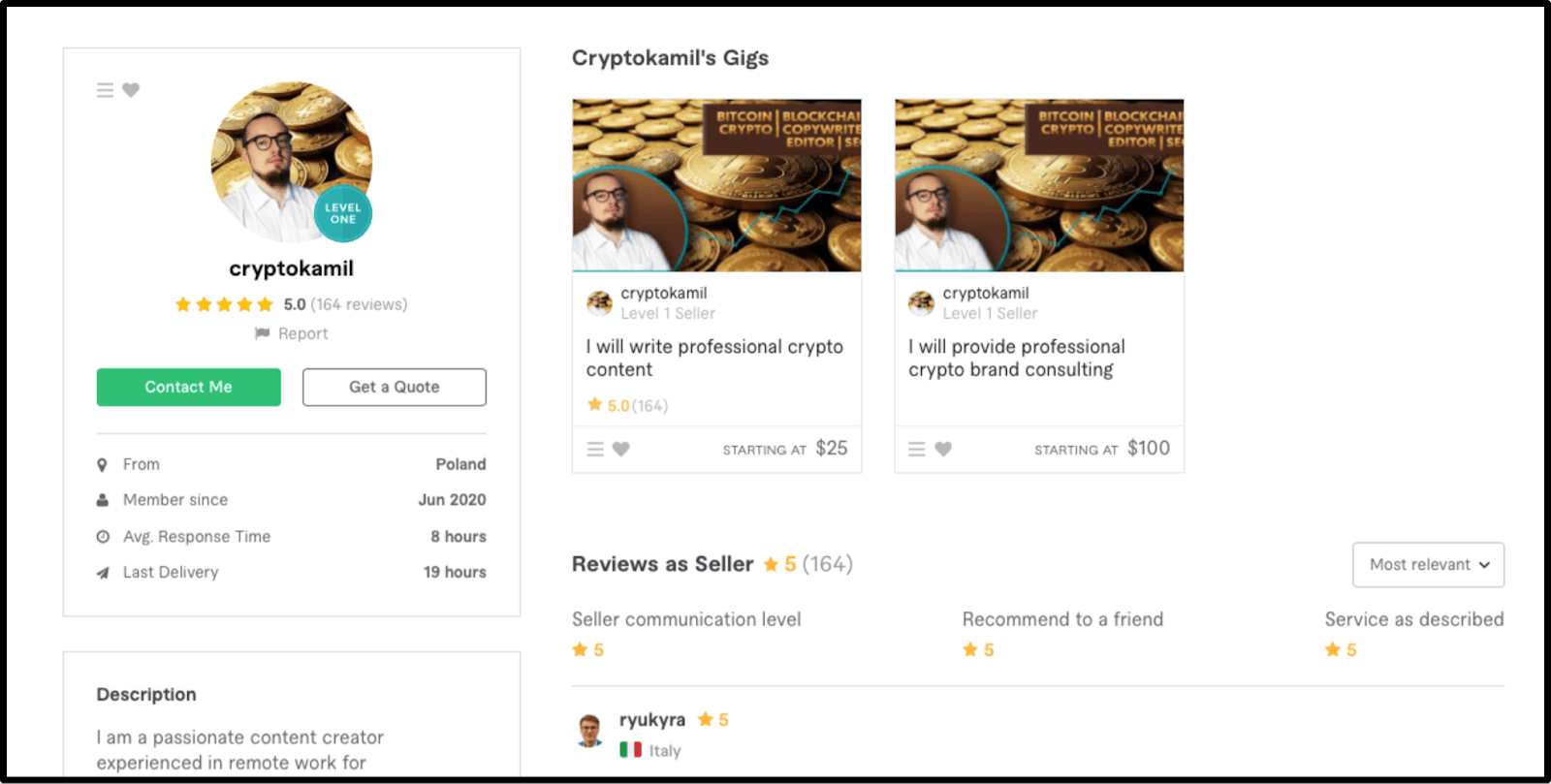 Try looking for their most popular gigs so you can read the reviews and get a feel for whether they'd be a good fit. If you're satisfied, send them a message to find out more information. Once you've ironed out all the details, move on to payment.
Step 4: Confirm your package and proceed with payment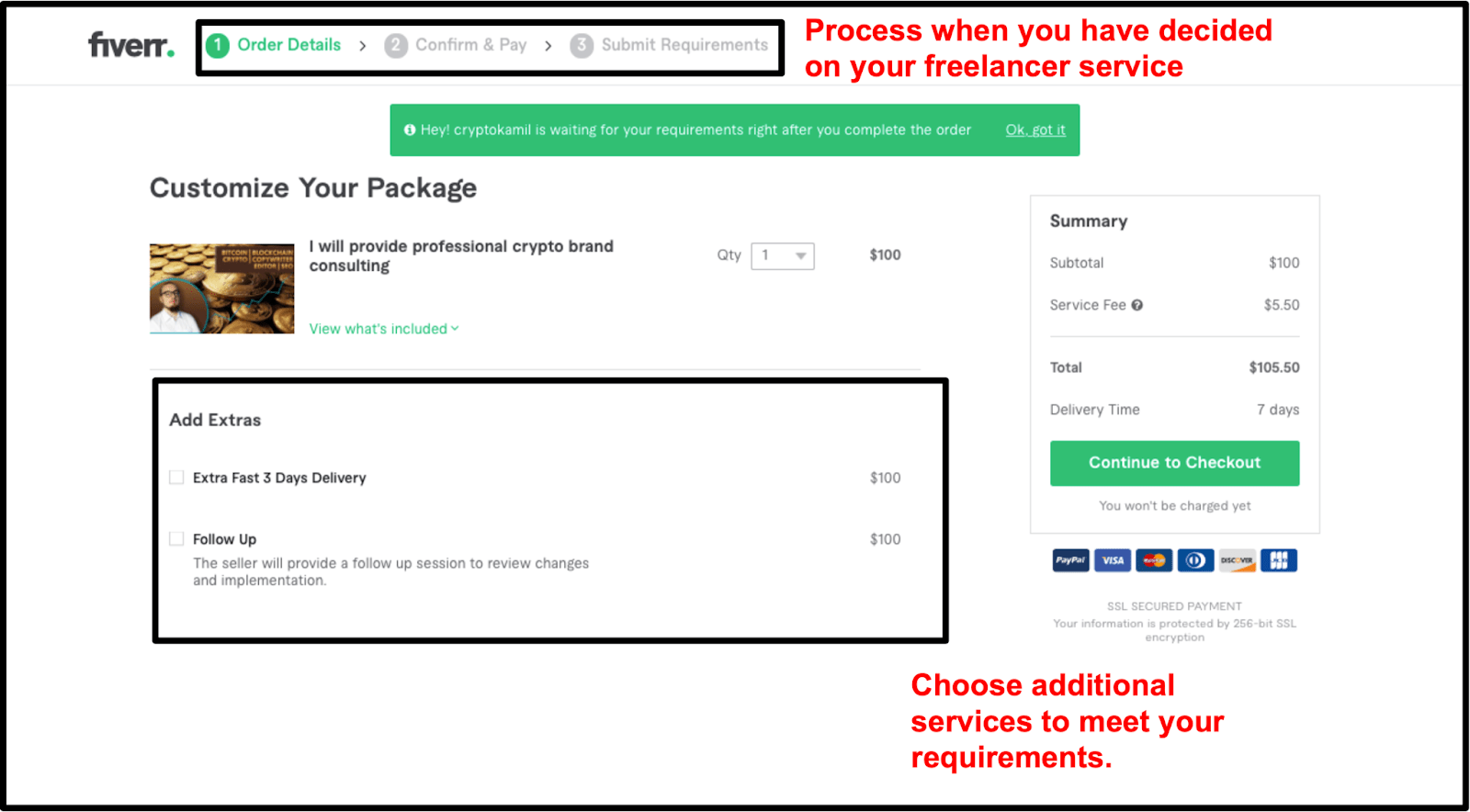 Once you've browsed through their services, discussed your project scope, and decided to hire them, click on the 'Continue' button. You will redirect to the checkout process page, which includes Order Details, Confirmation, Payment, and Requirements submission. It's here that you can also add any extras like faster delivery or follow-up support for an extra price.
What to Look For in a Freelance Bitcoin Expert
The process of choosing and hiring a freelancer can be a little intimidating. But I'm here to tell you that in reality, it couldn't be simpler. I've personally never had a bad experience. After years of hiring freelancers, I've prepared a little checklist I think you should consider when hiring a Bitcoin expert from platforms like Fiverr.
Ensure the freelancer has good soft skills such as communication, a history of meeting deadlines, and strong attention to detail.
Verify that they have sufficient Bitcoin skills. They should know everything there is to know about Bitcoin and other cryptocurrencies, working closely with Bitcoin investment strategies, and identifying profitable Bitcoin uses.
Check that they have relevant experience working with Bitcoin, as evidenced by a portfolio of previous jobs.
Determine if they will provide good customer service and support during and after the project by assessing their customer reviews.
Are You a Freelance Bitcoin Expert Looking to Sell Your Services on Fiverr?
Platforms like Fiverr have created a means for more people to work from home by selling their skills and expertise. Now more than ever, this flexibility is crucial. In my opinion, Fiverr sets you up for success by solving three main challenges.
First
, they remove the challenge of getting yourself in front of clients.
Second,
they remove the painful and time-consuming negotiation process. All you need to do is list your price; people will decide if they want to pay it.
Finally
, they make the payment process less of a nightmare. Every freelancer knows the horror of working on a project and having a client refuse to make payments. You don't have to worry about collecting payments when you use Fiverr. The process of beginning your journey on Fiverr is easier than you could imagine. Go to the Fiverr homepage and click on the button that says
Become a Seller
. Once you have verified your account, Fiverr will lead you to an overview page of the next steps, including learning what makes a successful profile, creating your profile, and
publishing a gig
.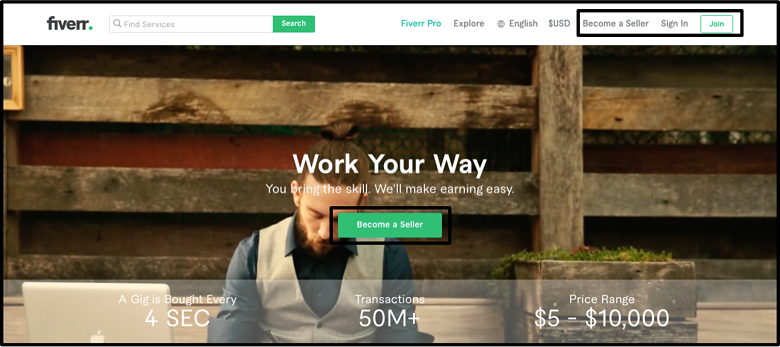 From there, you'll be redirected to a page with a simple yet practical guide on the best ways to set up your profile, along with information about the platform's policies.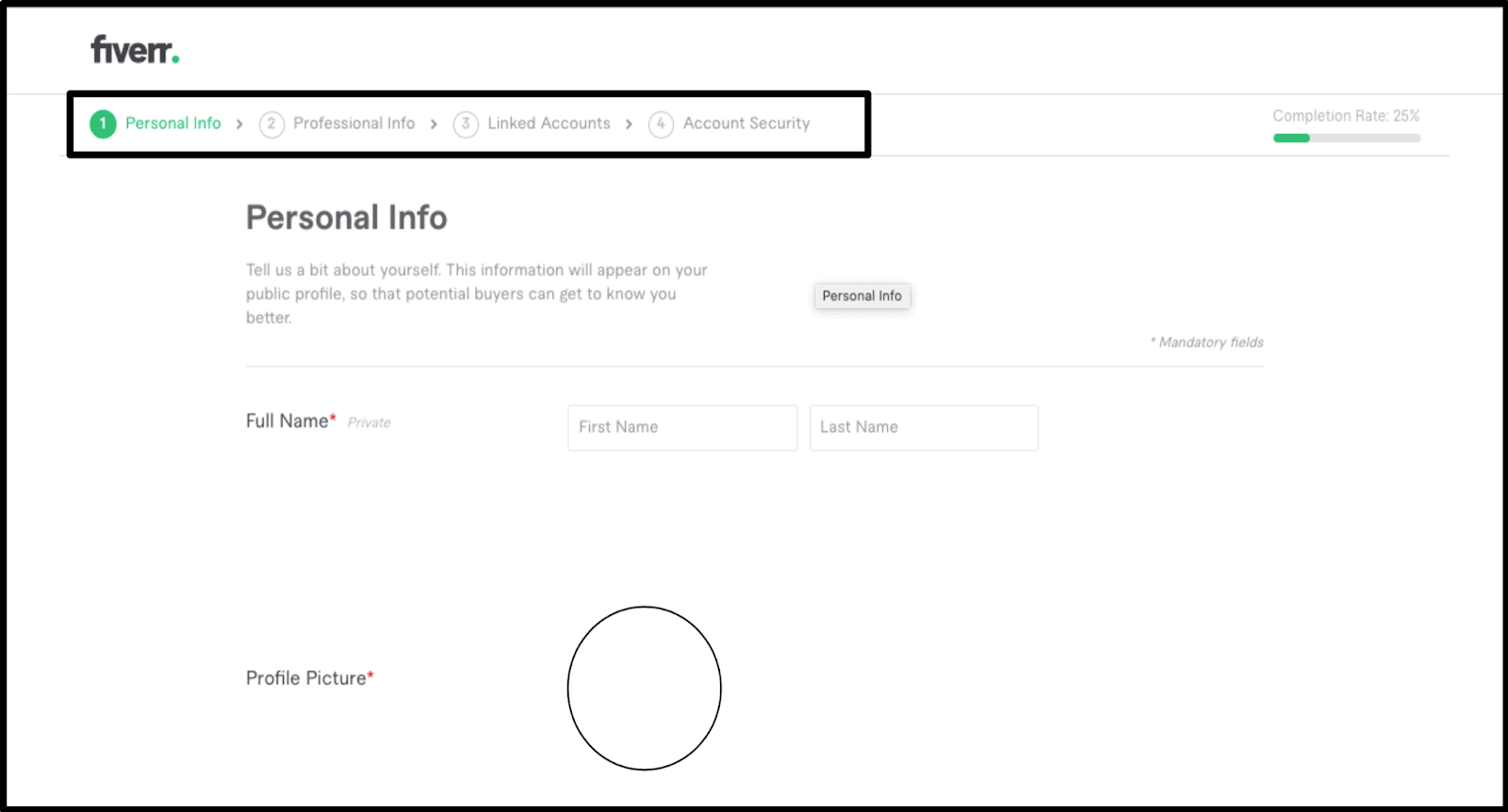 Once that's done, you'll need to fill out a set of basic forms with your personal and professional details. Here, you can highlight your skills and why you are the perfect candidate for your ideal customer. It will also ask to verify your contact information to boost account security.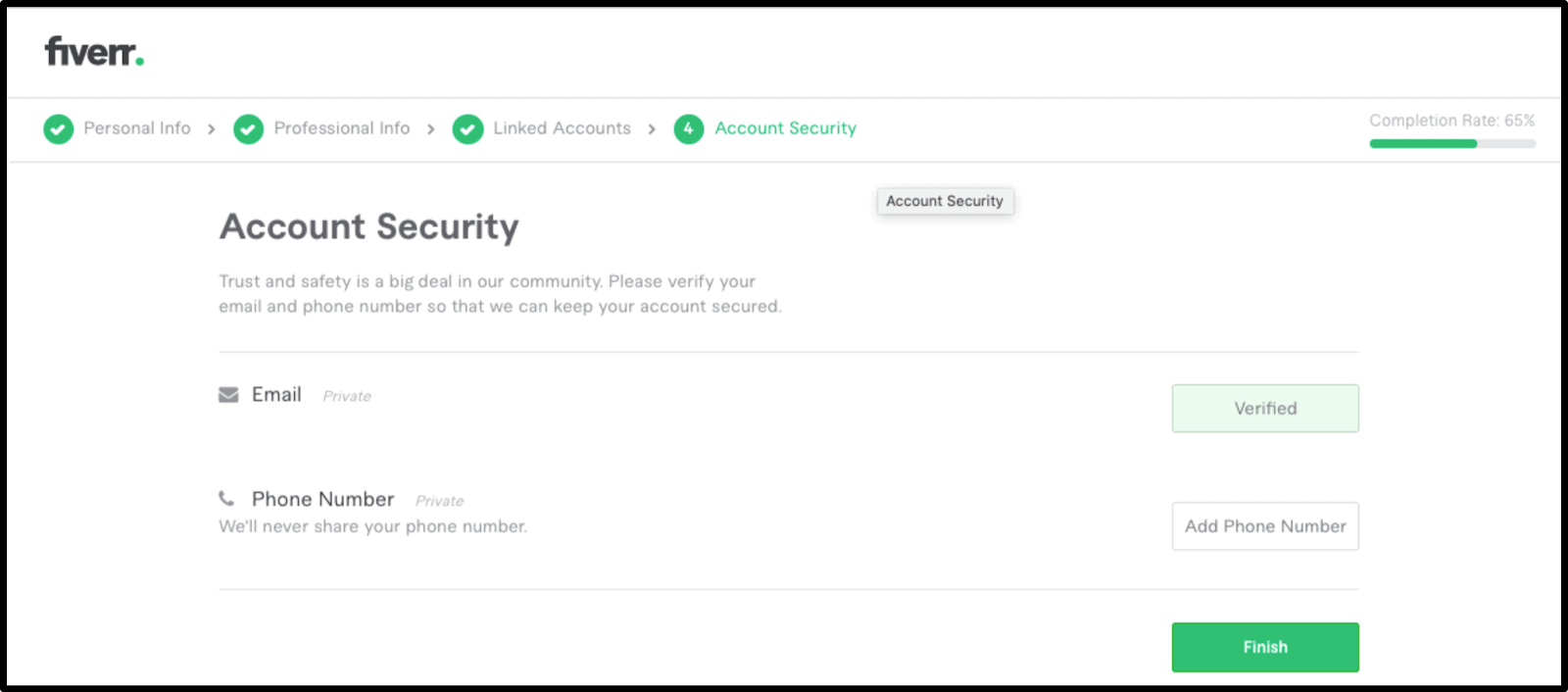 The final step of becoming a seller is to click the 'Continue' and 'Create Your First Gig' buttons. Each gig you make is customizable so that you can position it for your target audience. We've put together a step-by-step guide on
how to create a successful Fiverr gig
, so have a read of that before you get set up. Becoming a Fiverr seller is a simple process, and there are several benefits of doing so. For one, Fiverr is a thriving online marketplace for freelancers with thousands of potential opportunities every day.
The
sign-up process is easy and free
. It's one of the reasons it scores so highly in
our Fiverr review
, and why it's on our
list of the top freelance platforms for both freelancers and clients
. Plus, Fiverr allows you to highlight relevant skills and design your profile with as many or as few details as you like.
You don't have to go looking for clients with Fiverr; they come to you
! And the only thing Fiverr takes in return is a fixed rate of 20% of the total income you make on the platform. Basically – you only pay a percentage
if
 you make money. Sometimes the 20% fee puts freelancers off, but I think it's a small price to pay for the
number of opportunities
 Fiverr provides, especially for beginners. Spend five minutes on the platform, and you'll find that you can monetize any skill – especially one as in-demand as Bitcoin expertise. It can take some time to gain exposure as a beginner, but Fiverr has processes that reward hard-working freelancers who deliver amazing results for their clients.
A pro-tip:
 I recommend that you
check out Fiverr as a buyer and purchase a gig
 yourself. It will help you understand your competition and see what works and what doesn't. Plus, you'll understand the exact process a customer goes through to hire a freelancer. You'll learn all that for as little as $5!
Fiverr Is Full of Opportunities If You're Looking to Hire a Bitcoin Expert
I've only featured the top nine freelancers on my list, but you can discover many more by referring to the helpful how-to guide above. Whether you're seeking a consultation on bitcoin trading or any other cryptocurrency, I was pleasantly surprised to find hundreds of them available on Fiverr, and the cost is quite affordable. I would recommend hiring James (
Jjmcg85
) for his wealth of knowledge and experience. You may need to spend a little more to get the most out of your consultation but given what James knows and the things he's learnt, I reckon it's worth every cent. Freelancing is the business of the future, and platforms like Fiverr are the ideal marketplace for people who work from home. Clients can work with freelancers who deliver great work at affordable prices, and freelancers can access ample opportunities. Every platform has its pros and cons. With Fiverr, the pros definitely outweigh the cons.
FAQ
What does a Bitcoin consultant do?
Bitcoin consultants address any questions you have concerning Bitcoin or cryptocurrency. They help explain the crypto ecosystem, setting up wallets, choosing the best investment strategies, or anything else Blockchain related. A Bitcoin consultant will also help you safely store your cryptocurrency so it's not at risk of theft or going missing.
How can I find a Bitcoin consultant?
You can find Bitcoin consultants through Fiverr, using the step-by-step process I've included above. The steps will help you navigate the Fiverr website, find consultants that best fit your requirements, interact with them, and book a gig with your chosen consultant from as little as $5.
Who are the best crypto experts?
There are tons of crypto experts out there. But to make things easy, I've provided a handy list of the top freelancers who have demonstrated expertise and reliability. I'd personally recommend James (jjmcg85) who has more than five years of experience trading in bitcoin and consulting on cryptocurrencies.
Is Fiverr easy to use?
Yes, Fiverr has a clean interface with easy-to-use navigation, which is part of the reason it scored 4.9 in our Fiverr review. We were impressed with everything from it's pricing structure to ease of use.