A2 Hosting vs Kinsta is a tough battle that came down to the tiniest details to crown the victor. A2 Hosting boasts an array of hosting plans for small to medium-sized businesses, while Kinsta only sells managed WordPress and WooCommerce hosting for medium to large businesses. To give a fair comparison and final verdict, I focused on five main criteria. A2 Hosting came out on top in four out of five categories.
Click here to see A2 Hosting's latest deals
or keep reading to find out what makes A2 Hosting the winner of this comparison.
1. Plans and Pricing
Kinsta Has More WordPress Hosting Plans, but A2 Hosting Is Cheaper
Since Kinsta mainly targets enterprise-level WordPress users, it offers managed WordPress and WooCommerce hosting plans. On the other hand, A2 Hosting has a wide range of hosting solutions, including shared, managed WordPress hosting, reseller, VPS, and dedicated servers. Kinsta provides ten managed and fully optimized WordPress hosting plans, whereas A2 Hosting has three managed and four unmanaged (shared) WordPress hosting plans. Price-wise, A2 Hosting is much cheaper than Kinsta, but the starter plans (with both hosts) are priced closely.
Neither A2 Hosting nor Kinsta offers a free domain name with subscriptions. But they both provide free website migration and a 30-day money-back guarantee. Also, A2 Hosting has an "anytime money-back guarantee" policy that allows you to cancel your contract and get a prorated refund for the unused period at any time, even after the first 30 days. A2 Hosting knocks Kinsta out in the pricing round by offering different hosting types, budget-friendly prices, and a more flexible refund policy.
2. Features
Unlike A2 Hosting, Kinsta Has Some Limitations
Both A2 Hosting and Kinsta provide feature-packed managed WordPress hosting packages with many similarities, such as SSD storage, daily backups, free CDN, free SSL certificate, a staging area, and SSH access. With A2 Hosting, you get from 10 GB to 40 GB disk space, unlimited databases, unlimited email accounts, and 1 to unlimited WordPress sites. A2 Hosting also offers a JetPack Personal license (free of charge) with all plans for safer and smoother WordPress hosting. With Kinsta, you get from 10 GB to 250 GB disk space and can host from 1 to 150 WordPress sites. Kinsta doesn't offer email hosting, so you'll need to find an alternative solution for that. Find more differences between A2 Hosting and Kinsta using the following comparison table:
| | | |
| --- | --- | --- |
| | A2 Hosting | Kinsta |
| Hosting Types | Shared, WordPress hosting, VPS, reseller, dedicated servers | Managed WordPress hosting, WooCommerce hosting |
| Free Domain | ✘ | ✘ |
| Free SSL Certificate | ✔ | ✔ |
| Disk Space | 10 GB – Unlimited | 10 GB – 250 GB |
| Bandwidth | 400 GB – Unlimited | |
| Automatic Backups | Yes, with all WordPress hosting plans, but only with some shared hosting plans | ✔ |
| Control Panel | cPanel, Plesk | MyKinsta admin |
| Email Accounts | Unlimited | ✘ |
| Free CDN | ✔ | ✔ |
| Free Site Migration | ✔ | ✔ |
| Money-Back Guarantee | 30 days | 30 days |
It was close, but Kinsta has some limitations in its included features compared with A2 Hosting.
3. Performance
Both Are Good, but Kinsta Has Faster Loading Speeds
A2 Hosting manages its services through servers located in the U.S.A., the Netherlands, and Singapore. On the other hand, Kinsta operates 24 global server locations, including the U.S.A., Canada, Brazil, the U.K., Belgium, the Netherlands, Germany, Finland, India, Singapore, Hong Kong, Japan, Australia, Taiwan, and Switzerland. Both hosts use SSD storage for all plans. SSD storage performs much faster in website data processing than regular HDD storage, reflecting directly on your website's loading speeds and overall performance. You'll get free CDN from both hosts, too. A2 hosting uses Cloudflare CDN, while Kinsta provides Key CDN. A CDN or Content Delivery Network places your website on a global network of cloud servers. Among other benefits, this boosts the loading speeds of your website from different locations around the world. Both hosts promise a 99.9% uptime guarantee and reported no major downtimes when tested. Kinsta showed a 100% actual uptime, while A2 hosting had minor hiccups but didn't go below 99.5%, which is considered ok. With Kinsta's global network of servers, I had high expectations for loading speeds. When I tested the speeds, it met my expectations with a perfect overall score.
Check out the individual location timings in our full expert review
. A2 showed a few slow locations, but most had promising numbers. This wasn't enough to give it a perfect overall score, but it still scored better than many other hosts.
Find out which locations had the slowest loading speeds in A2 Hosting's detailed review
. In this round, Kinsta outperformed A2 Hosting with perfect uptime and better global loading speeds.
4. Security
A2 Hosting Gives You More Security Features
A2 hosting secures its accounts with a set of standard security features that come with all plans. This set includes KernelCare (daily, automatic, and rebootless Kernel updates), DDoS/Brute-Force protection, a dual web hosting firewall, HackScan, Auto-Heal hosting protection, Barracuda spam filtering, and virus scanner. Kinsta's security, on the other hand, is limited to DDoS protection, hardware firewalls, and uptime monitoring. A2 Hosting uses CloudLinux OS with its plans to securely isolate your account from others on the same server and protect it against threats targeting those accounts. CloudLinux also ensures fair allocation of the server's resources. As previously mentioned, both hosts offer free CDN with all plans. Other than its performance-boosting capabilities, a CDN acts as an additional layer of DDoS protection. Both hosts provide free automatic daily backups. A2 Hosting has a broader range of security features than Kinsta, making it the winner of this round.
5. Support
A2 Hosting Provides More Ways to Get Support
Even though both hosts have large knowledgebases, A2 Hosting's is more organized, making it easier to find the information you require. A2 hosting has 24/7 customer support that you can contact through live chat, phone, email, or support ticket. It even has several local phone numbers for different locations around the world. Even though it can take a few minutes to connect to a live chat agent, they're quite informative and helpful once connected.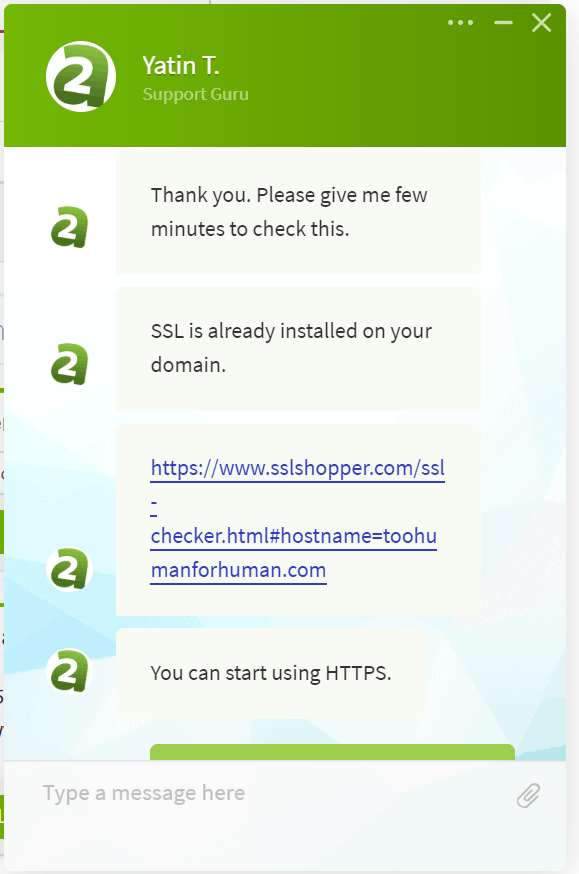 Kinsta also has 24/7 customer support via live chat, email, and support ticket. However, it doesn't have phone support. Also, you can only use live chat if you're a customer. If you have any pre-sales questions, you need to send them by ticket or email. Once you're a client, though, it's easy to get in touch with the live chat from anywhere in your dashboard, and the agents are well-trained and helpful.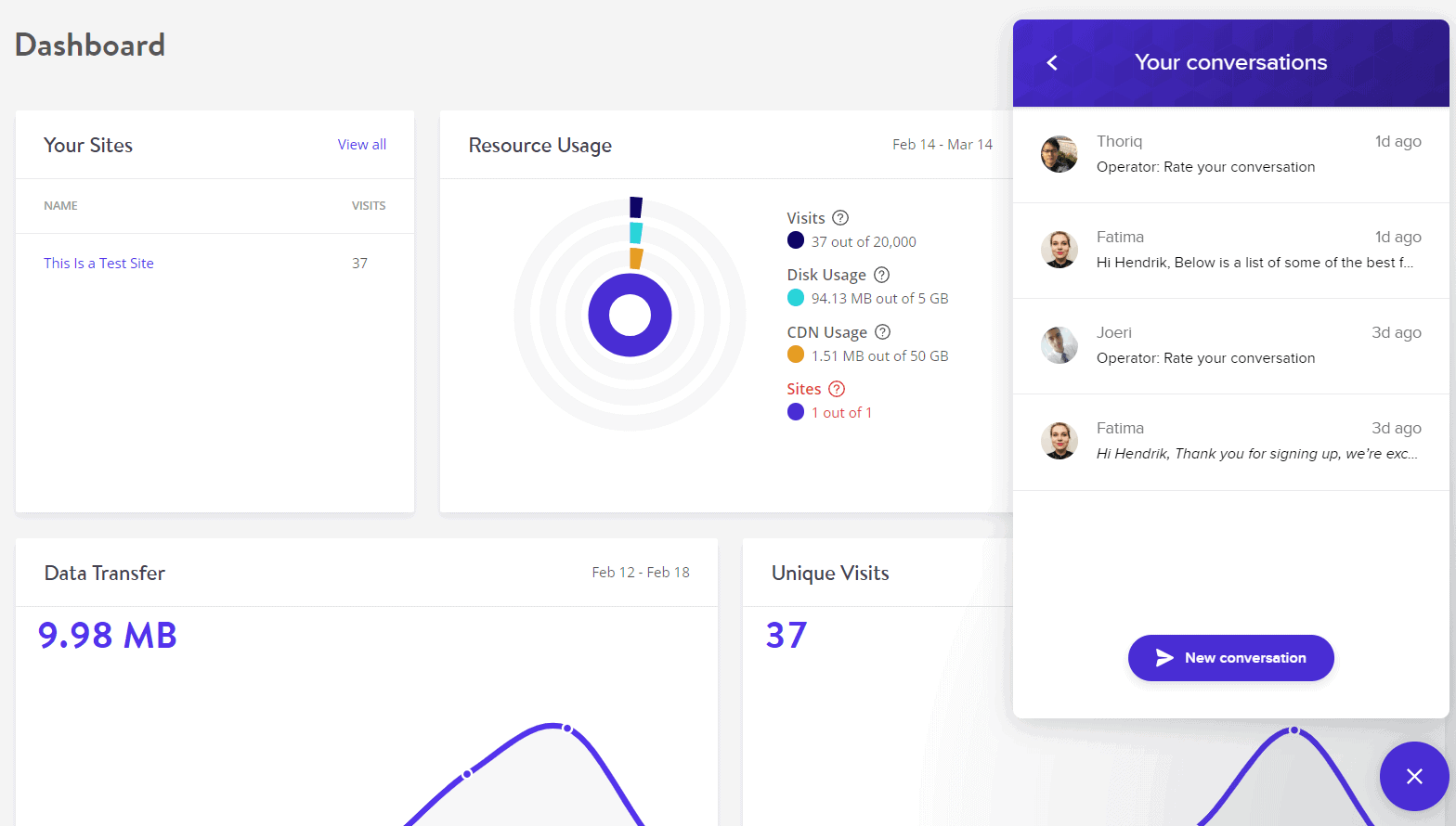 The winner? A2 Hosting, thanks to its more organized knowledgebase and a wider range of communication channels.
A2 Hosting Has a Slight Advantage Over Kinsta
A2 Hosting and Kinsta both feature in our expert
list of the best web hosting services
. They provide quality managed WordPress hosting to clients. In terms of performance and page loading speeds, Kinsta continues to stand out as the undisputed leader. It also provides ample storage for its intended customer base, which primarily consists of large businesses and enterprises. On the other hand,
budget-friendly A2 Hosting
provides top-quality managed WordPress hosting at an affordable cost for small to medium-sized businesses. It beat Kinsta in three out of five tests earning it the winning title of this battle.
Plans and Pricing
Diverse hosting solutions. Cheaper prices. 30-day money-back guarantee
Offers 10 managed WordPress hosting plans. Expensive subscriptions. 30-day money-back guarantee
Key Features
Free site migration, free site builder, free SSL, SSD storage, and unlimited email accounts
Free site migration, free SSL, and more SSD storage
Performance
Fewer server locations, free Cloudflare CDN, 99.9% uptime guarantee, few downtimes, slower loading speeds
More server locations, free Key CDN, 99.9% uptime guarantee, no downtimes, faster loading speeds
Security
KernelCare (daily, automatic, and rebootless Kernel updates), DDoS/Brute-Force protection, dual web hosting firewall, HackScan, Auto-Heal hosting protection, Barracuda spam filtering, virus scanner, CloudLinux OS, daily backups
DDoS protection, hardware firewalls, uptime monitoring, daily backups
Support
Comprehensive knowledgebase, 24/7 live chat, phone, email, and support ticket, takes time to connect to live chat, helpful support
Comprehensive knowledgebase (difficult to navigate), 24/7 live chat (for current customers), email, and support ticket, responsive and helpful support
FAQ
Which host is better, A2 Hosting or Kinsta?
Although A2 Hosting won this A2 Hosting vs Kinsta battle, they're both excellent choices and among the best managed WordPress hosting services. If you have a high budget and don't mind some limitations, Kinsta will meet your requirements. If you're looking for a cheaper web host that also gives you high-quality hosting, then you should go for A2 Hosting.
Does Kinsta offer shared hosting?
Kinsta doesn't sell shared hosting. It specializes in managed WordPress hosting for medium to large websites. Need cheap and reliable shared hosting? Take a look at our list of the best shared hosting services.
Who owns A2 Hosting and Kinsta?
A2 Hosting is a privately held company that was bootstrapped in 2001 by its CEO Bryan Muthig. Kinsta is also an independently owned company that was founded in 2013 by Mark Gavalda.
Does A2 Hosting offer VPS hosting?
Yes. A2 Hosting sells a wide range of managed and unmanaged SSD-powered VPS packages. With the Core VPS managed or unmanaged VPS plans, you get full root access and free SSL. A2 Hosting for VPS is also featured among the best cheap and reliable VPS services.