Some A2 Hosting vs GoDaddy comparisons make it seem like the two aren't that different, but the truth is that
A2 is an excellent web host
, and GoDaddy will likely frustrate you to tears. GoDaddy may be a good choice for domain registration, which is what it's famous for. But its web hosting is just not that good in terms of features or performance.
A2 Hosting is much faster, better, and easier to use than GoDaddy.
I should know because I spent months comparing every aspect of their service: performance, support, pricing, features, and security. The takeaway? Life's too short for slow hosting, so spare yourself some headache and heartache and go with A2 Hosting.
Click here to see A2 Hosting's latest deals,
 or read on for the full story.
1. Plans and Pricing
Prices Are Similar, but A2 Hosting Offers Better Value
GoDaddy and A2 Hosting have similar prices for all types of hosting, but A2 Hosting's plans offer superior value 
because they include more tools and significantly better performance. Take, for instance, two of their shared plans. A2 Hosting's Drive is about 50% cheaper for the initial term than
GoDaddy's equivalent, the Deluxe
. After renewal, the two will cost you about the same, but the hosting experience will continue to be vastly different.
GoDaddy Hosting Web Hosting
A free domain name is included with some hosting plans from GoDaddy Hosting
A2's Drive again overtakes GoDaddy's Deluxe with double the RAM, SSD (rather than HDD) storage, and an SSL certificate.
The only "advantage" with GoDaddy is the free domain name for a year,
 which is available only if you sign up for at least 12 months.
But A2's lower initial price entirely offsets the cost of a domain name, so this is actually a moot point. For managed WordPress plans, GoDaddy's top-tier plan, the Ecommerce, is competing with A2's entry-level one, the 1-Site. GoDaddy's unlimited storage may seem worthwhile when compared to A2's 10GB, except that most WordPress websites barely cross the 5GB mark, let alone 10GB – even e-commerce sites. Furthermore,
all of A2's managed WordPress plans include the Turbo upgrade,
which means that you'll be hosted on a server with more resources and fewer neighbors. GoDaddy does have slightly better prices for VPS hosting, but given that its performance is so poor, the savings are hardly worth it. More about this later.
Not only does A2 Hosting have a 30-day money-back guarantee, it lets you cancel your account at any time and get a refund for the services you didn't use.
 On the other hand, GoDaddy has a standard 30-day money-back guarantee only if you purchase at least one year of hosting; otherwise, it's just 48 hours. Ouch.
2. Features
A2 Hosting Has More Features and Is Easier to Use than GoDaddy
Let's start with similarities: Both
A2 Hosting and GoDaddy have shared hosting plans that offer unlimited storage, the ability to host unlimited websites, and unmetered bandwidth.
Both hosts use the industry-standard cPanel control panel. And that's it. One of GoDaddy's biggest drawbacks is its paid-for email service. Sure, you get one year of free Office 365 business email, but then you'll have to pay extra for it. Plus, it's just one mailbox, and it renews automatically.
On the other hand, A2 Hosting does not make you pay for your email – ever – and you can create as many aliases as you need.
Two more strikes against GoDaddy: It doesn't include website staging or managed website migrations like A2 Hosting does.
 Staging is useful for testing major changes to your website, because it lets you clone your site and perform updates on a mock version. This way, if something goes wrong, you'll know before it happens to the real thing. If you're transferring your site from a different host, managed migrations can save you a lot of time and hassle. A2's experts will take care of it for you, for no extra fee.
GoDaddy makes you pay extra for automated backups, whereas A2 Hosting gives them to you free of charge
(unless you're on the Startup plan). You can also rewind to a previous version of your A2 site at any time. GoDaddy's only important advantage is its broad range of paid-for add-ons. You can hire someone to design your website, purchase a GoDaddy Pro subscription to easily manage more websites, add marketing tools to your dashboard, and more.
| | | |
| --- | --- | --- |
| Feature | GoDaddy | A2 Hosting |
| Hosting Type | Shared, WordPress, VPS, dedicated servers | Shared, WordPress, VPS, dedicated servers |
| Free Domain | On yearly plans | No |
| Free SSL Certificate | On higher-tier plans | Yes |
| Disk Space | 100GB on Economy, unlimited on all other plans | 100GB on Startup, unlimited on all other plans |
| Bandwidth | Unmetered | Unmetered |
| Automatic Backups | No | Yes (daily), except on the Startup plan |
| Control Panel | cPanel | cPanel |
| Email Accounts | 1 free address for the first year, paid-for afterward | Unlimited |
| Free CDN | No | Yes |
| Free Site Migration | No | Yes |
| Money-Back Guarantee | No | Cancel within 30 days for a full refund, anytime for a prorated refund |
3. Performance
A2 Hosting Is Built to Perform, While GoDaddy Is Built to Overcharge
I'm going to get a little technical, but first let me be perfectly clear:
A2 Hosting is close to the top of our performance leaderboard, while GoDaddy is at the bottom.
Now let's dive in.
GoDaddy still uses antiquated HDD storage, while A2 Hosting gives you much faster SSD.
And higher-tier shared plans on A2 use NVMe storage, which is the best-in-class setup for SSD.
A2 Hosting has the Cloudflare content delivery network (CDN) integrated into the dashboard to help boost your loading speeds around the world.
 Unfortunately, GoDaddy does not have an integrated CDN. You can set one up yourself, but it's not an easy process. Both hosts have data centers in the US, Europe, and Asia, but the infrastructure is significantly different. While both hosts run all of their shared plans on the Apache web server,
 A2 Hosting lets you upgrade to LiteSpeed if you're on one of the Turbo plans.
Turbo servers also come with extra RAM, fewer users per server, and built-in caching solutions. Talk is cheap, so I put the two hosts to the test. I signed up for their entry-level plans, hosted the same exact website on each, and tested them for an extended period of time.
On GTmetrix, A2 Hosting's top speed was 1.1 seconds, while its average speed was 1.3 seconds.
Brilliant – and one of the fastest low-cost hosts that my colleagues and I have tested. For the full speed test results,
see our in-depth A2 Hosting review
.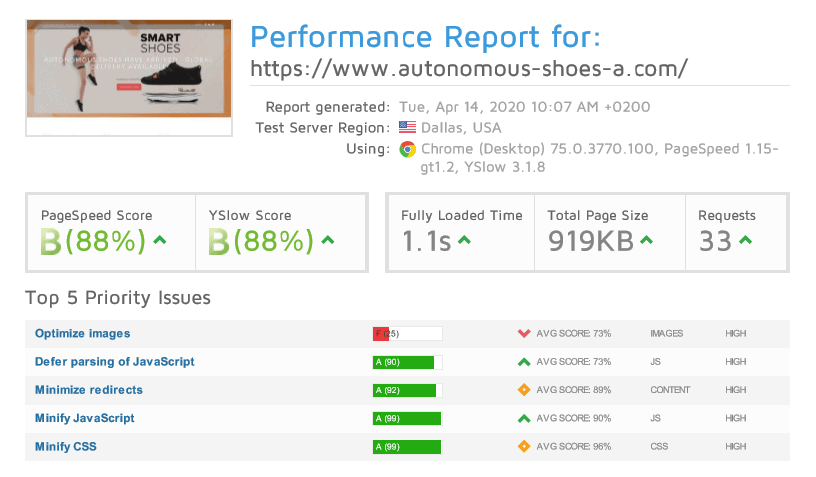 GoDaddy's results were just shameful.
The fastest loading speed was 2.2 seconds, while the average was 2.9 seconds.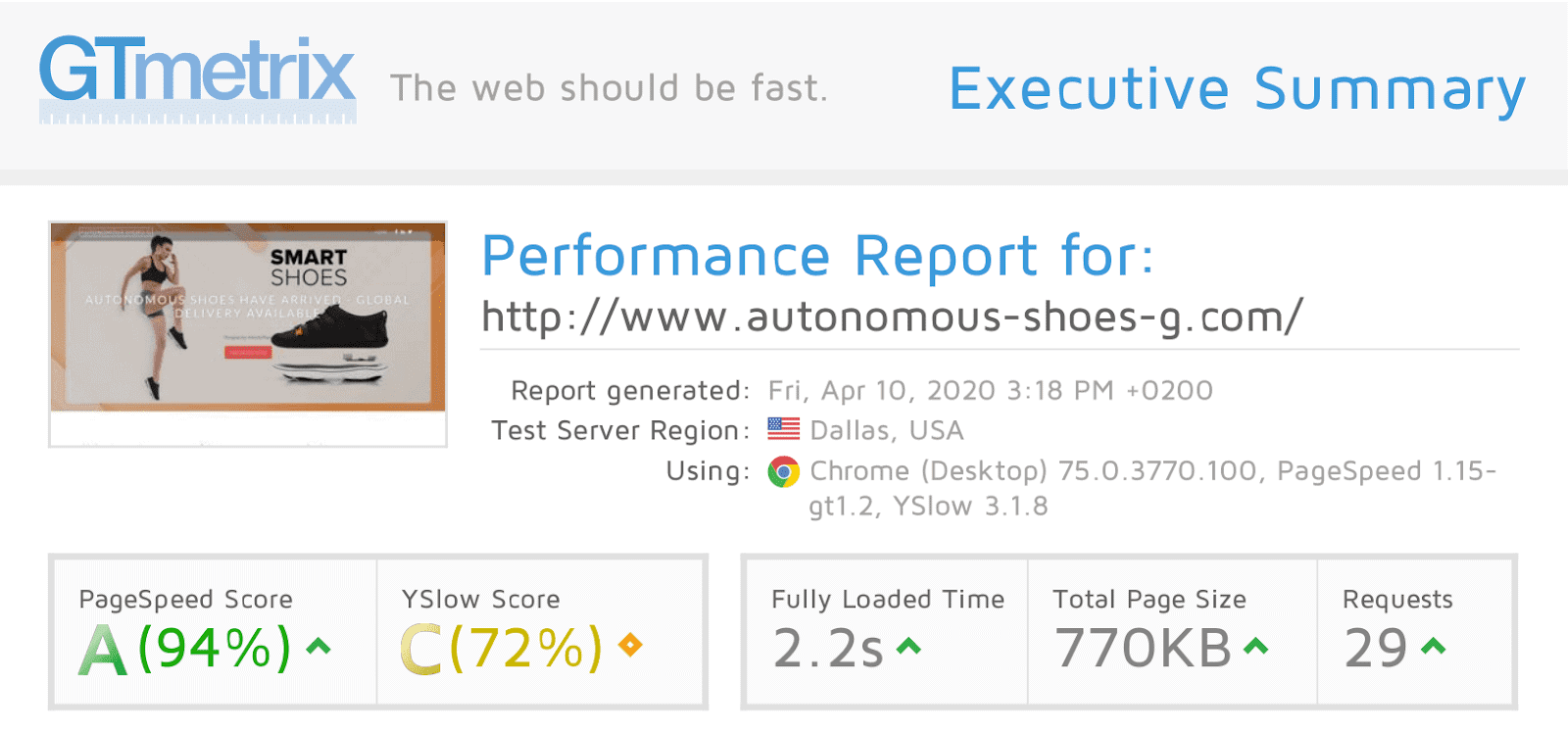 GoDaddy's results on the Sucuri test were even worse.
 With an average response time of 3.3 seconds, your visitors will definitely bounce back to Google and go to a competitor's site instead.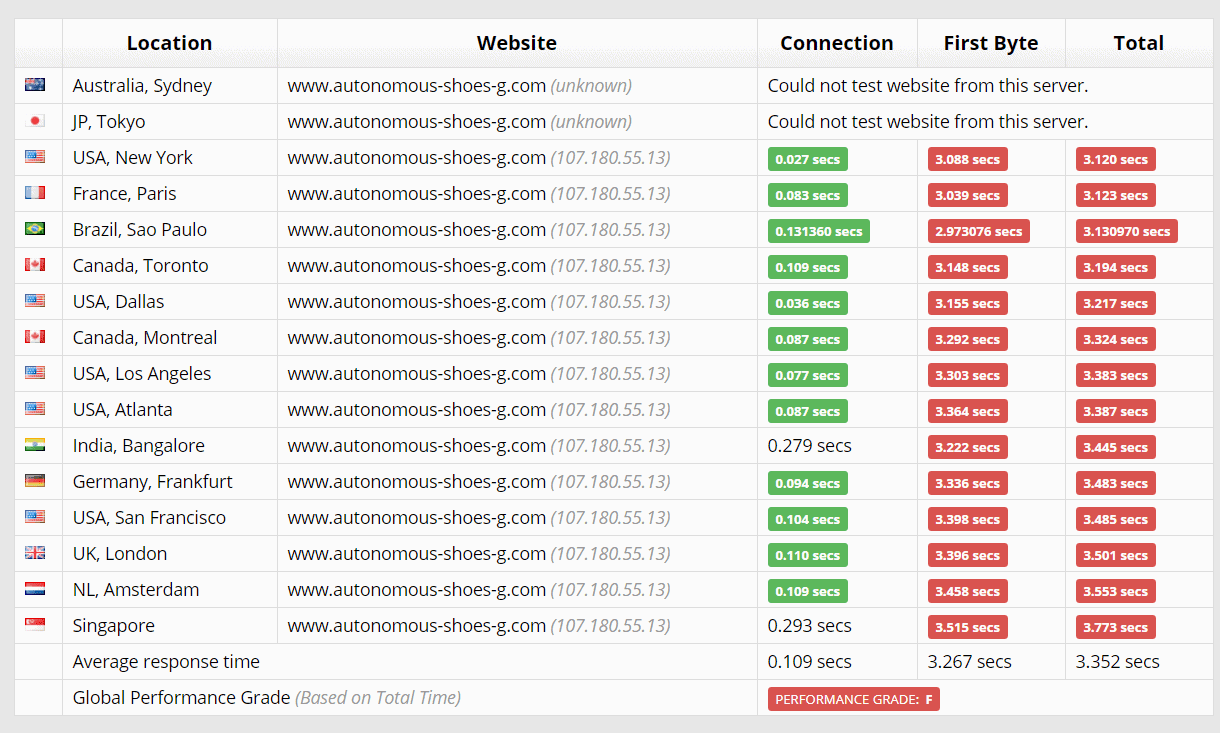 Oddly, A2 Hosting's Sucuri results were pretty bad, but I think this is because Sucuri's requests were blocked. A2's overall score was the same as GoDaddy's, an F, but this isn't consistent with A2's GTmetrix performance, not to mention actual customer feedback.
So I'm not taking the Sucuri results too seriously.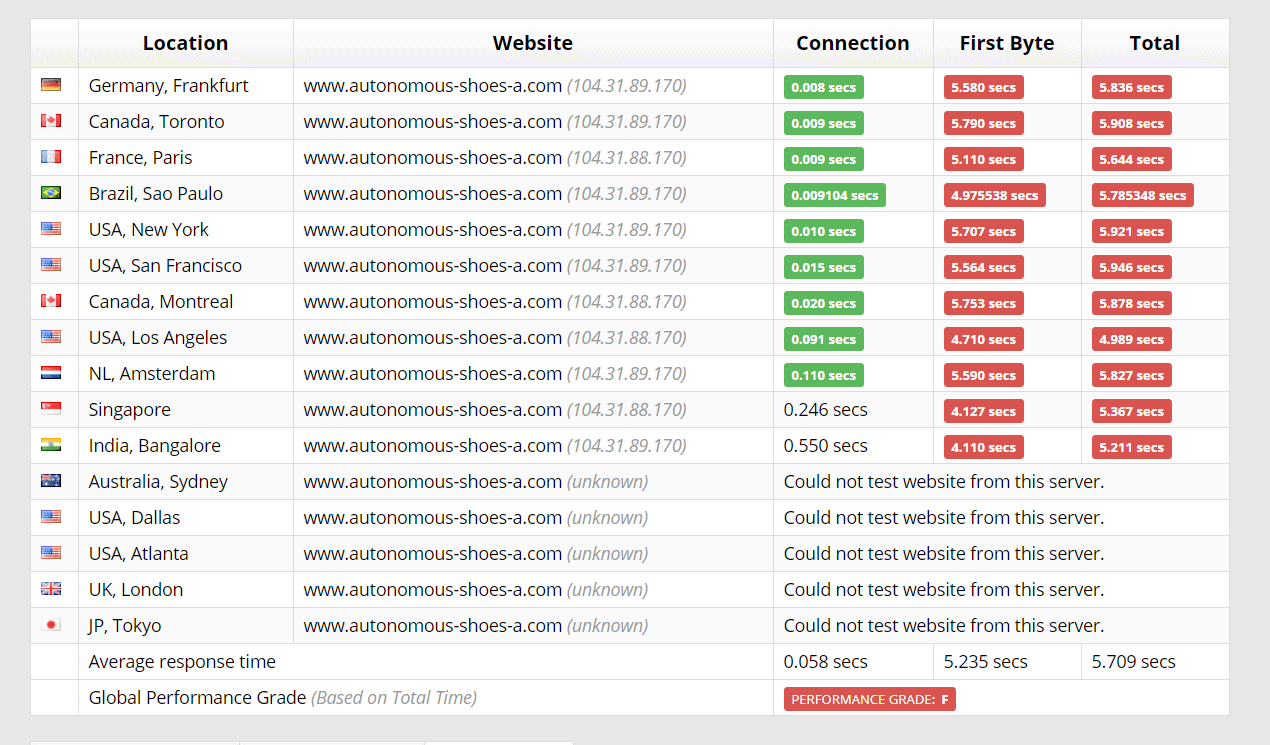 Meanwhile, uptime tests show that GoDaddy offers over 99.9% availability, but I have experienced frequent drops in service, and GoDaddy has no service-level guarantee to compensate you when that happens. To see what else went wrong,
read our in-depth GoDaddy review
.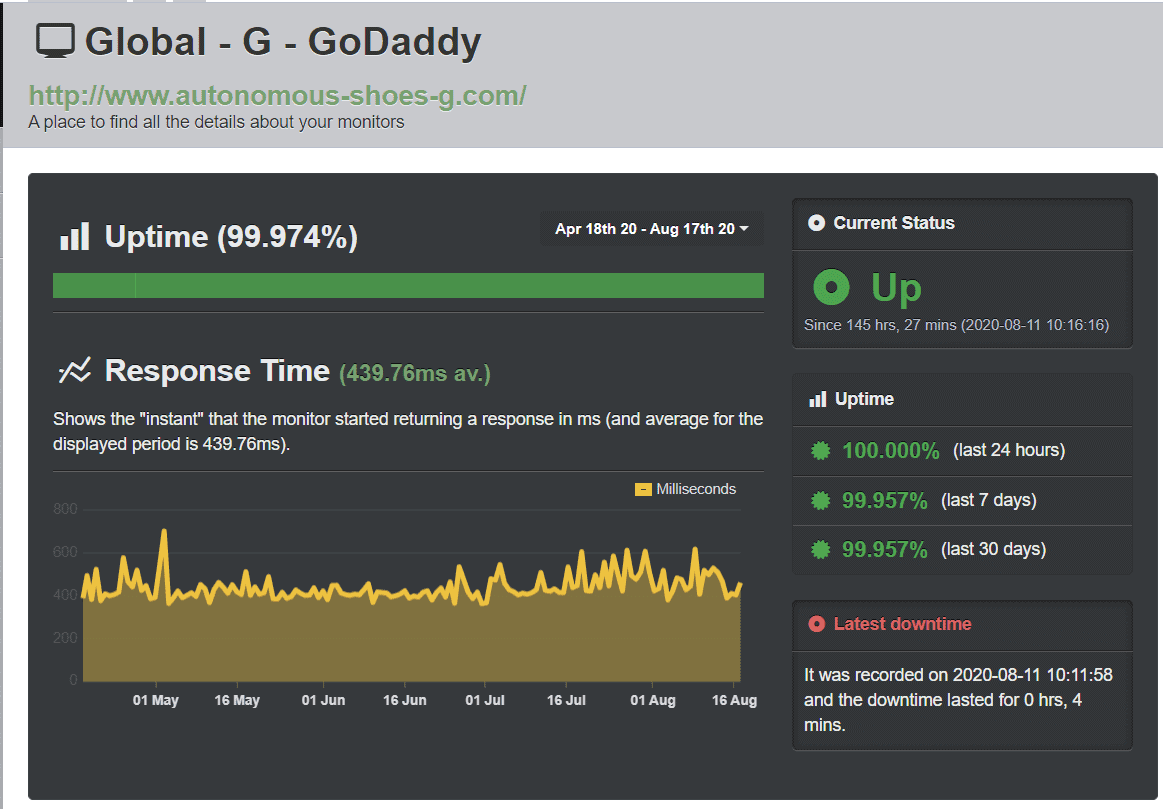 On the other hand, even though A2 Hosting commits to just 99.9% availability, my tests show that it's far better than that.
Over a 30-day timeframe, A2 showed 100% uptime on UptimeRobot.
 And if you have more than 0.1% downtime during the month, A2's service level agreement (SLA) entitles you to compensation through credits.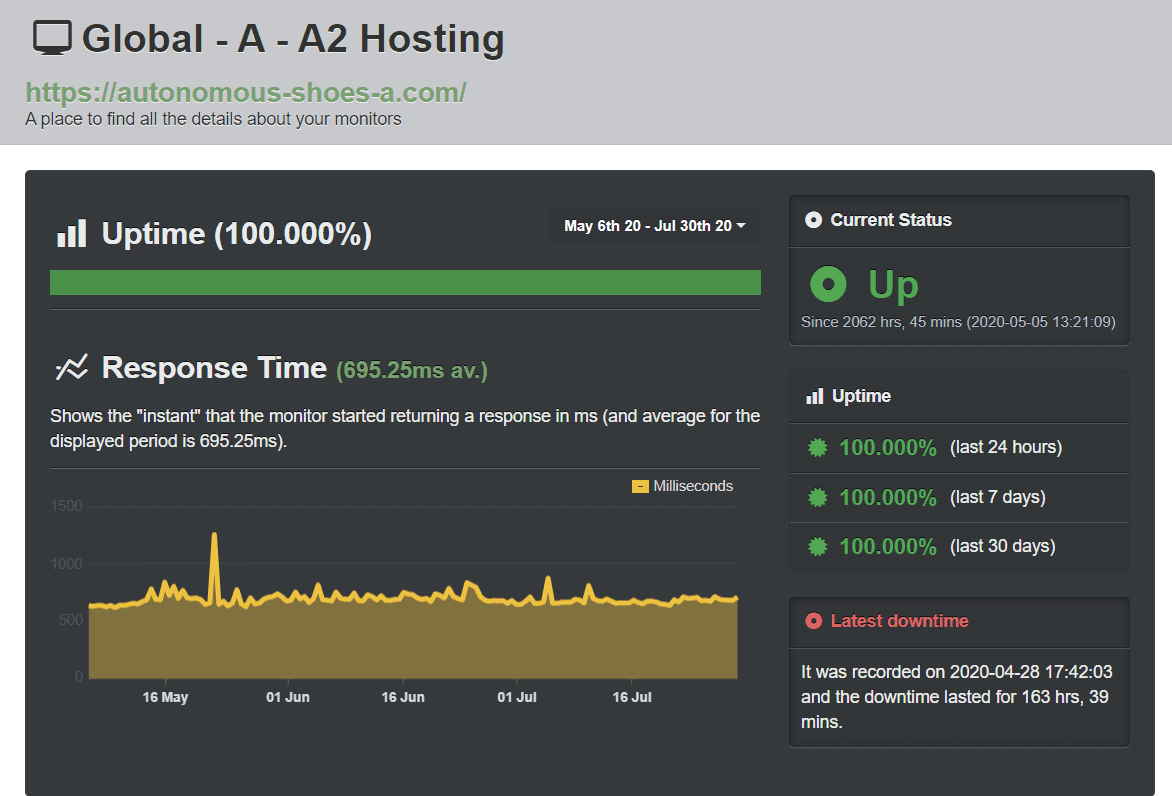 My tests and experience show that
A2 Hosting wins the performance race by a landslide.
Uptime was a closer call, but without a proper SLA, GoDaddy just exposes you to more liability.
4. Security
GoDaddy's Advanced Security Is Locked Behind a Paywall
If you go with A2 Hosting, you'll have little to worry about in terms of website security, which is not something I can say about GoDaddy.
GoDaddy is one of the only web hosts that do not include a free SSL certificate on its plans.
SSL encryption is pretty much mandatory nowadays, which is why most companies, A2 included, offer a free certificate. With GoDaddy, you'll either have to pay extra for its SSL or install one yourself.
Both GoDaddy and A2 Hosting monitor their networks for malicious activity and protect them against DDoS attacks.
 A2 goes the extra mile and gives you a dual firewall, a virus scanner, and auto-healing protection. If you want the option to scan your website for viruses or back it up with GoDaddy, you'll have to pay for the Website Security bundle. A2 Hosting, on the other hand, gives you these features free of charge.
A2 also includes the Patchman security tool on all plans, which helps you keep your software up to date and instantly quarantines suspicious files.
5. Support
Neither GoDaddy nor A2 Hosting Will Win Any Awards for Support
GoDaddy and A2 Hosting offer 24/7 customer support, but they both often stretch the definition of "support."
 Both companies have outsourced their customer support overseas to places where it's probably cheaper to maintain. This isn't necessarily a bad thing, but when I tested both companies' support my experience wasn't great. For one, agents are not always available, and sometimes it took more than an hour to reach someone through live chat.

What's worse, after all that waiting, there's no guarantee that you'll get the help you need.
As I was trying to understand the differences between two of A2 Hosting's plans, the agent seemed to be distracted, otherwise engaged, or at a loss.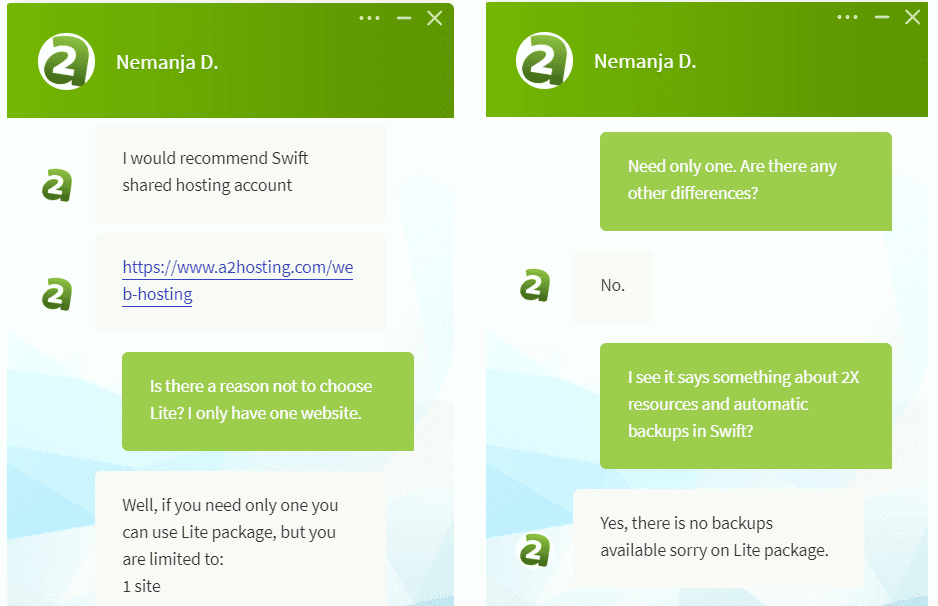 Things didn't go much better with GoDaddy.
 I tried to figure out why regular (unmanaged) WordPress plans are more expensive than shared plans, but the agent couldn't provide an answer.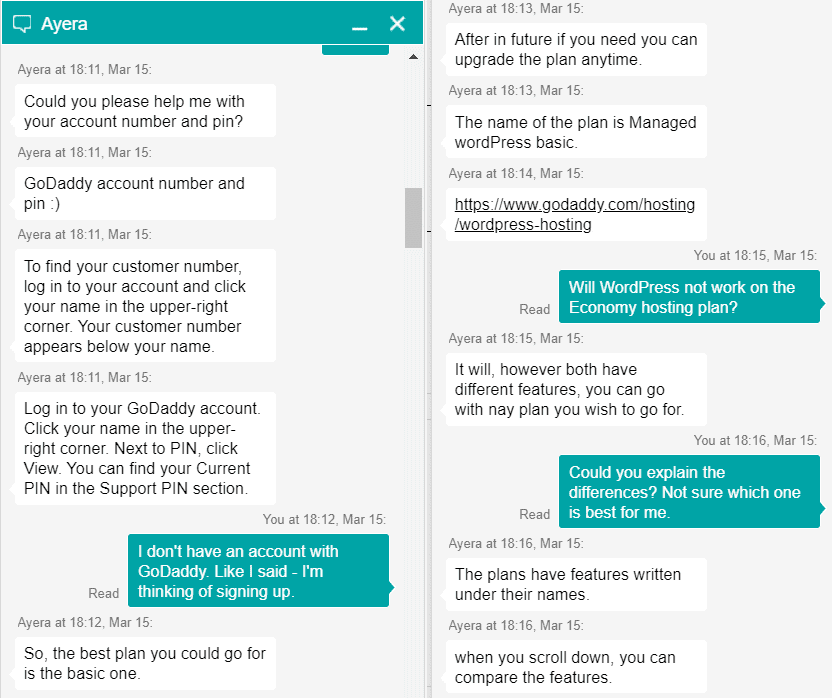 Later on, when I wanted to optimize my website for speed,
the agent unintentionally admitted that 2.8 seconds is the best page loading speed you can get with GoDaddy's servers.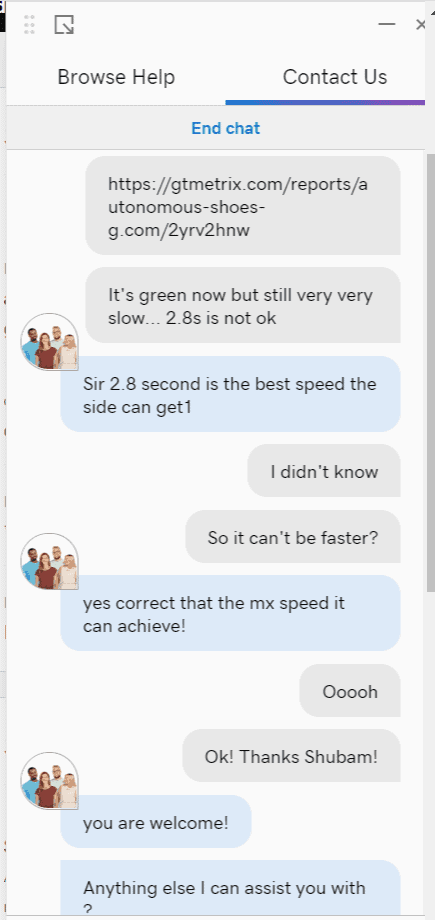 With either host, the knowledge base is likely to prove more helpful than live chat.
If you encounter a significant issue, A2 Hosting stands ready to assist you effectively through its ticketing system, which is where its technical "gurus" are often available to provide solutions.
A2 Hosting Is the Clear Winner
While neither host provides great support, there's one clear winner in this web host comparison.
GoDaddy's hosting plans
 simply can't compete with
A2 Hosting's superior performance, wealth of features, and better security.
A2 Hosting also grabbed a respectable spot on our list of
the best web hosting services
. Domain registration is the only reason to choose GoDaddy, and you can get that without purchasing a hosting plan.
All A2 Hosting's plans come with a 30-day money-back guarantee.
 Even after the first month, you can always ask for a prorated refund, so there's really no risk involved. If you're still on the fence, here's a quick summary of my comparison between GoDaddy and A2 Hosting:
Plans and Pricing
More expensive than A2 Hosting, far less value on most plans
Slightly cheaper than GoDaddy at sign-up, similar renewal prices, significantly more value
Features
Unlimited websites, storage, and bandwidth on most shared plans; free domain for the first year on yearly plans; traditional cPanel; no money-back guarantee
Unlimited websites, storage space, and bandwidth on most plans; traditional cPanel; optimized CMS installations; anytime money-back guarantee
Performance
HDD storage, Apache web server, undisclosed number of data centers, poor performance, decent uptime
SSD storage, Cloudflare CDN, four data center locations, LiteSpeed web server on Turbo plans, excellent performance and uptime
Security
DDoS protection, firewall, free SSL only on more expensive plans, paid-for automatic backups and website scans
DDoS protection, dual firewall, malware scanner, automated daily backups on most plans, free SSL, Patchman security
Support
24/7 support via live chat and phone; good knowledge base
24/7 support via live chat, tickets, and phone; extensive knowledge base
FAQ
Is GoDaddy the best web host?
I'll be blunt: GoDaddy is one of the worst hosts I've tested. The only worthwhile aspect of GoDaddy's hosting plans is that they come with a free domain name for one year. Then again, most of the best web hosting services also include one. GoDaddy is one of the few hosting services that still give you HDD (rather than faster SSD) storage on shared plans. It doesn't give you a free CDN integrated into the dashboard or a free SSL certificate, which is a must-have for web hosting. Lastly, GoDaddy still uses a simple Apache-based web server stack. If your traffic picks up, your website's loading times (which would be average at best) will get even worse.
Does GoDaddy offer WordPress hosting?
Yes. GoDaddy offers a range of managed WordPress plans. Unfortunately, these packages suffer from the same issues as the rest of GoDaddy's portfolio: poor performance, little value, and lack of security. With GoDaddy, you don't get any premium WordPress plugins, nor do you have access to website staging. For a better idea of what WordPress hosting should look like, check our list of the best managed WordPress hosting services.
Is GoDaddy cheaper than A2 Hosting?
No. GoDaddy has similar prices on most renewals compared to A2 Hosting but is usually more expensive for the first term. More importantly, A2 gives you pretty much everything you need to safely host a website, whereas GoDaddy makes you pay extra for essential features like an SSL certificate. Either way, before you sign up for a long-term plan, check our web hosting coupon page to make sure you're getting the best deal available.
Is A2 Hosting fast?
Yes. A2 Hosting is actually one of the fastest web hosts that we've tested, with a long-standing record of great service. A2 Hosting's higher-tier plans come with the Turbo server upgrade, which includes more RAM and runs on the more advanced LiteSpeed web server. Advanced caching is already set up, and you have the option to run optimized software installations. Don't take my word for it, though. You can check out this in-depth article that explains our testing process in more detail.