Quick Disclaimer: Several free website builders will let you design a decent site – but the one thing none of these builders will give you is a custom domain. If you want your site to look professional (and keep in tone with your brand), you need a paid plan.
As far as I'm concerned, Squarespace is my absolute favorite. It has the best-looking templates around, and even its cheapest plan includes a free custom domain plus unlimited storage. Squarespace has a 14-day free trial, so you can test all of its features before you buy.
Not every website builder can give you what you need to build a high-quality, stylish photography website that stands out in an exclusively visual industry.
You're looking for a builder that offers beautiful templates and gallery layouts and allows you to upload hi-res photos, but there's more to it. Your website builder should also provide marketing tools to help potential clients find you online.
Choosing the wrong website builder can mean a waste of time and money on a website that doesn't suit your aesthetic. But if you choose right, you can build a fully functioning site that displays your photos in the best light within a few hours – and for free.
I tested all the major website builders on the market to see which ones provide exactly that. Wix was my favorite because it gives you the most design freedom, but there were some other good ones as well.
If you're ready to step up your game and move to the professional photographers league, you might have to invest a few bucks a month to get a personalized domain name and remove ads – no matter which builder you choose to use.
Short on time? Here are the best photography website builders in January 2022:
Wix – Intuitive drag-and-drop editor with almost 50 professional photography templates to choose from
Squarespace – Stunning photography templates that capture the imagination
SITE123 – A great way to get your photography portfolio onliny quickly and easily
What We Look For in the Best Website Builders for Photographers
I tested dozens of website builders, but only six made it to this list. Here's what instructed our choosing process:
Clean, professional, and attractive design: Say no to clutter and large blocks of text. Your photos should be in the spotlight.
Personalization: Because your website should be a reflection of you and your business. Customize themes, layouts, colors, and fonts for 100% creative freedom.
Bulk image uploader: Save time by uploading your entire photography portfolio to your website in one go.
Ease of use: You won't need to learn how to code. These website builders are drag and drop, with plenty of out-of-the-box theme options.
Mobile readiness: So that your website and images display beautifully on any type of device.
Wix is my favorite photography website builder for many reasons, but mainly because it really lets you create exactly the site you have in mind. The free plan gives you everything you need to create a fully functional, high-quality website, including almost 50 professionally designed photography website templates to choose from.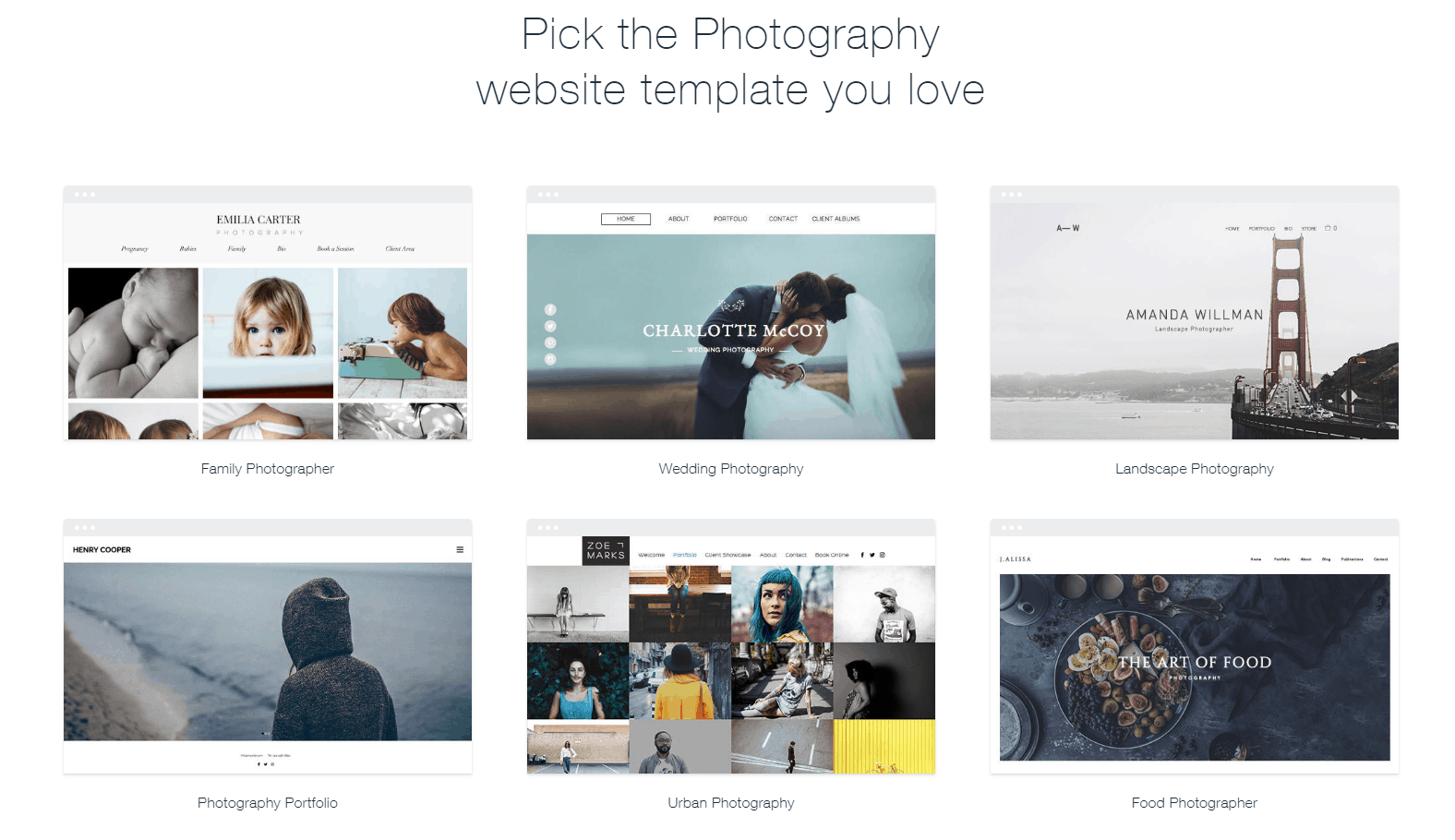 Browse more photography website templates on Wix
The template designs are clean and minimalistic, with lots of white space so that your images can do the talking. Any template can be customized, and it's easy to use the drag-and-drop editor to change colors and fonts, adjust the layout, add animation effects, and much more. You can create a website that really reflects your style, and no one will believe you built it for free!
Just keep in mind that once you choose a template and start editing, you won't be able to switch to a different template without rebuilding your site from scratch.
Another great thing about Wix is the App Market. It's a magical place where you can choose from hundreds of apps to add to your website, and many of them are free. You'll find customizable photo galleries, online photo editing tools, integrations with Instagram, and tons of other cool features.
Top Features
Beautiful, full-screen gallery pages: The most effective way to showcase your best work, grab visitors' attention, and keep them scrolling. You have full design control over your gallery layout and effects.
Excellent image quality: Wix doesn't wash out colors like some other platforms do, and will automatically optimize your images for quality and load time. It also offers no-frills image editing tools to sharpen and enhance your photos for the web.
Eye-catching visual effects: Add advanced design features to your website like scroll effects, animations, and video backgrounds to give it a premium look and feel.
Built-in contact and booking pages: Complete with online forms to make it easy for clients to reach you. Most of the photography templates come with at least one of these pages already built and ready to be customized with your own text and branding.
Free forever?
Yes, with limitations
Photography themes and templates?
40+
Mobile-Responsive?
No, but mobile-friendly
Price of cheapest paid plan

$

14.00
For a high-end look and feel, Squarespace is the best website builder choice, especially for creatives. The designs are visually stunning and make your images the focal point.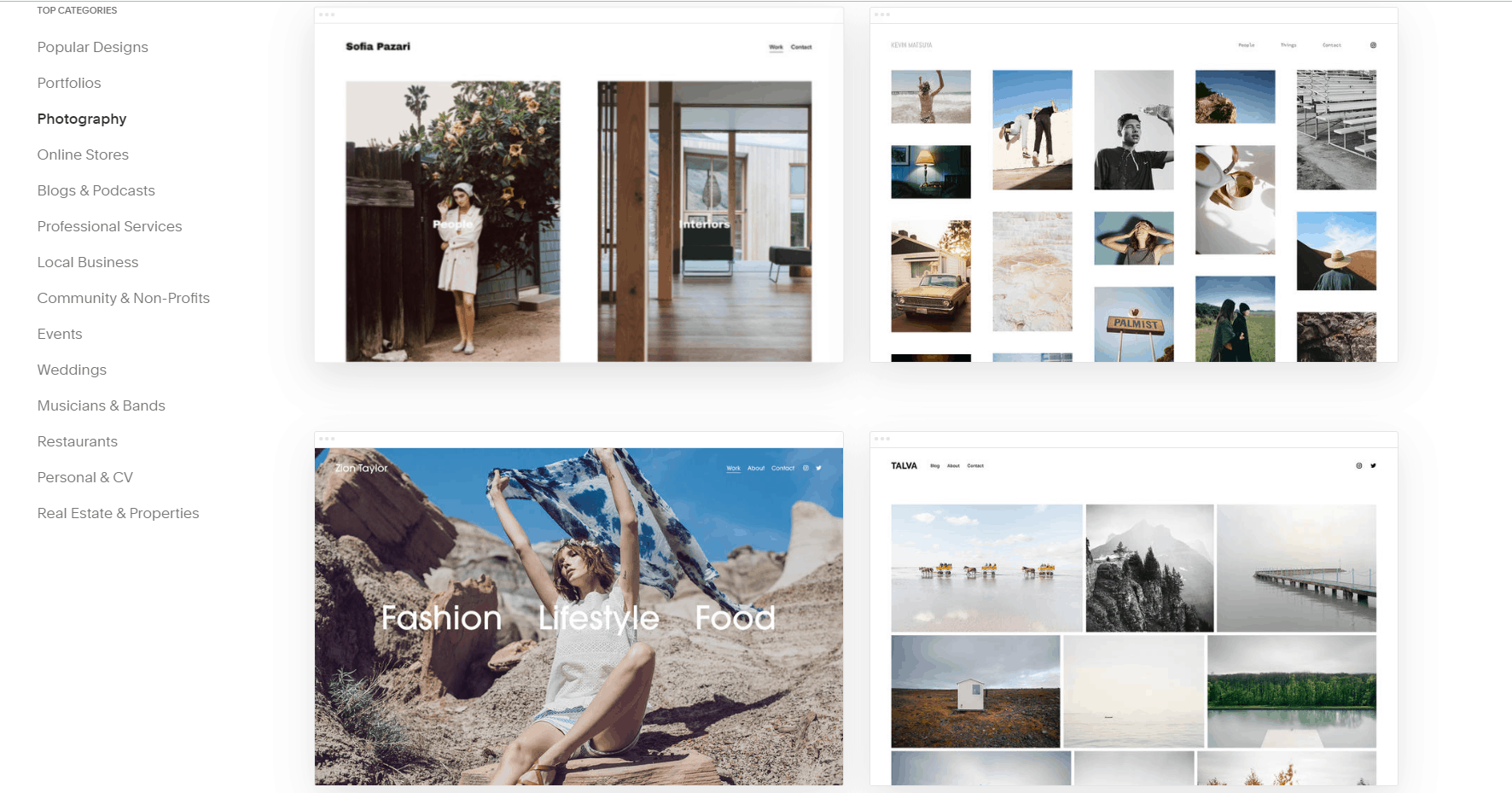 See all Squarespace templates
Squarespace is not free forever, but you get a 14-day free trial where you can explore, build, and edit your website as much as you want. The personal plan is incredibly affordable, at just $12.00 per month. And you get advanced SEO features along with a custom domain to really get your portfolio off the ground.
Similar to WordPress, Squarespace is a slightly more sophisticated website builder with a steeper learning curve. Beginners will need some time to get familiar with the platform (some features take a bit of digging to find), but it's actually very easy to use once you know where everything is.
Top Features
Designer photography templates: Stunning, image-centered designs to put your best work on display. For some added flexibility, you can also switch templates at any time.
Pre-designed starter layouts: Make your job quicker and easier by choosing one of the beautiful starter layout options. These have About, Portfolio, Contact, and other important pages already built-in and ready for your content.
Eye-catching image presentation: With multiple gallery effects and even more image editing tools than Weebly, your photography portfolio will always look picture perfect.
Unlimited bandwidth and storage: Squarespace doesn't put a cap on your bandwidth or storage, so you can upload and display as many images as you want without slowing down your site.
Free forever?
No, 14-day free trial
Photography themes and templates?
20+
Mobile-Responsive?
Yes, all templates
Price of cheapest paid plan

$

12.00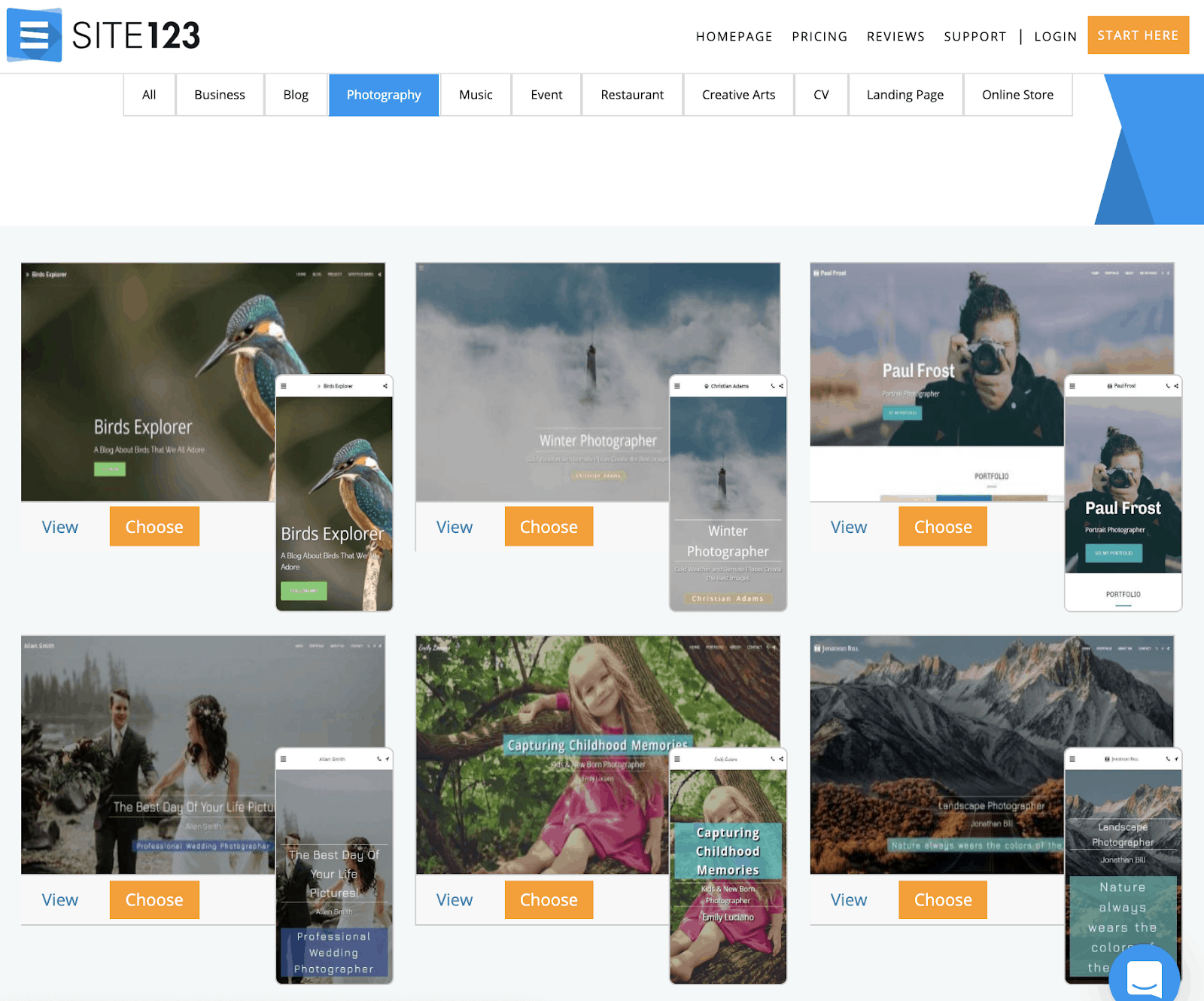 SITE123 makes creating your photography website a hassle-free process – in fact, you can have your website online in a matter of minutes. If you're a beginner, you'll really appreciate SITE123's tutorials that walk you through the process of building your website. And if you get stuck, the customer support team is available 24/7 to help get everything running smoothly again.
There are 10+ photography website templates to choose from – all of them mobile-responsive. The templates include single-page websites (all the content displayed on a single page) and multi-page websites – but you can easily switch between the two in the settings tab of the editor. 
The templates are quite similar, but once you've chosen a template, you can customize it with themes (pre-configured color schemes and fonts). You can also change the colors and fonts to match your branding and add a customizable shape divider to your homepage image to make your website stand out from the crowd.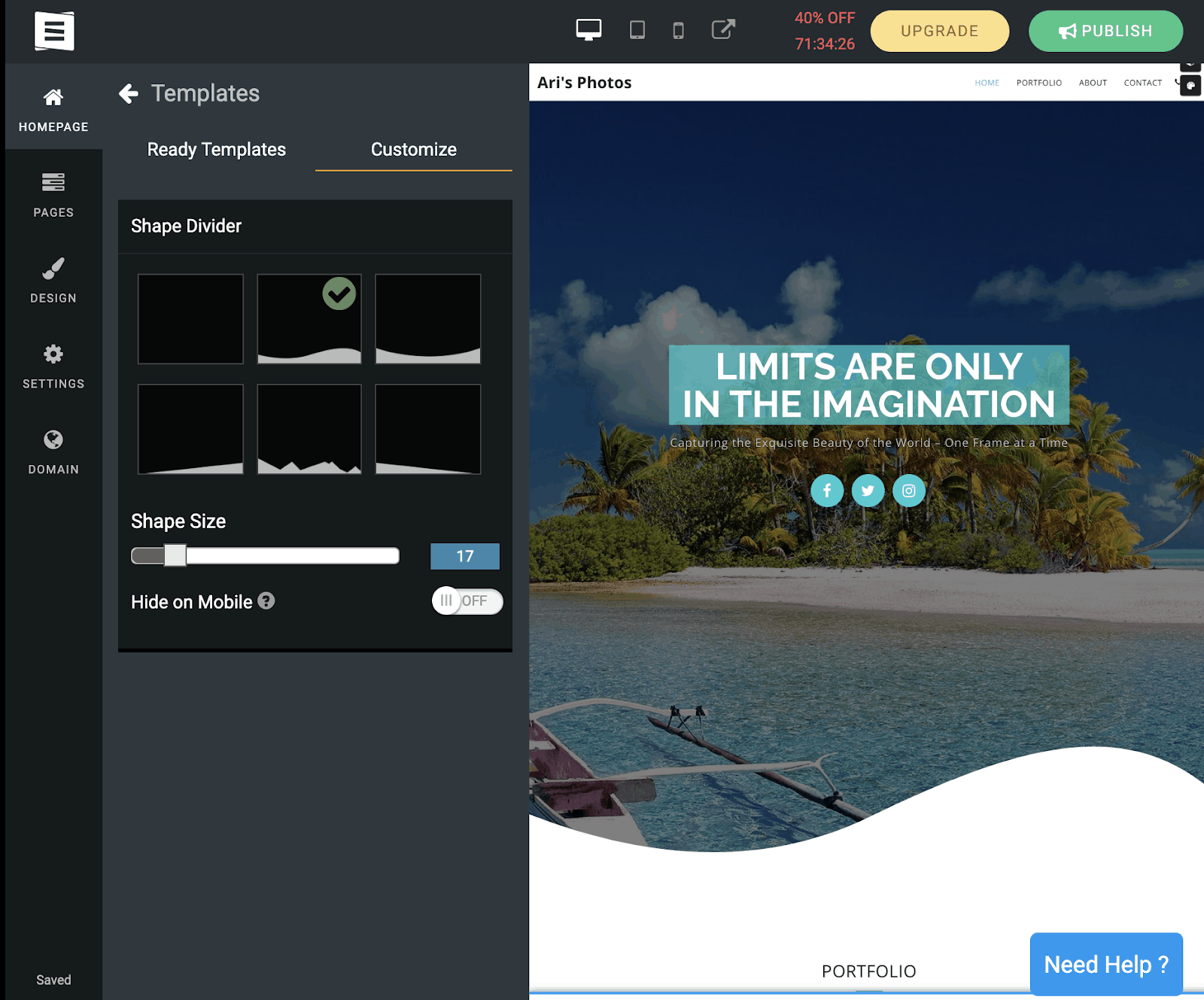 SITE123 supports e-commerce features, so if you want to sell your photos rather than just display them, you can add an online store to your website. If you choose to sell your images as digital files, you can upload the files and have these automatically sent to your customers' email addresses when they complete checkout. You will need to upgrade to a paid plan to process online payments, however.
Top Features
Eight gallery layouts:

You're not limited when it comes to displaying your photographs, as SITE123 gives you multiple gallery options, including a rounded gallery grid that really breaks from the "ordinary" square grid layouts you commonly find in website builders.

Full-size image display:

Every time someone clicks on one of your portfolio images, it opens in a full-screen format to allow your visitors to fully appreciate your photographs. The full-size display works for all gallery types except carousel.

Bulk image upload:

To make putting your photography online faster than ever, SITE123 supports bulk uploading of your images, so you can upload your whole portfolio in one go and then organize and add titles and descriptions later.

Custom image categories:

Keep your portfolio neatly organized by creating custom categories for your images. You can easily create gallery pages for each category so your visitors can easily find the types of image they're looking for.
Free forever?
Yes, with limitations
Photography themes and templates?
80+
Mobile-Responsive?
Yes, all templates
Price of cheapest paid plan

$

12.80
WordPress is one of the most widely-used website builders in the world, and when you see the level of customization it offers, you'll understand why. Not only does it have the largest theme library for photography and portfolio websites, but it's also one of very few site builders to give you total control over your source code. So if you have some coding knowledge, know someone who does, or don't mind learning some basics, then the sky's the limit with what your site can do.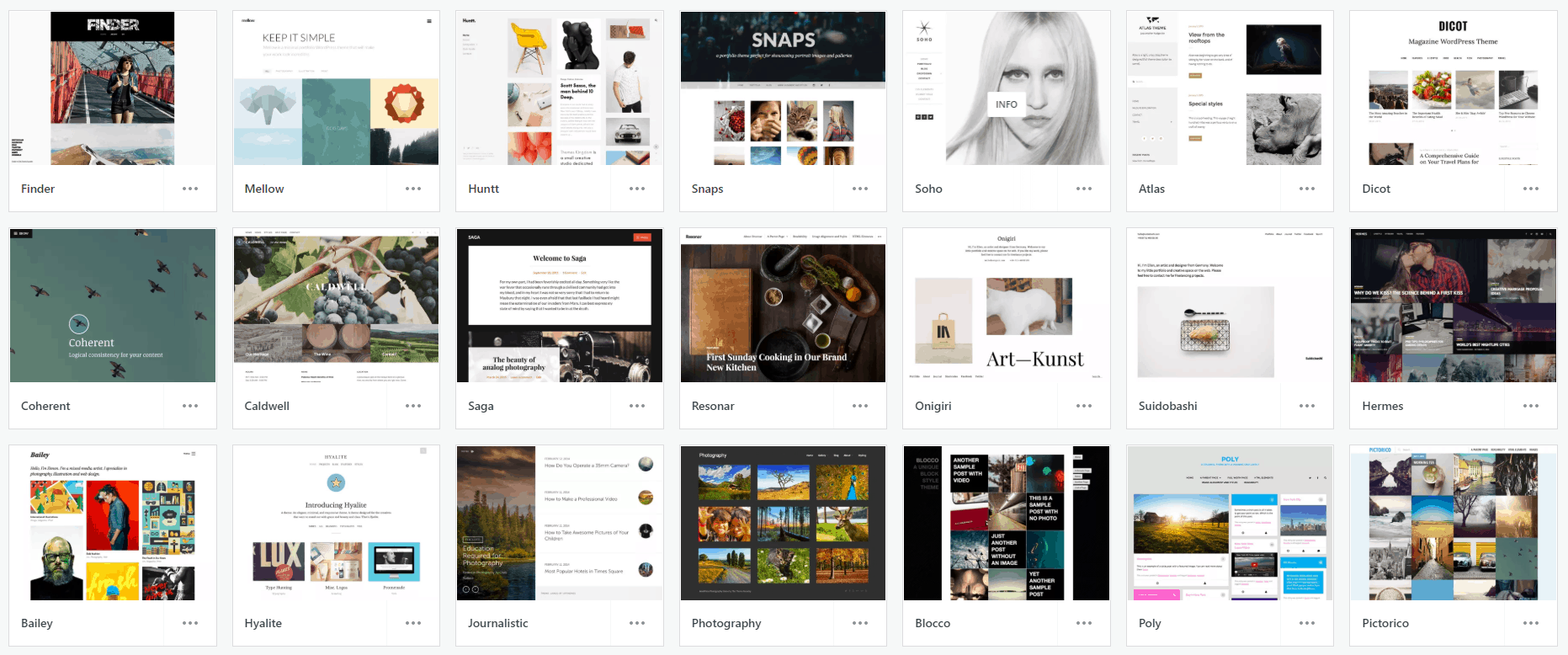 See WordPress' free themes selection
The platform is a little more complicated than beginner website builders like SITE123 and Wix, as it's designed to cater to advanced users as well. But once you get used to navigating around the dashboard, tweaking and managing your site is a breeze!
WordPress is totally free to set up and use, but your website will automatically have a WordPress.com domain name. You'll need to upgrade to a paid plan if you want a personalized domain name, to use premium themes or to add plugins to your site. However, it's entirely possible to create a simple yet beautiful photography website with free options alone.
Top Features
100+ stunning photography and portfolio themes: And that's just in the WordPress theme library. You can also find hundreds of free WordPress themes on the web from independent developers.
Worldwide support from the community: The WordPress support network is unlike any other. It's entirely community-run with over 500,000 active members around the world, covering more than two million topics on the official support forum.
Thousands of plugins and widgets for extra functionality: Countless ways to make your photography website stand out. Add advanced gallery effects, professional watermarks, an e-commerce store to sell your photos online, and so much more.
Built-in SEO to help your website rank higher on Google: Better search engine visibility means more traffic to your website and more potential clients for you. WordPress is an SEO-friendly platform that lets you optimize your content and fine-tune the technical details.
Free forever?
Yes, with limitations
Photography themes and templates?
100+
Mobile-Responsive?
Yes, but not all themes
Price of cheapest paid plan

$

4.00
Webnode may not be the most flexible site builder out there, but it's still fairly easy to use. It has a drag-and-drop editor that lets you add and rearrange content blocks as you see fit. You don't get complete creative control over your site's design as you have to adhere to a predetermined grid, but on the flip side, your content layout will look professional.
There's a specific category for portfolio templates, but you can also find eye-catching designs in the Personal and Blog categories. You can choose from different gallery layouts and get free access to an extensive selection of Webnode's professional photos and icons.

What sets Webnode apart from other similar platforms is its custom form builder. In addition to the basic fields like name and email address, you can also add more advanced options, such as drop-down lists, multiple-choice questions, and file uploads.
Top Features
Video background. Catch the attention of your visitors by selecting a video background or uploading your own.
Visual effects. You can add depth to your background images by using visual effects such as parallax scrolling.
Effective SEO. In addition to customizing titles, URLs, and meta descriptions, you also get options for custom footer code and hiding pages from search engines.
E-commerce options. You can set up an online store and sell physical prints and digital products.
Free forever?

Yes, with limitations

Photography themes and templates?
13
Mobile-responsive?

Yes, all templates

Price of cheapest paid plan

$

7.50
Thanks to its AI technology, Jimdo can take you from sign-up to finished website in a swift three minutes. 
The AI feature is called Jimdo Dolphin, and it works by asking you a few questions about your business and design preferences. We tested Jimdo Dolphin out in our expert review – the result is a very basic website, but you can have it up and running in no time. 
If you don't want to use the AI tool, you can use the Jimdo Creator app and select a template to get started. Jimdo's templates look good, though I wouldn't say they're quite as nice as the ones you'll find on other website builders like Wix or Squarespace. On the plus side, Jimdo's templates are mobile-responsive, so that's one less thing you have to worry about.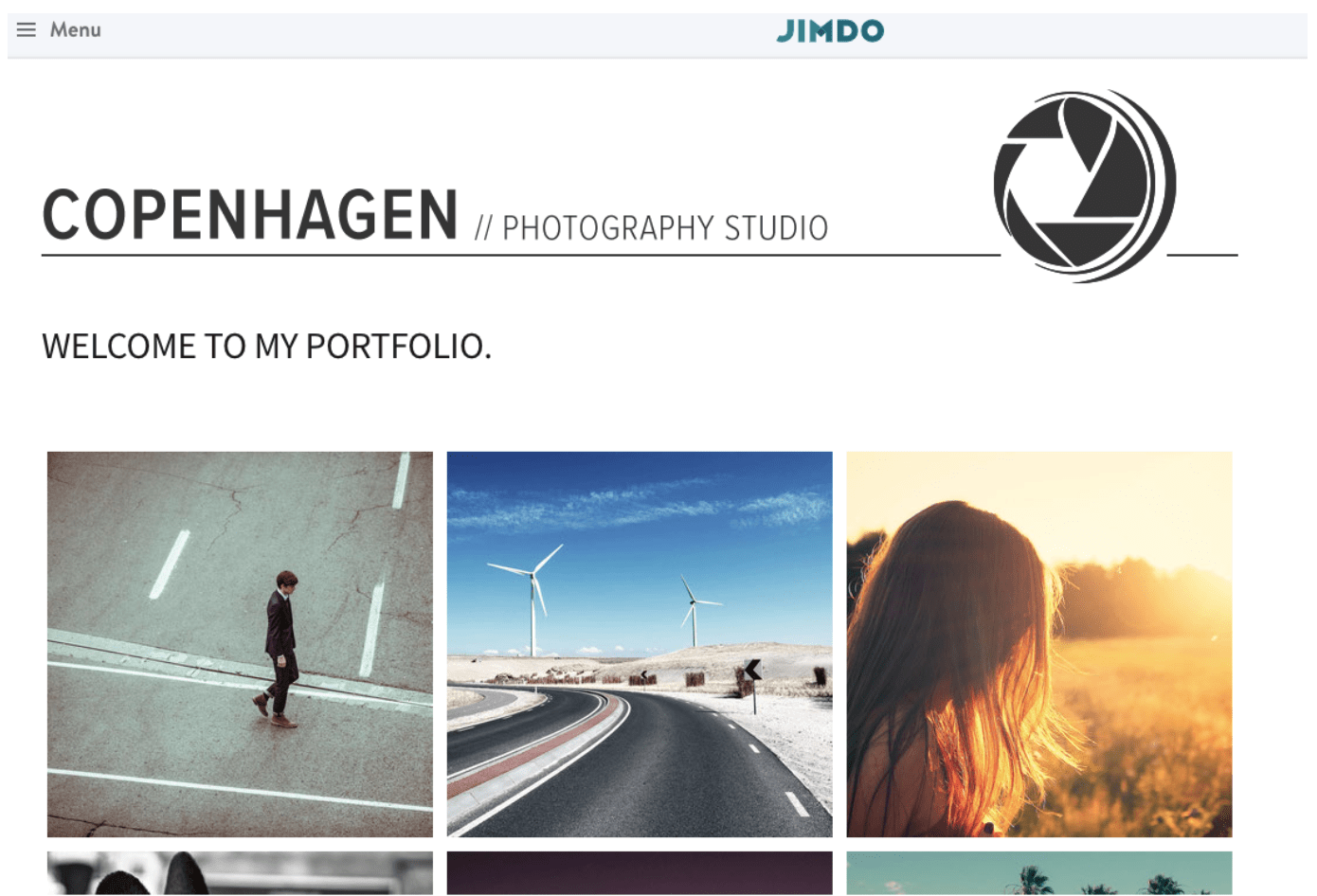 Top Features
Simple photo galleries:

Jimdo allows you to easily design the photo gallery you want. Select one of the layouts for a horizontal, vertical, grid, or slideshow display, then size and space your images, and enable a lightbox effect for improved image quality. 

Online store for physical prints:

List up to five physical prints in your store on the free plan and accept payments through PayPal. Alternatively, you can upgrade your plan to sell more and increase payment options. 

Create your own logo:

If you need a logo, you're in luck.

We tested out the Jimdo Logo Creator

, and it's super easy to use – but there are a couple things you should watch out for. Use your new logo to brand your website and all of your other marketing materials. 

Keep visitors engaged with a blog:

Start a free blog to share photography tips, include stories of photoshoots, or explain more about your experience and services. Embed videos and photo galleries or list store items in every post.
Free forever?

Yes, but with significant limitations

Photography themes and templates?
15+
Mobile-Responsive?
Yes, all templates
Price of cheapest paid plan

$

9.00
When you're serious about earning an income from your photography and building a proper business, you might want to consider a site builder that's geared specifically towards that. Pixpa is unique in that it's designed especially for professional photographers who have – or want to grow – a sustainable online business. It comes built-in with everything you'll need to do just that, instead of you having to add these features to your website with apps or plugins.
Even at its most basic level, Pixpa gives you a fully integrated portfolio website, online store, client galleries, and blog. The client galleries are a particularly cool feature, allowing you to organize images and albums into private galleries which you can share with specific clients. And no matter which theme you choose, this all comes ready to be customized with your branding and content.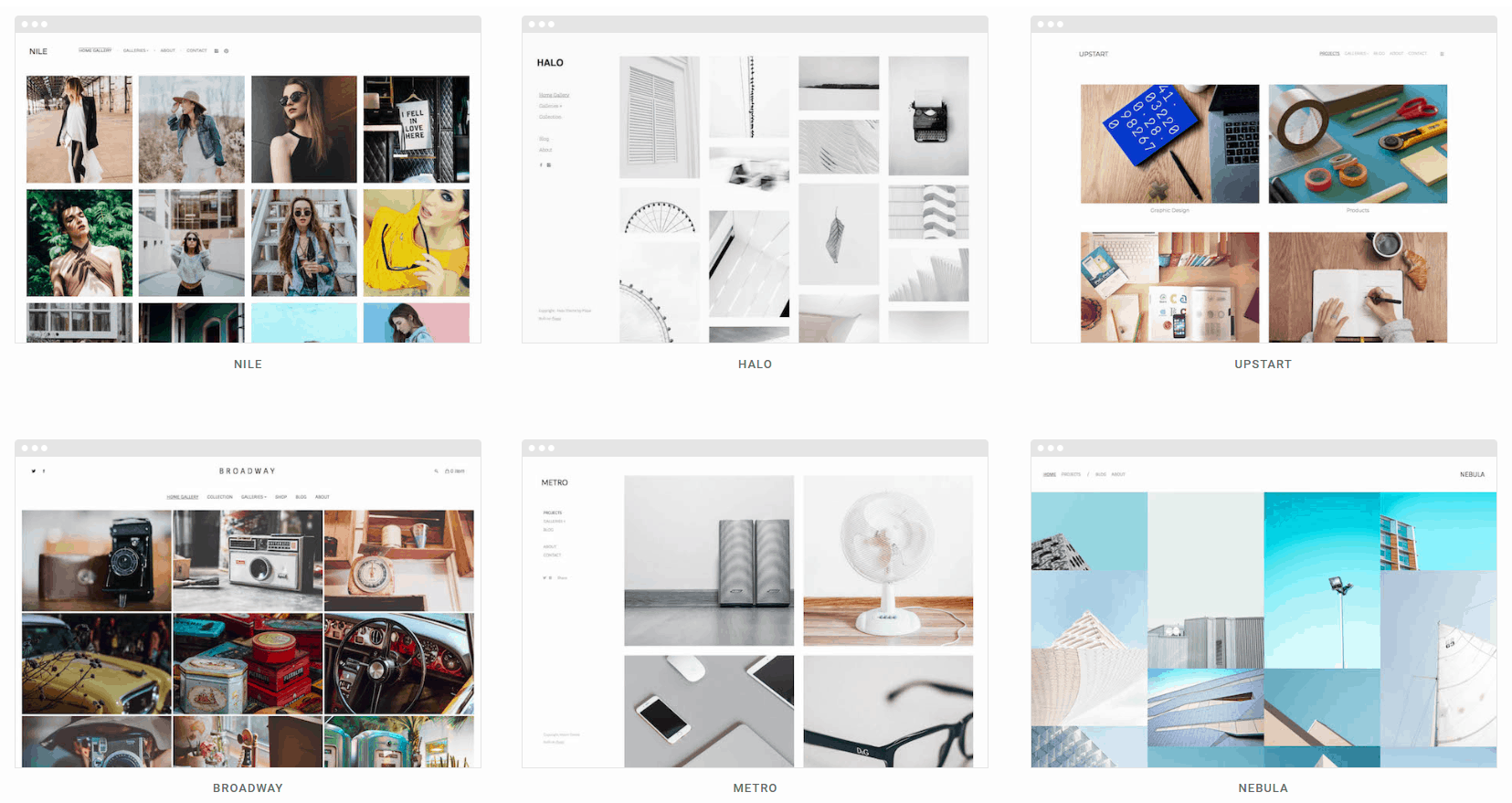 See Pixpa's theme library
Like Squarespace, Pixpa is a paid-only platform, but it's slightly more affordable. All plans come with unlimited bandwidth and 24/7 support, but storage is capped. You can upgrade to a higher plan to get more storage, unlimited gallery images, and more advanced e-commerce features like abandoned cart recovery.
Top Features
Flexible branding options: Build a memorable brand by displaying your logo, fonts, and colors across your website. You can even create a custom branded favicon to make your site stand out when multiple browser tabs are open.
Curated library of professional portfolio themes: Over 35 bold, visually stunning designs to choose from. You can also change themes at any time.
Unlimited client galleries: Not only can you set up as many private galleries as you want – you can also personalize them for each client with unique layouts, banners, and a custom domain.
Commission-free selling: Sell images, prints, and digital downloads to customers all around the world, with no commission! Pixpa makes it easy to manage your inventory, track orders, and set international shipping and tax rates.
Free forever?
No, 15-day free trial
Photography themes and templates?
30+
Mobile-Responsive?
No, mobile-friendly
Price of cheapest paid plan

$

6.00
Which Builder Is the Best for YOUR Website?
You can use any of the builders on my list to create a professional photography website. Each one has its own strong points, and the best choice for you will depend on your individual needs.
For more details, check this handy comparison table:
| | | | | |
| --- | --- | --- | --- | --- |
| | Photography Website Templates | Image Editing Capabilities | Storage on Free Plan | |
| Wix | 40+ | Intermediate | 500 MB | |
| Squarespace | 20+ | Advanced | Unlimited (on cheapest plan) | |
| SITE123 | 80+ | Basic | 500 MB | |
| WordPress | 100+ | Basic | 3 GB | |
| Webnode | 1 | Basic | 100MB | |
| Jimdo | 15+ | Basic |  500 MB | |
| Pixpa | 30+ | Basic | 1 GB (on cheapest plan) | |
FAQ
Is Wix a good site for photographers? Definitely! Wix has over 40 templates specifically created with photographers in mind. They have incredible image editing tools, and are able to compress and optimize photos in order to speed up screen loading times for your customers. Wix knows the importance of letting your photos speak for themselves so the templates are minimal with a lot of white space to really highlight and focus on your art. I also love Squarespace for their photography templates which are so sleek and made for creatives. Squarespace offers a 14-day free trial to help you get a feel for the builder so that you can determine if it's the right one for you.Which free website builder is best for photographers? We've tested all the best website builders and there are two great free ones to choose between – Wix and SITE123. Wix has better image editing tools, a larger range of templates, and full-screen gallery capabilities. SITE123 is definitely easier to use for beginners but has fewer templates on offer. They have great customer support, e-commerce capabilities for an online store, and the ability to bulk upload your photos.Is Squarespace good to build a photography website? It's amazing – a match made in heaven! Squarespace templates allow you to display your photos full screen, or in a grid format, and their automatic image cropping and resizing tools make it a great choice for a photography portfolio. You can also password-protect specific gallery pages making them only accessible to your paying customers. They offer a 14-day free trial and if you want to continue after that then plans start at $12.00 per month. However, you should always check to see if there is a good Squarespace coupon available.When should I upgrade to a paid plan? Free plans come with limitations. Certain features or functionalities are offered for free – for example the amount of storage provided – and if you want more gigabytes of storage, then you will have to upgrade to a paid plan. Most commonly, e-commerce capabilities are limited or unavailable on free plans. SITE123's most basic paid plan includes e-commerce capabilities, giving you the ability to sell your photos on your site. Wix does offer a free plan but if you need more bandwidth, more storage, or if you want to remove Wix ads from your site, then you'll have to upgrade to a paid package. You'll also need to upgrade if you want to connect your own custom domain. Also, while embedding videos is always free on Wix, you'll need to upgrade in order to upload videos in high definition. Whenever you decide to upgrade, make sure you check out our website builder deals and savings first.