Not every website builder can give you what you need to build a high-quality, stylish photography website
that stands out in an exclusively visual industry. You're looking for a builder that offers
beautiful templates and gallery layouts
and allows you to upload hi-res photos, but there's more to it. Your website builder should also provide SEO and marketing tools to help potential clients find you online.
Choosing the wrong website builder can mean a waste of time and money on a website that doesn't suit your aesthetic.
But if you choose right, you can build a fully functioning site within hours that will display your photos in the best light –and do it for free. I tested all the major website builders on the market to see which ones provide exactly that.
Wix has my favorite free plan
and gives you the most design freedom
, but there were some other good ones as well. If you're ready to step up your game and move to the professional photographers league,
you might have to invest a few bucks a month to get a personalized domain name and remove ads
– no matter which builder you choose to use.
Short on Time? Here Are the Best Photography Website Builders in 2023:
Wix – Intuitive drag-and-drop editor with nearly 40 professional photography templates to choose from.
Squarespace – Stunning photography templates suitable for all types of photography portfolios.
SITE123 – The quickest and easiest way to get your portfolio online.
What We Look For in the Best Website Builders for Photographers
I tested dozens of website builders, but only six made it to this list. Here's what instructed our selection process:
Clean, professional, and attractive design. Say no to clutter and large blocks of text. Every builder on this shines a spotlight on your photos.
Personalization. Because your website should be a reflection of you and your business, all the builders on my list let you customize templates, layouts, colors, and fonts for 100% creative freedom.
Bulk image uploader. Save time by uploading your entire photography portfolio to your website in one go.
Ease of use. You won't need to learn how to code. These website builders are drag and drop, with plenty of out-of-the-box theme options.
Mobile responsive. Your website and images should display beautifully on any type of device.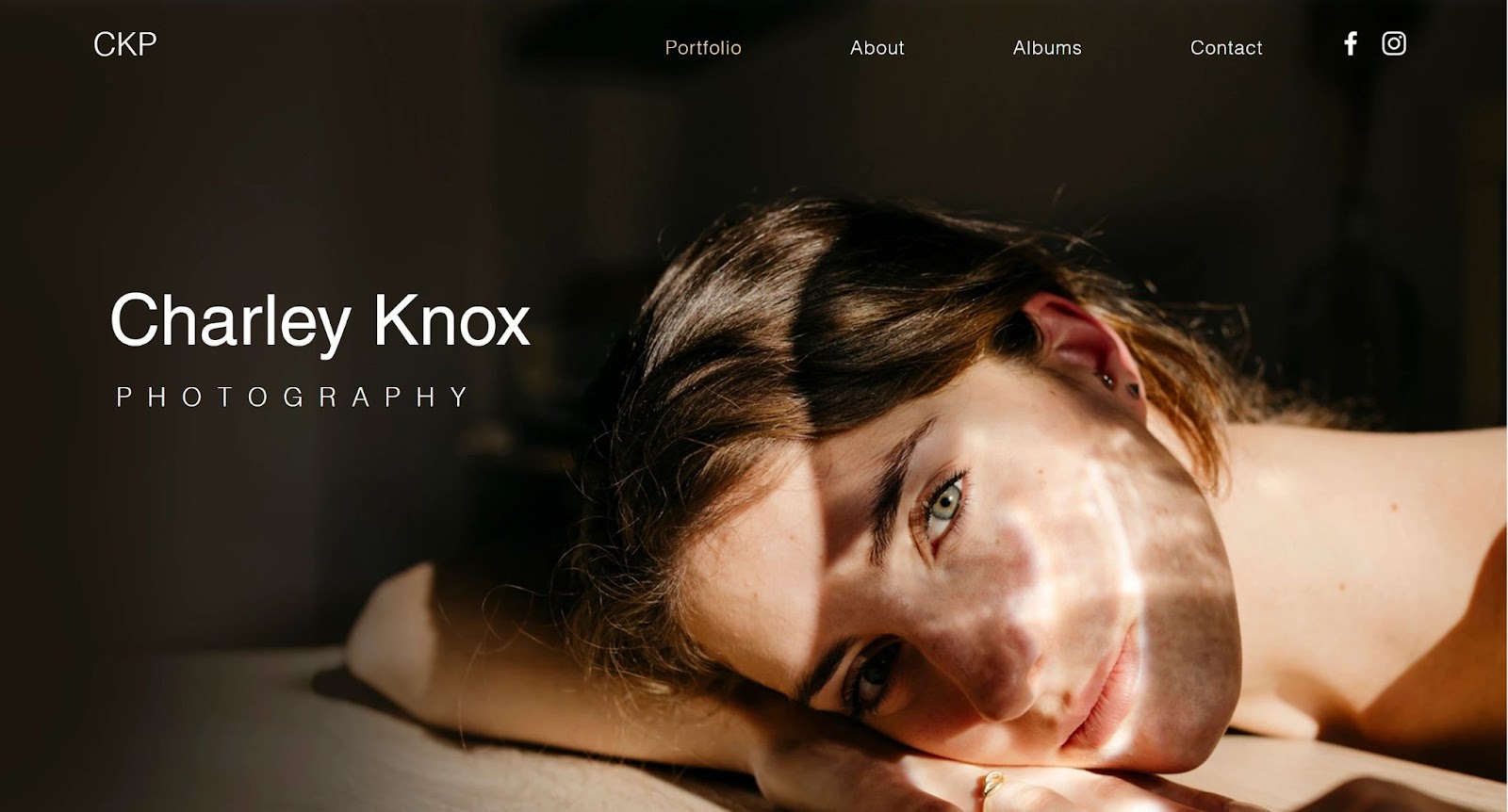 Wix is my favorite photography website builder for many reasons, but mainly because it really lets you create the exact site you have in mind.
The free plan
 gives you everything you need to create a fully functional, high-quality website, including
35+ professionally designed photography website templates
to choose from. The clean, minimalist template designs have lots of white space so that your images can do the talking. Any template can be fully customized, and
it's easy to use the drag-and-drop editor to change colors and fonts, adjust the layout, and much more
. You can create a website that really reflects your personal style – and do it for free. If you shoot video as well as still images, you'll appreciate how Wix lets you create multimedia and password-protected client galleries, which is ideal for photographers who cater to weddings and other events.
Another great thing about Wix is the App Market, where you can choose from 300+ apps (many free)
to add features and functionality to your website. You'll find helpful marketing tools, SEO solutions, online photo editing apps, and tons of other cool features. Just keep in mind that once you choose a template and start editing, you won't be able to switch to a different template without redesigning your site from scratch.
Features
Beautiful, full-screen gallery pages. The most effective way to showcase your best work, grab visitors' attention, and keep them scrolling is with well-designed gallery pages. Wix gives you full creative control over gallery layouts and effects.
Excellent image quality. Wix doesn't wash out colors like some other platforms do, and will automatically optimize your images for quality and load time. It also offers no-frills image editing tools to sharpen and enhance your photos for the web.
Eye-catching visual effects. Add advanced design features to your website like scroll effects, animations, and video backgrounds to give it a premium look and feel.
Built-in contact and booking pages. Most templates come with these pages and the Wix Bookings app already built in. This makes it easy to manage your appointments, calendar, and clients, and just as easy for visitors to contact you about your photography services.
Read our expert Wix review for more details
.
Free forever?

✔

 (with limitations)
Photography templates
35+
Mobile-responsive?
No, but mobile-friendly
Price of cheapest paid plan

$

16.00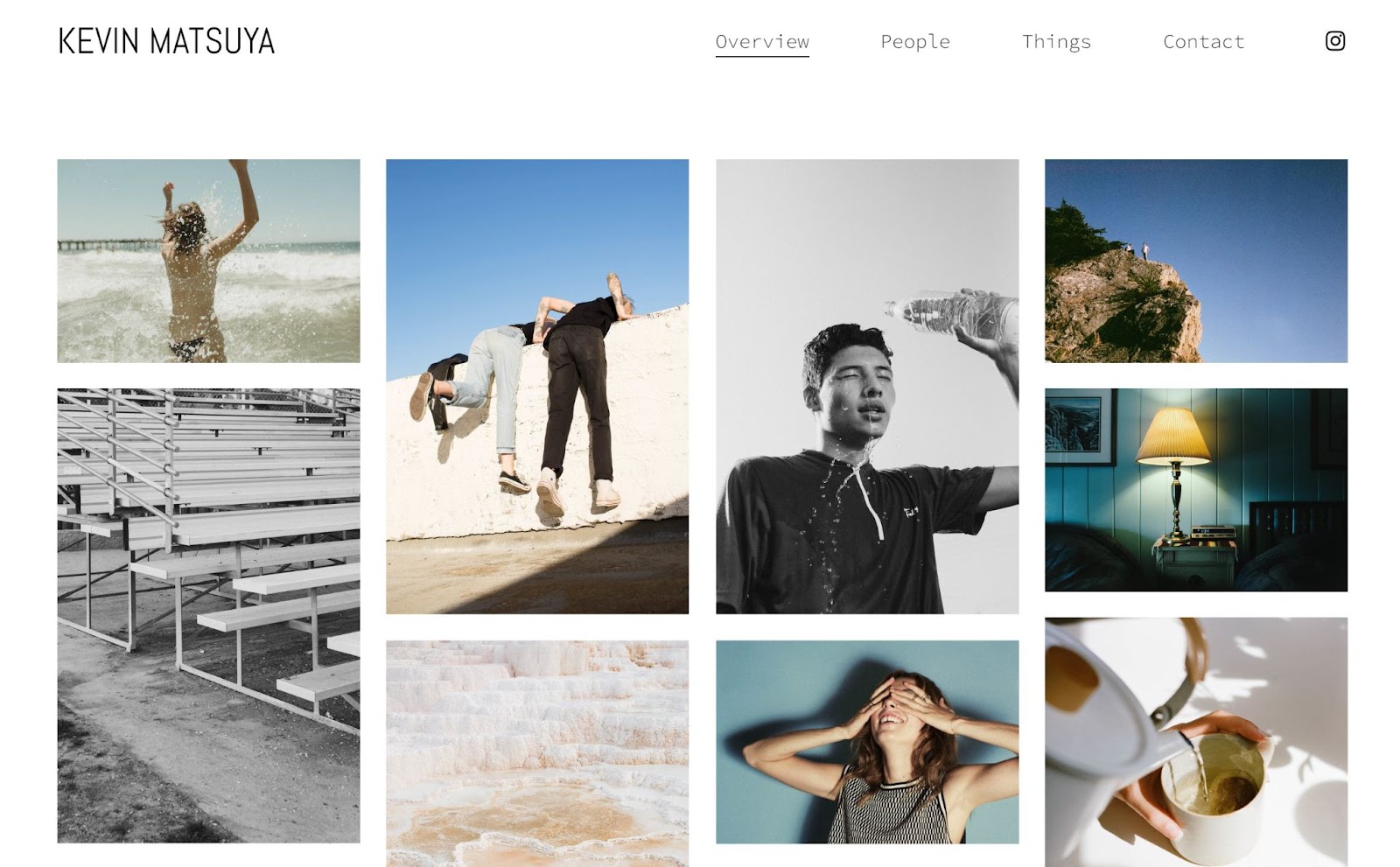 For a website with a high-end look and feel, Squarespace is the best choice, especially for creatives
. There are over 15 visually stunning photography templates designed to present your work at its best. Templates come with multiple gallery options, including slideshow, carousel, grid, and stacked. You can set transition timing for image carousels and regulate the speed of fade-in and slide-in animations. All these features can create a more engaging experience for visitors and can prompt them to contact you or buy a print. In addition to great gallery features, Squarespace templates also have essential pages and sections built in. You can share your photography services, your creative approach, and post client testimonials. As for social media, it's easy to link your accounts or embed an Instagram feed to attract followers and build your brand. Squarespace is not free forever,
but you get a 14-day free trial
where you can explore, build, and edit your website as much as you want.
The personal plan is affordable
, and you get advanced SEO features along with a custom domain to really get your portfolio off the ground.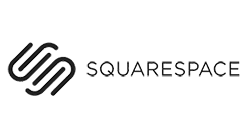 Get 25 % Off Squarespace's Personal Plan
Save 25 % when you sign up for Squarespace's annual plan
561 users used this coupon!
Features
Pre-designed starter layouts. Make your job quicker and easier by choosing one of the beautiful page layout options. These include About, Portfolio, Contact, and other important pages ready for your content.
Eye-catching image presentation. Squarespace offers multiple gallery effects and photo editing tools that let you add color filters and optimize images by adjusting aspect ratio, brightness, saturation, sharpness, and contrast.
Unlimited bandwidth and storage. Squarespace doesn't put a cap on your bandwidth or storage, so you can upload and display as many images as you want without slowing down your site.
Appointment management. With Squarespace Scheduling, clients can check your availability and book photography appointments online. You can automate confirmations, reminders, and follow-ups, and sync appointments to your Google, iCloud, or Office 365 calendar.
Learn more in our in-depth Squarespace review
.
Free forever?

✘

 (14-day free trial)
Photography templates
15+
Mobile-responsive?

✔

Price of cheapest paid plan

$

16.00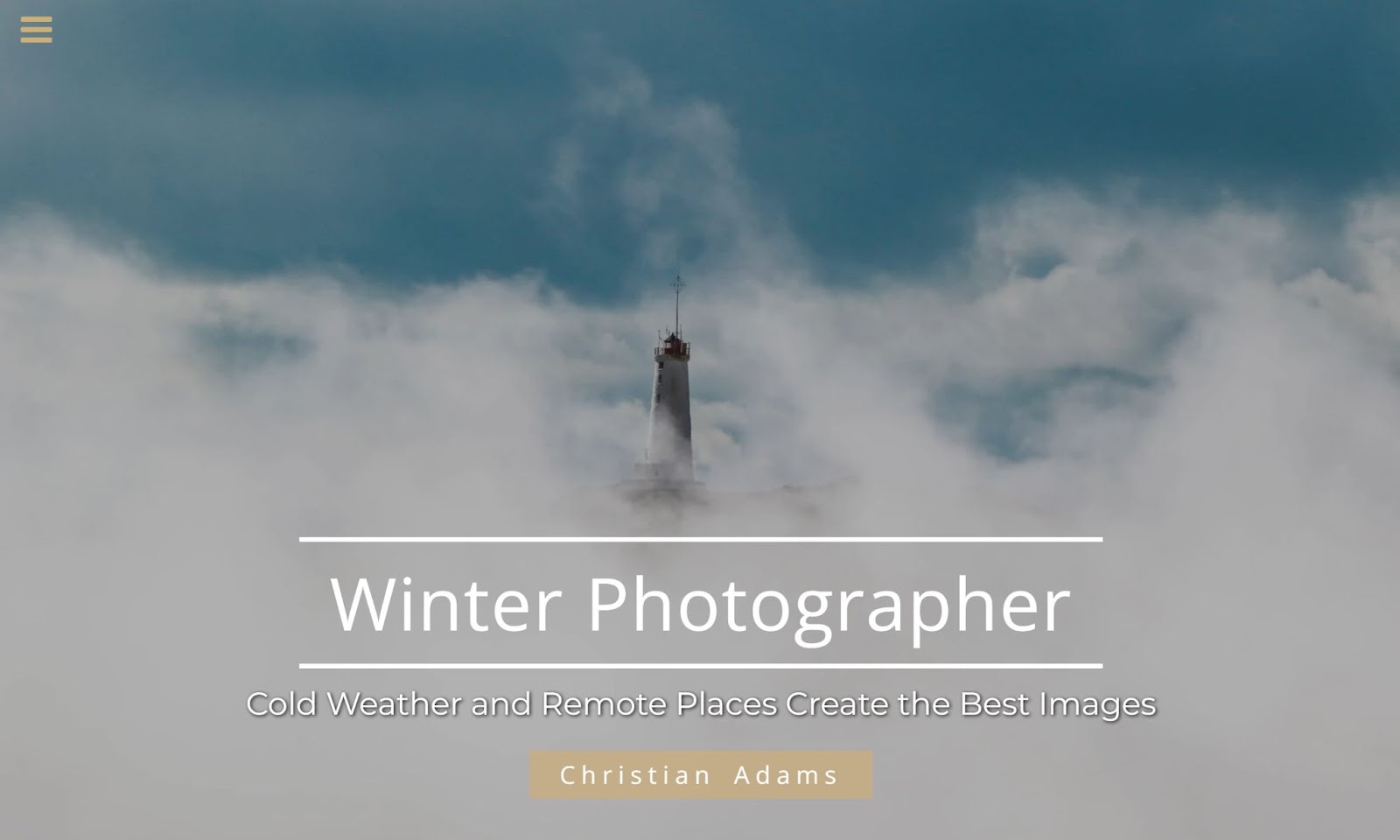 SITE123 makes creating your photography website a hassle-free process
– in fact, you can have your website online in a matter of minutes. If you're a beginner, you'll really appreciate SITE123's tutorials that walk you through the process of building your website. And if you get stuck, the customer support team is available 24/7 to help get everything running smoothly again. There are
10+ photography website templates
 to choose from – all of them mobile-responsive. You can use these templates to build a single-page layout (all the content displayed on one page) or multi-page website and switch between the two – even after you publish. The templates are quite similar, but once you've chosen a template, you can customize it with themes (pre-configured color schemes and fonts). You can also change the colors and fonts to match your branding and add a customizable shape divider to your homepage hero image to make your website stand out from the crowd.
SITE123 supports e-commerce features
, so if you want to sell your photos rather than just display them, you can add an online store to your website
by upgrading to a paid plan
. If you choose to sell your images as digital files, you can upload the files and have these automatically sent to your customers' email addresses when they complete checkout. One thing to consider is that SITE123's two entry-level paid plans limit storage to 10GB – 30GB and bandwidth to 5GB – 15GB. If you intend to upload lots of photos to your site or expect to attract lots of visitors per month,
you may be better off choosing Squarespace
, which gives you unlimited bandwidth and photo storage, even on its cheapest plan.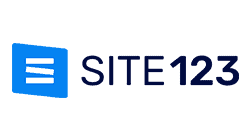 This Black Friday/Cyber Monday, SITE123 is 50 % OFF!
Save 50 % when you sign up for SITE123's annual plan
76 users used this coupon!
Features
Eight gallery layouts. You're not limited when it comes to displaying your photographs, as SITE123 gives you multiple gallery options, including a rounded gallery grid that really breaks from the "ordinary" square grid layouts you commonly find in website builders.
Full-size image display. Whenever a visitor clicks on any of your portfolio images, our system will open it in a full-screen format. This feature enables your visitors to truly appreciate the details and quality of your photographs. Please note that this full-screen display is applicable to all gallery types except for the carousel.
Bulk image upload. SITE123 supports bulk uploading for your images, so you can upload your whole portfolio in one go and then organize and add titles and descriptions later.
Custom image categories. Keep your portfolio neatly organized by creating custom categories for your images. You can create a gallery page for each category so your visitors can easily find the type of image they're looking for.
Check out our full SITE123 review for more
.
Free forever?

✔

 (with limitations)
Photography templates
13
Mobile-responsive?

✔

Price of cheapest paid plan

$

12.80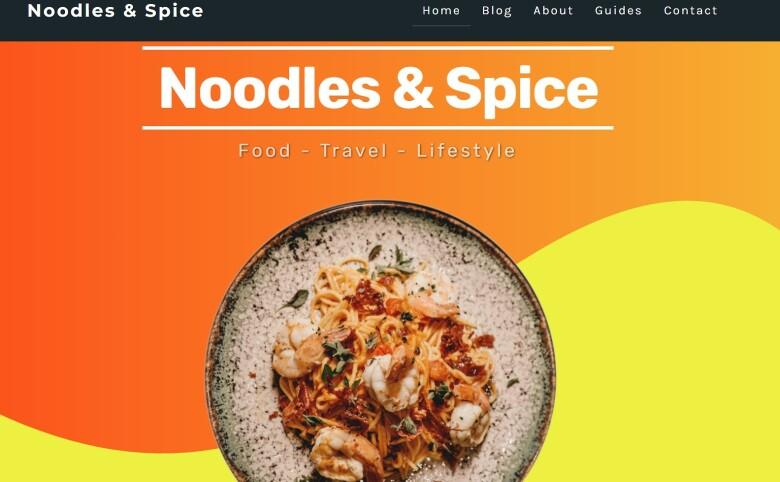 SmugMug is a website builder designed specifically for photographers.
What does that mean? Well, besides offering over 25 stylish templates and unlimited storage space on every plan, SmugMug also comes with outstanding tools for organizing and selling your photos, and even a special plan for storing your RAW files. The "organizer" tab is a settings feature that lets you
display your photos in searchable folders and galleries, so you can easily locate a particular image for a client.
You can add titles, descriptions, and keyword metadata. You can also use built-in privacy and security settings to prevent unauthorized use and create password protected galleries for clients. Whether you want to sell prints or offer digital downloads,
SmugMug has tools for monetizing your portfolio.
The shop functionality is easy to set up, and it offers advanced features like discount codes, tailored pricing for different quality downloads, and options for selling in bundles. But you'll have to upgrade to the most expensive plan to unlock all these features. What I don't love about SmugMug is that the editor can be confusing, the user interface is not the most intuitive, and finding specific features isn't easy. Still, for a stylish portfolio where you can sell high-quality prints, it's worth putting up with a few learning curves.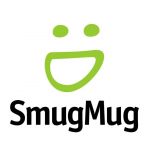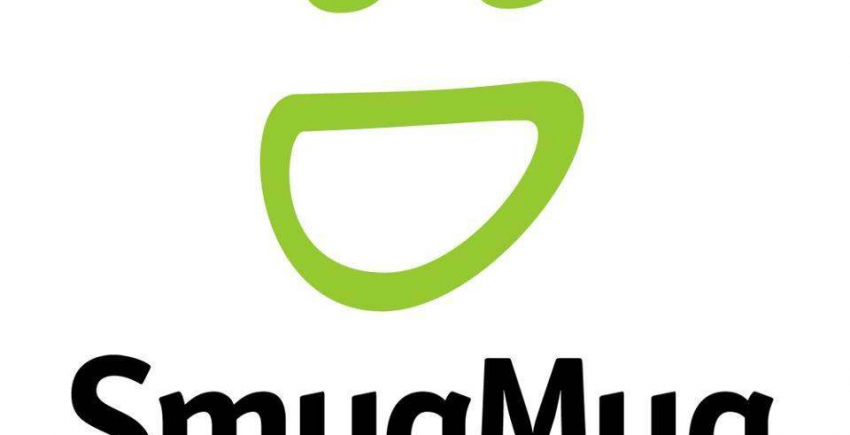 Save up to 33 % on your SmugMug plan!
Limited-time offer - Don't miss it!
43 users used this coupon!
Features
Photo lab partnerships. SmugMug has partnerships with some of the world's top photo labs. This allows you to sell high-quality prints in a variety of finishes and ship them all over the world.
Advanced features for selling prints. If you're planning on selling prints, you can customize them even further by adding things like watermarks, back-of-prints messages, custom "thank you" cards, and more.
In-app editing. SmugMug offers native image editing for your site. It's not the most advanced editor in the world, but it can get you out of a pinch.
Smart galleries. SmugMug can automatically add any photos you upload to "smart galleries" based on the criteria of your choosing. This makes the process of updating your site even easier.
Read our SmugMug review for more info
.
Free forever?

✘

 (14-day free trial)
Photography templates
25+
Mobile-responsive?

✔

Price of cheapest paid plan

$

11.00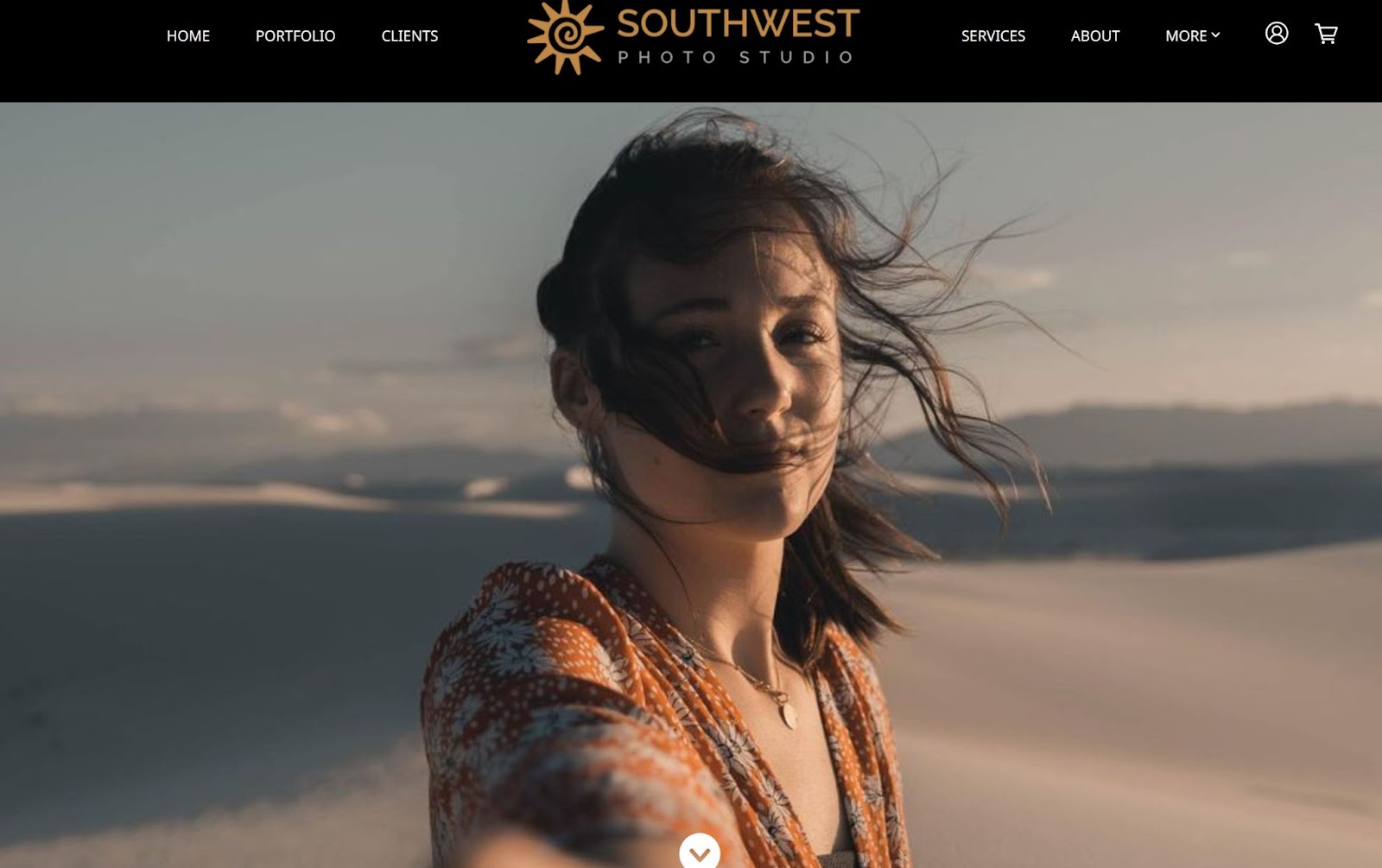 If you're looking for a simpler photography-focused solution for your online portfolio, Zenfolio is the way to go.
Zenfolio is a ridiculously easy-to-use builder that will  help you create stylish, attractive portfolio pages.
The Zenfolio block editor is designed to be as simple as possible.
You start out by selecting one of 9  templates and uploading a gallery of photos. After that, you can easily edit your website colors, fonts, and button styles from the "Design" menu. You add content using "blocks." Every time you add a block, you can edit specific settings (like an image's size, focal point, alignment, and scroll effects) and reorder the block's position on the page.
The block system doesn't offer as much customization freedom as Wix's drag-and-drop editor, but it helps you make a well-structured site.
Zenfolio can be a good choice for creating an attractive photography site, especially if you're looking for a super easy, all-in-one solution. However, storage is limited on the entry level plans and advanced features require an upgrade.
Be advised:
You can switch templates in Zenfolio if you want, but you'll lose all your text and SEO settings. Basically, you'll be starting your site from scratch, so make sure to back up any important content before switching.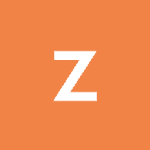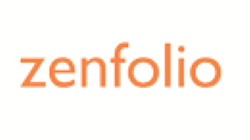 Save up to 50 % on your Zenfolio plan!
Limited-time offer - Don't miss it!
36 users used this coupon!
Features
Simple, intuitive galleries. Zenfolio's gallery options are simple but useful. You can add your photos to galleries, and sort your galleries into folders. Within a gallery, you can edit settings like expiration dates, download permissions, watermarking, and more.
BookMe integration. BookMe, Zenfolio's proprietary booking system, helps you streamline your booking process by giving you a centralized dashboard for handling things like shooting locations, calendar availability, and payment methods. You'll have to pay extra for this feature.
AI photo review. The PhotoRefine.ai tool allows you to quickly group, rate, and select images in accordance with your pre-set criteria, such as image similarity, sharpness, model, and more.
Lightroom plugin. If you're an Adobe Lightroom Classic user, you can install the free Zenfolio Lightroom plugin,  which lets you upload your optimized images directly to your site, no middleman involved.
Learn more in our review of Zenfolio
.
Free forever?

✘

 (14-day free trial)
Photography templates
9
Mobile-responsive?
Yes
Price of cheapest paid plan

$

3.50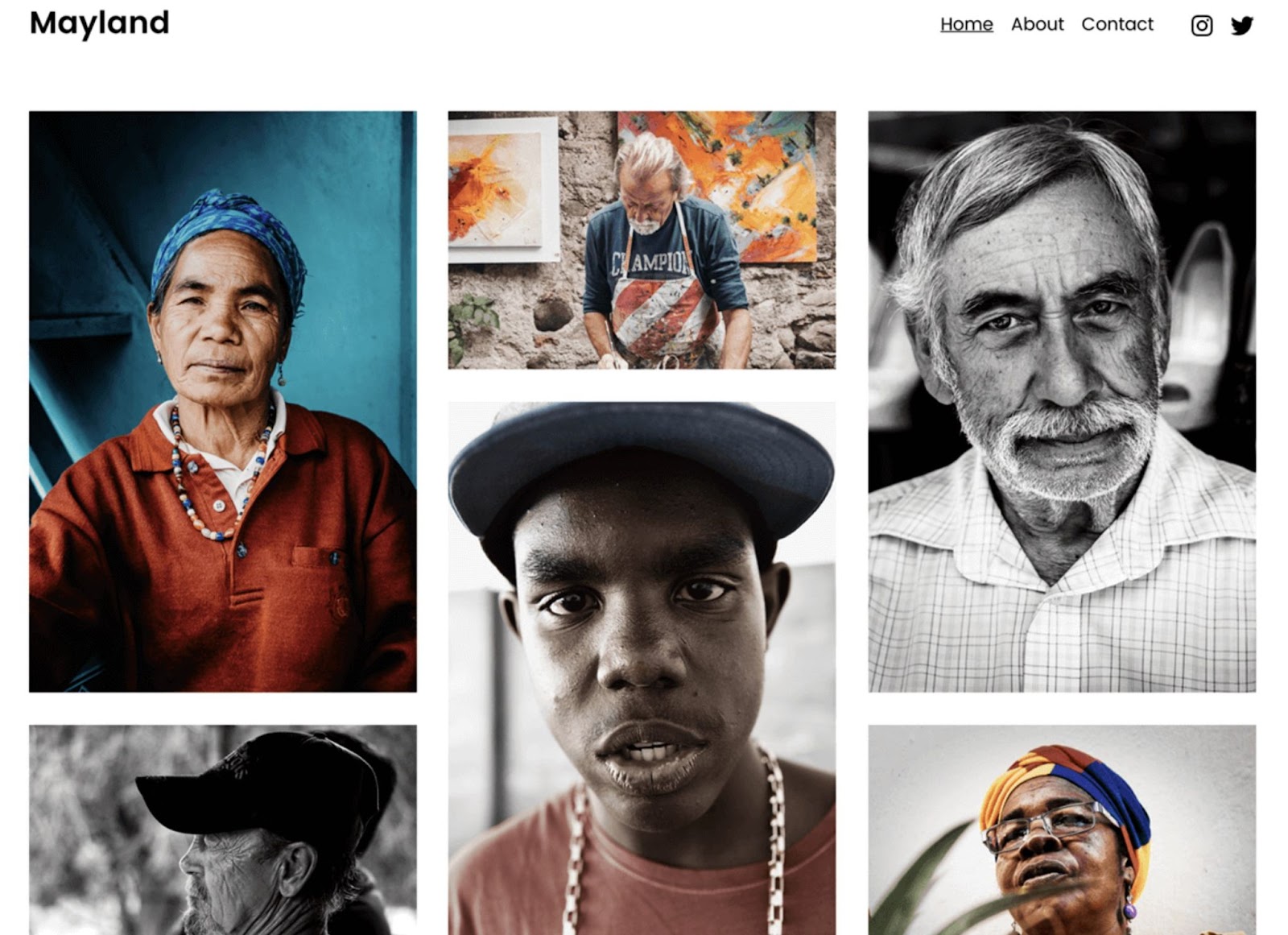 WordPress.com offers
35+ striking themes for photography websites,
and most of them are free to use. The platform is a little more complicated than beginner-friendly website builders like Zenfolio and SITE123, as it's designed to cater to advanced users as well – it's one of the few site builders that will give you total control over your source code. What sets WordPress apart is the level of customization it offers, which can seem overwhelming at first. But once you get used to navigating around the dashboard and using the block editor, tweaking and managing your site is pretty easy.
WordPress is totally free to set up and use
, but your website will automatically have a WordPress.com domain name, which can give it an unprofessional look. You'll need to upgrade to a paid plan if you want a personalized domain name or access to premium themes and plugins. However, it's entirely possible to create a simple yet beautiful photography website with the free options alone.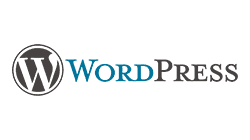 Save up to 55 % on your WordPress plan!
Limited-time offer - Don't miss it!
43 users used this coupon!
Features
Third-party photography themes. When you upgrade to a Business plan you can choose from hundreds of high-quality WordPress themes  from independent developers.
Plugins and widgets. WordPress offers thousands of plugins and widgets that add extra functionality to your site. You can find tools for advanced image galleries, help with marketing and selling your photos online, and more
Built-in SEO tools.WordPress is a platform that's good for SEO, allowing you to tweak your content and adjust the technical aspects to aid your website in achieving a higher rank on search engines. Greater visibility on search engines results in more traffic to your website and an increase in potential customers.
Worldwide support from the community. The WordPress support network is a community-run forum with over 500,000 active members around the world, covering more than two million topics.
Read our in-depth WordPress review to learn more
.
Free forever?

✔

 (with limitations)
Photography templates
 20+
Mobile-responsive?

✔

 (selected themes)
Price of cheapest paid plan

$

4.00
Which Free Website Builder for Photographers is Right for You?
Feel free to utilize any of the builders listed below to craft a professional photography website. Each builder possesses its unique strengths, and determining the most suitable option for you hinges on your specific requirements. If you want the freedom to design your website exactly how you like, then
you can't do better than Wix
. With its endless customization options, you'll be able to create the best website for your brand. If you don't mind paying a small monthly fee,
you may prefer Squarespace
 for its clean and professional template designs. If you're looking for the easiest way to get a portfolio online fast,
go for SITE123
. Granted, you won't get as much creative freedom as Wix. But you will get enough customization, gallery, and e-store features to create a unique and appealing site for showcasing and monetizing your photography. For more details, check this handy comparison table:
Free Plan
Best Feature
Best For
Starting Price
Wix

✔

User-friendly builder with the best template selection
Full creative control for photography portfolios

$

16.00

Squarespace

✘

Stunning templates and gallery layouts plus business tools
Commercial and fine art photographers

$

16.00

SITE123

✔

Easiest builder for photography portfolios
Getting an appealing website online quickly

$

12.80

SmugMug

✘

Photography-focused e-commerce tools
Selling photography services and prints

$

11.00

Zenfolio

✘

Simple, affordable builder with useful tools
When ease of use trumps customization

$

3.50

WordPress

✔

Limitless customization and flexibility
Photographers familiar with website design

$

4.00
FAQ
Is Wix a good site for photographers?
Definitely. Wix has  over 40 templates specifically created with photographers in mind. Each of these templates takes a "less is more" approach to design, and offers a lot of white space to highlight your art. Wix also has incredible image editing tools, and it's able to compress and optimize photos in order to speed up screen loading times for your customers.
Which free website builder is best for photographers?
There are two great ones to choose between – Wix and SITE123. Wix has better image editing tools, a larger range of templates, and full-screen gallery capabilities. SITE123 is definitely easier to use for beginners, but it has fewer templates on offer. Both have great customer support, e-commerce capabilities for an online store, and the ability to bulk upload your photos.
Is Squarespace good to build a photography website?
Yes, it's one of the best builders for photographers. Squarespace templates allow you to display full screen photos, or lay them out in a grid format. It also offers advanced photo editing tools, integrated marketing features, and e-commerce and booking management. Overall, Squarespace is a great choice for a photography portfolio.
When should I upgrade to a paid plan?
Free plans come with limitations. Certain features or functionalities are offered for free – for example, the amount of storage provided – and if you want more gigabytes of storage, then you will have to upgrade to a paid plan. You'll want to upgrade or choose a builder with paid plans if you want to connect a custom domain for a more professional looking site, or add e-commerce capabilities.