the advertised prices are only available if you're willing to pay for three years in advance?
 1&1 IONOS doesn't push you into long-term contracts, but it does have its own problems. To see which host is better, I extensively researched and tested them both to give you an informed, unbiased opinion. It was a pretty close race. To be honest, neither of these hosts is stellar. If I had to choose, I'd actually go with Hostinger, which offers better features and great performance for even better prices.
Click here to see Hostinger's best deals
, or read on to see if one of these hosts could be the right choice for you.
1. Plans and Pricing
HostGator Is Cheaper for the Initial Term, but 1&1 IONOS Costs Less in the Long Run
1&1 vs HostGator is a tricky matchup when it comes to pricing. At a glance, HostGator appears to be significantly cheaper across the board, from shared hosting to VPS and dedicated servers. But it actually all depends on how long you intend to stay with your chosen web host. When it comes to shared hosting,
HostGator's Hatchling plan is about 25% cheaper than 1&1 IONOS's Essential, but only if you're willing to pay for three years upfront.
 If you opt for a one-year billing cycle, the two plans have virtually the same price. And if you want to pay monthly, HostGator's Hatchling will actually cost you double than 1&1's Essential.
A free domain name is included with some hosting plans from IONOS
You might be thinking: that's fine. You don't mind a triennial billing cycle and if it saves you some money, why not?
But you also have to keep in mind that HostGator's renewal fees are very steep.
 The Hatchling plan, for instance, renews at triple the initial cost. This is not the case with 1&1 IONOS, which renews on a monthly basis for a steady price. In the long run, 1&1 is actually much cheaper. With managed WordPress hosting, 1&1 IONOS' lead is even clearer. HostGator's pricing is higher for most plans, even prior to renewal, and you don't get as many useful tools as you do with 1&1. Still, neither of these hosts can compete with Hostinger's pricing, with shared hosting available for as little as
$
1.99
per month.
A free domain name is included with some hosting plans from Hostinger
2. Support
Both Hosts Cloud Do Better in Terms of Support
Both 1&1 IONOS and HostGator offer 24/7 live chat and phone support, as well as comprehensive knowledge bases with guides and tutorials.
In addition, 1&1 IONOS gives you access to a personal consultant, free of charge, on all plans. This is an impressive offer that few other services can match.
To help you more accurately compare 1&1 IONOS and HostGator, I actually took the time to test the live chat feature of both hosts.
Unfortunately, I was fairly disappointed in both cases. When I got in touch with HostGator's customer support, I first asked the agent if he could recommend a suitable plan for a simple landing page website. I've done this dozens of times with different web hosts and the standard is for the agent to ask a few clarifying questions before making a suggestion. Not the case with HostGator, though.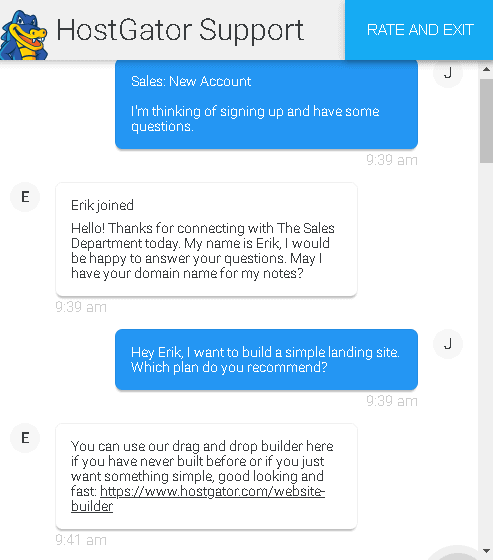 The agent didn't bother to ask any questions about my individual needs. He simply pasted a link to HostGator's website builder plans and that was that. I had to repeat the question for the agent to actually recommend one of the packages.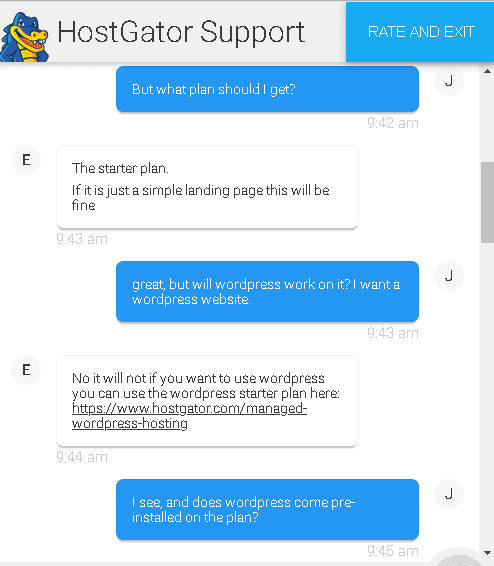 I was also quite surprised by the answer I got when I asked about website loading speeds for visitors outside the US. The agent informed me that HostGator hosts sites from all over the world, which was completely irrelevant to my question. Then, he told me that I had 45 days to back out of the service if I wasn't happy with it. Not reassuring at all.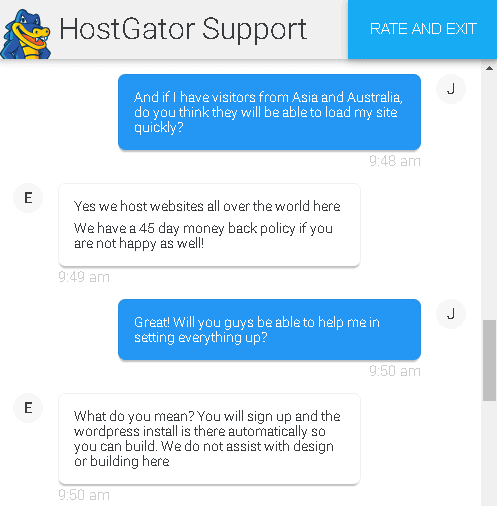 My experience with 1&1 IONOS's customer support was nearly identical. I also asked them if I could expect good loading speeds for visitors based outside the US and I was told that this "is not a problem."
When I wanted clarifications, the agent reminded me that I had 30 days to cancel my subscription.
 I can't say this boosted my confidence in 1&1 IONOS's service.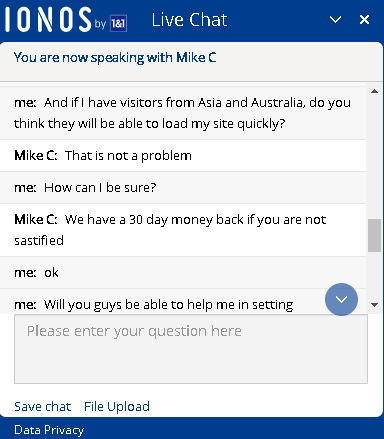 I also wanted to know whether customer support would help me set up my account and connect an existing domain. The answer was a simple "yes" to both questions, but at this point, I did not feel reassured at all.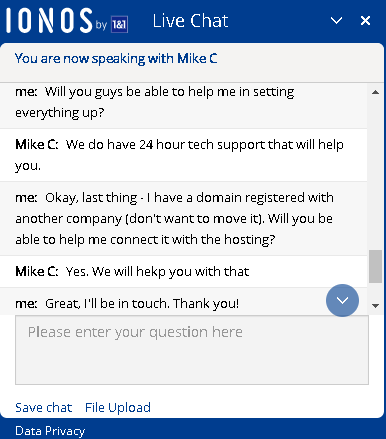 Overall, both conversations went poorly and I didn't get all the information I needed from either support agent.
 It's nice that 1&1 IONOS provides access to a personal consultant, but it's hard to know if they are actually professional.
3. Features
It's a Tight Round, but 1&1 IONOS Wins with Automated Backups
1&1 IONOS and HostGator's shared hosting plans cover the basics.
You get unmetered bandwidth, a free domain for one year, as well as a website builder on all plans.
 That said, it's worth noting that with HostGator, you have to sign up for at least one year in order to get your free domain registration. This is not the case with 1&1 IONOS. The two website builders are also quite different. Although both include a drag-and-drop interface that can help you quickly set up a website, HostGator includes only a trial version of its builder on shared hosting plans. What does this mean, exactly? For one,
you can only create six pages before you have to switch to the paid version.
1&1 IONOS's website builder is also limited in terms of functionality on shared hosting plans, unless you purchase it separately, as an add-on. However, there is no cap on the number of pages you can design, which gives it a slight advantage. On the flip side,
HostGator will migrate an existing website for free, whereas with 1&1 IONOS, you're on your own.
 There is a comprehensive tutorial on how to transfer your site to 1&1 IONOS, and you can ask support for additional guidance, but ultimately, you have to do all the work.
Another advantage with HostGator is that it includes unlimited email addresses on all plans.
With 1&1 IONOS, you get only 10 email addresses for the Essential plan, 50 for Business, and 100 for Expert. It's still a generous offer, but HostGator still does better. The deciding factor for me was the backup policies of the two hosts.
With IONOS, you can rest assured that backups of your website are created on a daily basis.
 Each backup is stored for six days, and in case disaster strikes, you can easily restore an earlier version of your site with just a couple of clicks. HostGator has a slightly different approach. You only get backups on a weekly basis and, according to the company's Terms of Service, these are "provided as a courtesy and not guaranteed."
HostGator takes no responsibility for any data you might lose and basically recommends that you take care of your own backups.
To help you quickly compare IONOS' and HostGator's features, I've included the most important details in the table below:
| | | |
| --- | --- | --- |
| | 1&1 IONOS | HostGator |
| Hosting Type | Shared, managed WordPress, VPS, dedicated servers | Shared, managed WordPress, VPS, dedicated servers, reseller |
| Free Domain | Yes | Yes |
| Free SSL Certificate | Yes (Wildcard) | Yes (Let's Encyrpt) |
| Disk Space | 10GB on Essential, Unlimited on all other plans | Unlimited |
| Bandwidth | Unmetered | Unmetered |
| Automatic Backups | Yes | Yes, but retaining backups is not guaranteed |
| Control Panel | cPanel | cPanel |
| Email Accounts | 10 to 100 | Unlimited |
| Free CDN | Yes, on the Expert plan | No |
| Free Site Migration | No | Yes |
| Money-Back Guarantee | 30 Days | 45 Days |
4. Performance
1&1 IONOS Offers Better Scalability during Peak Traffic
Performance is another tight race for the 1&1 IONOS vs HostGator matchup, but there is a clear winner. To begin with,
HostGator only has two data centers, both US-based, while 1&1 IONOS also gives you the option to host your website in two European locations.
HostGator and IONOS both use SSD storage,
 which is more reliable and up to 20 times faster than traditional HDDs. That said, 1&1 IONOS takes the lead in managed WordPress hosting with its Nginx web servers, which perform considerably better than HostGator's Apache technology. In addition, 1&1 IONOS does something that few other hosts do for shared hosting.
In case your traffic goes up unexpectedly, you can actually add more RAM and PHP memory straight from your dashboard.
 Most providers give you no control over your resources on shared hosting plans, but with 1&1, you decide exactly how much server power you can use.
The additional resources come with a small monthly fee, but you only pay for what you use.
 You make no payments in advance, and if traffic goes back down before the end of the month, this is reflected in the overall cost. If you expect to have visitors from around the world, activating a CDN (content delivery network) is a must. This stores a cached version of your website on dozens of servers around the world so that your users can quickly download it regardless of where they are located. With some hosts, the free version of Cloudflare CDN is integrated straight into your dashboard, but unfortunately, this is not the case with either 1&1 or HostGator.
IONOS has its own CDN with more than 150 servers worldwide, but it's only included on the top-tier Expert plan.
HostGator claims that its platform supports a CDN, but doesn't provide one for free on any plan. You can install the free version of Cloudflare yourself on either host – but it's obviously not as convenient as simply activating it with a few clicks. Both 1&1 IONOS and HostGator have standard 99.9% uptime guarantees, but
HostGator offers better compensation in case of excessive downtime.
5. Security
Neither Host Will Keep Your Website Safe for Free
But first, the good news.
You get free a SSL certificate for your website with both 1&1 IONOS and HostGator.
 Although SSL certificates are especially important for e-commerce stores, even regular websites need them in order to rank better in search engines. With HostGator, you get a free SSL certificate from Let's Encrypt. 1&1 IONOS, on the other hand, gives you a Wildcard SSL certificate on all plans. There are no differences between the two when it comes to the level of encryption, but Wildcard SSLs can be used to protect all of your subdomains in addition to your domain.
As for additional security, both IONOS and HostGator will make you pay for the SiteLock add-on to get proper malware detection and removal.
 You do get a basic site scan for five pages on a weekly basis, as well as spam protection for your email, but that's about it. You need to depend on SiteLock for all other aspects, available at approximately half the price on HostGator compared to 1&1 IONOS during the initial year. While 1&1 IONOS offers complimentary automated daily backups, which can be useful if your website faces hacking issues, my expectations regarding these two renowned hosts were somewhat higher.
1&1 IONOS Wins by a Slight Margin, but There Are Better Alternatives
With a better score in pricing, support, features, and performance, 1&1 IONOS takes the lead in this 1&1 IONOS vs HostGator comparison.
The fact that you can always add more resources to your shared hosting plan is particularly impressive, because it lets you ensure that your website never goes down due to traffic spikes. That said, HostGator did put up a very honorable fight, with unlimited resources and
attractive discounts for long-term plans
. Still, neither 1&1 IONOS nor HostGator made it into our list of
the best web hosting services
. Why? These two hosts may have been around for a very long time, but the industry has become increasingly competitive in the past decade.
With Hostinger, you can get better deals in terms of pricing, and you get more features to boot.
 Plus, with data centers on four different continents, you don't have to worry that your target audience won't be able to load your website quickly.
Plans and Pricing
Cheaper than HostGator in the long run, risk-free monthly plans, reasonable renewal fees, plenty of features
Cheaper than 1&1 for three-year plans, twice or three times more expensive with shorter billing cycles, steep renewal fees
Key Features
Unlimited storage and bandwidth on most plans, free domain for one year, website builder, automated daily backups
Unlimited storage and bandwidth on all plans, free domain for one year on yearly plans, free website transfer, website builder (6 pages)
Performance
SSD storage, Nginx servers for WordPress plans, integrated CDN on the Expert plan, data centers in US and Europe, possibility to add more RAM, 99.9% uptime guarantee
SSD storage, two US-based data centers, 99.9% uptime guarantee
Security
Free Wildcard SSL certificate, basic malware scanning, spam protection, SiteLock available for an added fee
Free SSL certificates from Let's Encrypt, basic malware scanning, spam protection, SiteLock available for an added fee
Support
24/7 support via live chat and phone, extensive knowledge base, personal consultant
24/7 support via live chat and phone, extensive knowledge base, video tutorials
FAQ
Which is better, 1&1 IONOS or HostGator?
HostGator's pricing is tempting for three-year plans, but if you prefer to pay on a monthly basis, 1&1 IONOS is considerably cheaper. In addition, 1&1 IONOS gives you extra features for free. That said, neither host earned a spot on our list of the best web hosting services. More competitive hosts come with a choice of multiple data centers across different continents, an integrated CDN, better prices, and other useful features.
Is HostGator the best host?
HostGator is certainly one of the oldest hosts around, but popular as it may have been in the past, its offer is no longer as competitive. Yes, it gives you unlimited storage space and bandwidth on all plans. However, you can get similar features for lower prices with other hosts. For example, Hostinger has better deals and gives you the choice to host your website in one of seven different regions around the world, including the US, Europe, Asia, and South America. If you want to snatch a really great deal, don't miss our frequently updated web hosting coupon page.
Is HostGator owned by EIG?
Yes, HostGator was acquired by Endurance International Group (EIG) almost a decade ago. EIG currently owns dozens of previously independent web hosting services, including other big names like Bluehost and iPage. Unfortunately, the acquisition has had a detrimental impact on the quality of many of these hosts.
Is 1&1 IONOS good for WordPress?
1&1 IONOS has a decent offer for managed WordPress hosting. Its plans come with plenty of SSD storage, enhanced CPU and RAM resources, free SSL certificates, Nginx caching, as well as automated updates and backups. However, 1&1 IONOS pales in comparison to some of the best managed WordPress hosting services in the industry. Better hosts offer extra features such as advanced caching options, an integrated CDN, a staging environment, and even a Jetpack license.