💯

Free Plan
Yes

📄

Number of Templates
75+

🔌

Apps/Integrations
Yes

🛒

E-commerce Tools
Yes
Is Carrd Cheap for a Reason?
Carrd is a website builder for fully responsive, one-page sites. In very little time, with minimal effort, you'll be able to create a professional-looking website. You can choose from a range of 75+ templates, so you'll almost certainly be able to find something that suits your style. The editor is really easy to use. However, you can only create and publish one page for your site. So if you are looking to build a larger, multi-page site, then you should check out the top website builders that we recommend.
Features and Ease of Use
When I review website builders, I check how easy the builder is to use, which features are available, and how competitively the packages are priced. Here's how Carrd fared:
Ease of use. Carrd gets top marks for this. The user interface is clear and simple. Everything is plainly labeled, and there's no terminology that your average Joe wouldn't be able to understand. Editing text is easy, as is adding and moving content blocks and buttons. When you start building, there's a really simple instruction overlay that teaches you all the basics: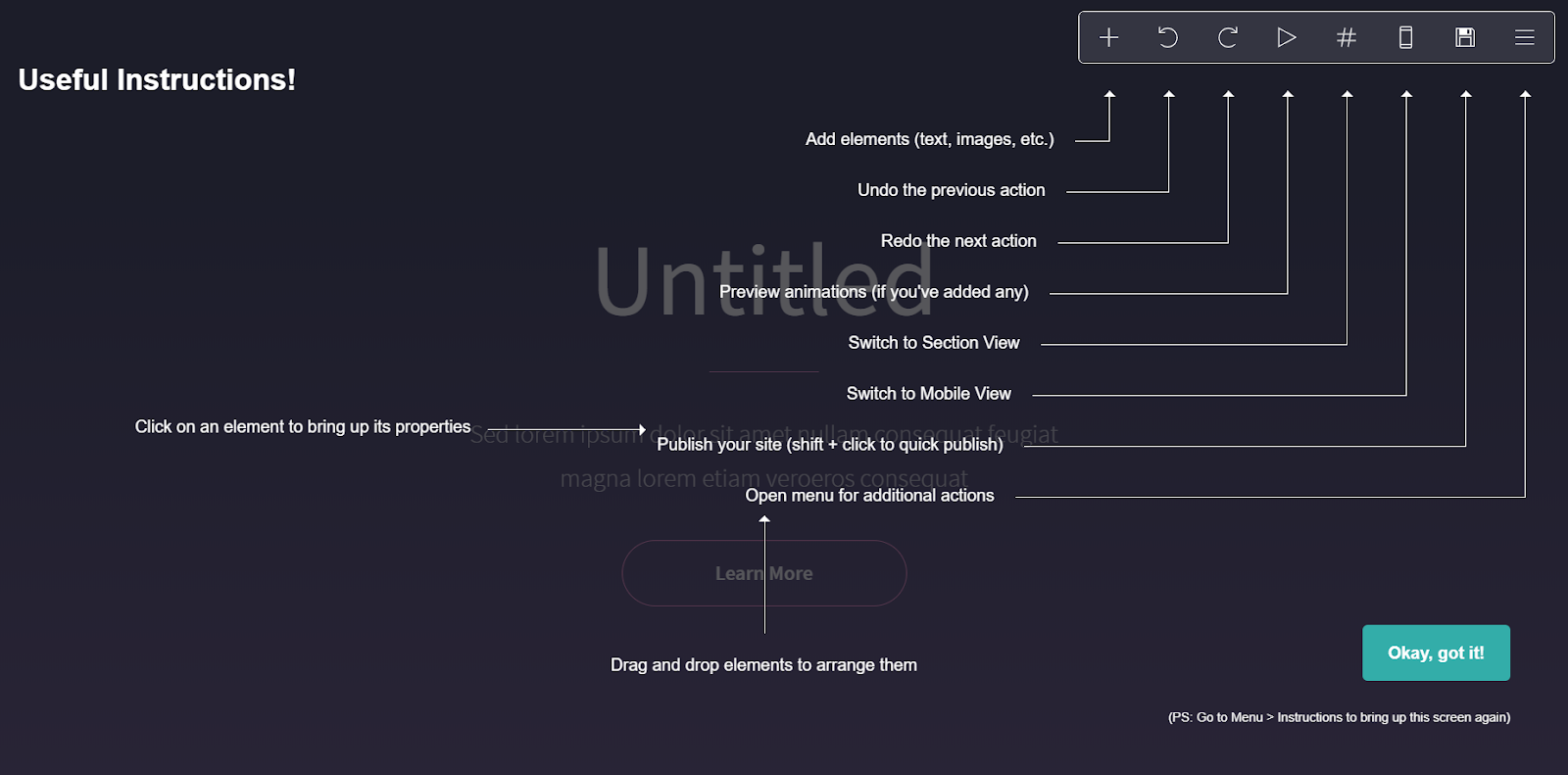 Templates. Not only is there a large number of templates to choose from, but the range of styles offered also impressed me. Whether you want to make a landing page, build a form to collect feedback from customers, create a site to showcase one large image (such as a movie poster or event invitation), or design a business-card-style website, Carrd has you covered.
Animations. Beyond designing your layout how you like, you can also animate the content, which brings a bit more sparkle and vivacity to your site. This is a great way to draw attention to the most important call to action on your page and to make the overall experience memorable.
Buttons galore. Cardd provides a comprehensive library of icons that you can incorporate as buttons on your site. The list includes over 100 options, ranging from the usual suspects like Facebook, Instagram, phone, and email, to more unique choices like Bitcoin, Canva, and even the ability to link to a PDF document.
Pricing and Support
While Carrd's most basic plan is free, there is also a cheap (like, under $20 cheap) yearly plan that includes a custom domain, the ability to add a PayPal button, and more storage so that you can add larger photos and videos.
If you need help mid-build, there's a massive library of how-tos with step-by-step instructions for resolving most issues. And if that doesn't work for you, then the customer support team can answer your questions – they replied to my query in about three hours: