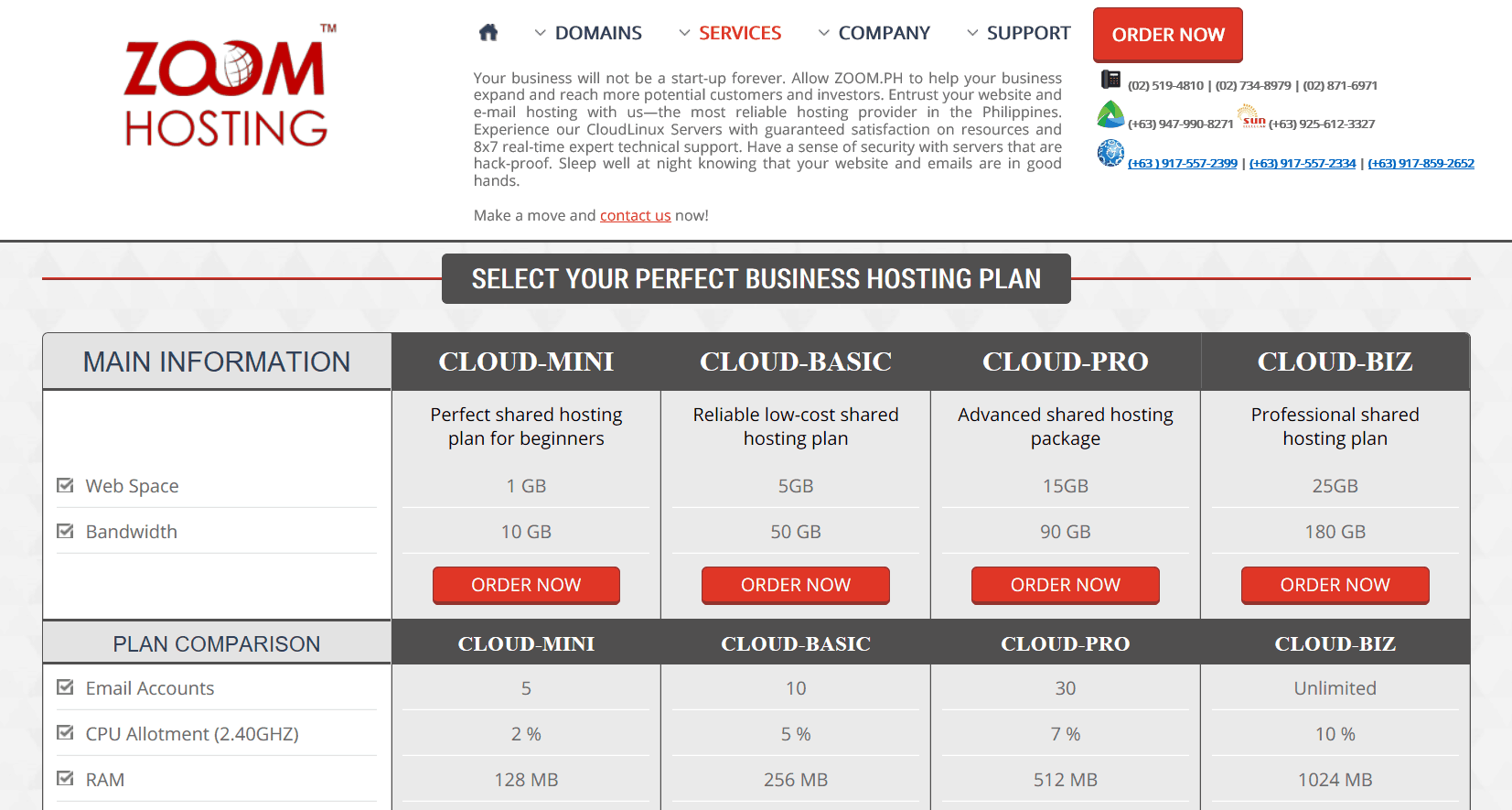 To compare the best web hosts, we hosted the same WordPress website on each one and tested performance, customer service, and value for money.
Check out the results here.
ZOOM Hosting has been offering website hosting services to the Philippines and beyond since 2009. While they specialize in serving small and medium-sized businesses, they seem to lack many advanced features that some websites will need. Personal and small business websites will be fine with this platform, but if you need advanced developer support, you'll need to look elsewhere.
Features and Ease of Use
ZOOM Hosting offers a basic set of features for their shared hosting, and that's about it. Their plans include:
Lots of bandwidth
Softaculous auto-installer
Supports five or more domains
Remote backups on most plans
Supports phpMyAdmin
MagicSpam anti-spam
SiteHaven website builder
Outside of offering support for phpMyAdmin and offering MagicSpam anti-spam, they don't offer much in the way of value-added features. They don't even provide free SSL certificates or free domains with their plans.
Now, if you're looking for a basic website or are a beginner looking for a website host that's easy to use, this is one you can consider. They offer the simple-to-use SiteHaven website builder along with the Softaculous auto-installer with hundreds of apps, including WordPress, Joomla, Drupal, Coppermine, Zen Cart, and more. Otherwise, you can use cPanel to upload your files and build your website.
Pricing and Support
ZOOM Hosting offers multiple options for shared hosting. Their most popular plans are their Business Cloud plans. They offer the features listed above with scalable options as outlined below:
| | | | | |
| --- | --- | --- | --- | --- |
| | Cloud-Mini | Cloud-Basic | Cloud-Pro | Cloud-Biz |
| Storage | 1GB | 5GB | 15GB | 25GB |
| Bandwidth | 10GB | 50GB | 90GB | 180GB |
| Email Accounts | 5 | 10 | 30 | Unlimited |
| MySQL Databases | 5 | 10 | 30 | Unlimited |
| Subdomains | 5 | 10 | 30 | Unlimited |
| Addon Domains | 5 | 7 | 10 | Unlimited |
| RAM | 128MB | 256MB | 512MB | 1024MB |
The Cloud-Mini and Cloud-Basic plans are suitable for single domains, but they lack sufficient storage for larger needs. The Cloud-Pro and Cloud-Biz plans offer better options, although I would prefer to see more storage included in the Cloud-Biz plan.
Of course, if you want unlimited storage and bandwidth, you can opt for their Unlimited Cloud Hosting plans. However, these offer some severe limitations that you should be aware of. Specifically, the plans only support one to five MySQL databases, and the RAM on the plans is lacking. Due to this, I don't recommend even considering their Unlimited plans.
Instead, take a look at their Enterprise Cloud hosting plans. While a bit more expensive, they offer better features. Here's a quick breakdown:
| | | | | |
| --- | --- | --- | --- | --- |
| | Corp | Portal | Ecomm | Zoom |
| Storage | 30GB | 60GB | 80GB | 100GB |
| Bandwidth | 300GB | 600GB | 800GB | 1TB |
| Email Accounts | Unlimited | Unlimited | Unlimited | Unlimited |
| SQL Databases | Unlimited | Unlimited | Unlimited | Unlimited |
| Subdomains | Unlimited | Unlimited | Unlimited | Unlimited |
| Addon Domains | Unlimited | Unlimited | Unlimited | Unlimited |
| RAM | 1.5GB | 2GB | 2.5GB | 3GB |
These are much better plans, and perfect for businesses websites that require extensive database support.
ZOOM Hosting's Business Cloud and Unlimited Cloud plans are a bit cheaper than similar offerings from the average web hosting company, though I wouldn't even bother with Unlimited Cloud because of the limitations on plans. The Enterprise Cloud plans are pricier, but you're also getting business-grade hosting. Compared to other hosts such as Shopify, Weebly, and Wix, pricing is either on par or slightly higher.
Regarding support, ZOOM Hosting offers average support at best. They only provide telephone, ticketing, and online contact form support. They don't offer live chat support. Their knowledge base is also somewhat average compared to other hosts.
How much does ZOOM Hosting cost?
ZOOM Hosting offers plans from $1 to $100. The price depends on which type of hosting plan you choose. You can see the updated pricing table (updated weekly) below.

Which ZOOM Hosting plan should I get?
My recommendation is to start with a cheaper plan. You can always upgrade later on. ZOOM Hosting can help you with the migration to a more expensive plan. The increase in visitors many times takes longer than expected and you shouldn't pay a lot of money until the need arises. Of course, your needs may vary, and you can consult with a hosting expert from ZOOM Hosting here.

How good is ZOOM Hosting's customer support?
ZOOM Hosting is not ranked as one of our top web hosts. But that can also be a result of ZOOM Hosting being a small, under the radar, hosting provider. There are advantages to a small hosting company – as a customer, you are more important to them. You can also check out our comparison of the most popular web hosting services here.