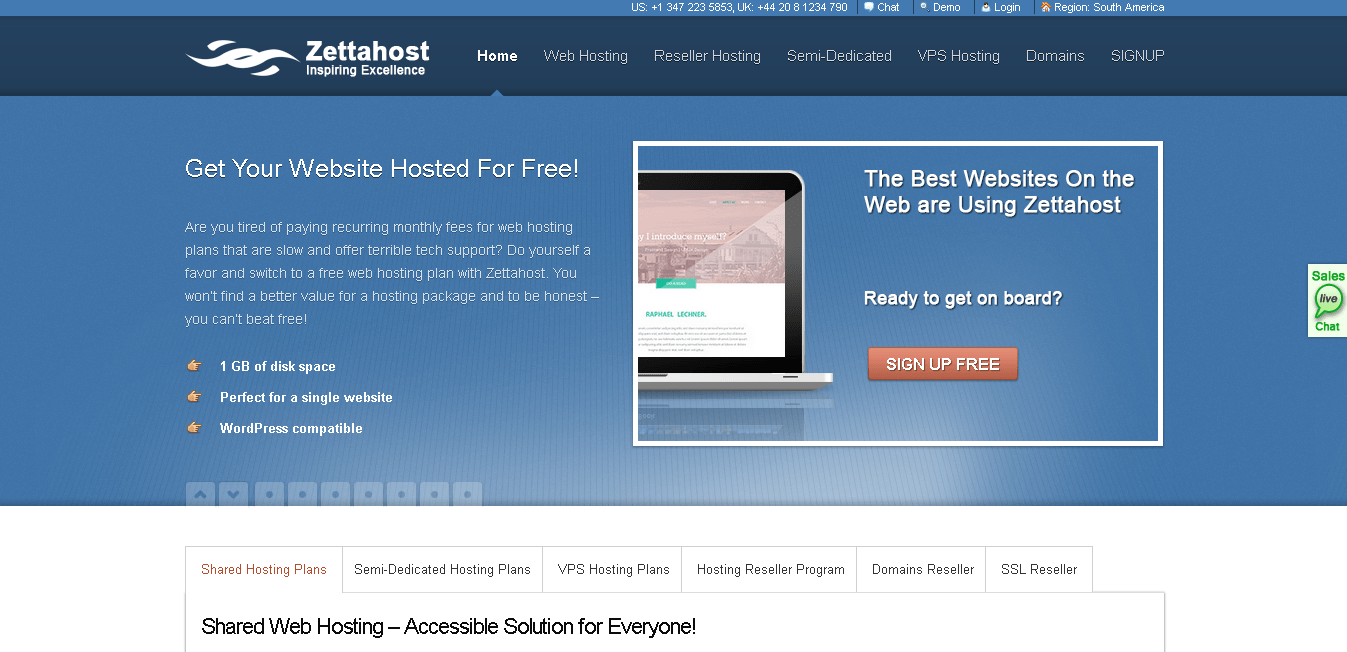 To compare the best web hosts, we hosted the same WordPress website on each one and tested performance, customer service, and value for money.
Check out the results here.
Zettahost is a full-service hosting company that started its journey in 2002. Today, it offers shared, semi-dedicated, and cloud hosting along with reseller programs, domain and email services, and SSL certificates. The company's website is available in English.
Features and Ease of Use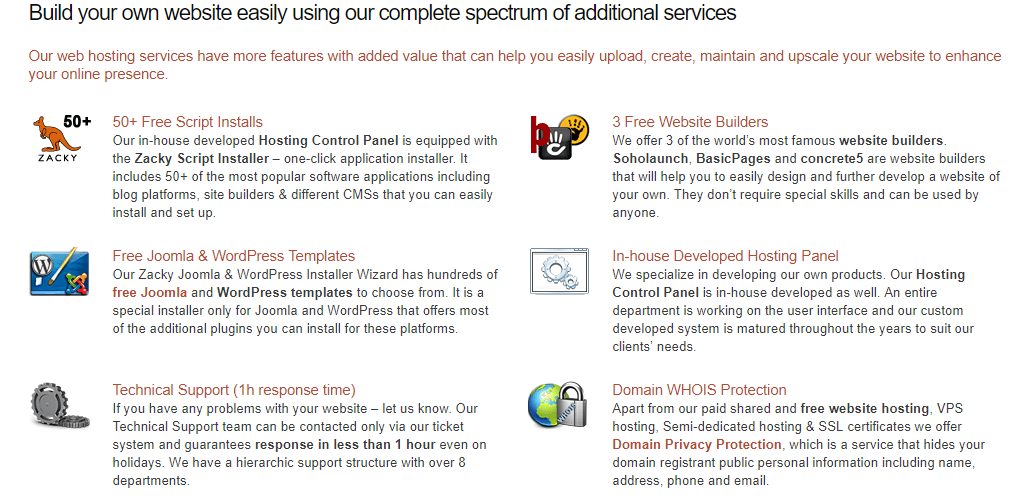 Zettahost offers three shared cloud hosting plans – FREE (a free plan with limited resources), Personal, and Business that come with:
Free activation
99.9% uptime guarantee
Stable Linux OS with Apache
phpMyAdmin and MySQL(v.5) databases
PHP 5/7
3200+ Perl modules
GD library for dynamic creation of images
Detailed traffic statistics for your hostnames
Firewall, spam protection (SpamAssassin), and virus protection (ClamAV)
Webmail for web-based access to your emails from anywhere, and at anytime
POP3/IMAP and SMTP access
Web based file manager
Full DNS and WHOIS management
EPP Key Control (authorization code required for domain transfer)
Fully-featured, web-based advanced control panel
These plans mainly vary in terms of disk space (1GB – unlimited), data transfer (5GB – unlimited), and the number of email and FTP accounts (one – unlimited). If you intend to choose the FREE plan, you can take your pick from the plans optimized for WordPress and Joomla. You'll get a free domain name for one year with the Personal plans while the Business plan offers you a free domain for life.
The company also offers three semi-dedicated hosting plans (with one free domain for life), three cloud VPS hosting plans, and a free reseller hosting program, along with six SSL certificates and several domain services. Though you'll find slightly different plans (with the same names) listed under cloud hosting and VPS hosting, a customer support rep told me that they're the same.
Zettahost offers RAID backup to provide its clients with increased data reliability. Since your data is simultaneously stored on two HDDs, the company can restore the backup (if there's a hard drive crash) from the unimpaired HDD.
Thanks to its use of XEN Hypervisor technology, the company offers you better isolation of the VPS, which in turn offers you better security, control, and the ability to customize your server fully.
The company offers you three website builders – BasicPages, Soholaunch, and Concrete5, which you can use to design your website easily and develop it further without requiring any special skills. Zettahost also brings you an in-house developed hosting control panel that's equipped with the one-click application installer – Zacky Installer. It comes with more than fifty of the most popular software applications (for CMSes, blogs, wikis, e-commerce etc.), which you can easily install.
Pricing and Support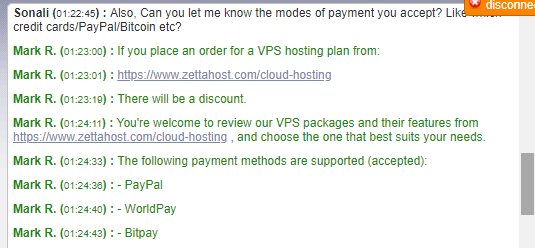 Zettahost's shared hosting plans are cheap. You can pay for these plans in EUR, USD, or GBP based on which region you are logging in from or choosing while billing. Payments can be made via PayPal, Worldpay, and BitPay. The available billing periods are three months, six months, one year, two years, three years, four years, and five years. Billing period for the FREE plan is unlimited.
All newly registered accounts and upgrades from free to paid accounts of Zettahost are given a 30-day money-back guarantee. However, it's applicable only for yearly (one – five years) web hosting plans. For one-month subscriptions for the company's VPS and semi-dedicated hosting plans, a refund can be requested only five days after the first order.
Zettahost provides 24/7 tech support, and you can contact their customer support through various channels such as phone, email, live chat, an online contact form, and a ticketing system (exclusive to logged-in customers). I personally tried the live chat and received a prompt reply.
Zettahost offers an extensive hosting encyclopedia (similar to a knowledge base) that packs useful information to help you make better decisions when you choose your hosting plan, domains, SSL certificates, etc., and create your new website.
How much does Zettahost cost?
Zettahost offers plans from $0 to $4. The price depends on which type of hosting plan you choose. You can see the updated pricing table (updated weekly) below.

Which Zettahost plan should I get?
My recommendation is to start with a cheaper plan. You can always upgrade later on. Zettahost can help you with the migration to a more expensive plan. The increase in visitors many times takes longer than expected and you shouldn't pay a lot of money until the need arises. Of course, your needs may vary, and you can consult with a hosting expert from Zettahost here.

How good is Zettahost's customer support?
Zettahost is not ranked as one of our top web hosts. But that can also be a result of Zettahost being a small, under the radar, hosting provider. There are advantages to a small hosting company – as a customer, you are more important to them. You can also check out our comparison of the most popular web hosting services here.