To compare the best web hosts, we hosted the same WordPress website on each one and tested performance, customer service, and value for money. Check out the results here.
YourServer is a Latvian company with a global presence comprising more than 10,000 customers in 115 countries around the world. Their elegantly simple website is in English.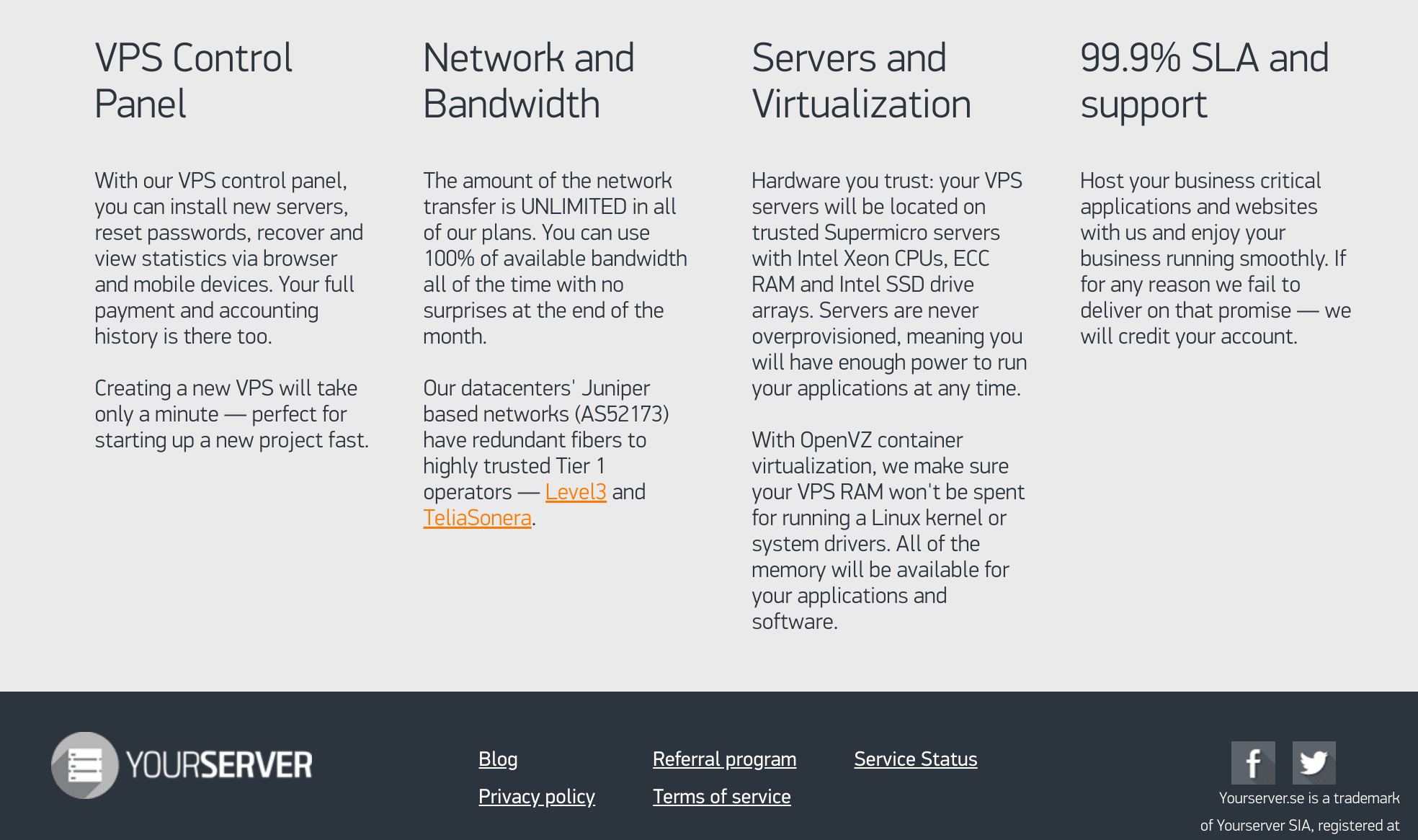 Features and Ease of Use
YourServer only sells Linux virtual private servers that enjoy the following core features:
99.9% uptime service level agreement
Automated backups (optional)
Unlimited monthly transfer
100% usage of bandwidth, with no caps
From 10 GB to 480 GB SSD storage
YourServer takes the "keep it simple, stupid" (KISS) approach to everything it does. This applies equally to their simple set of services (just six VPS packages) and their surprisingly simple website (which has to be seen to be believed).
The six VPS packages comprise three smaller packages with 512 MB to 4 GB RAM and 10 GB to 60 GB SSD storage, and three larger packages with 8 GB RAM to 32 GB RAM and 120 GB to 480 GB SSD storage.
Their surprisingly simple website contains a surprising amount of information presented in an incredibly clear way. Their two owned data centers – located in Latvia and Sweden – are Tier 3, which means less than 1.6 hours of downtime per year and at least 72-hour power outage protection. They have a 99.9% uptime service level agreement, which commits to crediting your account if they fail to meet this promise. They only use fast, reliable SSDs for storage, they are IPv4 and IPv6 ready, and they provide full SSH access.
Pricing and Support
YourServer offers six straightforward VPS price plans that are highly cost-effective when compared to both local and international companies. However, it's important to note that domain registration and SSL certificates are not included in these packages.
When you purchase a package, you get to choose your server location (Latvia or Sweden), your preferred Linux flavor (CentOS, Debian or Ubuntu), and whether you want automated backups at a small additional cost. You can choose between one, three and twelve-month terms that are nicely discounted for a longer commitment. There is no free trial and no money-back guarantee, but you also have no long-term obligation if you choose the monthly option.
The support page is as simple as YourServer's services and the rest of their website. You can read the terms of service, access the small knowledge base, submit a support ticket, view your tickets (requires login), and… ahem… log in. They also have a service status page, a blog, a social media presence, and a company contact form that incidentally emphasizes their key facts: in-house system and network engineers, in-house 24/7 support team, and own hardware and network. The only things I don't like are their lack of live chat and no telephone number.