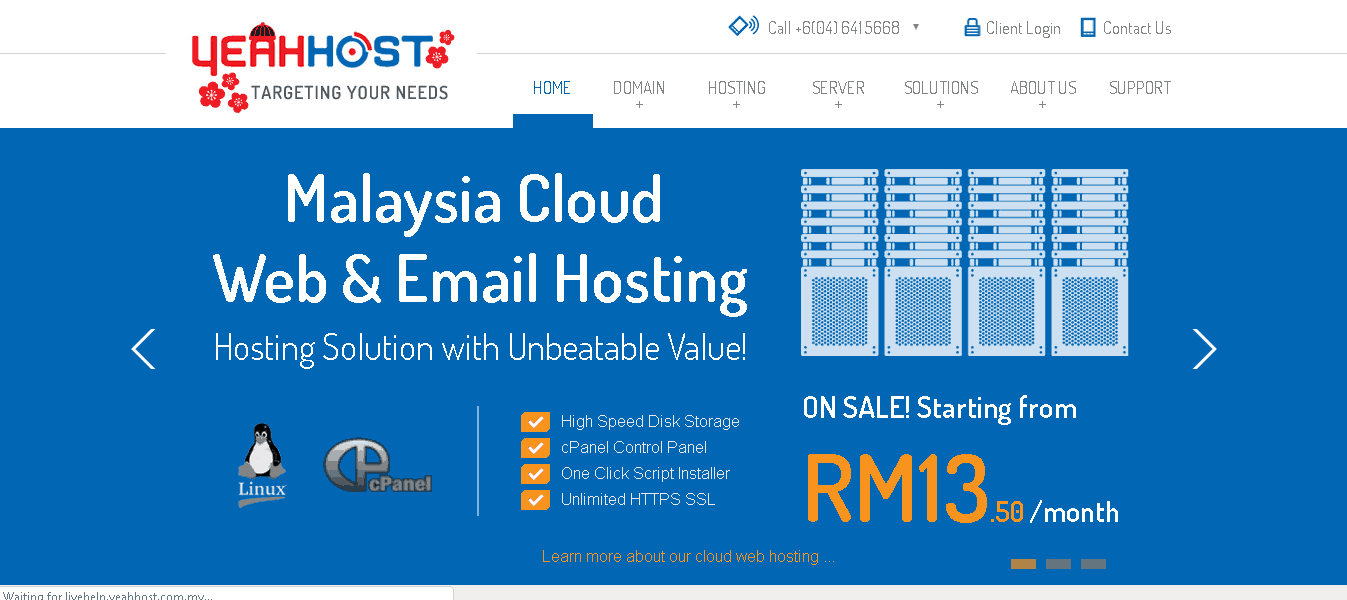 To compare the best web hosts, we hosted the same WordPress website on each one and tested performance, customer service, and value for money.
Check out the results here.
Yeahhost is a Malaysian website hosting company that offers a wide range of web hosting plans and associated services to clients including Domino's Pizza (Malaysia). The Yeahhost website is in English only.
Features and Ease of Use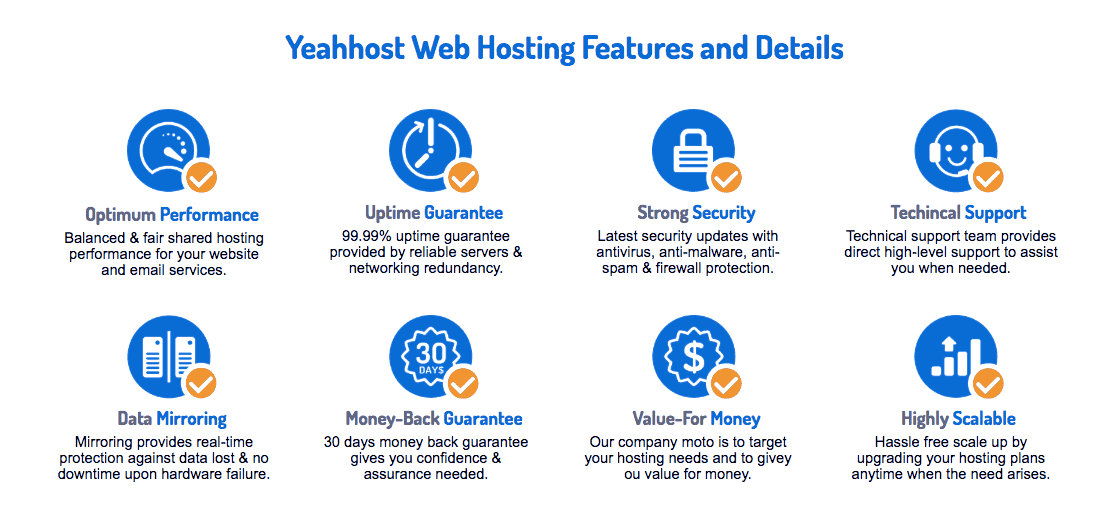 Yeahhost offers a comprehensive selection of hosting services, from shared hosting to dedicated servers and cloud servers. To give you an idea of the company's services, here are the core features of the shared hosting plans:
99.99% uptime guarantee
Automatic scheduled backups
Domain registration available at added cost
Unlimited addon domains
Unlimited Free SSL (HTTPS)
20GB, 100GB, or 500GB disk space
100GB, 200GB, or 500GB monthly data transfer
This provider has servers located in two Malaysian data centers; in Cyberjaya (the "Silicon Valley of Malaysia") and in Penang Cybercity. For international customers, they also have servers located in Canadian, European, American, and Singapore data centers.
Yeahhost uses robust Intel Xeon processors, and their infrastructure has redundancy features and load-balanced servers to mitigate the risks of traffic spikes. They also use data mirroring to ensure that data can be recovered in the event of a disaster, and their servers are monitored 24/7/365.
The infrastructure includes "high-speed disk space" that is supposedly faster than SSD, but I can't find any evidence to back up this claim. A 99.99% uptime guarantee is openly advertised on the Yeahhost website, but I couldn't find any corresponding terms and conditions for this, either. Whilst frustrating, it's not that unusual, and if I'm starting to sound a little negative, you can rest assured that overall I'm impressed with the level of resources and extra features in all plans.
All of the plans come with many unlimited features including domains, subdomains, SSL certificates, and email accounts (except the base plan). This company also steers clear of the potentially misleading "unlimited" bandwidth claims made by other companies. Instead, they include comprehensive resource quotas in their plans.
The plans come with some value-adds for beginners. The Linux plans, in particular, come with the Softaculous one-click installer for more than 400 programs, and some of the higher priced plans come with a website building tool. If you need support for PHP, phpMyAdmin, or FTP access, you'll need to upgrade to one of the enterprise plans.
Pricing and Support

Yeahhost's prices are in line with local and international competitors, if not a little lower. SSL certificates are always free, but domain registration costs extra. You can purchase plans on three, six, twelve, twenty-four, and thirty-six-month terms, and the price is heavily discounted if you purchase a longer term up front. A 30-day money-back guarantee is also offered on all plans. Nice payment terms all round, I think.
You can contact this company's 24/7 technical support team by telephone or by submitting a ticket to the relevant department. When I submitted a ticket, the support team responded politely and resolved my issue within one day. Yeahhost also provides an extensive knowledge base on their website for those of you who prefer to support yourselves.