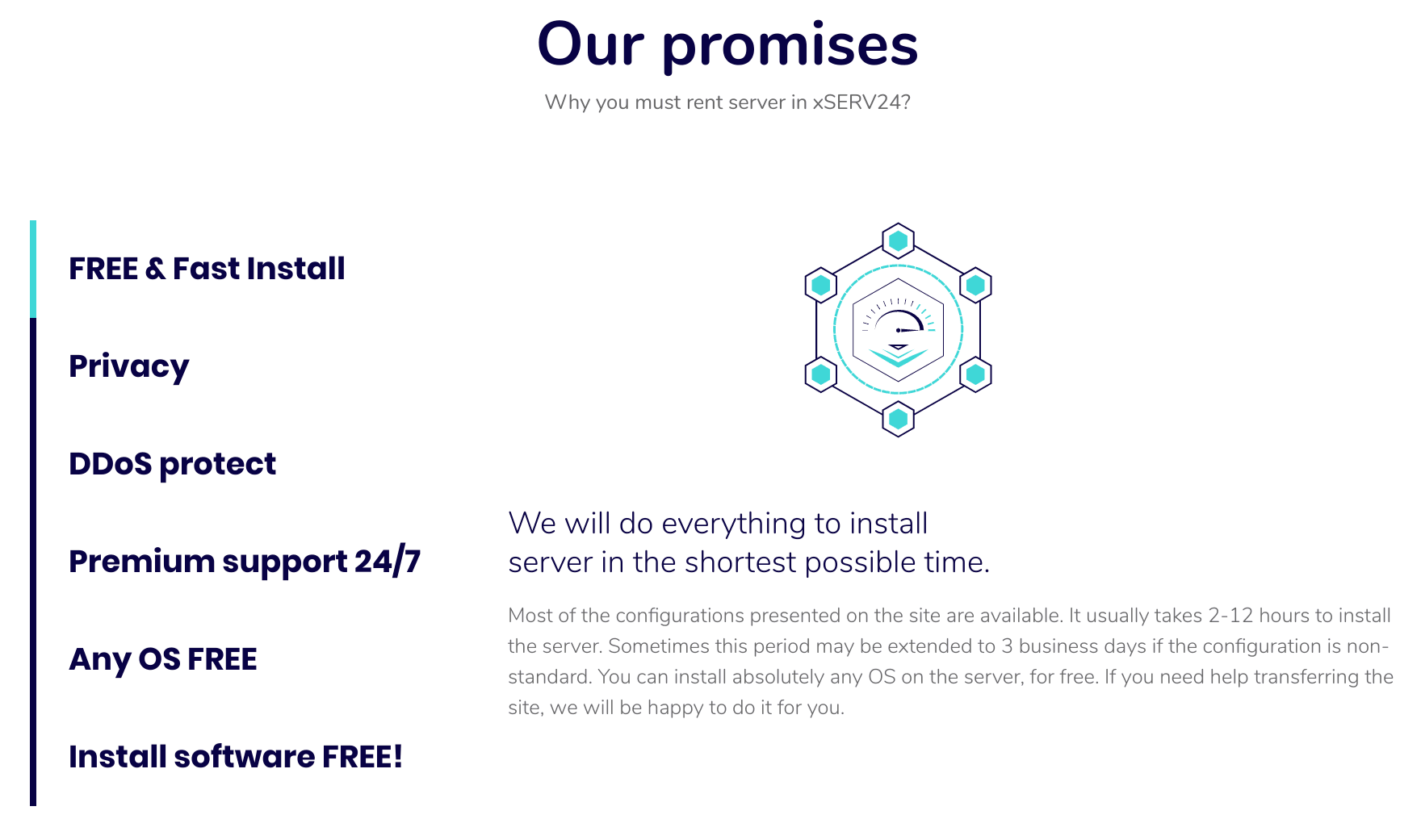 xServ24 only provides dedicated rental servers, which may be suitable if you're running an enterprise with multiple web projects and hundreds of users. Its servers sit in Germany, the U.S.A, the U.K., Russia, and the Netherlands.
This Belize-based company has been in the hosting industry for more than five years. Its polished, professional website is available in Russian and English, and it displays prices in U.S. dollars.
Features and Ease of Use
xServ24 doesn't sell shared or VPS hosting, but it does offer six dedicated server plans situated in Germany, Great Britain, and America, plus five dedicated server plans in the Netherlands. 
Some key features you can expect to find are:
99.97% uptime guarantee

Unlimited traffic

DDoS protection

Free software installation

Free OS installation

Free KVM/IPMI
The smallest plan is available on U.S. and Europe servers. It provides 120 GB SSD disk space, 8 GB RAM, and unlimited traffic on a 1 Gbps port. At the other end of the spectrum, the largest plan is available in the Netherlands. It gives you 1 TB  SSD disk space, 64 GB RAM, and unlimited traffic on a 100 Gbps port.
xServ24 could be suitable for businesses of different sizes. Most servers have SSD storage that is far faster and more reliable than traditional HDD storage, and the DDoS protection helps guard against distributed denial of service attacks.
The free Intelligent Platform Management Interface (IPMI) is another nice touch that allows you to monitor and manage your server remotely from anywhere in the world.
You can manage your website with the cPanel control panel, which xServ24 will help you install, along with a website builder and the Softaculous installer for popular programs such as WordPress, Joomla, Drupal, and phpBB.
Pricing and Support
xServ24 provides a range of cost-effective dedicated servers, surpassing the affordability of numerous global competitors. Among these offerings, the servers located in the Netherlands stand out as the most budget-friendly option. Our accepted payment methods include credit card, Qiwi, WebMoney, Bitcoin, and Ethereum. You have the flexibility to choose from monthly, quarterly, semi-annual, or annual billing cycles according to your convenience. Subscribing for six months grants you an additional month of service at no cost. Moreover, we extend a 30-day money-back guarantee, enabling you to opt out during the initial month if you encounter any unforeseen issues.
For self-support resources, I was disappointed to find only a small set of frequently asked questions and a knowledge base that's bare. For one-to-one support, I was pleased to see several support channels such as tickets, email, and live chat. I'm even more pleased to report that I got quick answers to my pre-sales questions via the live chat channel: