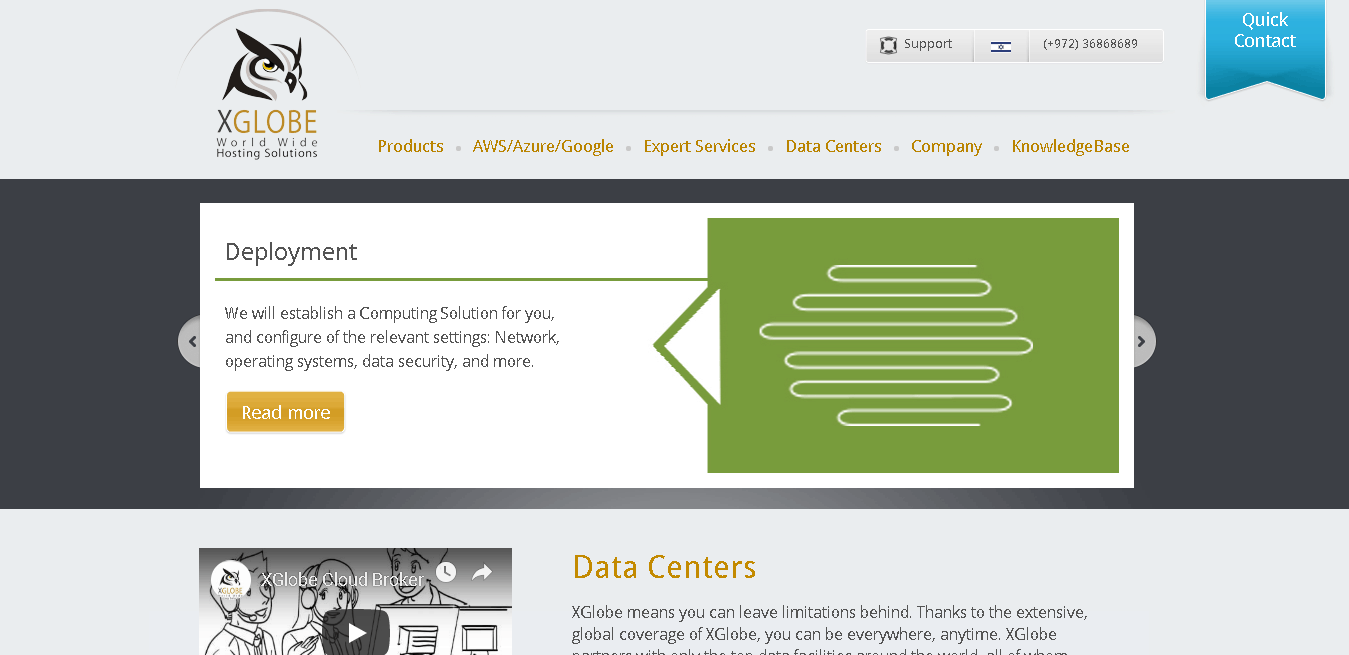 Leading Israeli hosting company XGlobe is ranked among the top 20 largest web hosting companies in Israel, with a market share of 0.07%. Established in 2009, this vendor specializes in the provision of dedicated hosting, cloud computing, and fully managed services to global businesses.
XGlobe's website is available in English and Hebrew.
Features and Ease of Use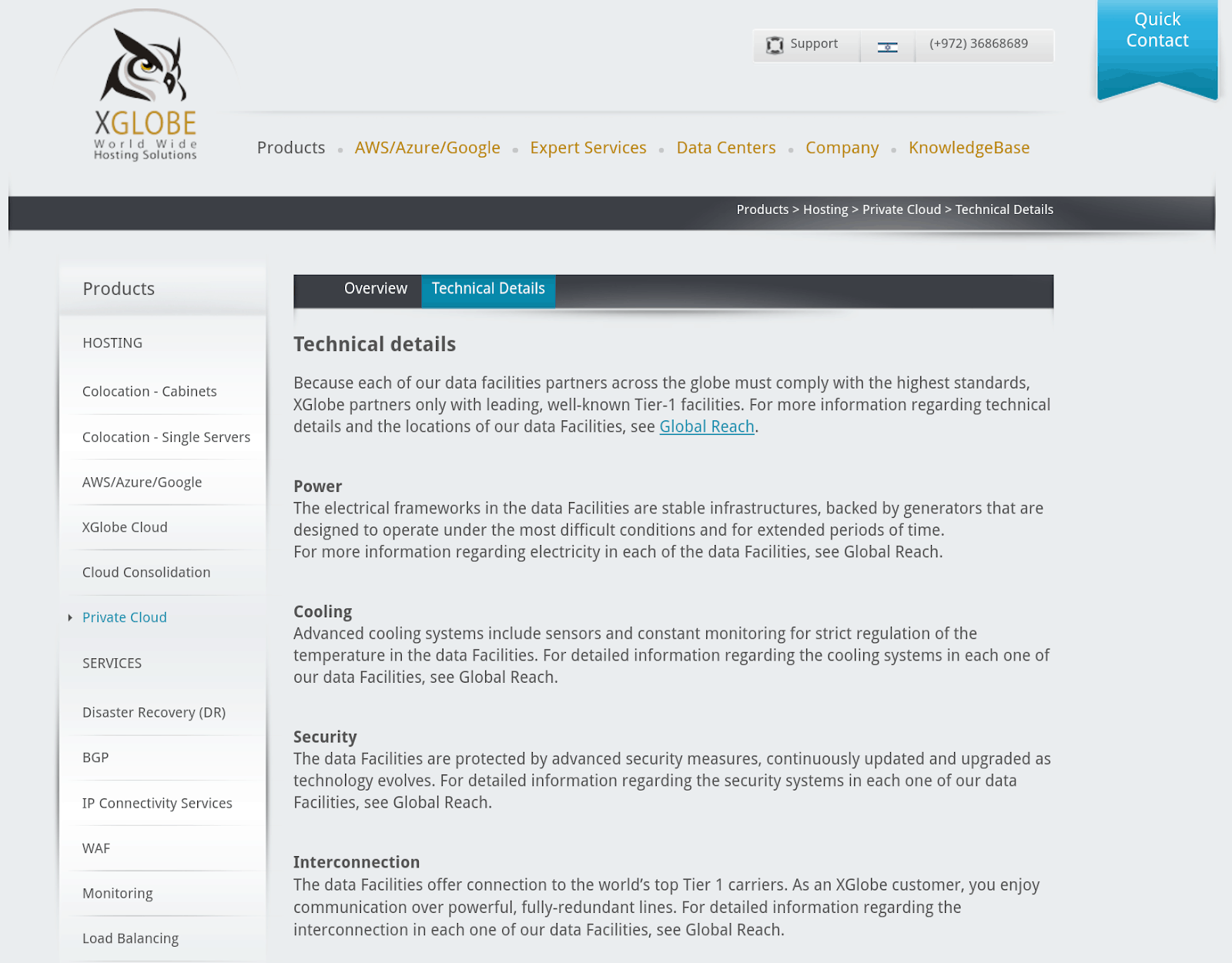 XGlobe's array of internet services include:
Cloud hosting solutions
Disaster recovery (DR) solutions
Colocation services
Load-balancing
IP connectivity services
Web application firewall (WAF)
Cloud consolidation
XGlobe has built state-of-the-art data centers in multiple countries across several continents including North America, Europe, and Asia. It leverages its redundant infrastructure by partnering with top hardware manufacturers such as Cisco, Fortinet, HP, Dell, IBM, and EMC2.
This company's colocation solution includes hardware shipping, customs clearance, and hardware installation. With this service, customers get housed in a dedicated cabinet (full rack) or a dedicated half-cabinet (half rack) at a reliable data facility.
XGlobe also offers a wide range of managed services and customizable cloud hosting solutions (for public cloud, private cloud, or hybrid cloud) that you can customize to meet your needs. The cloud solutions run on both Windows and Linux operating systems, and you can choose your preferred hosting resources including RAM (1 GB to 32 GB), CPUs (1 to 16), and either SAS or SATA disk storage (20 GB to 500 GB).
We perform automatic backup services on remotely independent servers. We keep backup copies for a period of 7 days to one month, ensuring efficient restoration in case of data loss.
Pricing and Support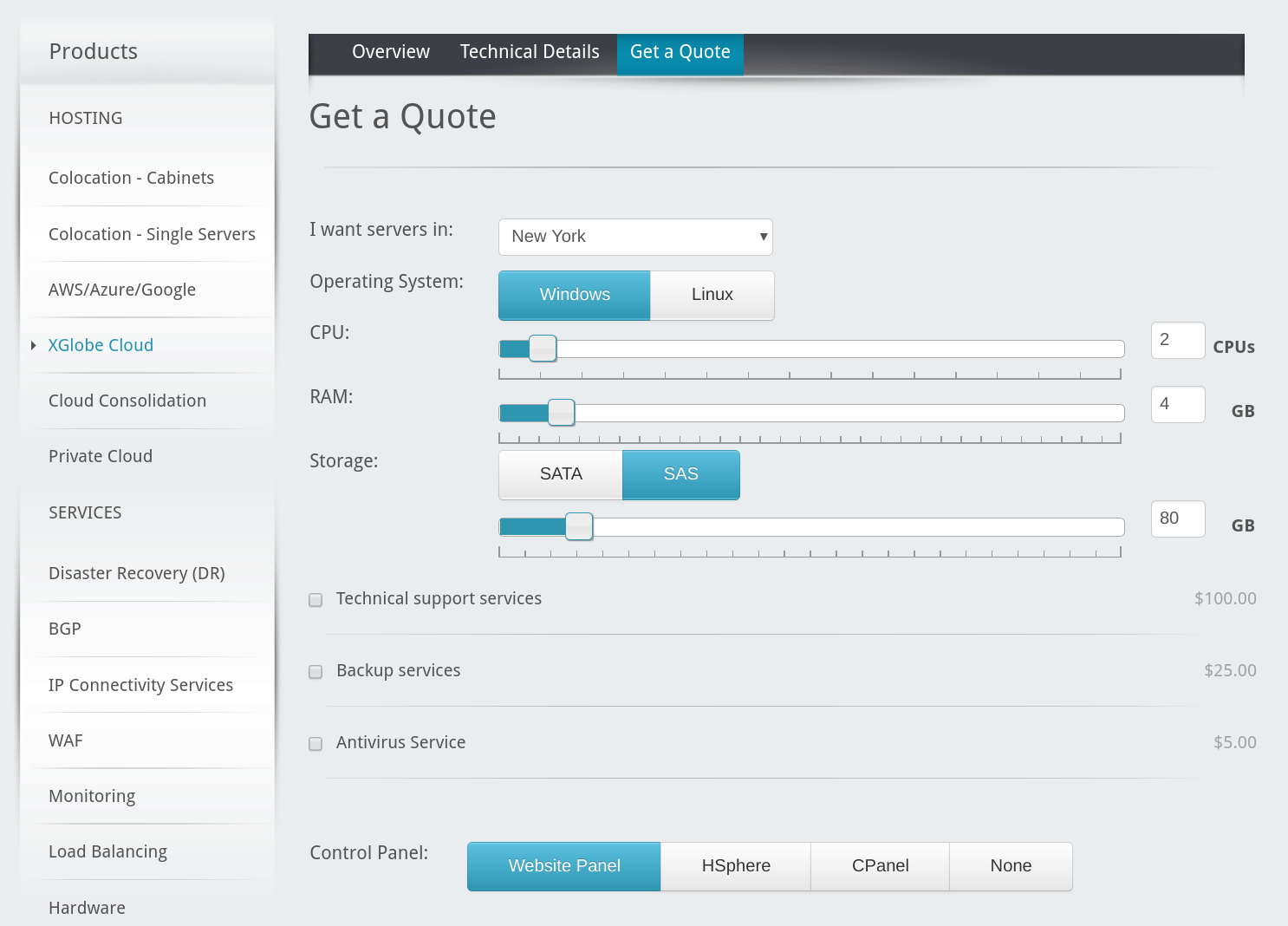 XGlobe's cloud packages are competitively priced, and you can be quoted for your specific choices of server location, operating system, CPU, RAM, storage, additional services, and control panel.
There is no money-back guarantee, but you get a 99.9% uptime guarantee backed by a compensation plan.
For self-support, XGlobe provides a comprehensive but poorly presented knowledge base. Alternatively, you can contact the company by telephone, contact form, or email. Unfortunately, I never received a response to my exploratory email.