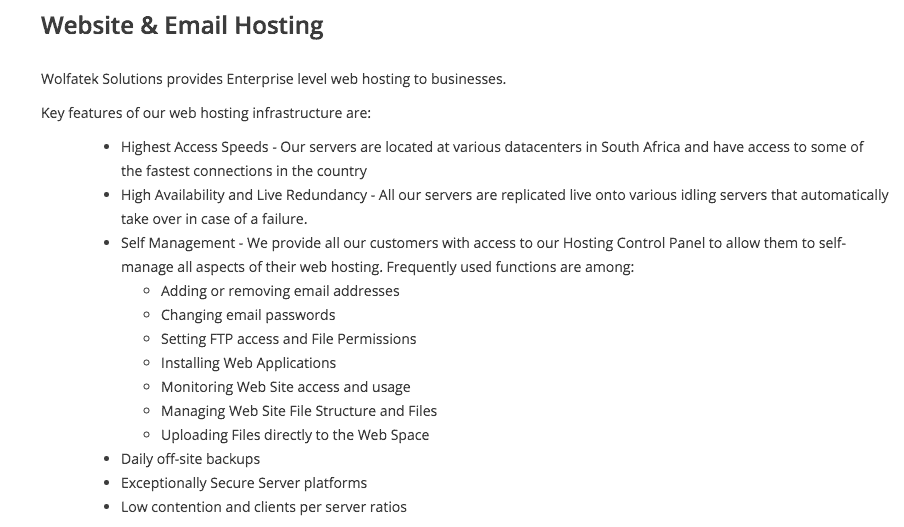 Wolfatek is a Durban-based company which was founded in 2003. As well as hosting, it does
computer repairs and I.T. services in its local areas;
Durban, Umhlanga, Ballito, and Durban North. The company's website is available in English.
Features and Ease of Use
Wolfatek offers a range of I.T. services, as well as hosting packages. The shared hosting plans come as standard with these core features:
High availability and live redundancy
Daily off-site backups
Control panel access for self-management
Low clients per server ratios
Multiple South African based data centers
Wolfatek provides hosting services which are primarily targeted at businesses. Unfortunately, some of the statements of the website are quite vague and I wasn't able to get any clarification from customer service.
Wolfatek has its servers colocated in multiple data centers in different South African locations. Apparently, it has access to "some of the fastest connections in the country" and high availability (the percentage is not specified) as all servers are duplicated into backup servers, in the event of failure.
If you purchase a shared hosting plan, you benefit from control panel access, which means you can add or remove email accounts, change email passwords, set up FTP access, install website applications, and so on. Essentially, the same features you'd expect in any self-managed shared hosting plan.
It's less clear if there's support for PHP or beginner-friendly features like a website building tool or a one-click installer. However, if you need to scale, there are VPS and dedicated server packages, as well as the shared hosting plans.
Pricing and Support
Unusually for a shared hosting company, you can't purchase the plans online. Nor are the prices advertised. As I didn't receive a reply from the company, I am unable to comment on the prices at all.
I can't provide information about the payment terms and whether you have the option to choose a month-to-month contract or a discounted longer-term plan. I also don't have details about whether an SSL certificate or domain name is included, though I would assume they are not, just to be safe.
Customer service is available by phone and email only, with the hours limited to Monday to Fridays from 8:00 a.m. to 5:00 p.m. There are no help documents on the website, so if you don't get a response from support (like me!), then you are left waiting.