Launched just over a decade ago, Wild Root (formerly known as Bizzy Mama Hosting) is a U.S.-based digital solutions company that offers web hosting, e-commerce hosting, email hosting, and WordPress hosting for small and home-based businesses worldwide. The award-winning company also specializes in other web-related solutions, including SEO, content creation, copyrighting, and website maintenance.
Wild Root Web Services has a neat and polished website in English. All prices are displayed in US dollars.
Features and Ease of Use
If you're a professional webmaster, Wild Root offers you two web hosting plans – Advanced User Level 1 and Advanced User Level 2. Although they don't come with a pre-installed software, these hosting packages come with a bunch of useful features, such as:
From 1 GB to unlimited disk space
Unlimited bandwidth
From 10 to unlimited email accounts
From 5 to unlimited MySQL databases
Cloudflare CDN (content delivery network)
cPanel
As you can see, Wild Root's advanced hosting plans provide you with the essentials you need for a functional website.
Cloudflare CDN is great for boosting your website's speed by using the Cloudflare network to distribute copies of your website's content around the world. For example, if you're hosting an account on a US server but you have UK visitors, Cloudflare CDN will speed up your site's performance as if you're in the UK. Pretty cool, right?
cPanel is another handy feature you can use to manage critical tasks (e.g., backups) with ease and efficiency. In other words, you don't have to use a command line to handle different aspects of your website.
While a lot of vendors offer free automatic backups (daily, weekly, or monthly), Wild Root sells seven CodeGuard daily site backup plans with storage space from 1 GB to 200 GB. Do I find this cost-effective? No, not really. However, if you have some room left in your budget, you can opt for a backup plan that suits your needs.
Are you a solopreneur or a small business owner who wants to build a business on WordPress? Why don't you sign up for one of Wild Root's three WordPress hosting plans? You can get unlimited disk space, bandwidth, email accounts, and MySQL databases. At checkout, you can also add on free WordPress updates and free WooCommerce installation and configuration.
Pricing and Support
Considering its basic standard features, the prices offered by Wild Root aren't as budget-friendly as its international competitors. Even though all displayed prices are based on monthly cost, you can choose to be billed monthly, quarterly, semi-annually, or every one, two, or three years.
When you purchase an Advanced or WordPress hosting package, you can choose to get free SiteLock Lite and a free temporary URL. It's also worth mentioning that you can contact the customer support team to get a custom plan.
There's a decent knowledge base on the website that contains a few articles on major topics.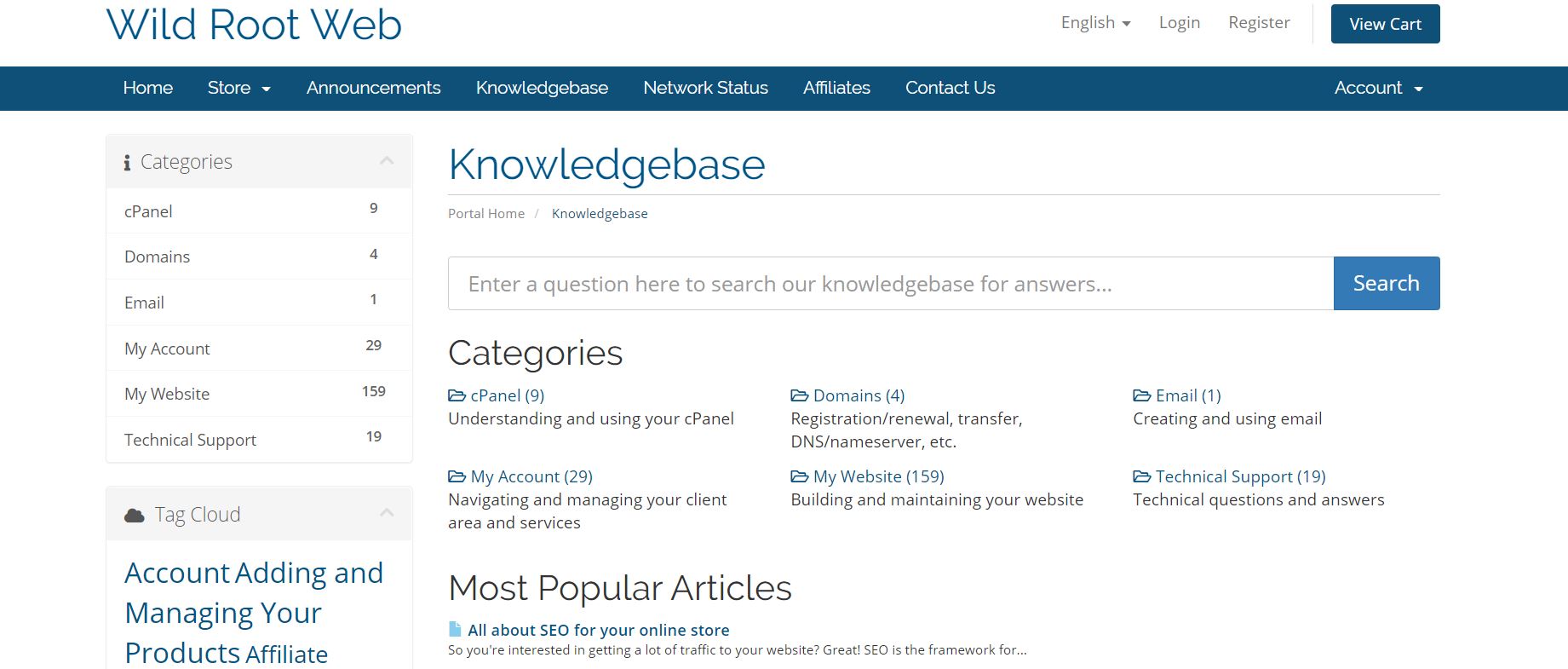 Other support options include a support ticket, email, and quick links to the company's LinkedIn page as well as its Facebook page and group. Unfortunately, there isn't a live chat, which would've been helpful since the support ticket team is unresponsive. I sent a ticket with a few generic questions several days ago and still no answer.
Wild Root WordPress Hosting