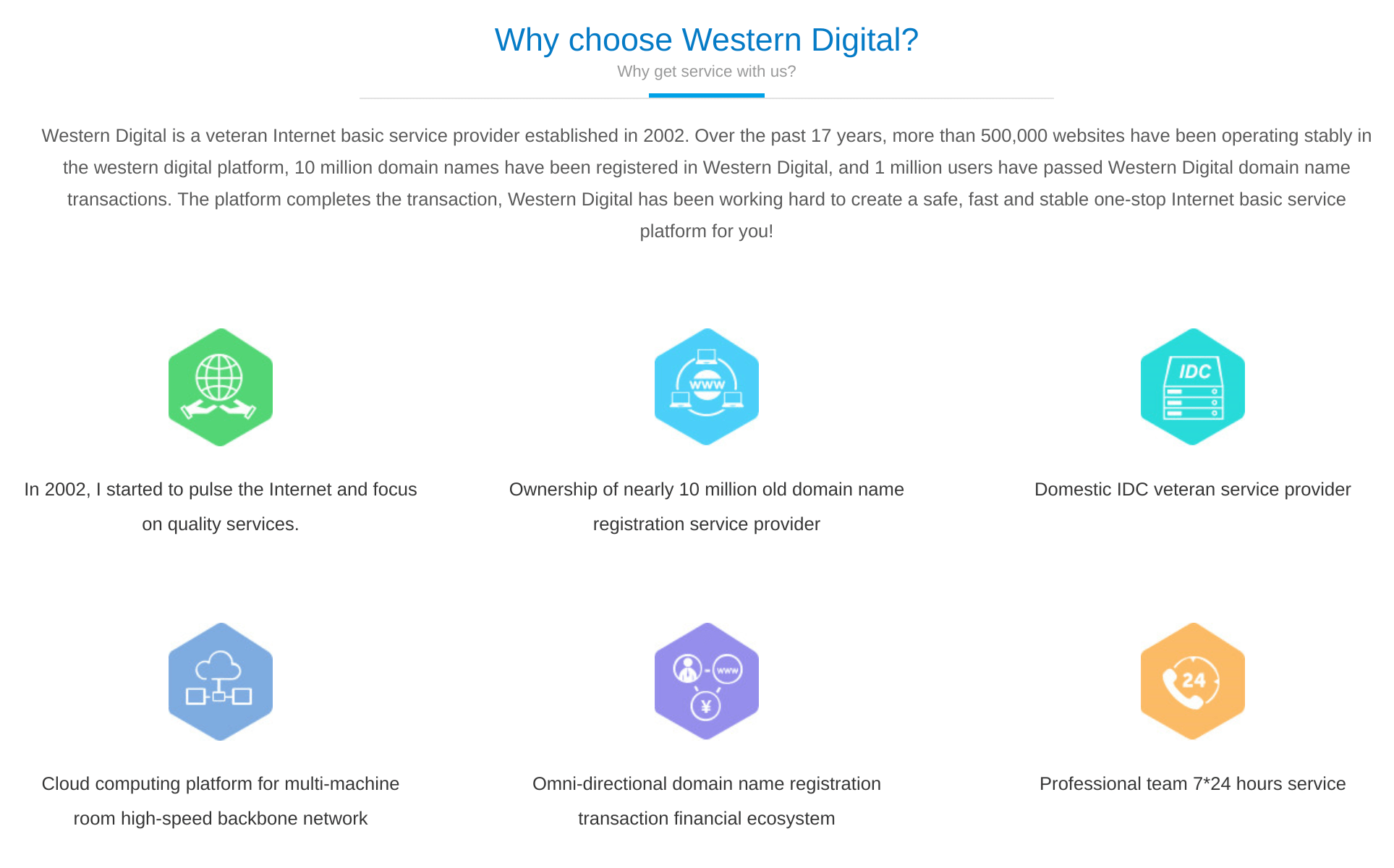 Chinese web host West.cn worries me, not least because it also goes under the name "Western Digital," like the U.S. hard disk manufacturer. Nevertheless, this company claims to be one of China's largest and most well-known domain registrars, with more than 10 million domains registered and 500,000+ websites hosted.
This company, which is actually called the Chengdu Xiwei Digital Technology Co., was established in 2002. It has servers located in China, Hong Kong, Taiwan, and the U.S.
The West.cn website is in Chinese, but with a single click, you can switch to the English-language West.xyz website that seems only to sell domains (not hosting).
Features and Ease of Use
Although it's not so easy for a native English reviewer to navigate West's website, I can tell you that this company provides the following hosting options at the highest level:
Basic virtual hosting provides a small database that is suitable for students, beginners, small websites, or companies to publish basic brand information.
Linux virtual hosting utilizes the Linux/Apache/MySQL/PHP (LAMP) framework.
Super G virtual hosting is high-quality Linux hosting with high resources.
NET virtual hosting provides an environment based on Microsoft's ASP.NET programming framework.
Java hosting provides exclusive Java Virtual Machne (JVM) and Tomcat services.
Location-specific hosting is also provided in the form of Hong Kong hosting and American hosting.
Linux hosting plans include:
7-day free trial
24/7 customer support
Custom control panel
Antivirus protection
SEO optimization support
Data backup and recovery
Website migration
West.cn offers advanced DDoS protection as a monthly service for an extra fee. This is offered at Lightweight and Luxury protection levels. The Lightweight plan can be bought on a one-, two-, or three-year basis and it protects customers from domestic and foreign DDoS attacks. The Luxury plan can be bought on a one-, three-, six-, or twelve-month basis and it provides 30 GB to 500 GB of coverage for domestic or foreign attacks.
Customers can purchase an SSL certificate from some of the top certificate authorities such as GeoTrust, Symantec, and TrustAsia.
Pricing and Support
West's hosting prices are comparable with many low-priced international providers, and may actually be 30%-50% cheaper than some major providers' entry-level plans.
The entry-level Linux A hosting plan is priced at approximately the cost of a coffee or cappuccino per month. At this price, customers receive sufficient data and features to support a simple website. The Linux B and Linux C plans offer a considerable increase in data, while still maintaining a price below the cost of a typical fast food meal per month.
Although 24/7 customer support is advertised as being available via telephone, email, and online contact form, my request for additional information received no response.
For self-support, the help center might help you, particularly if you understand Chinese.