If you are in a hurry, and just want the bottom line: for the same price as Webzilla you can get much better servers with 24/7 support with Hostinger, so why even bother?!
Webzilla has been in business since 2005 and is based both in Europe and the U.S.A. Since their launch, they have been striving to provide their customers with a reliable, affordable, and scalable hosting infrastructure.
Features and Ease of Use
In order to provide customers service on the global level, Webzilla has set up data centers on three different continents. These include ones in India and Singapore, North America, and Europe.
Thanks to their managed servers, you can now let Webzilla manage the installation and setup from the hardware to the software. This enables you to focus on your applications, hence ensuring it's your business that gets all your attention and not the servers your business runs on. They even offer migration services as well as troubleshooting, upgrades, firewall, and backups open request.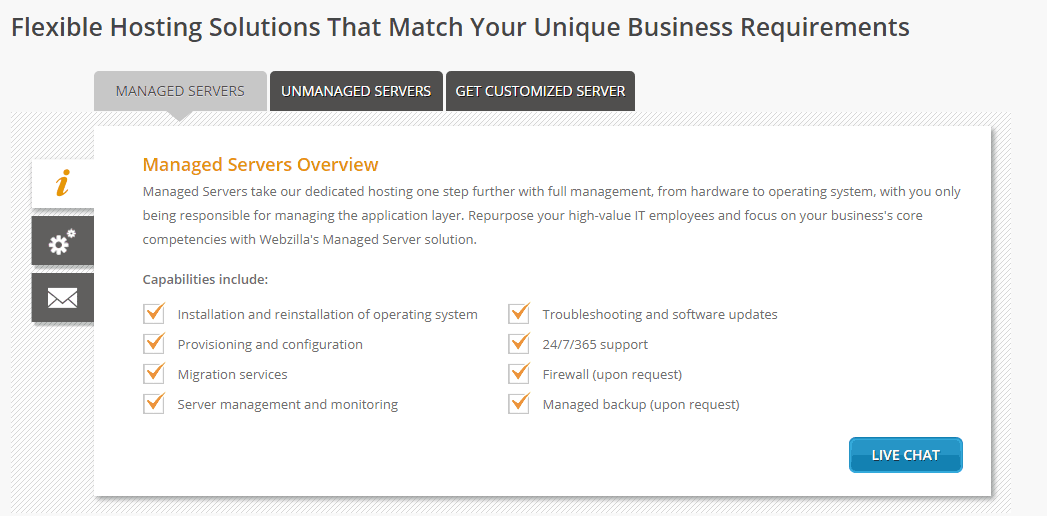 Webzilla also focuses on the security of your servers by ensuring maximum uptime, redundancy, and firewall protection. The scalability ensures that the servers can adapt to the growing demands of your business. All the data centers are equipped with 24/7 security and monitoring.
Pricing and Support
While Webzilla doesn't list any packages on its site explicitly, they do categorize them between managed and unmanaged servers. You can get in touch with them to get the servers with your desired specifications. You can expect up to 1TB RAM, single or multi-core processors, SAS/SATA/SSD hard drives, and multiple server models. Both metered and unmetered traffic options can be chosen.
Webzilla has different support offices in Europe and America. They offer sales support during working hours while technical support is provided around the clock. They also have a live chat service but it is reserved for urgent issues only. All technical issues are solved over the ticket support system due to the safety of personal information. Even though they said on the website the chat was only for urgent issues, they still happily helped me with my non-urgent query.
Summary
Webzilla's strong technical staff is their strength and ensures customers get reliable and quality service at all times. The best way to get started with them is to contact them with the specifications you want to have on your servers.
Still not sure if this is the right web host for you? Check out our top recommended web hosts to learn more.
Pros:
Managed and unmanaged servers
Customizable server specifications
Support for data rich and bandwidth-intensive applications
Cons:
Prices not mentioned on the website