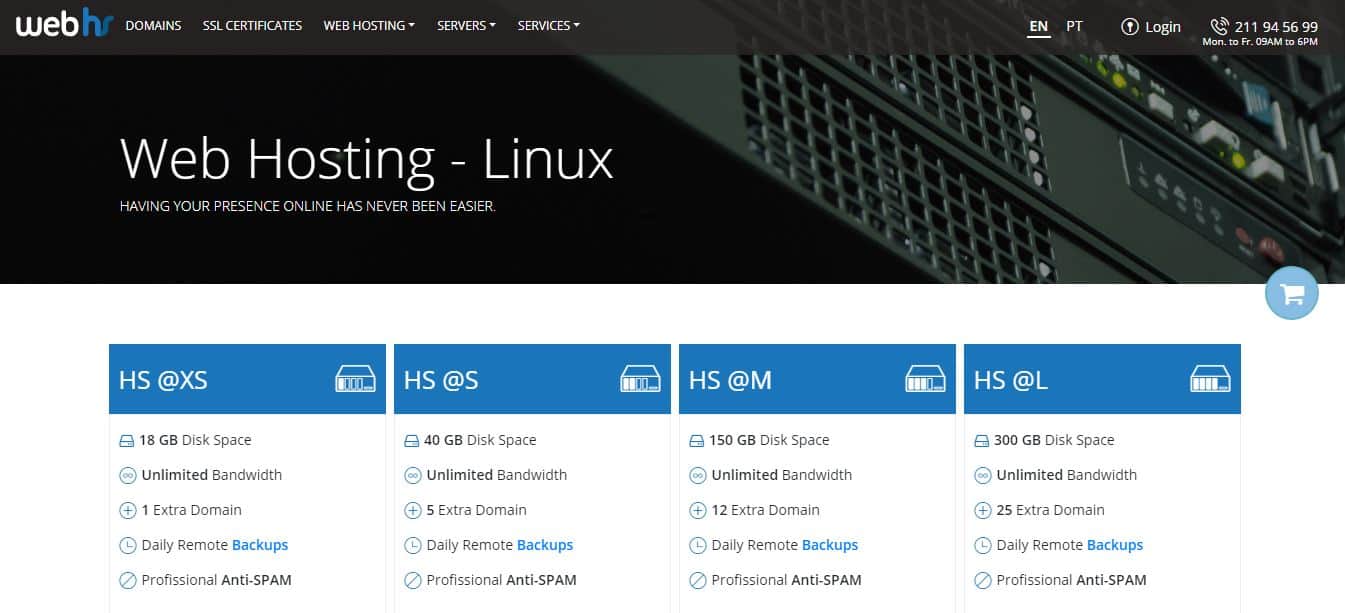 WebHS is a hosting solution provider based in Portugal. Founded in 2002 by the company WebSP Ltd, this shared and cloud hosting vendor has grown steadily to provide its web hosting solutions to businesses of all sizes. Today, HostAdvice.com ranks WebHS
among the top ten largest hosting companies
in Portugal by market share. The WebHS website is available in Portuguese and English.
Features and Ease of Use
WebHS offers several hosting solutions including shared hosting, reseller hosting, cloud hosting, and dedicated servers. The vendor provides registration services for various top-level domains (TLD) and country code top-level domains (ccTLD).
Some of the features found in their hosting solutions are:
SSL certificates
Softaculous
Advanced redundant power systems and air conditioning
Daily backup
Firewall and anti-spam system
Proactive 24/7/365 monitoring
Energy efficient data centers
Unlimited email accounts
The WebHS data centers located in Portugal are powered by independent power supply lines and independent generators (plus uninterruptible power supplies) to ensure full system redundancy. In addition to double glazed security doors and on-site security, WebHS data centers are monitored by CCTV cameras that record all operations 24/7/365.
The company uses a 5 TB / month connection allocating up to 1 Gbps bandwidth to each of its servers. However, their SSD disk storage allocations are pretty basic for all their hosting packages. Depending on the capabilities of the specific servers, WebHS uses both 128-bit and 256-bit encryption for enhanced data protection.
WebHS performs daily backups in case of a disaster but they only keep these backups for five days before deleting the backed-up data.
Pricing and Support
WebHS hosting offers standard prices that align with those of other hosting companies in the market. They have different payment terms including monthly, quarterly, semi-annual, annual and biennial plans.
Though they say they are working continuously to improve their uptime guarantee to 99.9999%, currently their uptime stands at 99.95% per month, which means that their services would be inaccessible for only 22 minutes in any 30 day period. I could find no information about any money-back guarantee policy.
WebHS customers can reach out to its support team via telephone, email, ticketing system, or live chat. The technical support team is available 24/7 and has an excellent response time. All my questions to them were answered in less than an hour. I also liked the fact that this team seems to be incredibly polite and treats their customers with utmost respect. That said, this vendor's limited knowledgebase does not include video tutorials or an FAQ section.