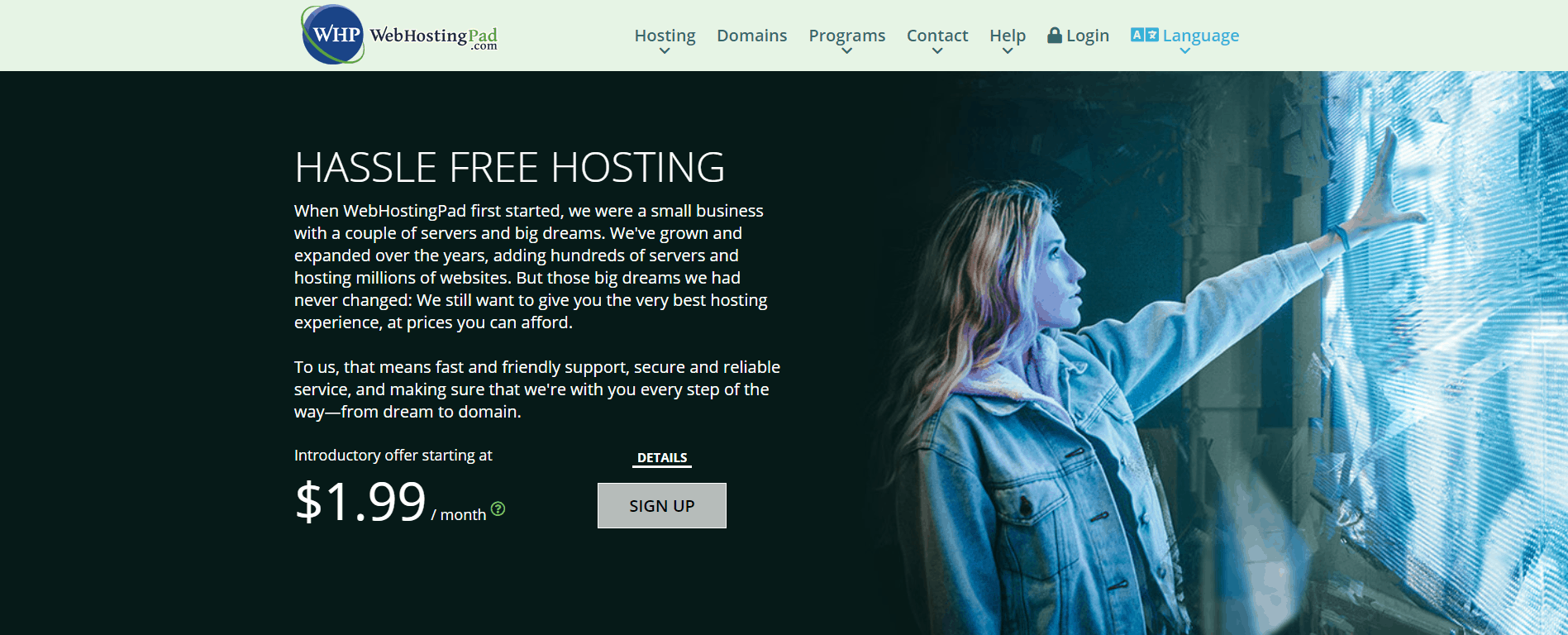 WebHostingPad has been in business since 2005 and since its inception has worked on the principle of putting the clients' needs first. Their aim is to offer the best hosting service with an efficient support staff helping you along the way.
Features and Ease of Use
What makes WebHostingPad user-friendly is its Weebly website builder. You can use the free website builder to create professional websites without the need of any programming knowledge. This not only saves you the website developer expenses but also lets you design the website exactly the way you want it without getting into cumbersome details.
Installing applications like WordPress, osCommerce, ZenCart is as easy as clicking 'next' in the installation wizard. These applications are easily manageable without detailed programming requirements so you can publish a blog or create an online shop with no programming knowledge whatsoever.
The feature that attracts most people to WebHostingPad is that it doesn't put restrictions on the available features. You get unlimited storage, databases, email accounts, domains, and bandwidth which, for this price, is not offered by many hosting services providers.
To encrypt the data transferred through the website and to authenticate the site, you can use SSL certificates offered by WebHostingPad. You have to pay a yearly fee for them or opt for the Power Plan Plus where its included in the package.
Other features of interest include:
SSD Database Storage (Power Plan Plus only)
Malware Scanner
Support for a number of scripting and programming languages
SSH Access
Pricing and Support
WebHostingPad offers only two hosting packages: Power Plan and Power Plan Plus. Both the packages are as cheap in comparison to other providers. They both contain unlimited disk space, bandwidth, domains, subdomains, databases, and email accounts. The Power Plan Plus features the SSL certificates whereas, in the Power Plan, you have to pay for them. Similarly, advanced web statistics are only available in the Plus plan. You can pay in a one-year to five-year payment cycle. The longer time period you pay in advance, the more you save on your hosting. They also have a 30-day money back guarantee.

You can access both the knowledge base and the 'Submit a Ticket' sections through the support center. Both of them work effectively to solve your problems. If you need quicker solutions, you can always utilize the live chat, although it isn't available 24/7. Additionally, you have the option to contact them via telephone or email.