To compare the best web hosts, we hosted the same WordPress website on each one and tested performance, customer service, and value for money.
Check out the results here.
WebHost is a cloud-based hosting provider as well as an AKEP-accredited domain registrar. They started out in 2013 in Albania and have now grown to include customers from over 79 different countries. One of their chief goals is to provide user-friendly and modern hosting solutions at affordable rates. They offer all their services in both English and Albanian.
Features and Ease of Use
WebHost really does provide the complete web hosting experience as they provide all the essentials themselves:
Domain registration (free .al domain with most plans)
Free SSL certificates
Email hosting and management
MySQL databases and support for multiple scripting languages
cPanel console with license
They also provide a number of highly attractive features that make the hosting process that much more comfortable:
Website builder: WebHost's Premium SiteBuilder is one of the best from a hosting company with 190 free templates included.
CMS Optimized Hosting: All WebHost products are optimized for, and compatible with, a number of the most popular website builders including Joomla!, WordPress, Drupal, and many more.
Included Apps: WebHost's solutions also come with a number of pre-installed apps to make your life easier, such as osCommerce, Advanced Poll, 4images Gallery, osTicket, and more.
Automatic daily backups: WebHost has partnered with R1Soft to provide daily backups for their customers, ensuring that you're fully covered in the event of any mishaps.
99.9% uptime guarantee: This is the industry-standard uptime rating and is applicable to all of their shared and reseller hosting services.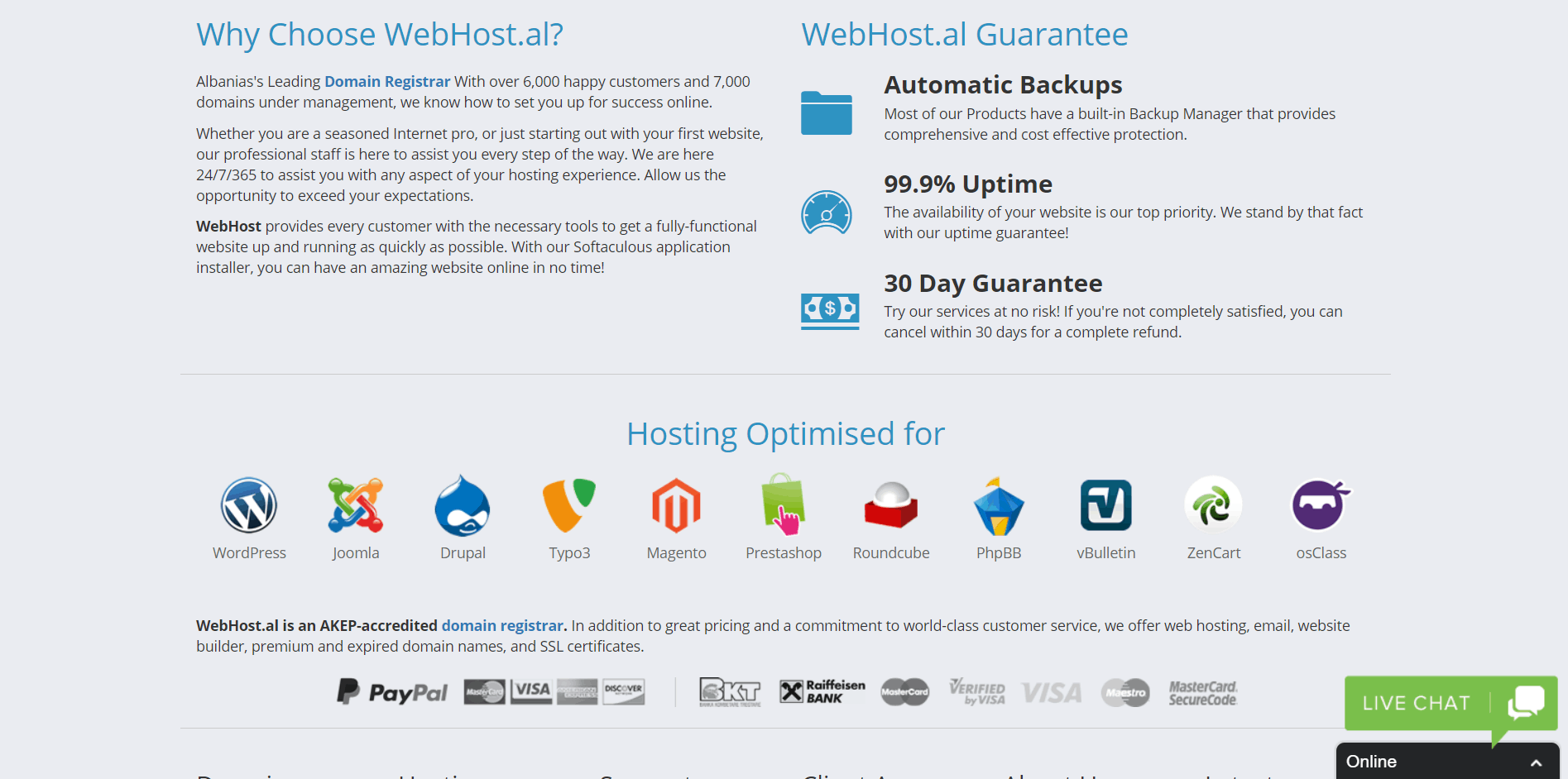 As you can see, WebHost is all about providing you with all the tools out-of-the-box to make your hosting experience as straightforward and as familiar as possible. All of the most important software and apps are pre-installed — and if they aren't, you can easily do it yourself from cPanel. You can also make use of your favorite CMS, or take advantage of their very simple and intuitive website builder. Similarly, their website is very modern and easy to navigate.
Pricing and Support
Pricing plans on WebHost are very straightforward with only a few public cloud hosting plans and reseller plans. All plans come with email management, databases, a cPanel license, and 24/7 support. Each plan is backed by a 30-day money back guarantee. They also accept a reasonable variety of payment methods from bank cards to PayPal and Discover.
Cloud Hosting: Choose contracts from one to three years. All plans except for the Host Micro plan comes with their SiteBuilder, daily backups, a free .al domain, and a free SSL certificate:

Host Micro: A very basic plan with 100MB of disk space, non-dedicated memory and CPU, 1GB bandwidth, one email account, and one MySQL database.
Cloud 3000: Host up to three domains with 10GB of disk space, 2GB RAM, two CPU cores, 100GB bandwidth, and 300 email accounts.
Cloud Pro: Host up to 15 domains with 100GB of disk space, 4GB RAM, four CPU cores, 300GB bandwidth, and unlimited email accounts.
Cloud Biz: Unlimited domains with unlimited disk space, 6GB RAM, six CPU cores, unlimited bandwidth, and unlimited email accounts.

Reseller Hosting: Choose from contracts with a monthly, half-yearly, or yearly length. All plans come with automated backups and unlimited databases:

Base: 20 cPanels, 20GB disk space, and 200GB bandwidth.
Starter: Unlimited cPanels, 50GB disk space, and 500GB bandwidth.
Optimal: Unlimited cPanels, 100GB disk space, and 1TB bandwidth.
Pro: Unlimited cPanels, 200GB disk space, and 2TB bandwidth.
Although you are locked into longer contracts, it's worth remembering that their prices are very low if calculated monthly compared to the market rates.
WebHost offers 24/7 email/ticket, phone, and live chat support with all of their packages. They offer support in both English and their native Albanian. In general, their support staff is excellent, with quick response times, a friendly and helpful attitude, and they instill a sense of confidence in their knowledge and abilities. Other reviews also confirm that most customers have had similar positive experiences.