WebFocus Solutions, Inc. (WebFocus) is a Filipino business selling hosting as well as a range of other internet services.
It has been in business since 2001, with more than 1,200 customers from around the world
and an active Facebook page with approximately 10,000 followers. The website and support are provided in English.
Features and Ease of Use
While this company sells much more than hosting, to give you an idea, here are the core features of the shared hosting plans:
99.5% uptime (not guaranteed)
Domain registration available
One domain per package
SSL certificates available
Up to 9GB disk storage
Up to 135GB monthly bandwidth
There are three shared hosting plans: Standard, Deluxe, and Corporate. Unfortunately, although the resource allocations are high enough (up to 9GB disk space and 135GB bandwidth), but with only one domain allowed, there's nothing "deluxe" or "corporate" about the plans. Furthermore, this company commits to a 99.5% uptime with no SLA, and it's also well below the industry average, of 99.9%.
As the package detail pages on the website are very empty, I tried to get some more information from support to confirm the inclusion of certain value added features (e.g., Microsoft SQL databases, remote MySQL connections, SSH access, Cron jobs, a software auto-installer, and website builder). Despite several contact attempts, I was advised "Yes we do offer those kind of services", which is a little vague, so I can't comment which items on that list are included, or not.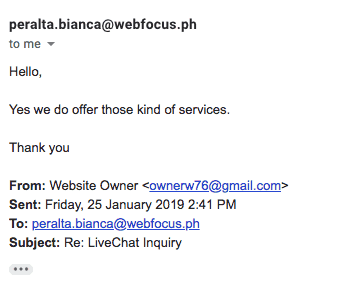 I can confirm that there's support for PHP, phpMyAdmin, and MySQL databases, as well as auto-enabled sFTP and a free Let's Encrypt SSL certificates for all hosting plans. Plus, when you're ready to scale your online business, it does sell a range of enterprise level services such as managed hosting and bare metal dedicated servers.
Pricing and Support
The prices include VAT and a free Let's Encrypt SSL certificate (domains are available for purchase), however, the packages are expensive given the level of resources and advertised features. Granted, the plans may include far more value adds than advertised on the website, which could go part of the way to justifying the high price.
Plans are available in yearly terms only and although the prices are displayed, you cannot purchase the packages online. Instead, you need to inquire via the contact page and a member of the team will contact you to begin the setup process.
On paper, customer support looks excellent. There is 24/7 technical support and you can contact the team by email to various departments or via phone, ticket, or live chat. There's also a small blog on the website, and a pretty substantial knowledge base with help documents and tutorials.
Unfortunately, my experience with customer service was not positive. I reached out to them multiple times over the span of five business days using live chat and email. Unfortunately, there were instances where I didn't receive any response, and on other occasions, I received brief replies that didn't address my question. This required me to follow up and wait again. Additionally, there were times when I was kept waiting on live chat, even though the service was online.