WEBD has been providing website hosting services since 2001, and during that time they've served over 70,000 clients worldwide. The offer both shared hosting and dedicated server products that are appropriate for a wide variety of websites.
Their shared hosting packages offer solid bandwidth and storage with some plans offering nearly unlimited features. However, there are a few additional hidden fees that will make them a bit pricier than other plans.
Features and Ease of Use
WEBD offers robust shared website hosting with ample storage and bandwidth on most plans along with the following basic features:
Fantastico application installer
Ten or more email accounts
Anti-spam protection
Password-protected directories
Website statistics (AWStats, Webalizer, and more)
Also, WEBD offers some of the following advanced features that are beneficial to power users:
Supports phpMyAdmin
Supports cron jobs
Support for PHP5/7
Supports CGI scripts
99.9% server reliability
I would've liked to see more compatibility for web programming languages such as Python, but this host should still work great for most shared hosting customers. However, be aware that there are a few things you won't get with this host unless you pay for it.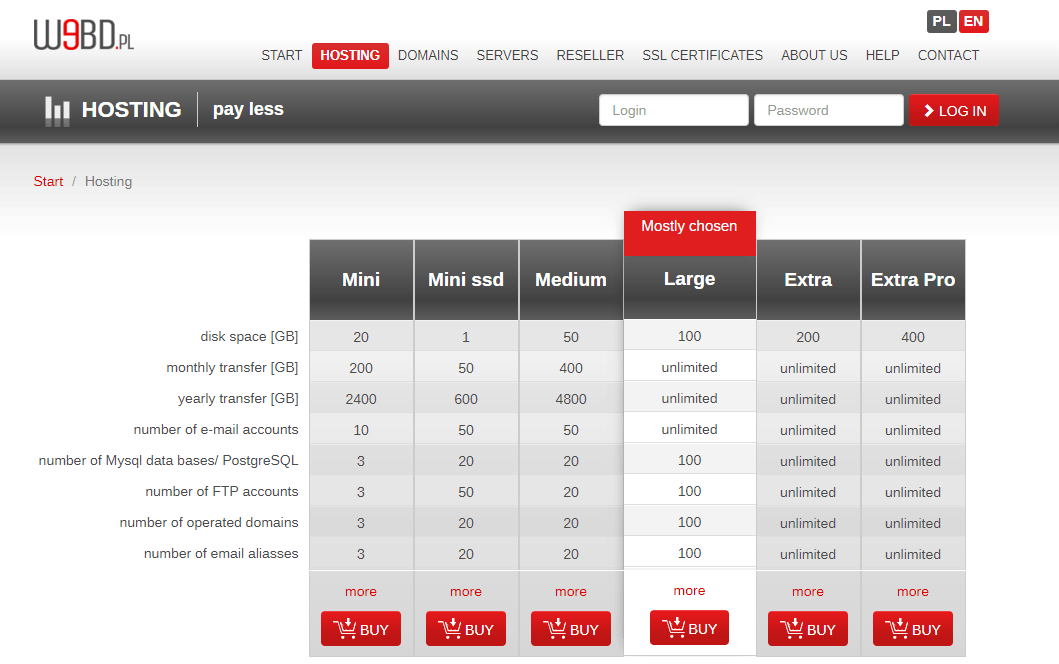 Domains are not free with this host, nor are SSL certificates. You'll pay an annual fee on every website you need a certificate for. Also, you'll pay for website migrations to this host. Other simple services such as requesting a login change will also incur a fee, even for something as simple as receiving a paper invoice.
WEBD includes in their plans a lesser-known application installer called Fantastico, but I wouldn't recommend this host for beginners as they don't offer a website builder. That said, if you're already experienced with website creation, you won't have any problems maintaining your website using cPanel and FTP.
Pricing and Support
WEBD offers six service plans with all of the features listed earlier. Below is a breakdown of the differences between each plan.
| | | | | | | |
| --- | --- | --- | --- | --- | --- | --- |
| | Mini | Mini SSD | Medium | Large | Extra | Extra Pro |
| Storage | 20GB | 1GB | 50GB | 100GB | 200GB | 400GB |
| Bandwidth | 200GB | 50GB | 400GB | Unlimited | Unlimited | Unlimited |
| Email Accounts | 10 | 50 | 50 | Unlimited | Unlimited | Unlimited |
| Databases | 3 | 20 | 20 | 100 | Unlimited | Unlimited |
| FTP Accounts | 3 | 50 | 20 | 100 | Unlimited | Unlimited |
| Add-on Domains | 2 | 19 | 19 | 99 | Unlimited | Unlimited |
Overall, I like the available storage relative to the number of domains you can host, except for their Mini SSD or Large plans. I'm also a bit disappointed that the Mini SSD only offers 1 GB of storage. You'd think they'd offer at least 10 GB.
These plans offer average value with the Extra and Extra Pro plans being a bit pricey. Unless you need more than 100GB in storage space or you think you'll need the leeway offered by their unlimited add-on domains, the Large plan is going to be your best value.
WEBD offers average support with phone, email, fax, and online web form support. Note that tech support is only available weekdays from 8 a.m. to 7 p.m. and Saturdays from 8:30 a.m. to 3 p.m. Unfortunately, they don't offer live chat. There are, however, lots of help documentation available, including video tutorials.
There's one caveat with their support. If your issue is considered non-standard tech support, you will pay an hourly fee to have your issue resolved. An example would be having them install WordPress on your server for you instead of you doing so manually.
Summary
There are some great points to using WEBD as your host, including plans offering massive storage and bandwidth. However, the additional fees for things such as SSL certificates and atypical support problems make them a bit less than ideal for some. Experienced webmasters that don't mind the extra fees for SSL certificates will be fine, but beginners will probably want to look for another host that offers better value and better overall support.
Pros:
Robust bandwidth
Lots of help documentation for DIY webmasters
Lots of storage with most plans
Supports CGI scripts and cron jobs
Cons:
Extra fees for certain services
No live chat support