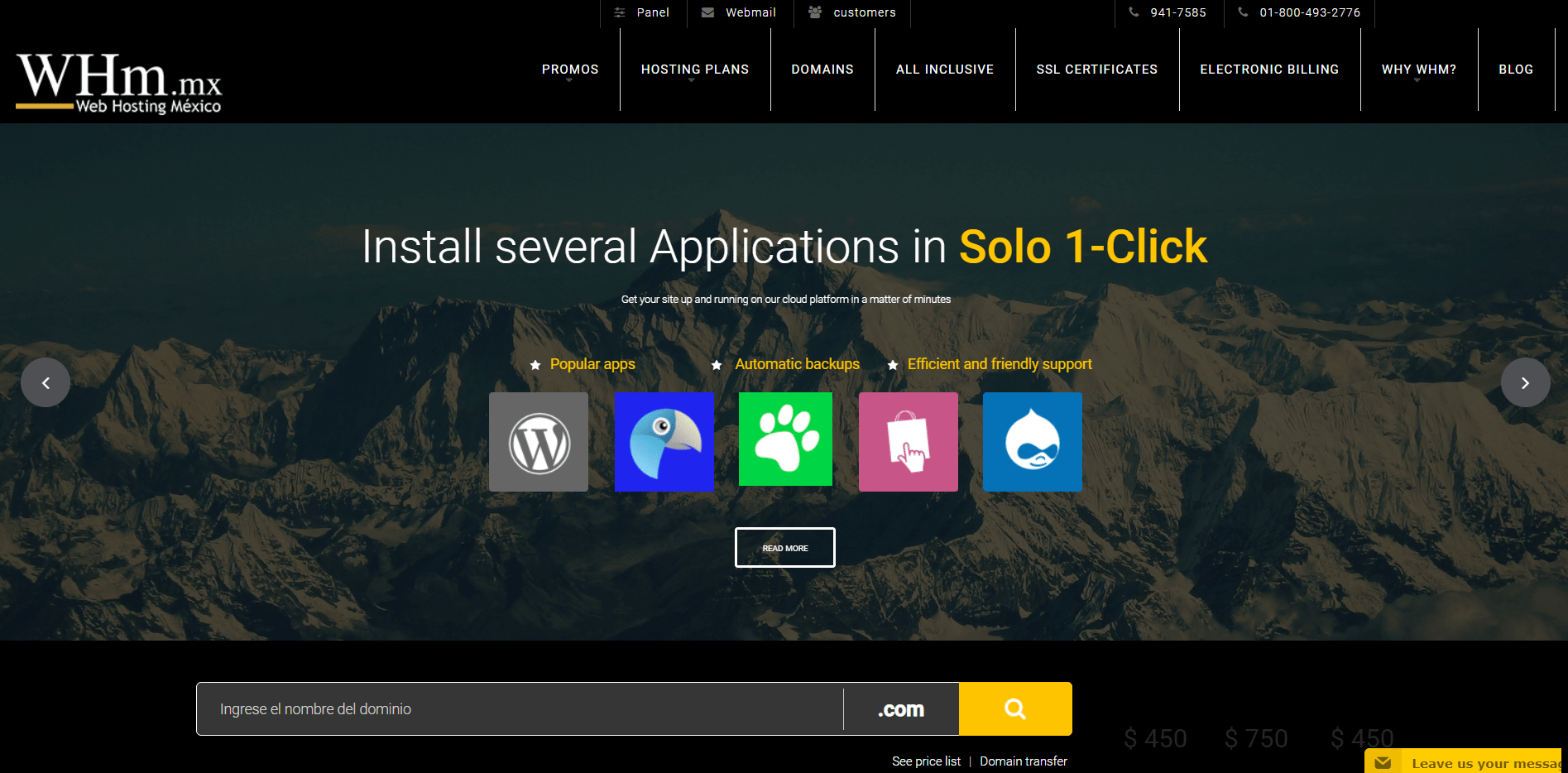 Web Hosting Mexico is a shared and cloud hosting provider that was founded in 2015. This vendor is a relatively small hosting company that aims to distinguish themselves by becoming a one-stop shop for entrepreneurs looking to expand their internet marketing efforts. The Web Hosting Mexico website is only available in Spanish.
Features and Ease of Use
Web Hosting Mexico only offers shared and cloud hosting solutions. Some of their features include:
SSD storage
Unlimited bandwidth with shared hosting plans
cPanel
One-click installer with 300+ pre-installed applications
Support for Secure Sockets Layer (SSL)
Daily data backups
Anti-spam filters
Support for PHP 4.4 – 7.1, Perl, Python, CGI, Ruby, MySQL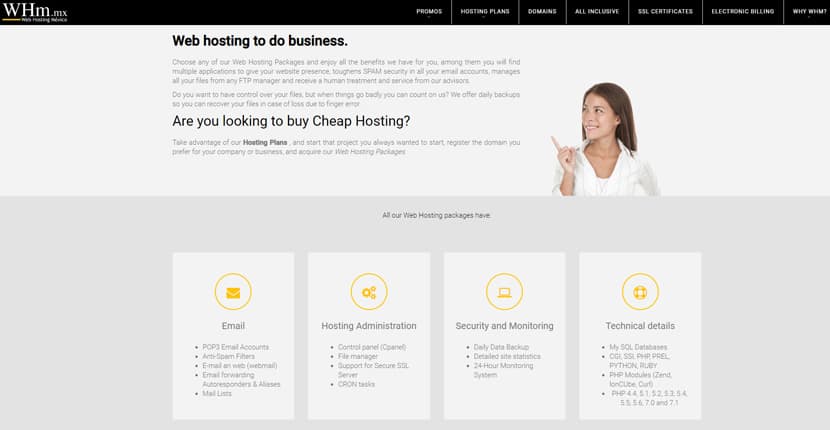 Web Hosting Mexico's hosting solutions include 256-bit SSL encryption for improved data security. What's more, the vendor provides daily backups for up to 30 days for easy recovery of files in case of data loss. However, note that Web Hosting Mexico gives no guarantee that their hosting services will not be interrupted as a result of network problems or server breakdowns, and they offer no uptime guarantee.
On the plus side, client websites hosted by this vendor have access to SEO tools. These tools help improve your brand presence on search engines, increase your traffic, and create your sitemap among other benefits. Web Hosting Mexico also uses SSD storage to ensure that their client websites record excellent performance and fast loading speeds.
Web Hosting Mexico allocates 1TB of monthly bandwidth to each of their cloud servers, with an option to increase this cap if needed. Their email service has the basic features you would expect, such as anti-spam filters, email forwarding, and webmail. Unfortunately, Web Hosting Mexico's packages limit the emails you can receive per hour to 100; users who need more advanced features like unlimited email accounts and dedicated email storage would have to look elsewhere.
Overall, Web Hosting Mexico has pretty basic hosting solutions and would only be suitable for small businesses. The company doesn't divulge information regarding their data centers, implying that they don't own the data centers they use.
Pricing and Support
I found Web Hosting Mexico's prices in line with what other hosting vendors are charging for similar features. The caveat is that this vendor doesn't give users the option to pay for web hosting on a monthly basis; the shortest contract you can enter into with this vendor is one year. All prices are expressed in Mexican pesos.
Furthermore, Web Hosting Mexico's SSL certificates are not available for free. Users need to buy them separately at an extra cost. This also goes for their domain registration, which isn't included in their packages. However, it's worth noting that the vendor doesn't charge users for the initial setup, and they provide a 30-day money back guarantee.
Customers can contact Web Hosting Mexico's support team directly via phone and email. In addition, the vendor has a ticketing system and a live chat available on their website, though the latter isn't available around the clock. When I contacted them via their ticket system, they responded within a couple hours. They also have a small knowledge base that includes a number of video tutorials.
In my experience, their support is average. If the issues you need addressed are generic in nature, then you can rest easy knowing that this support team will adequately address them. However, for more complex issues, be ready to wait for long periods before this team addresses them. I think this delay is because of an apparent shortage of highly trained hosting technicians to deal with the more complex issues that customers face.