Web Hosting Bingo is located in Chennai, India. Their website does not say when they were founded, but their Twitter feed has been live since 2011 and third party websites suggest that they have been in business since 2008. They have 10,000 clients, and they claim a satisfaction rating of 99.95%. Their website and support are available in English.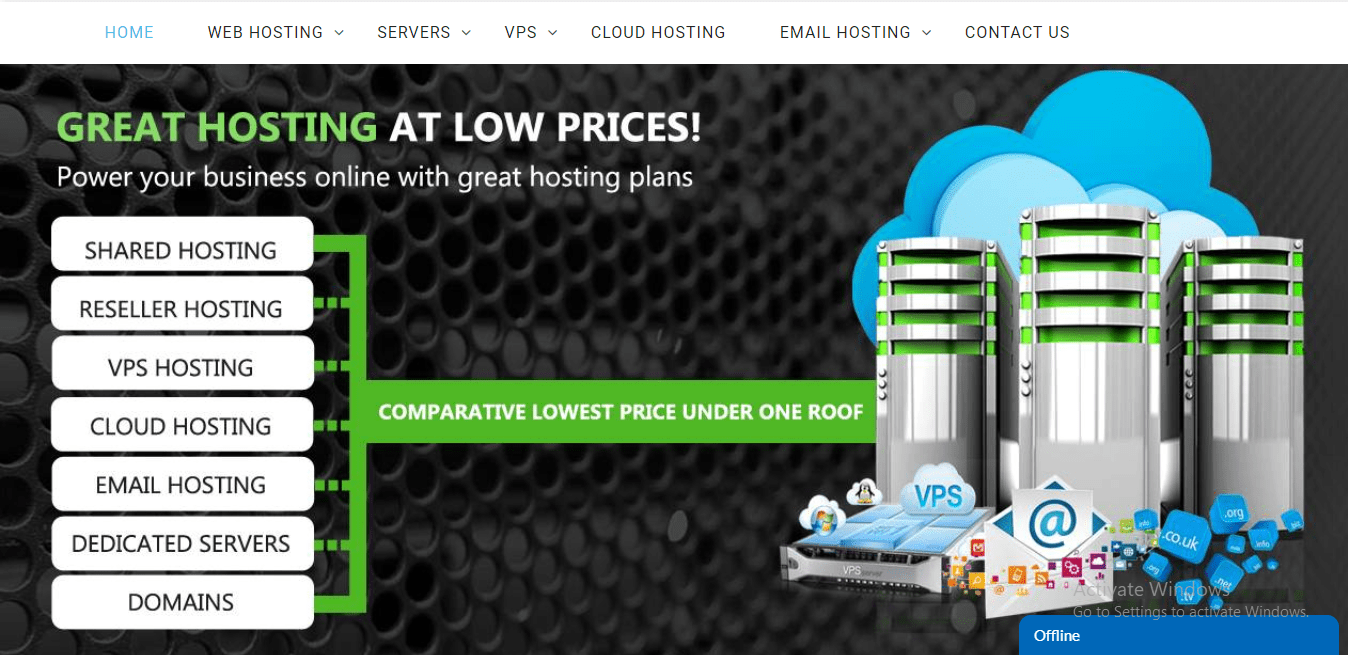 Features and Ease of Use
Web Hosting Bingo is a full-service website hosting provider that offers Linux Web Hosting, Windows Web Hosting, and Affordable Web Hosting (their description). They also offer virtual private servers, cloud hosting, and email hosting. And dedicated server rental in India, Singapore, and America.
As standard, their shared hosting plans enjoy the following features:
99.95% guaranteed network availability
Scheduled and automatic backups
Free domain registration with plans of one year and over
Unlimited subdomains
Free Comodo SSL certificates
Unlimited monthly bandwidth limit
Websites owners looking for an all-in-one plan should definitely take a look at Web Hosting Bingo since their plans are very comprehensive. All of their shared hosting plans include unlimited monthly bandwidth (based on normal usage), unlimited subdomains, and unlimited email accounts. You also get free domain registration, free SSL certificates, a website builder, free Google AdWords credits, and a one-click installer with more than 350 programs.
Do you want more? How about a control panel and FTP access, 24/7 support, and a variety of security features. Also, a 99.95% guaranteed network availability backed by SLA.
Experts might be disappointed that, while Web Hosting Bingo offers some support for PHP, they do not appear to offer advanced scripting languages such as Ruby on Rails, Ruby, and Javascript.
Although their shared hosting plans are very comprehensive and likely to meet the needs of many website owners, Website Hosting Bingo also provides dedicated servers in India, America, and Singapore for those who want to scale up.
Pricing and Support
Web Hosting Bingo offers great pricing on three shared hosting packages: Linux Web Hosting, Windows Web Hosting, and Affordable Web Hosting. The first two plans are competitively priced, and the 'Affordable' plan (as the name suggests) is very cheap. Although it's cheap, it still comes with the main features that new or small website owners will require, with the most notable differences (compared to the two higher two plans) being bandwidth caps and the lack of a database.
Hosting plans can be bought on one, two and three-year terms, with the price being substantially reduced for longer-term commitments. To sweeten the deal, they also offer a 30-day money-back guarantee on all shared hosting plans, but not on the VPS or dedicated server plans.
Customer service is quite substantial, with 24/7 technical support being accessible via telephone, email and live chat. My only gripes are that the hours of operation are not clearly advertised, and I have been left waiting for a live chat operator even when they look like they're online. When they do pick up, they are always helpful and efficient, and you always have the option of helping yourself via the significant resource center that has more than 400 help documents and a server status page.