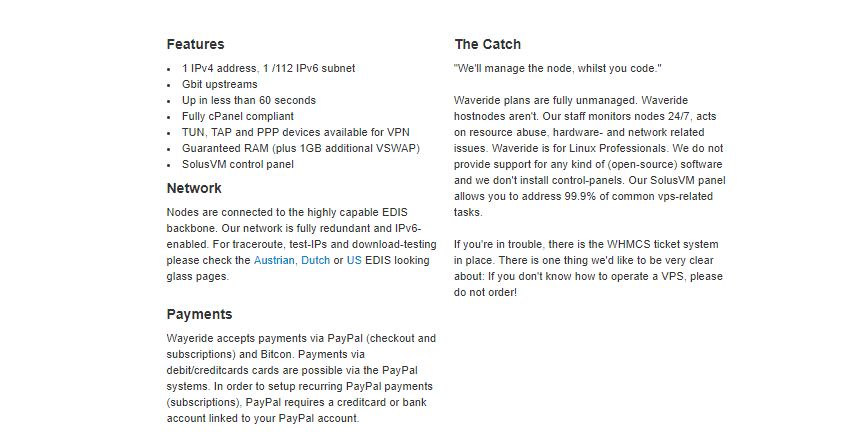 Waveride is a subsidiary of EDIS GmbH, a global hosting provider with headquarters in Vienna, Austria. The hosting company was established in 2013 and uses EDIS's state-of-the-art infrastructure, including several data centers in Europe and the U.S. This hosting firm only specializes in offering virtual server solutions and does not offer the typical web hosting solutions such as shared web hosting, reseller hosting, and dedicated servers.
Features and Ease of Use
Waveride virtual server solutions come with the following standard features:
IPv4, IPv6 addresses

Fully cPanel control panel compliant

TUN, TAP, and PPP devices available for VPN

Guaranteed RAM (plus 1GB additional VSWAP)

SolusVM control panel
Waveride enterprise hosting infrastructure is in three strategic data center locations: Austria, the Netherlands, and the United States. All server locations are connected to major internet backbones with multiple 10GE fiber connections. Moreover, the network nodes in these data centers are connected to highly capable network infrastructure and are IPv6 enabled, offering redundancy and high availability.
Waveride uses enterprise hardware powered by Hewlett Packard. All its VPS are based on OpenVZ. These virtual servers also come with Dual Intel Xeon Processor E5-2600 with 288+ GB of RAM and Seagate Constellation Enterprise SAS3 hard drives in RAID technology; all but guaranteeing highly reliable hosting services.
Customers would be disappointed to learn that Waveride does not offer backup services for its client's website data. However, users are welcome to create their own backups. This vendor's website is very brief with very little information, and it seems like its last update was back in 2018. 
Pricing and Support
Waveride virtual server solutions are quite cheap and come with flexible billing cycles, including monthly, quarterly, semi-annual, and annual subscriptions. The prices of the solutions are listed in euros.
This vendor does not offer an SLA, and so there is no uptime network guarantee. It also has not provided a refund policy or free trial period.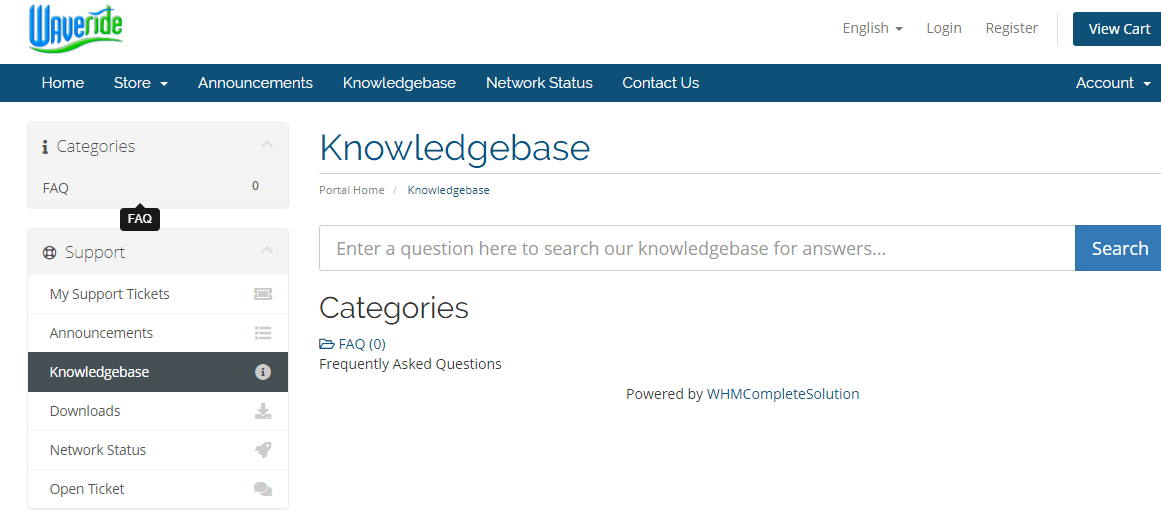 Customers can contact the Waveride support desk only via ticketing system. However, this is exclusively accessible via the customer panel after you log in or register an account with the vendor. There are no other contact channels available.
Waveride's knowledge base has no articles, but the vendor has an FAQ section available on its website.