VPSthai is a small web hosting company based in Thailand. The hosting firm promotes itself as having more international customers than most of its competitors in the same niche. Its client base is all over, in countries such as the United States, the United Kingdom, Australia, Japan, Hong Kong, Korea, China, Russia, Germany, and Israel, just to name a few. Its offerings only include VPS and dedicated server solutions.
Features and Ease of Use
VPSthai server solutions incorporate the following standard features:
Fixed public IP address

Unlimited monthly traffic

Intel E3 4C-Xeon

SATA disk storage

99.99% uptime guarantee
VPSthai dedicated servers are connected to Gigabit LAN ports with a TOT high-speed data center located in Bangkok, Thailand. This data center has high bandwidth connectivity sourced from both local and international internet backbones making it easy for user's websites to access fast speeds regardless of their business locations.
All of its dedicated servers run on Intel Quad-core Xeon CPUs ready to give customers full server services. In case that's not enough, the vendor offers flexible servers with configurable resources to help users meet their business goals; all you have to do is ask.
With VPSthai, clients can choose the operating system of their choice, including Linux and Windows operating systems. The available operating systems include Debian, SUSE Linux, CentOS, Red Hat Linux, Windows Server 2008 R2, and Windows Server 2012.
VPSthai cloud servers come with the latest technologies where data will be replicated to another server. This serves the purpose of ensuring continuous data availability and minimizes downtime that results from data corruption or loss. These services, however, are offered at an additional fee. Alternatively, customers can perform and create their own backup copies for security reasons.
Pricing and Support
VPSthai claims to have high maintenance costs for its hosting infrastructure to provide high-quality hosting services. And for this reason, it does not shy away from pricing its solutions at a much higher cost than the usual cost. Its billing cycles go from one-month to three-months, six-months, and 12-month subscriptions. Prices are listed in U.S. dollars.
At the time of writing this review, the hosting company is running a promotional campaign available on its website, where it promises to offer dedicated servers at a very low-cost. The offer is valid while stock lasts.
VPSthai servers come with a 99.99% uptime guarantee. That said, there is no refund policy available.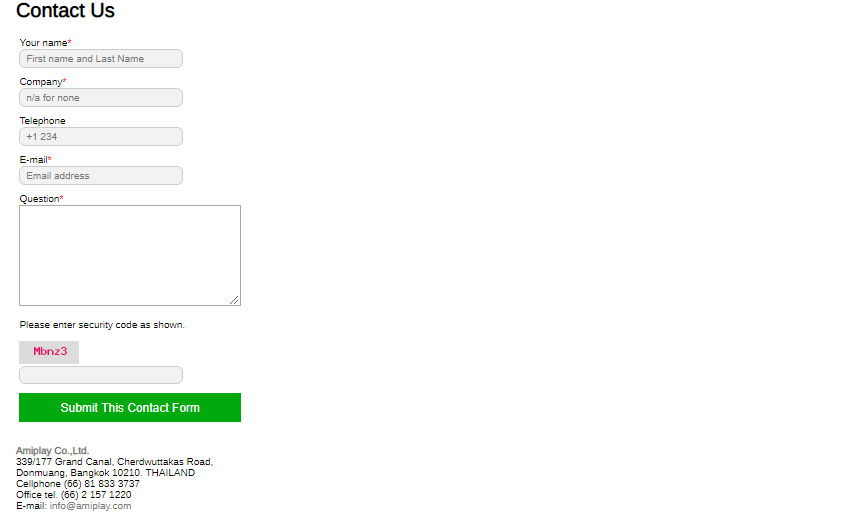 Potential customers can get in touch with the vendor via telephone, email, or through a contact form. That said, the hosting provider lacks a live chat or ticketing system. The vendor shares a support email with other hosting companies. It does not have its own domain-based email address, instead, using an email address for the domain Amiplay.com, which looks like it could be a parent company.
That notwithstanding, I sent them an email query and received a response 27 hours later.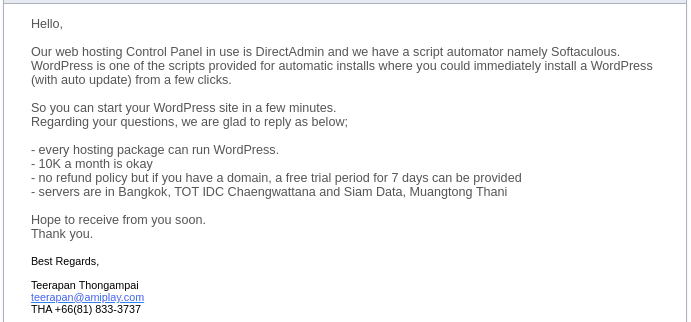 The VPSthai website lacks a knowledge base or an FAQ section.