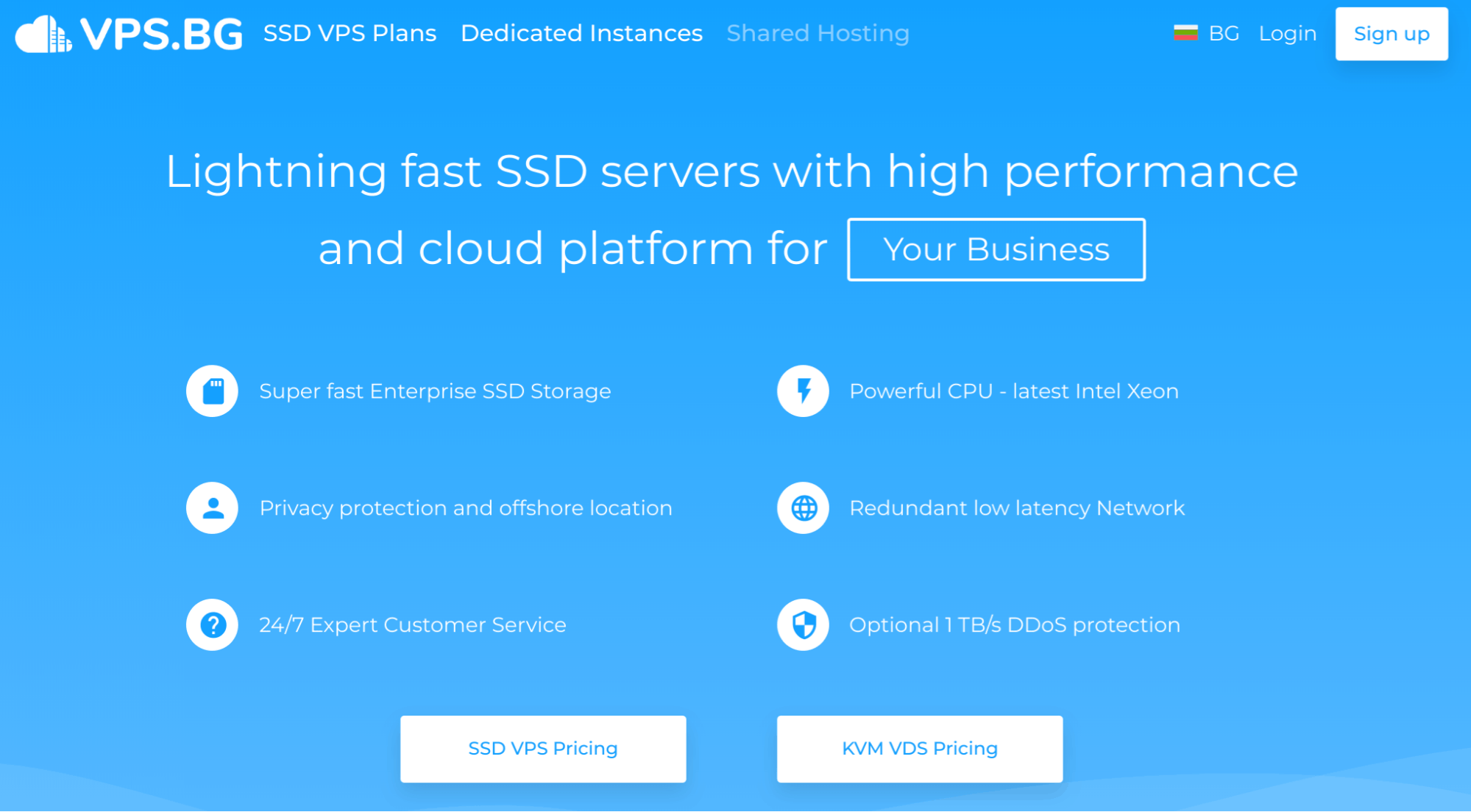 To compare the best web hosts, we hosted the same WordPress website on each one and tested performance, customer service, and value for money. Check out the results here.
VPSBG.EU is a Bulgarian enterprise-level hosting provider that has been in business since 2013. This company puts a premium on privacy and places quality of service above the quantity of customers. Its user-friendly website is available in English and Bulgarian.
Features and Ease of Use
VPSBG.EU only sells SSD-based VPS and dedicated server plans, and SSD-based shared hosting. Here are some of the core features enjoyed by VPSBG.EU customers:
99.99% uptime guarantee
Backups available by request
Various Linux distributions including Debian, Ubuntu, CentOS and Fedora, plus Windows Server hosting
Dedicated CPU cores, with no overcommitting or overselling of resources
Root access
Control panel
30 GB to 480 GB SSD disk space
1 TB to 8 TB of transfer per month
Like its website, VPSBG.EU's selection of SSD VPS plans, dedicated server plans, and KVM VDS plans are extremely simple and straightforward.
One of the key selling points of VPSBG.EU is its strict privacy protection and policies. First, the servers are located in Sofia, Bulgaria, and are not subject to the Digital Millenium Copyright Act ( DMCA). Second, you can run TOR exit nodes for an extra layer of privacy. Third, VPSBG.EU will not keep backups, snapshots, or archives of your data (although you can ask them to do so). Finally, you can pay with Bitcoin for additional anonymity.
VPS and VDS plans use the Kernel-based Virtual Machine (KVM) to isolate you from malicious or heavy traffic that might affect your hosting.  And customers have full root access, so you can easily upgrade, restart, reinstall, or install a custom operating system.
Whilst I'm impressed with the plans, my only reservation is the lack of customization options. Many VPS and VDS hosts provide base packages that are fully customizable in terms of RAM, CPU cores, etc., but VPSBG.EU does not.
Pricing and Support
The prices are great. You can get a VPS or VDS at a monthly price that is very affordable for the included resources. And unlike many enterprise-level hosts, the simple signup process can be done entirely online. Plans are purchased only on one-month terms, and there is a 30-day money-back guarantee.
Support is available 24/7/365 for infrastructure, network, and server hardware issues. During weekday working hours, assistance is provided for non-emergencies. When I reached out to support on a Wednesday at midday using the online contact form, I received a response within ten minutes that fully and politely addressed my question.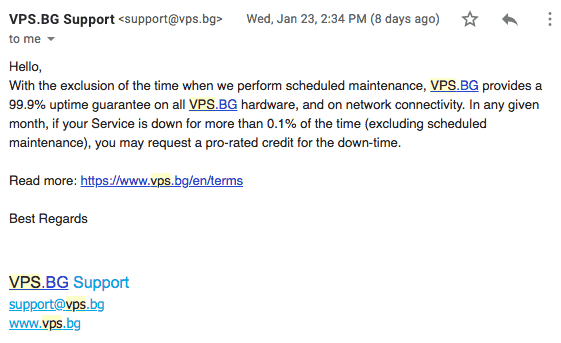 How much does VPSBG.EU cost?
VPSBG.EU offers plans from $14 to $247. The price depends on which type of hosting plan you choose. You can see the updated pricing table (updated weekly) below.

Which VPSBG.EU plan should I get?
My recommendation is to start with a cheaper plan. You can always upgrade later on. VPSBG.EU can help you with the migration to a more expensive plan. The increase in visitors many times takes longer than expected and you shouldn't pay a lot of money until the need arises. Of course, your needs may vary, and you can consult with a hosting expert from VPSBG.EU here.

How good is VPSBG.EU's customer support?
VPSBG.EU is not ranked as one of our top web hosts. But that can also be a result of VPSBG.EU being a small, under the radar, hosting provider. There are advantages to a small hosting company – as a customer, you are more important to them. You can also check out our comparison of the most popular web hosting services here.