Verio is a web hosting solutions provider based in the United States. Since 2000, this vendor has been a wholly-owned subsidiary of Japanese company Nippon Telegraph and Telephone (NTT) Communications. Verio offers web hosting solutions to small and medium-sized businesses. Their solutions include free website building software and over 200 website management tools.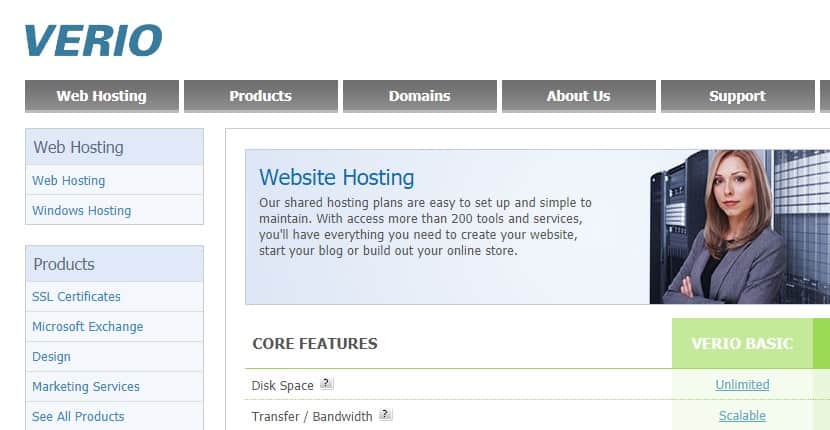 Features and Ease of Use
Verio features one of the largest pre-installed application libraries in the industry as well as many tools designed to help webmasters make the most of their hosting solutions. Some of the standard features that this vendor offers include:
Unlimited disk space
Scalable data transfer/bandwidth
High-performance load-balanced servers
Two data centers in Boston, Massachusetts
Multiple fiber optic and gigabit connections
Redundant Cisco routers using the BGP protocol
Weebly website builder with hundreds of templates
Free shared SSL certificates
My analysis of this vendor led me to believe that Verio's hosting solutions can seem particularly attractive to new users with growing websites. The company uses a reliable IP network and their higher-tier packages can easily support e-commerce websites. With an uptime guarantee of 99.9% as well as free antivirus and security options, it's not a surprise that many users would be interested in giving them a try.
However, this vendor has always struggled to live up to their claims. In fact, a significant number of their customers have had to find out the hard way that Verio's supposedly unlimited disk space has incredible limitations. The worst thing about this, especially for a fast-growing website, is that this vendor has a habit of shutting their customers' websites when they exceed their allocated bandwidth without communicating to them in advance about an impending shutdown. What's more, many customers are frustrated by Verio's hosting features because they're quite restrictive: the vendor frequently requires you to pay more for more features, costs that can add up significantly to get a decent number of features for a fast-growing website.
Pricing and Support
The introductory prices for Verio's hosting plans are quite expensive, and they cost even more when you renew your plans at the end of the promotional period. The high prices are also subject to change at any time and the vendor does not commit themselves to informing their customers about impending price changes. Verio insists that it's the responsibility of the customer to periodically review the vendor's Billing Central for the latest changes in prices for their hosting plans. This is extremely frustrating for many users.
Contrary to their claims, Verio does not offer live, round-the-clock support for their hosting plans. It's not unusual to submit a ticket and wait for long periods of time before receiving any meaningful help from their support team. Even the smallest of issues never take less than 20 minutes to solve, with more complex hosting issues dragging on for more than 48 hours. The cost of calling the Verio support team can also be quite high, given the likelihood that your issue won't be resolved the first time you contact them: you'll probably have to make several follow-ups. Verio's knowledge base is fairly comprehensive, but nothing to write home about. My calls to their support team went unanswered and my email and open tickets were never responded to.
Summary
Verio has poor customer support with notable limits, especially for users subscribed to their basic hosting plans. The vendor has become an unsavoury web hosting provider with unprofessional practices, making them a vendor that any growing business should by all means avoid.
Pros:
Hosting plans include solutions for e-commerce websites
Attractive to new users with growing websites
A large application installation library
An uptime guarantee of 99.9%
Cons:
Hosting plans are quite expensive
Unprofessional and incompetent support team