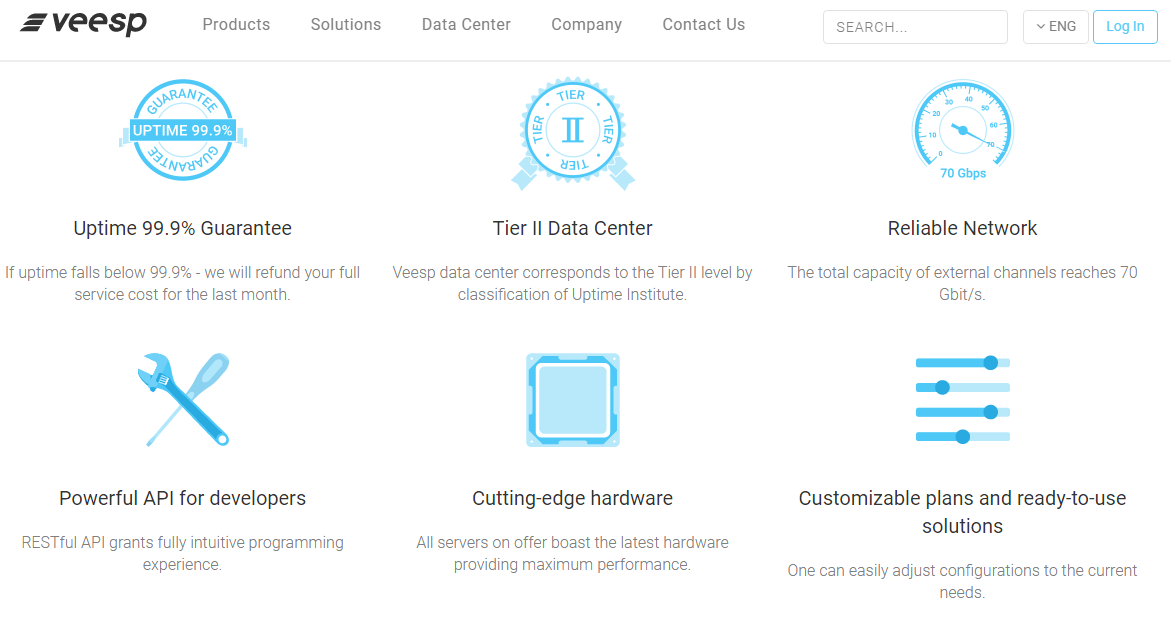 Veesp is a Russia-based service provider that replaced vStoike after rebranding in 2017. The hosting company has, over the years, undergone a series of renaming and rebranding since it was initially established as "Fishnet Сommunications" in 2004.
The vendor wasn't successful until around 2009, where it had just over 10,000 clients who were using its infrastructure. Today, under the brand name Veesp, it boasts of 15,000+ customers, has several locations in St. Petersburg, and its headquarters are in Latvia. The Veesp website is available in two languages: English and Russian.
Features and Ease of Use
The Veesp range of products includes VPS hosting solutions, dedicated servers, DNS hosting, and domain name registration. With these solutions, customers can expect to get the following standard features:
High-level performance and a 99.9% uptime
One-click CMS installer
Unlimited traffic
HTTP RESTful API for developers
IPv4 + IPv6 subnet /64
OS: Windows and Linux operating systems
Veesp has several data center locations in Russia. The data centers correspond to Tier II level certifications and are certified in accordance with ISO 27001 standards. Its network infrastructure is built on Brocade and Cisco equipment and it's present in all major traffic exchange points in Russia as well as through its partners worldwide.
Moreover, every VPS plan has a connection with a capacity of up to 200 Mbit/s with unlimited traffic for fast data transmission.
Veesp's hosting infrastructure is built to withstand heavy workloads. With its hosting services, you get your hosting on either SSD or HDD storage integrated with RAID-10 architecture to provide maximum data safety. Although SSD technology is currently the most preferred, HDD hard drives still offer a suitable number of IOPS for a considerably lower cost.
Add-on packages include SSL certificates, domain names, and cloud backup options with configurable server options. Customers can also purchase SSL certificates plans.
Pricing and Support
Veesp server solutions are quite affordable. During checkout, you can configure your server and pick your preferred OS template. Prices are in U.S. dollars and the hosting plans come with flexible billing cycles: monthly, quarterly, semi-annual, and annual subscriptions.
Veesp ensures a minimum uptime availability of 99.9%. If the uptime falls below this threshold, the vendor pledges to refund your full-service cost for the affected month. Moreover, in situations where customers terminate their contracts, Veesp provides partial refunds for any unused services.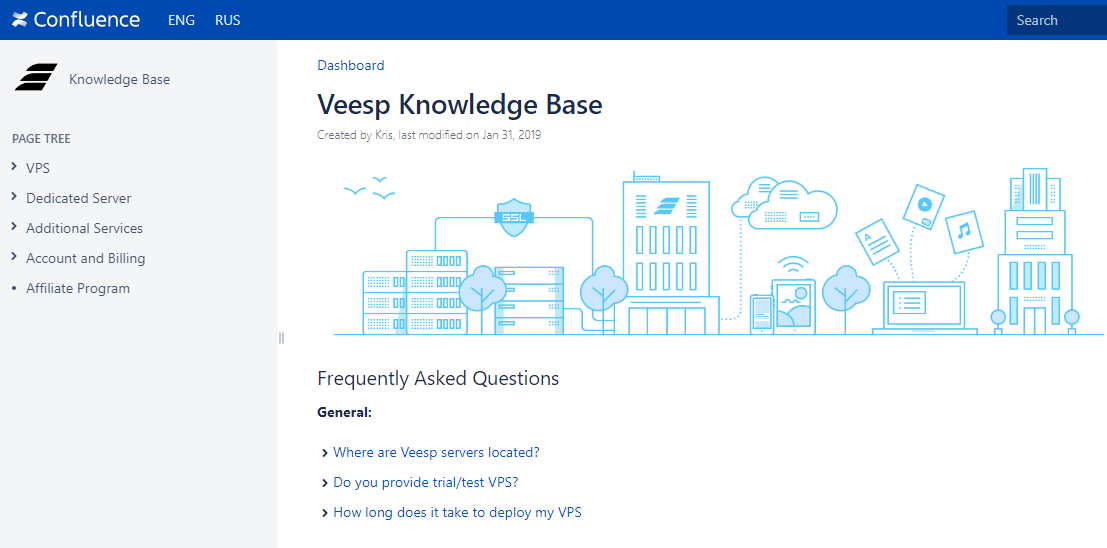 To contact Veesp, customers can send a message via a contact form, email, or give them a call. Although there is mention of ticketing support, I didn't come across any. In addition, the vendor has no live chat support.
I tested the support services and sent an email inquiry to which I never got a response.
That notwithstanding, the Veesp website includes a fairly detailed knowledge base with tutorials that customers might find helpful.