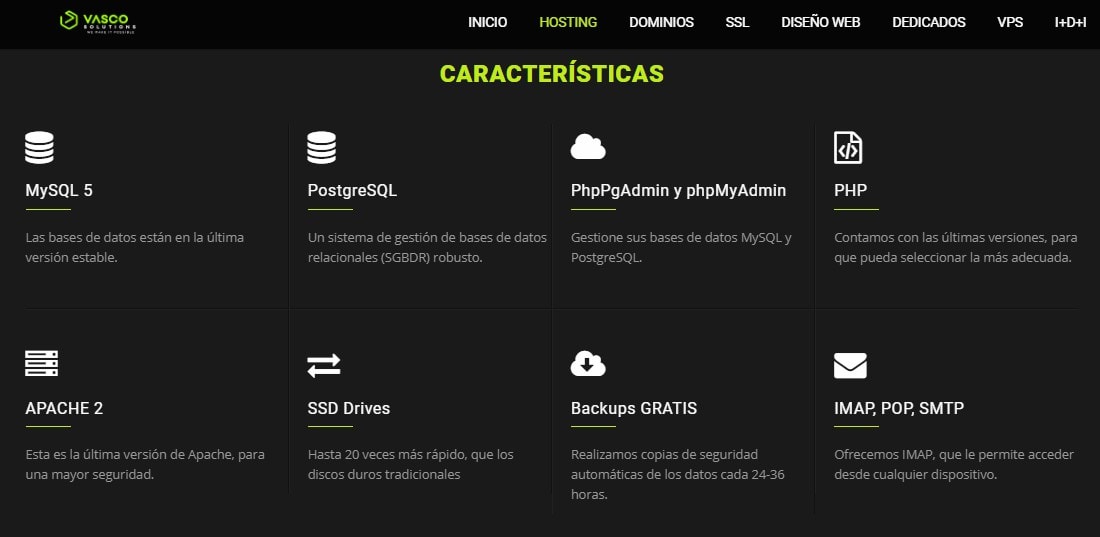 To compare the best web hosts, we hosted the same WordPress website on each one and tested performance, customer service, and value for money. Check out the results here.
VASCO Solutions is a web hosting provider based in Colombia. It was established in 2006 and focuses on providing cloud hosting, shared hosting, dedicated and VPS server solutions, domain name registration services, and web design, among others. VASCO Solutions SAS is an official distributor of Symantec since 2010.
It's also a Columbian representative that specializes in making websites and services secure. Moreover, VASCO Solutions SAS is an MPKI-SSL distributor in Columbia, a solution which is effective in allowing easy and quick SSL certificates. The company has two data centers; one in Los Angeles, California and the other in Austin, Texas. The VASCO Solutions website is only available in Spanish.
Features and Ease of Use
VASCO Solutions incorporates some of the following features:
Cloudlinux, Windows operating system
Cloudflare CDN
Free SSL certificate
PHP support
SSD disks
Apache 2
Root access
Unlimited emails
Parked domains
RAID 10 technology
Unlimited MySQL 5 databases
PostgreSQL
PhpPgAdmin, PhpMyAdmin
Three-click auto-installer
cPanel control panel
Free site builder
Free domain
The VASCO Solutions data centers are under 24/7 surveillance and are centrally located to guarantee constant and fast connectivity as well as reduce the effect of natural disasters. They are connected to two electrical cables, uninterruptible redundant power supply, and backup generators to avoid any instances of downtime.
The vendor uses new generation Litespeed technologies in all its hosting plans. Its servers are powered by Intel Quad Xeon processors and its move to use SSD disks on its hosting plans makes the websites it hosts load 20 times faster than traditional HDD.
Moreover, its use of RAID 6 and 10 arrays technology ensures high performance, reliability, and versatility of their robust servers. VASCO Solutions servers operate on CloudLinux and Windows operating systems. The firm also uses Apache 2 for enhanced security.
What's more, the hosting provider performs free automatic backup services for its customers. Backup copies of files and data are carried out automatically every 24-36 hours. Users have access to unmanaged dedicated servers with full root access.
It also provides a free SSL certificate and purchase options for customers who wish to get more advanced website protection. Available certificates include Symantec, GeoTrust, EV, and Thawte. In efforts to completely secure the websites it hosts, the firm provides Sitelock and anti-malware with daily scan solutions.
Pricing and Support
VASCO Solutions hosting plans are extremely cheap. Its prices are listed in Colombian peso, but users have the option to choose the U.S. dollar at checkout. The vendor offers an inflexible annual billing cycle. For its shared hosting plans, the firm includes a free domain and free SSL certificate, and all of its hosting packages come with a free site builder.
That said, VASCO Solutions doesn't provide a money-back guarantee. While its shared web hosting comes with a 99.0% network uptime guarantee, its cloud hosting solutions have a 99.9% uptime network guarantee.
In the event you need technical assistance, you can communicate with VASCO Solutions via its ticketing system, telephone number, email, Skype, and help center. It has no live chat support. Its technical team is available round the clock, 365 days a year.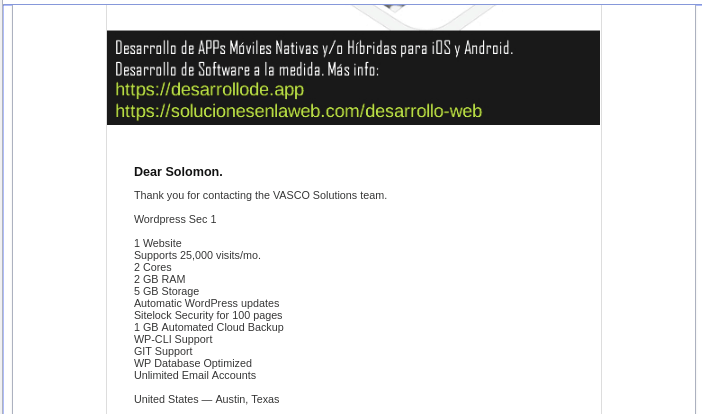 My email to this support team received a response in slightly less than 36 hours. While the vendor provided the information I had requested, the email seemed impersonal and generic.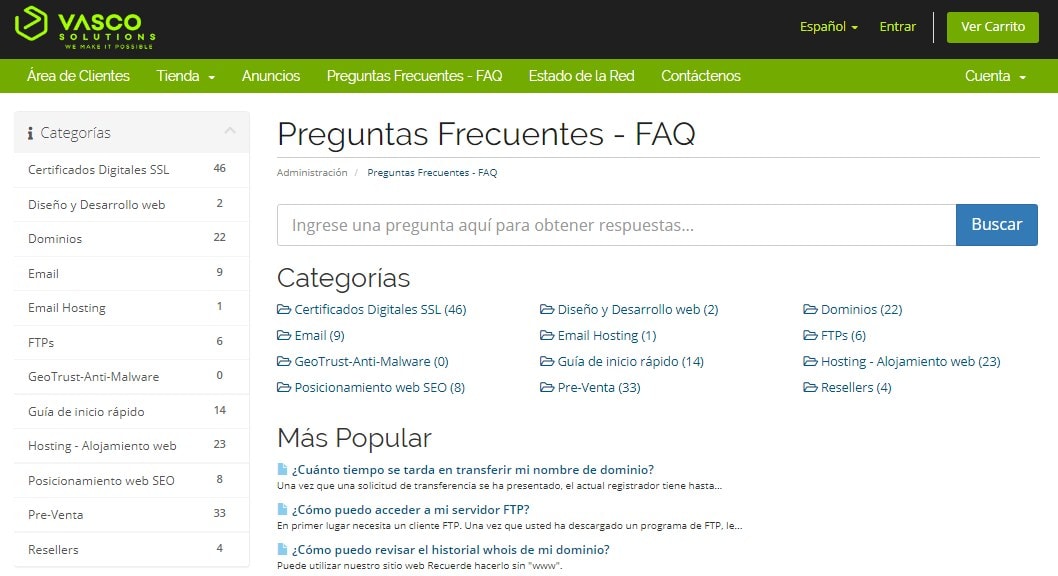 The vendor also has a detailed and organized knowledge base that contains FAQs. It also has video tutorials to assist customers with whatever issue they have regarding its hosting services.