If you are in a hurry, and just want the bottom line: for the same price as US Dedicated you can get much better servers with 24/7 support with
Hostinger
, so why even bother?!
US Dedicated was founded in 2013 to give customers peace of mind through seamless service, uptime, and support. They've done that over the years by delivering high-quality dedicated servers, cloud hosting, and colocation solutions with servers in six states across the United States.
Features and Ease of Use
US Dedicated supports the high-level hosting needs of large businesses and high-traffic websites. Their dedicated servers feature a lot of value-added benefits including:
Five usable IP addresses
Intel processors powered with up to 64GB DDR4 RAM
Custom-built Synergy control panel with the option of using cPanel
Easy installation and support for a variety of operating systems
100% network and power uptime SLA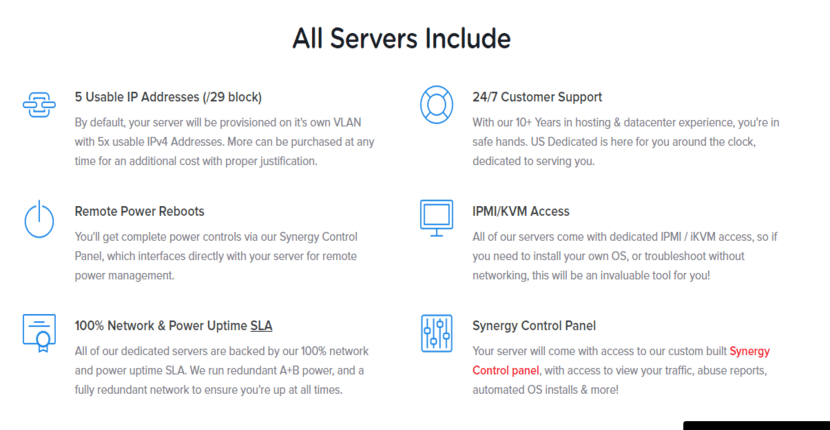 In addition, all their servers come with free on-site DDoS protection from Corero. Rather than setting up a separate detection system that leaves your servers vulnerable for a brief period before the incoming attacks are recognized, each of their 10Gbps ports are passed through a Corero Smartwall Appliance capable of filtering out a 10Gbps line-rate DDoS attack. This ensures that your server defenses are always up and that there's no downtime even at the beginning stages of a dreaded DDoS attack. You also get enterprise SSDs in all servers and premium INAP Bandwidth to ensure stability and speed for your website.
It's clear from their high-volume services that their offerings are not for beginners or small business websites. This is the only con I have noticed so far. They won't fit personal or small businesses because they don't provide shared servers.
You could make use of their KVM or OpenVZ VPS plans if a dedicated server is too much for you. They offer these features depending on the plan you choose:
Up to four vCPU Cores
Up to 16 GB memory
SSD storage
Up to 8TB traffic
100Mbps port speeds
In addition to these features, the VPS runs on RAID-10 SSD configurations, ensuring that your data remains safe and highly available.
I especially like the control panel offered, Solus Virtual Manager (SolusVM). This gives you a one-click installer for a good number of operating systems, including Ubuntu, Fedora, Debian, and FreeBSD. SolusVM also gives you control over multiple servers on one pane. Plus, whatever you adjust on the panel is instantly deployed.
On the Private Cloud front, US Dedicated offers support for a variety of cloud technologies, including Azure, AWS, Hyper-V, Citrix Cloud, Apache CloudStack, and Dell EMC. This is great if you want the customizability along with the added stability of a secure cloud server provided by Microsoft, Amazon, or any of the other providers.
Pricing and Support
The VPS hosting plans provided by US Dedicated are inexpensive for what you're getting. In fact, the prices of these premium solutions are almost the same as those of some shared hosting plans offered by other providers. You can also opt for fewer features for a much lower price with OpenVZ VPS plans.
The dedicated, colocation, and private cloud solutions are not as cheap. The costs do add up to quite a bit, but you get what you pay for, and you can customize what you get to your budget. The hardware and software provided make them a worthwhile consideration for high-end web hosting solutions.
Although you cannot contact their support staff via phone 24/7, their online ticket system works around the clock. Ticket support is incredibly fast. When I contacted them, my issues were addressed within five minutes.
How much does US Dedicated cost?
US Dedicated offers multiple plans priced highest to lowest. The price depends on which type of hosting plan you choose. You can see the updated pricing table (updated weekly) below.

Which US Dedicated plan should I get?
My recommendation is to start with a cheaper plan. You can always upgrade later on. US Dedicated can help you with the migration to a more expensive plan. The increase in visitors many times takes longer than expected and you shouldn't pay a lot of money until the need arises. Of course, your needs may vary, and you can consult with a hosting expert from US Dedicated
here
.
How good is US Dedicated's customer support?
US Dedicated is not ranked as one of our top web hosts. But that can also be a result of US Dedicated being a small, under the radar, hosting provider. There are advantages to a small hosting company – as a customer, you are more important to them. You can also check out our comparison of the
most popular web hosting services here
.