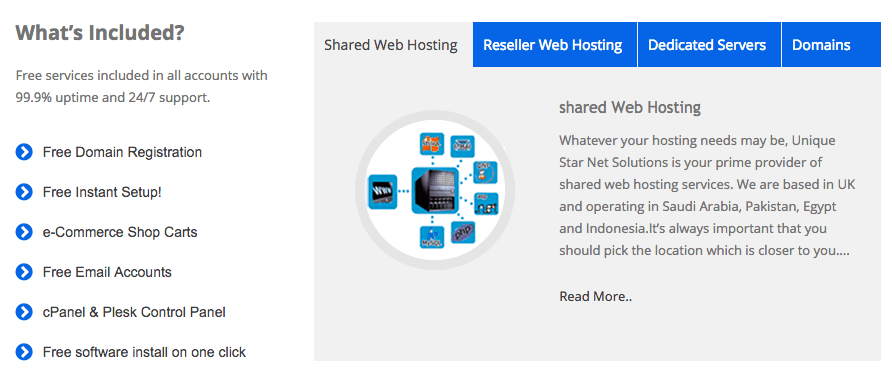 Unique Star has offices in the U.K., Saudi Arabia, and Pakistan. Its Facebook page is inactive, but it has some
positive social media reviews
. Its crisp, clean website is available in English.
Features and Ease of Use
Unique Star sells the full suite of hosting services, from shared hosting to dedicated servers. Its shared hosting plans come with these key features as standard:
99.9% uptime guarantee
Free domain registration with the higher tier plans
From one to unlimited add-on domains
Unlimited disk space and bandwidth plans available
Free 24/7 customer support
There are five tiers of shared hosting plans: Personal, Basic, Pro, Advanced, and Premium. The Personal plan has limited features, so unless you need a basic plan with less than 100 MB disk space, you will need to upgrade to one of the four higher packages.
The higher-tier plans all include support for advanced-level features such as FTP access, MySQL databases, and PHP (although only the slower version 5). There's also support for other programming languages including Perl, Ruby, Ruby on Rails, and JavaScript.
New website owners get some useful tools to help them get started quickly. There is a one-click installer for WordPress, phpBB, and various CMS programs (but I can't tell you which ones). There is also a live chat script installer and a generic one-click script installer.
Plans come with the popular cPanel control panel, and you get an industry-standard 99.9% uptime.
Pricing and Support
Unique Star's prices are in line with other companies. The higher tier plans – which come with unlimited disk space, bandwidth, and domains – are at the higher end of the price spectrum. However, if you can make do with fewer than four domains, you could pick up a cheap plan with all of the same features.
You can purchase plans on terms ranging from one month to three years, and you pay less when you commit more. Domain names come free with some plans (but not all), but backups and SSL certificates always cost extra, so that's something for you to keep in mind when considering a purchase.
24/7 customer support can be accessed by phone, live chat, and email. There is no knowledge base (unless it's hidden behind a login page) or FAQs, which means you're reliant on the quality of the technical support staff.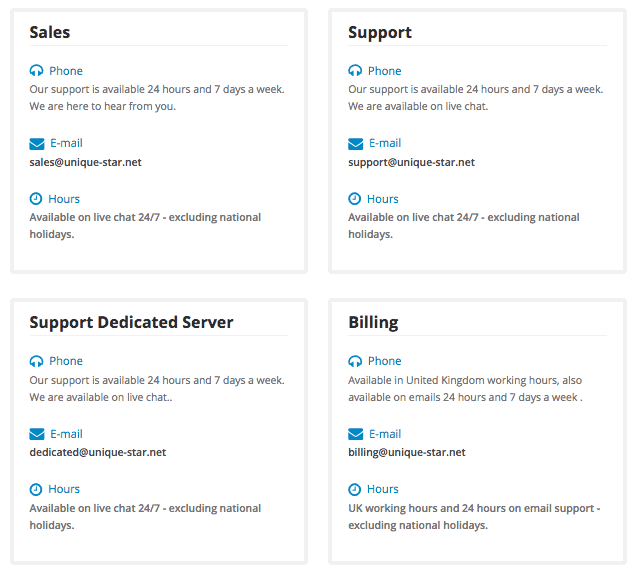 Unfortunately, when I tried to reach out to the company early in the morning (U.K. time) via email and live chat (which was offline at that time), I didn't receive any response even after two days had passed.