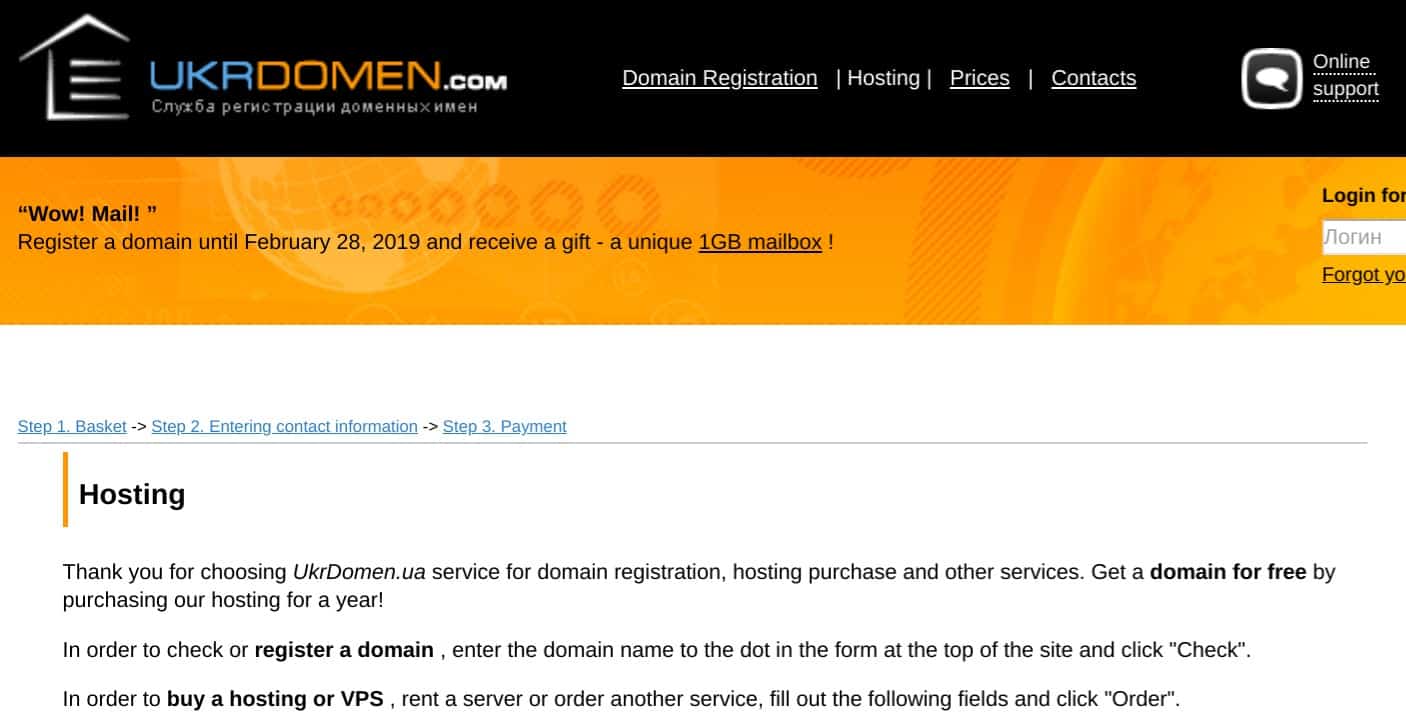 Founded in 2003, Ukrainian web host UkrDomen provides shared Linux and Windows hosting, VPS, and dedicated server hosting. It offers SSD storage with some hosting plans.
UkrDomen's website is in Russian, and its customer service is handled by partner company UH.ua.
Features and Ease of Use
UkrDomen offers Linux and Windows shared hosting plans as well as VPS and dedicated servers. The entry-level Linux plan features 3 GB of storage for one website, along with one MySQL database and PHP support. The entry-level Windows plan comes with 1 GB of disk space for one website, along with ASP / ASP.NET support.
UkrDomen's hosting features include:
Free domain with an annual hosting plan
SSD with some plans
Linux
Windows
SSL available
For customers wanting a higher level of hosting, the VPS SSD plans may be more attractive. The entry plan in this category features one Intel Xeon CPU core, 1 GB of RAM, and 10 GB of SSD storage. Customers can choose between DirectAdmin, cPanel, and ISPmanager Lite 5 as the control panel. Two dedicated IP's come standard.
Secure mail is included, but SSL certificates are only available as an add-on purchase. Customers can choose between these SSL certificates:
Rapid SSL – single domain encryption
Rapid SSL Wildcard – domain and subdomain verification
True Business ID EV – company verification
Standard SSL – one domain check and encryption
Wildcard SSL – one domain with unlimited subdomains
EV SSL – one domain with company verification
Pricing and Support
Pricing for UkrDomen's entry-level web hosting plan is very affordable at around the same price as a cup of coffee per month. You get a limited amount of data and features which may be sufficient for one small website.
For double the cost of the entry plan, the 'Optimal' plan provides more than three times the storage plus hosting for up to 10 websites. These prices are roughly 25% lower than similar Ukrainian offerings and are in line with lower-priced, minimally featured, international web hosting plans.
In addition to choosing the level of hosting, customers have the option to add dedicated IPs, alternative control panels, VIP customer support, advanced server clustering, and select the type of service level agreement.
The term lengths you can choose from are monthly, quarterly, semi-annually, annually, or multi-year, and you can benefit from discounts of 14% (on a quarterly term), 23% (on a semi-annual term), or 28% (on an annual term). Two and three-year plans offer a 30%+ discount along with added storage as a bonus.
UkrDomen's customer support is provided by the partner or parent company, UH.ua. Email support is round-the-clock whereas telephone and live chat support are provided during Ukrainian business hours of 8am-7pm. I reached out to support via email and received a reply later the same day: