To compare the best web hosts, we hosted the same WordPress website on each one and tested performance, customer service, and value for money.
Check out the results here.
Having been around since 1997, TVCNet is undoubtedly one, if not the, oldest hosting company still around. Their long history provides a consistent track record of reliability and customer satisfaction. In this time, they have managed to put together a comprehensive offering in terms of hardware, software, and support with a range of prices for all types of hosting. Their servers are located in one of the Hurricane Electric Network Operating Centers in Silicon Valley, California.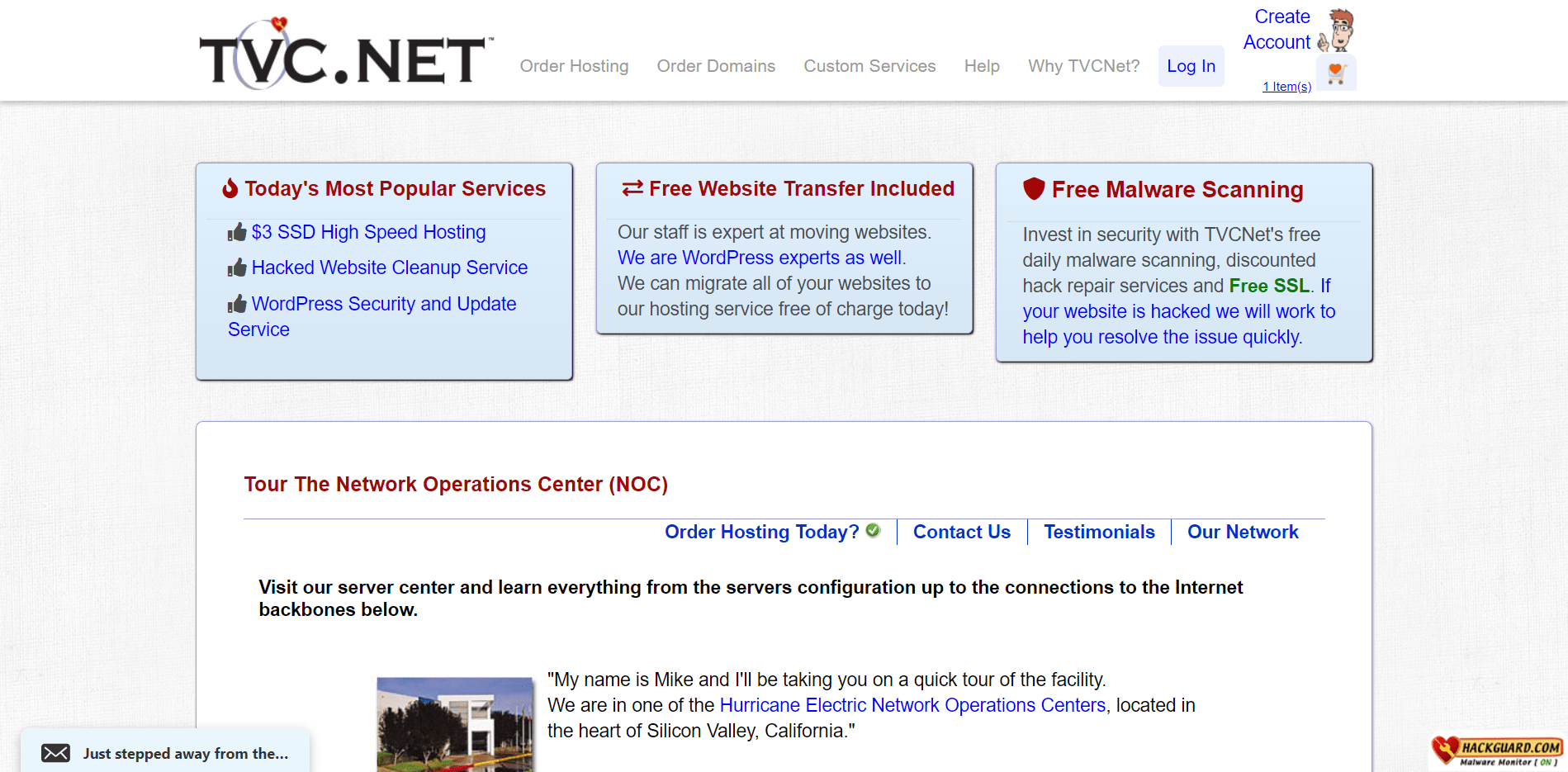 Features and Ease of Use
All the fundamentals of hosting a website are covered by TVCNet for an all-in-one solution:
Domain registration
SSL certificates
Backups
Email hosting
TVCNet provides a comprehensive hosting service that includes the following great services and features:
1-Click WordPress Install: If you also like working with the world's most popular CMS, then it should be good news that you can instantly install it to manage your websites.
LiteSpeed and Cloudflare: LiteSpeed is rumored to be a 3x faster hosting engine than Apache and Cloudflare is a great tool for increasing your performance. Both are included with all products.
Custom Services: TVCNet have web and hosting experts performing a range of professional services from WordPress management to website development to cleaning up an infected server.
First of all, all the software provided for free and pre-installed on your servers, such as LiteSpeed, Cloudflare, and WordPress, will take care of a lot of the work for you. They also provide the best hosting managers cPanel and WHM. Their signup process is also very standard without any catches or complicated steps and no upsells. Just the TVCNet website itself can do with an update as it's a bit outdated which makes it hard to follow.
Pricing and Support
Generously, all their plans include free migration services, support, and SSL certificates. The only thing you will need to purchase separately is your domain. Quarterly, semi-annual, annual, biennial, a triennial billing is available. They also provide an anytime money back guarantee which is almost completely unique in the hosting industry. TVCNet regularly runs great promotions for paying longer contracts in advance.
Shared Hosting SSD: All packages come with WordPress 1-click install, security, backups, LiteSpeed, and Cloudflare.

100: 100 MB storage and 10 GB bandwidth,
500: 500 MB storage and 50 GB bandwidth.
1000: 1 GB storage, 100 GB bandwidth, dedicated IP, and unlimited websites..

Dedicated Servers: Fully managed dedicated servers on high-end hardware and with greater resources.

Quadcore E3: Intel Quadcore E3 i3 3+ GHz CPU, 8 GB RAM, 2 TB SATA storage, and 4 TB bandwidth.
Quadcore E5: Intel Quadcore E5 3+ GHz CPU, 16 GB RAM, 500 GB SSD storage, and 4 TB bandwidth.
Quadcore E5: Intel Quadcore E5 3+ GHz CPU, 32 GB RAM, 1 TB SSD storage, and 4 TB bandwidth.
Eight Core E2: Xeon Eight-Core E5 2+ GHz CPU, 32 GB RAM, 1 TB SSD storage, and 8 TB bandwidth.

VPS Hosting: All VPSs are fully managed and customers get full root access.

CPANEL VPS1500: 25 GB storage, 3 TB bandwidth, 1.5 GB RAM, 1 CPU core, and 2 IP addresses.
CPANEL VPS3000: 50 GB storage, 3 TB bandwidth, 3 GB RAM, 2 CPU cores, and 4 IP addresses.
CPANEL VPS5000: 75 GB storage, 3 TB bandwidth, 5 GB RAM, 3 CPU cores, and 6 IP addresses.
Overall, they offer lower pricing for their services. However, the storage limits on their shared hosting packages are somewhat too restricted considering the price.
TVCNet provides support via the phone, email, or live chat. However, they only provide extensive technical support via a ticketing system and reserve their phone lines and live chat for less critical issues. Their support staff are outstanding and are always quick to respond and stick with you until your issues are resolved. If you're more into self-help then they have a comprehensive knowledge base handy.