Tucha is a cloud service provider based in Ukraine. It markets itself as a reliable host of secure websites and emails that are hosted in the cloud on stable and high-performance servers outside of Ukraine, in locations in Germany.
According to its Facebook business page, the hosting company was founded in October 2011. Its multicolored Russian website sells a range of services, including web hosting, backup services, and VPS on SSD solutions.
Features and Ease of Use
To meet the expectations of its customers, Tucha has equipped its hosting solutions with quite an extensive list of features, including the following as standard:
Unlimited traffic

Access protocols: FTP, SFTP, SCP, RSYNCoSSH

Web server protocols: HTTP, HTTPS

Technical support: 24/7

ISPManager control panel

CMS to choose from

MySQL databases

PHP support
Although the hosting provider is based in Ukraine, it houses its physical infrastructure outside of Ukraine, but still within Europe. Its hosting equipment is installed in a data center in the city of Frankfurt, Germany.
The vendor uses enterprise-grade hardware components, including ultrafast servers from some of the leading brands, IBM and HP, to make sure it maintains the quality of its hosting services for high availability and reliability.
Moreover, its data storage servers consist of Hitachi SAS disks configured in RAID10 array technology and network built on Juniper Networks switches, providing superfast networking and cybersecurity services to individuals and enterprises both in the private and public sector.
Users also get the advantage of using cloud security available with minimum technical details, including TuchaShield (site protection against DDoS attacks), antivirus protection, spam protection, and backups to help protect the loss of your website data.
If not satisfied with its free backups services you can always upgrade and purchase advanced backup and storage plans that can easily be configured to suit your needs.
Pricing and Support
We offer a range of hosting plans, starting from the basic package and extending to the most advanced web hosting plan. These plans include features like traffic, databases, FTP accounts, and mailboxes at no additional cost and without any usage limitations. While the plans are affordably priced, the advanced packages are exclusively available with monthly billing cycles. Most of the plans provide the choice of quarterly or annual payment options.
Prices are listed in euros but users can easily switch to Ukrainian hryvnia, U.S. dollars, or Russian rubles.
To demonstrate confidence in its service reliability, Tucha guarantees a refund within 30 days from the date of purchase as well as a free seven days trial, which is more than enough to give you a rough idea of what you should expect.
The standard uptime guarantee of its servers is 99.9%, although some of its solutions are advertised with 99.0% availability.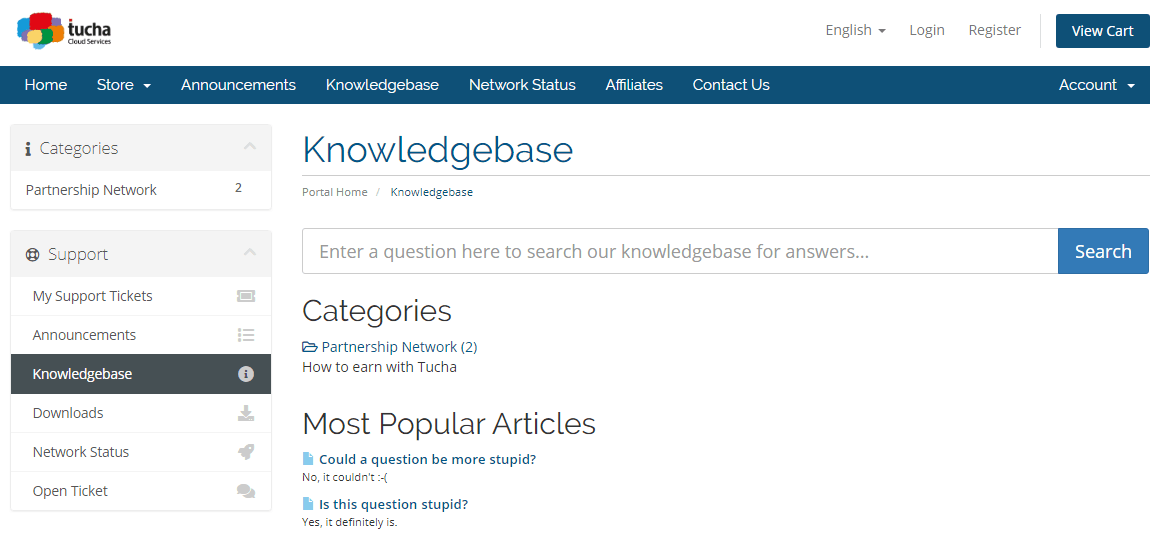 Tucha has provided several means through which customers can reach out to its support desk: call back request, telephone, and email. The vendor has a ticketing system but it is exclusive to existing customers. That said, there is no live chat support.
Self-support resources include a library section with tutorial articles, infographics, webinars, and video tutorials, among other useful materials for DIY customers.