To compare the best web hosts, we hosted the same WordPress website on each one and tested performance, customer service, and value for money.
Check out the results here.
TrueHoster is part of the industry giant BelCloud Hosting Corporation and represents the shared web hosting section of their service portfolio. Collectively, they have a huge and varied amount of experience within the hosting industry. Their offices are based in Seychelles and they have data centers located in Amsterdam, the Netherlands, as well as Sofia, Bulgaria.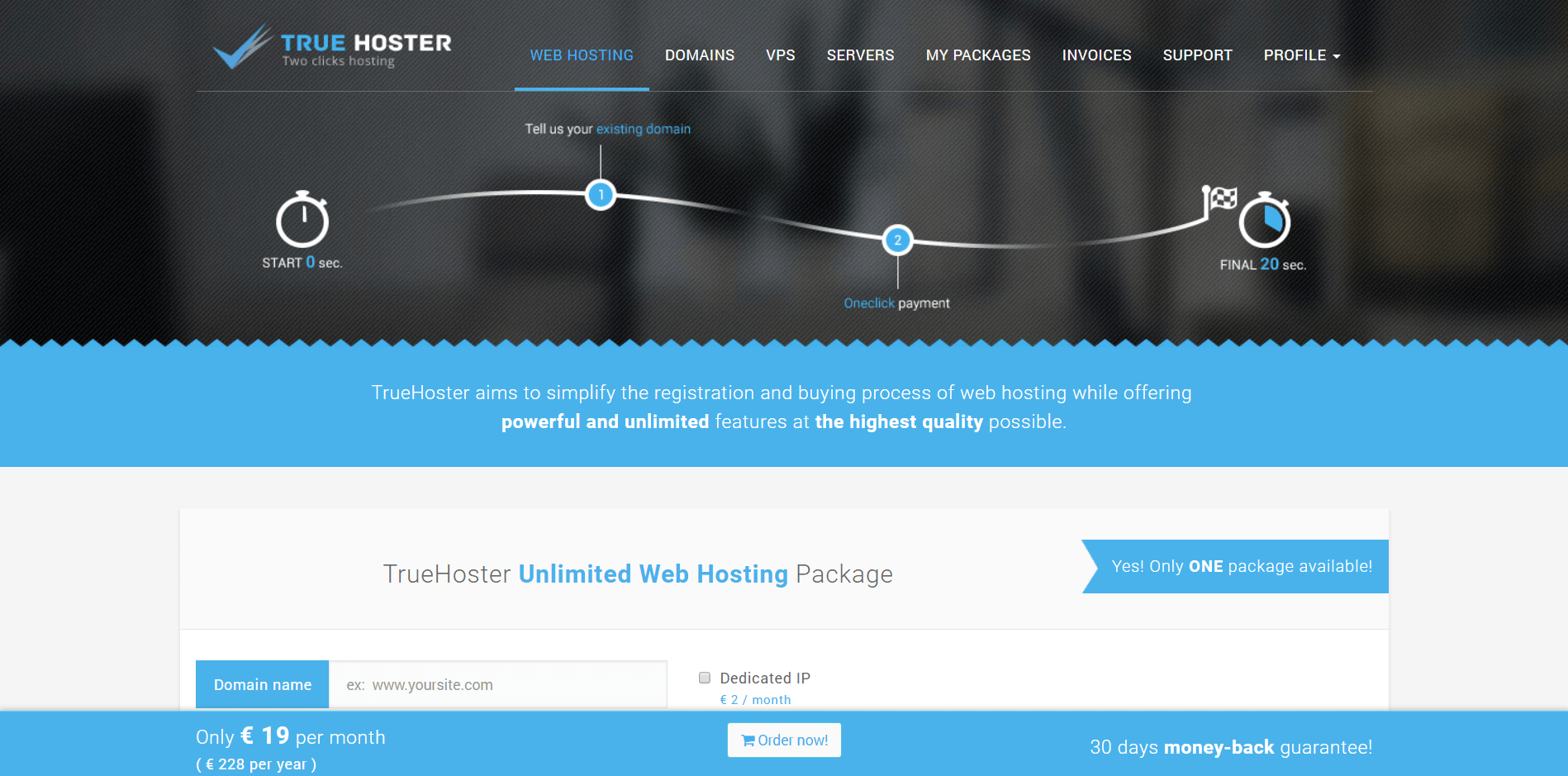 Features and Ease of Use
As a simple shared hosting platform, TrueHoster nevertheless still provides all the basics so that you don't need to search for these anywhere else:
Domain registration
Free SSL certificates
Backups
cPanel control panel
There isn't really anything extraordinary about their service, but they do ensure a comfortable hosting experience by including the following features:
Softaculous: This is a fantastic and very popular tool to install hundreds of third-party apps and scripts, including content management systems like WordPress.
Unlimited Hosting: To make up for the fact that there is only one plan, they've made it scalable by providing unlimited access to storage, data transfer, and databases.
Separate MySQL Storage: By providing separate storage for your databases, it's easier to manage your resource usage as well as improve disk performance.
TrueHoster provides an extremely quick and painless signup process with their "two-click hosting." According to them, the whole process takes about 20 seconds from start to finish: you simply fill out a form with your email and existing domain name (if you have one — if not, then your desired domain name), make payment, and voila! Your hosting account is ready to go.
Upsells are limited and clearly stated upfront, so you don't get any surprises late in the process. As for the actual hosting, cPanel and Softaculous should make for a great experience for anyone, although the option to pre-install certain software would have been a nice addition.
Pricing and Support
TrueHoster only offers shared web hosting. If you require either VPS or dedicated server solutions, they'll refer you to their sister companies. Their contracts are longer with only annual, biennial, or triennial options, with longer terms receiving larger discounts. Their single shared hosting is priced rather expensively, in my opinion; then again, they do offer unlimited resources and the guarantee of server performance that other shared hosting providers can't claim.
It's important to note that despite the high price tag, domain registration isn't included free in your shared hosting package. The cost of registering a domain with them is also higher than most domain registrars or resellers.
One upside is that TrueHoster does offer a 30-day money back guarantee. You can also choose from a number of payment options, including VISA, MasterCard, PayPal, Bitcoin, PaySafeCard, and more.
Unfortunately, they don't include a dedicated IP with their products, but you can easily add this on for a small fee. They make up for this by providing a free SSL certificate and migration services. Their single web hosting plan is as follows:
Unlimited SSD disk space, data transfer, databases, and email accounts
cPanel and Softaculous app installer
4GB memory and 10GB dedicated SSD MySQL storage
Up to five add-on domains
24/7 support is included with their shared web hosting plan. They offer technical support through a ticketing system or live chat. They state that they have an average response time of 15 minutes for submitted tickets, and in my experience, this has been true. The support staff I've interacted with have been helpful and knowledgeable. While their website doesn't have self-help technical support articles, you can easily access a well-developed knowledge base through their partner, MyTrueHost.