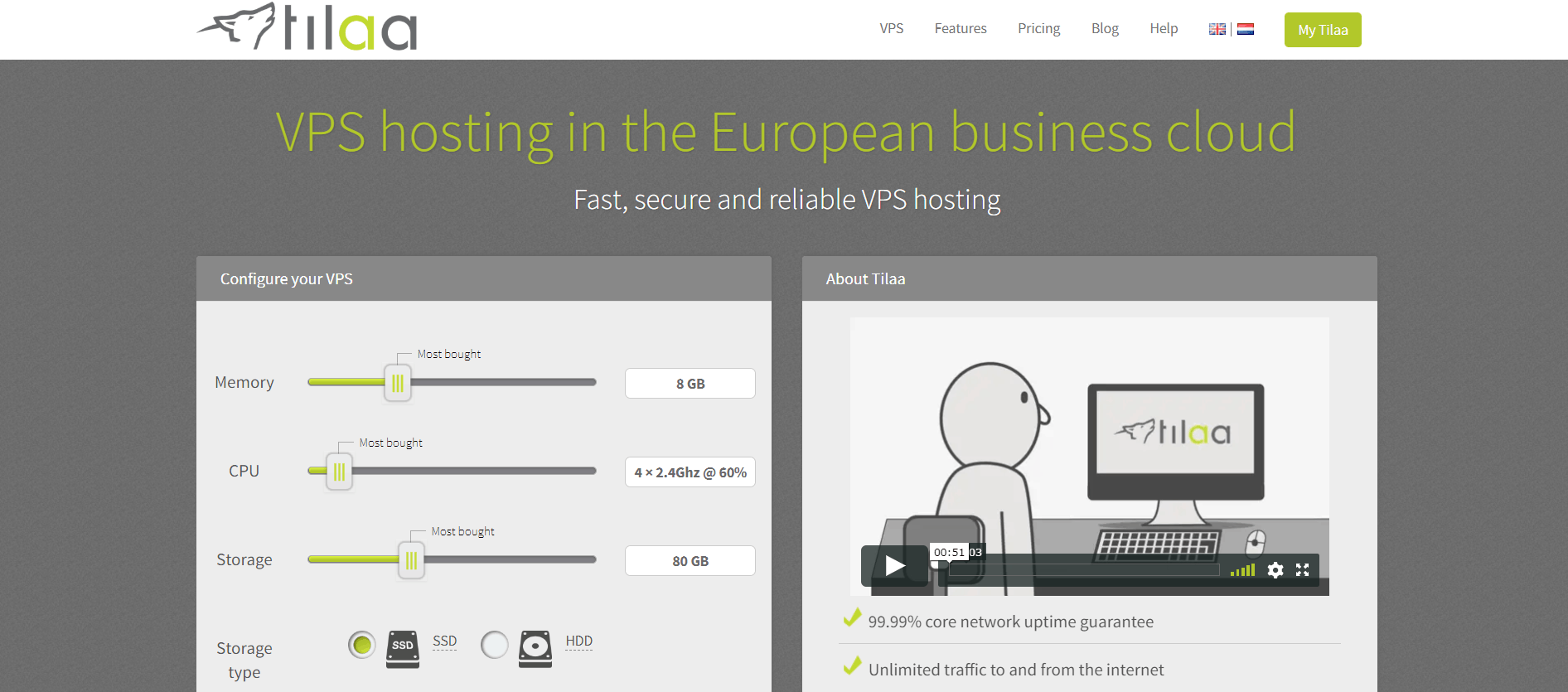 To compare the best web hosts, we hosted the same WordPress website on each one and tested performance, customer service, and value for money.
Check out the results here.
Tilaa is a Dutch cloud service that has been in business since 2008. They do one thing and do it quite well. They offer Virtual Private Servers (VPS) with customizable features and affordable rates. If you're ready to graduate from shared hosting to a VPS, they are an excellent place to start.
Features and Ease of Use
Tilaa does things a bit differently from other VPS providers. Rather than handcuff you to a pre-configured setup, they allow you to create your configuration. When you set up a VPS with Tilaa, you get the following features:
Choice of SSD and HDD
99.99% uptime guarantee
Environment-friendly hosting at data centers with 100% renewable energy
Backup your system up to six times a day
IPv6 ready servers
Big disk support
Choice of a dozen 32 or 64-bit operating systems.
Unlimited bandwidth
Instant access to your VPS after order completion
Using Tilaa couldn't be simpler. They offer an easy-access dashboard that allows you to configure your system however you see fit. They can set up your VPS with your preferred operating system saving time and setup. Of course, you can always set up your VPS manually.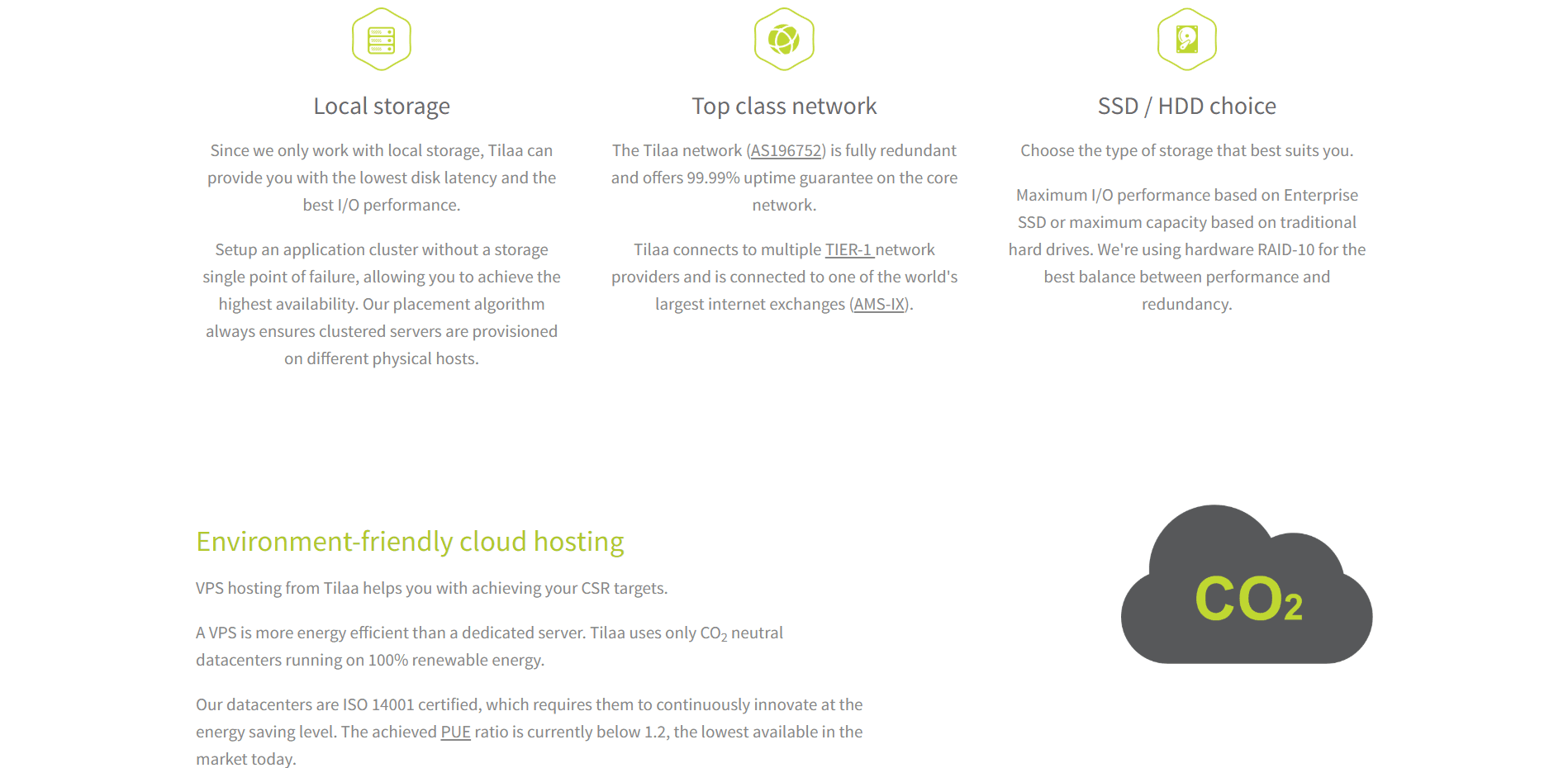 Note that VPS is not shared hosting, so it is not ideal for those that don't know how to set up, configure, and administer web servers. If you are merely looking to buy hosting, look elsewhere.
Pricing and Support
Unlike some services, Tilaa does not offer flat-rate pricing on their VPS plans. Instead, they allow you to customize your service first and then give you an automated quote based on the features you need. By default, you can customize the following:
Memory
CPU
Storage
Storage Type (SSD or standard HDD)
You can also choose to add a Big Disk between 2GB and 20GB to your VPS. After selecting the basic configuration, you can add on managed backup and server pack services along with software installs. These are all optional as you can choose to install your own services and software. All VPS plans come with a 14-day satisfaction guarantee.
Tilaa support service is standard for this type of service with phone, email, and ticket support. Phone support does not come toll-free. However, you can reach out to them through various social media platforms such as Facebook, Twitter, LinkedIn, and Google+. According to their Facebook page, they aim to respond to Messenger inquiries within an hour. While having a live chat support option would be preferable, it's important to note that not all VPS services offer this level of support.
How much does Tilaa cost?
Tilaa offers multiple plans priced highest to lowest. The price depends on which type of hosting plan you choose. You can see the updated pricing table (updated weekly) below.

Which Tilaa plan should I get?
My recommendation is to start with a cheaper plan. You can always upgrade later on. Tilaa can help you with the migration to a more expensive plan. The increase in visitors many times takes longer than expected and you shouldn't pay a lot of money until the need arises. Of course, your needs may vary, and you can consult with a hosting expert from Tilaa here.

How good is Tilaa's customer support?
Tilaa is not ranked as one of our top web hosts. But that can also be a result of Tilaa being a small, under the radar, hosting provider. There are advantages to a small hosting company – as a customer, you are more important to them. You can also check out our comparison of the most popular web hosting services here.