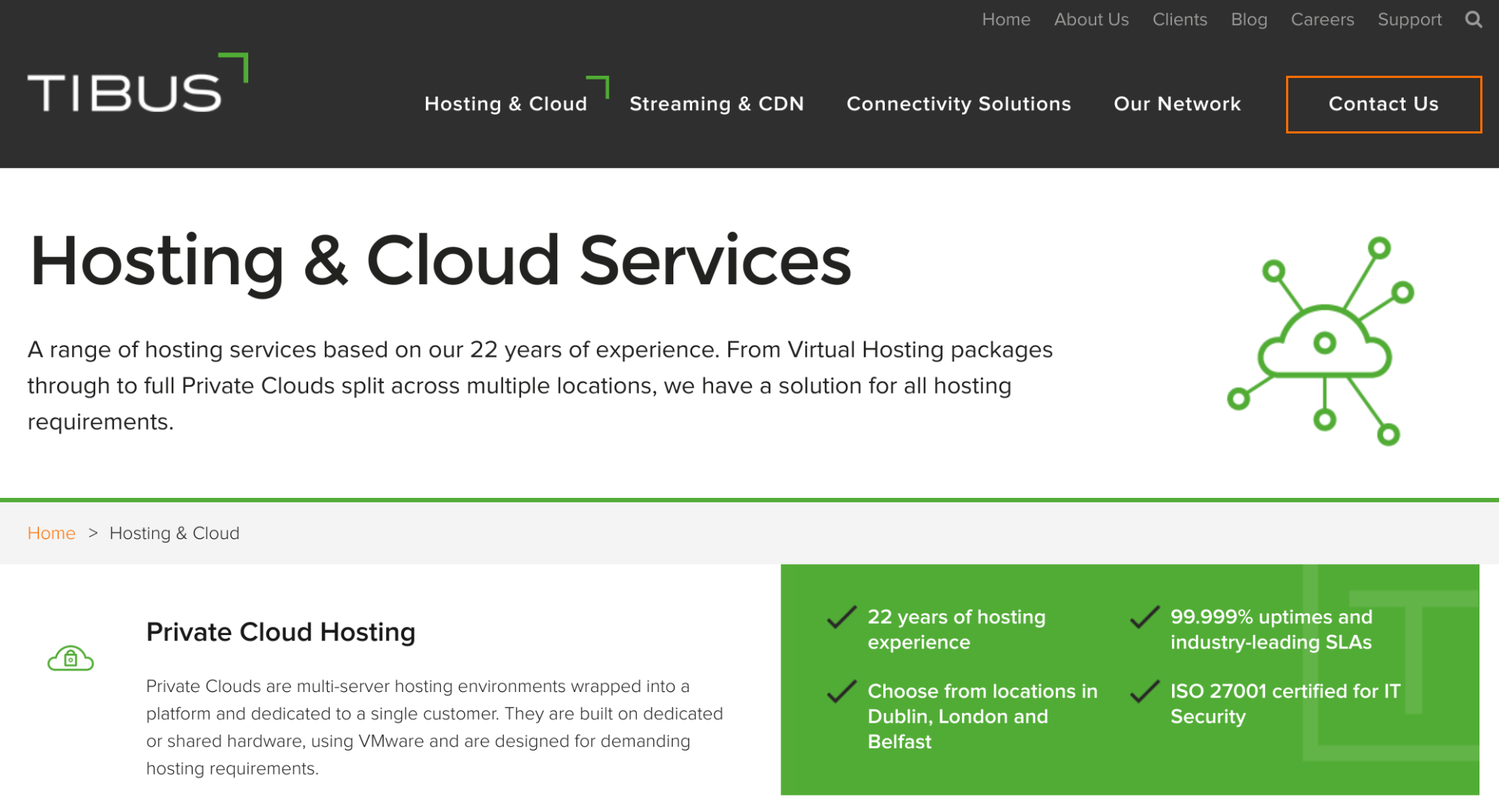 To compare the best web hosts, we hosted the same WordPress website on each one and tested performance, customer service, and value for money.
Check out the results here.
Founded in 1996, Tibus provides website hosting and streaming services to clients in the United Kingdom and Ireland. Their customers include large enterprises and public sector organizations. Needless to say, their website and support are both in English.
Features and Ease of Use
Tibus only offers enterprise-level website hosting. They do not offer shared hosting. Their services include dedicated website hosting, virtual private servers, hybrid cloud servers, colocation, streaming and CDN, and connectivity solutions.
Some of the features included as standard in their hosting packages are:
999% reliability
ISO 27001 certified for IT Security
6 geolocated data centers
Daily backups
IPv4 and IPv6
Veeam cloud connect backup (additional cost)
Since Tibus targets premium features to large businesses and enterprises, they are too expensive to appeal to smaller businesses. Their servers are housed in Tier III or Tier IV data centers in Dublin, London, and Belfast, which means 99.8 – 99.9% uptime is guaranteed. There is also a full backup system in case of outages or faults.
I really like the transparent process for onboarding new clients. Unlike shared hosting providers, getting set up with a dedicated server or virtual private server is more complicated, and each new client has their own specific set of requirements. However, Tibus does a great job of mitigating this issue and making it less daunting by displaying a clear process (an "order of play") on their services pages. So, instead of a one-size-fits-all package, Tibus is able to work with your company to create a bespoke solution that includes a service level agreement (SLA) designed to meet your business needs.
Pricing and Support
Tibus does not advertise any specific plans or prices. Small businesses seeking the best deal might find it slightly inconvenient, but Tibus focuses on providing customized solutions for large enterprises. When I requested a quote based on my specific needs, I was glad to receive a response that aligned with prices offered by similar local and international competitors.
You can contact Tibus technical support in several ways: telephone, email, or social media channels. Sadly, they do not have live chat, which is my preferred contact method. I was able to summon assistance via Facebook Messenger, but it took almost 24 hours to receive their friendly and well-informed response.