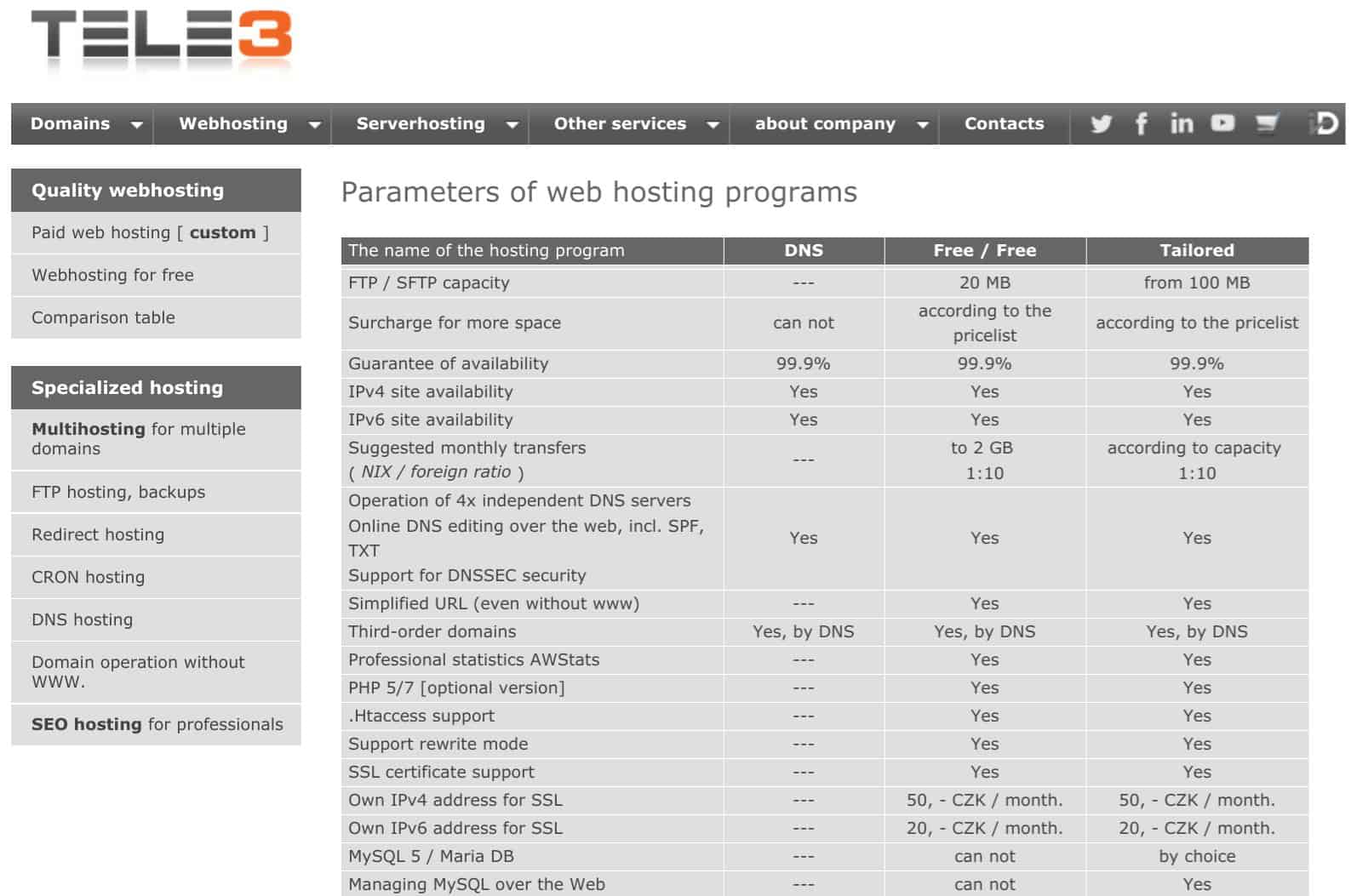 Since its founding in 2005, TELE3 has become a well established hosting provider in the Czech Republic. They operate more than 200 servers located in Czech-based data centers, and their distinctive offerings include SEO hosting and free hosting. Their website is in the Czech language only.
Features and Ease of Use
TELE3 offers the usual range of website hosting services: shared hosting, multi-hosting, and dedicated server rental. Additionally, they offer some unusual packages including free hosting and SEO hosting.
The key features included in their shared hosting plans are:
9% availability
Automatic backups every 24 hours
Domain registration available at additional cost
SSL certificates available at additional cost
From 100 GB to 3 GB disk space
One of TELE3's distinctive offerings is their free hosting plan that includes 20 MB of disk space and is intended as a no-cost way for new users to test the interface. They also have a social element to this plan, which they state as being for "less wealthy internet users – especially students and women parents."
The other distinctive offering is their SEO hosting that offers multiple IP addresses per hosting plan. They offer IPv4 and Pv6 addresses in the A and B ranges (rather than the more common class C) which may be beneficial for SEO purposes.
Their shared hosting plans also have some nice features that can be fully customized at the checkout. For example, you can customize the disk space, select the number of mailboxes and MySQL databases, and choose your preferred PHP version from 5.6 to 7.2. These customizations offer great flexibility for experts, but beginners may find them a bit complex and may need to research the specifications before making a decision.
Pricing and Support
While I applaud TELE3's approach to helping people in need by offering free plans, I do think that it's definitely worth paying the fees to benefit from the features of the paid plans. Even selecting the highest specifications (3 GB disk space and PHP 7.2) at the checkout resulted in a very affordable price. Just keep in mind the small additional costs for SSL certificates and domain registration.
Hosting can only be bought in one-year terms. There are no setup charges, but there are also no incentives to join. And no money-back guarantee. The best approach may be to test the quality of their services using the free plan, then easily upgrade to a paid plan.
In contrast to the attractive price plans, the customer service options leave something to be desired. Contact can be made only via telephone and email during their business hours of 10 am to 6 pm on weekdays. And in my experience, they respond relatively slowly. There is no live chat, no Facebook, and no knowledge base for those of you who like to support yourselves.