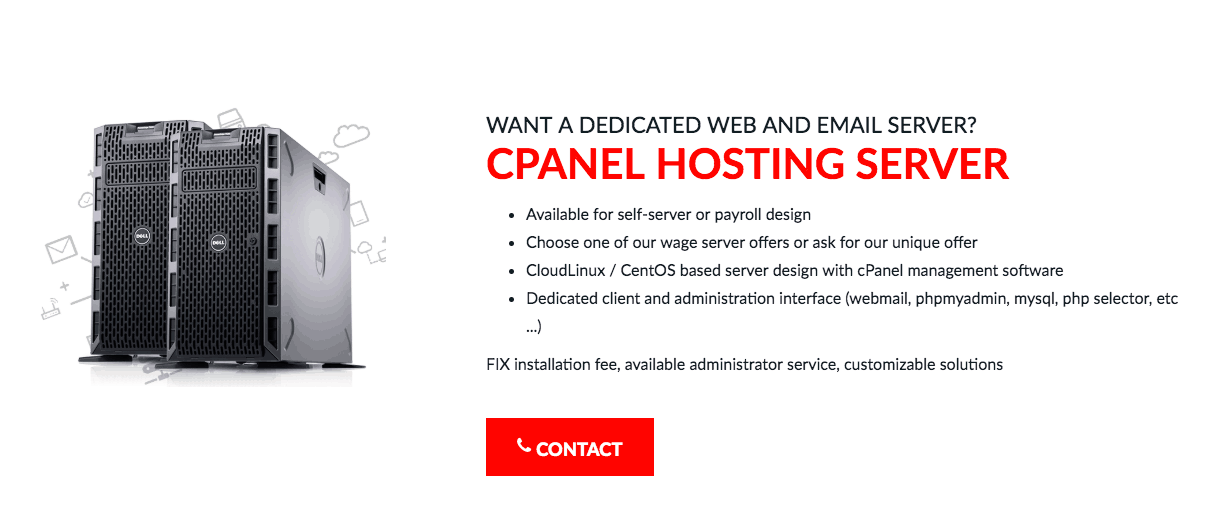 Szervernet is a
Hungarian hosting company which has been in business since 2005.
It sells a range of services as well as regular shared hosting and the website is available in Hungarian.
Features and Ease of Use
This is a full-service host offering a good range of services including server rental, domain registration, cloud hosting, and so on. To give you an idea, the shared hosting plans come with the following core features:
Daily data backups
Domain registration available
Up to 20 add-on domains
Free SSL certificates
Up to 100,000MB disk space
Unlimited monthly bandwidth
The shared hosting plans all run on CloudLinux / CentOS operating systems and give customers cPanel access. There are all of the usual features you'd expect, such as support for PHP (versions 4 through 7), phpMyAdmin, FTP, and MySQL databases.
If you're looking for an all-in-one bundle, you can choose the "Small Web Host" package which includes hosting, an .hu domain name, cPanel management interface with FTP, email, web, and database functions.
Szervernet includes various security features (firewall, antivirus, and daily data backup) but nothing too groundbreaking. From the website, it's not clear if there are any beginner-friendly features as there isn't a website building tool or one-click installer advertised – I tried to confirm with support, but I couldn't get a hold of the team.
Unless there are more features than explicitly advertised on the website, these aren't the most comprehensive plans. However, the nice thing about Szervernet is the option to scale. If you might need to expand your online presence in the future, Szervernet offers VPS, dedicated servers, and colocation.
Pricing and Support
The prices are listed in Hungarian Forint and are good value for money, compared to both local and international competitors. The catch is that you can only sign up for annual terms, which isn't super flexible, but it's quite common with this type of budget brand.
Whilst SSL certificates are included in the hosting plans, you'll need to pay for a domain name. Plus, make sure to keep in mind that VAT is added on top of the displayed prices, which significantly increases the monthly fee when you proceed to checkout.
It's good to see 24/7 customer service via phone and email. You can contact individual departments e.g., sales, invoicing, technical, or a dedicated 24-hour number. There's a minuscule help desk, so if you need support you will need to get in touch.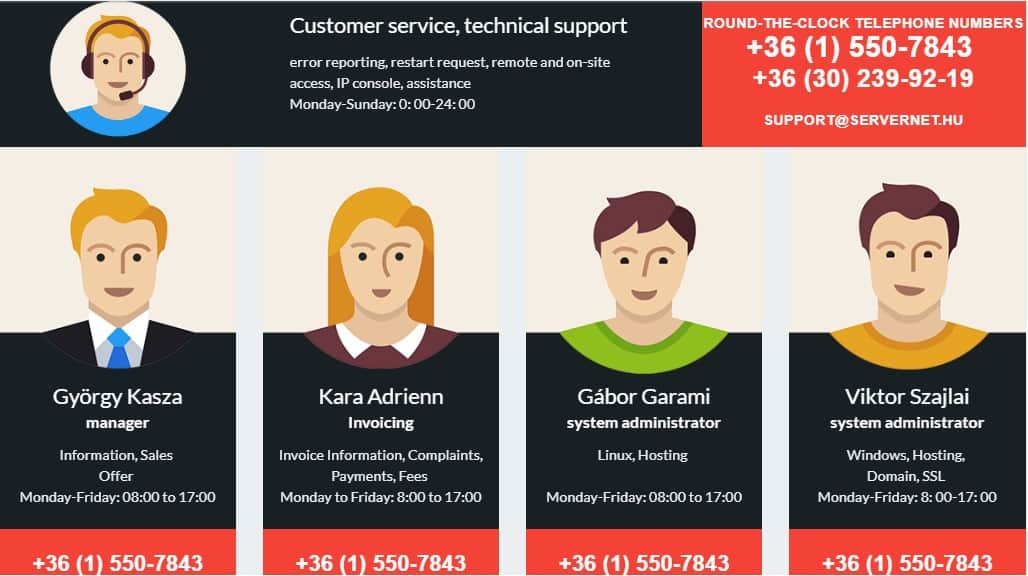 I contacted the team via email at around 11:30 a.m. UK time on a Tuesday morning. I wanted to confirm whether there is an uptime guarantee or if there are more beginner features than displayed on the website. I was disappointed that I did not receive a reply, despite waiting for three business days.