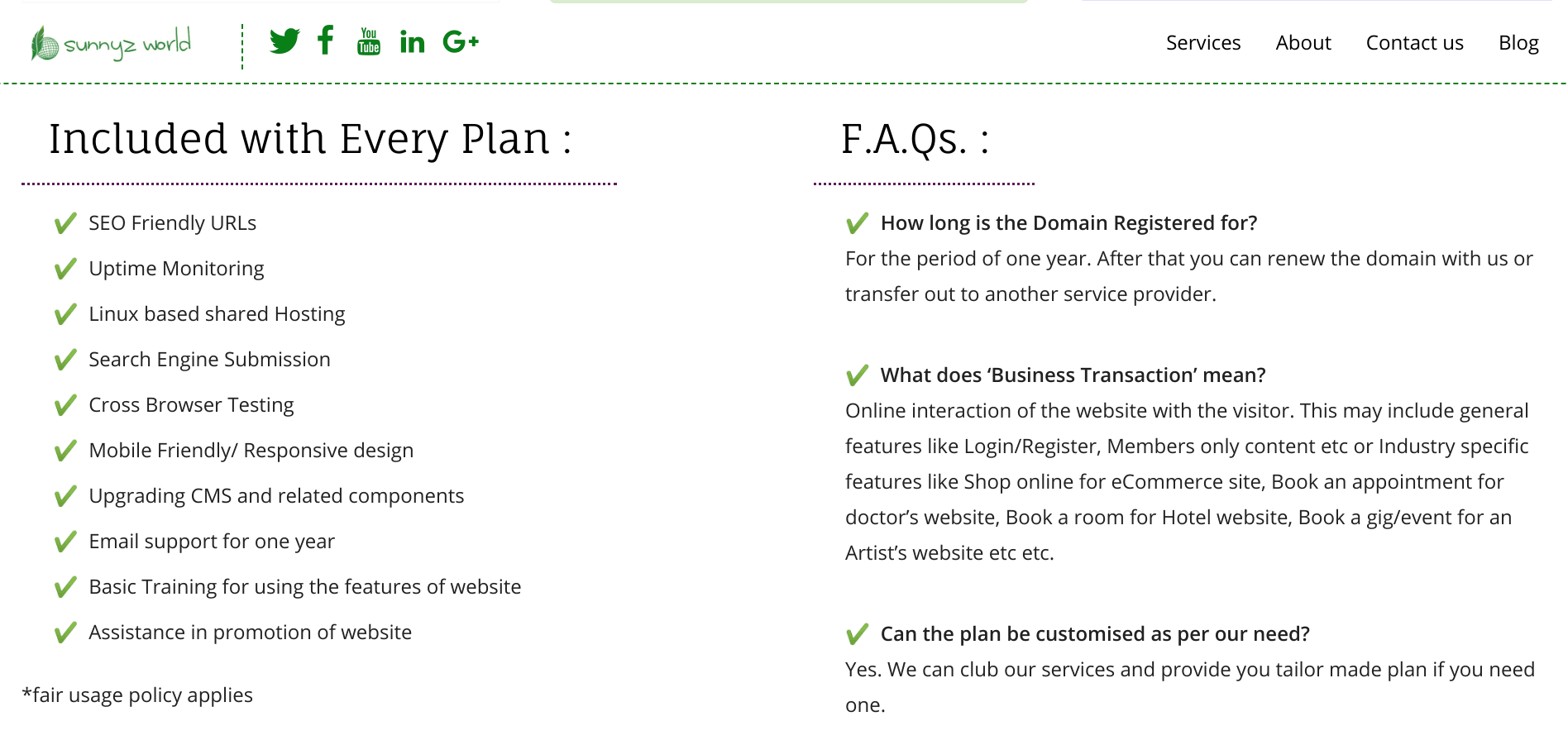 Indian company SunnyZ World has been in the website creation business since the year 2000. It offers services to design, develop, and deliver your website, with the 'deliver' part including hosting, search engine optimization, and social media marketing.
Features and Ease of Use
SunnyZ World does not offer the typical shared web hosting, VPS, or dedicated server solutions. Instead, it provides web design services that include a hosting element.
Some of the hosting features included in these web design solutions are:
Linux-based OS
Cloud backups
SEO-friendly URLs
Google Analytics integration
Uptime monitoring
Search engine submission
Cross-browser testing
SunnyZ World has two main hosting plans: the Business Websites package and the Continuous Updates and Support Program (C.U.S.P.). The type and frequency of backups depend on the plan you pick.
The Business Websites package lets you choose between the Basic, Advanced, and Premium plans. The Basic plan includes 1 GB hosting space, template-based design, and up to 5 email accounts. The Premium plan provides unlimited hosting space, customized design, and unlimited email accounts.
The C.U.S.P. solution comes in three variants: Bootstrap, Venture, and Corporate. The Bootstrap plan is best suited to hosting small websites. It comes with 3 GB optimized cloud hosting, basic social media integration, 5 unique page designs, 10 images for social media (per month), and up to 3 pages for A/B Testing (per year). The most advanced Corporate plan includes 20 GB optimized cloud hosting, advanced social media integration, 12 unique page designs, 25 images for social media (per month), and up to 10 pages for A/B Testing (per year).
Pricing and Support
SunnyZ World's plans are pretty expensive in pure hosting terms, but this is not pure hosting due to the design and development aspects. Prices are listed in Indian rupee, and there are no openly advertised refund policies or uptime guarantees.
Customers can reach out to SunnyZ World's customer support team via telephone or email, but there is no live chat or ticket support, and the support is not 24/7. My attempts to contact the company were fruitless, and my email received no reply. Unfortunately, there are no self-support resources to help me answer my own questions… or yours.