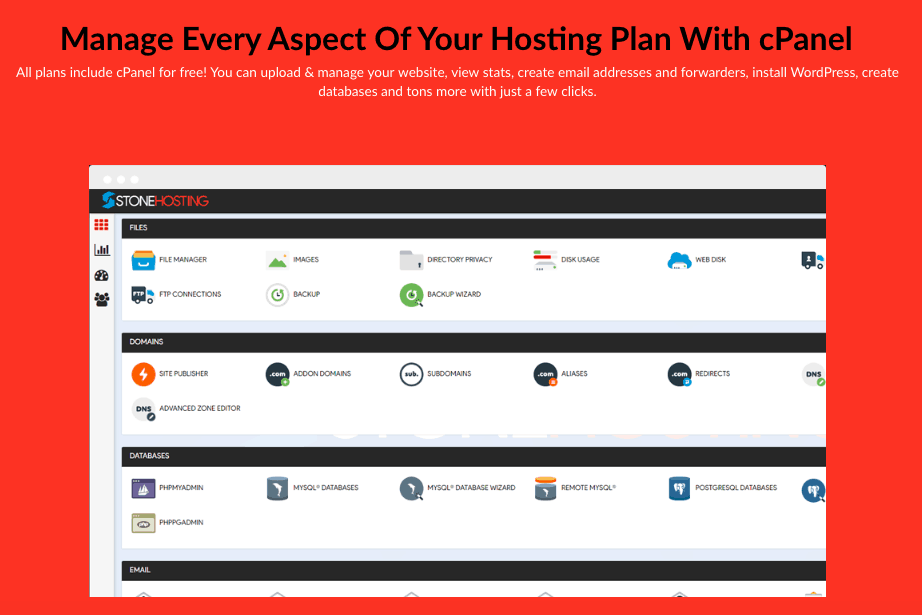 Stone Hosting has been providing hosting since 2013, and now has
multiple racks in the U.S., U.K., and Europe and more than 1,000 customers
. By 2017, it introduced unlimited hosting plans and business hosting plans. The company is based London, U.K., and has an English language website.
Features and Ease of Use
This is a full service hosting company with a full range of services. The shared hosting plans, UK Web Hosting, come with these core features:
99.9% true uptime guarantee
Backups wizard
Free domain name in some plans
One, five, 50, or unlimited add-on domains
Free SSL certificate in some plans
1GB to 50GB disk space
Unlimited bandwidth
Stone Hosting has two U.K. based data centers, one in London and one in Gosport, which generally means you should get a quick response time to issues and less change of resources being oversold.
All plans use cPanel, an easy-to-use and reliable control panel and there's a solid 99.9% uptime guarantee, offering a prorated credit for any excessive downtime.
The website is simple to navigate and the plans include some nice, beginner-friendly features. All shared hosting plans come with a one-click installer (unspecified number of programs) and a Weebly website building tool, which can also be bought as a standalone product without hosting. You'll even get a free website migration.
All plans come with cPanel and all of the usual features i.e., MySQL databases, phpMyAdmin, remote SQL connections, and FTP accounts. There's also several performance enhancing features thrown in such as a free Cloudflare CDN, Virus Scanner, Hotlink & Leech Protection, and IP Management.
Pricing and Support
The prices are okay, certainly not the cheapest I have seen, however, not bad considering this company owns it own U.K. based data centers and offers a solid uptime guarantee.
If you only need one domain, the cheapest plan, Solo, includes all of the same features as the higher-tier packages, with less disk space. If you need 50 or unlimited domains, expect to pay a premium.
The highest package includes a free SSL certificate and domain, while the second highest plan includes one free domain name, which goes some way to counter the high price.
The cheapest plan can only be bought in a one-year term, while all other shared hosting plans can be bought in monthly or yearly terms. There's a small discount if you purchase a year upfront.
In terms of customer service, there's a "Support Hub" which includes a wide variety of methods through which you can get help. Firstly, if you want to get support from a representative, you can email, send a Facebook or Twitter message, open a ticket, or call the team 24/7. Secondly, if you prefer to research first, there are help documents and an FAQ section.
I tried contacting support before 9:00 a.m. and after 11:00 a.m. on a weekday by live chat and no-one picked up, even though live chat appeared online. Both times, I received an auto-response stating that the team was busy and to try back shortly.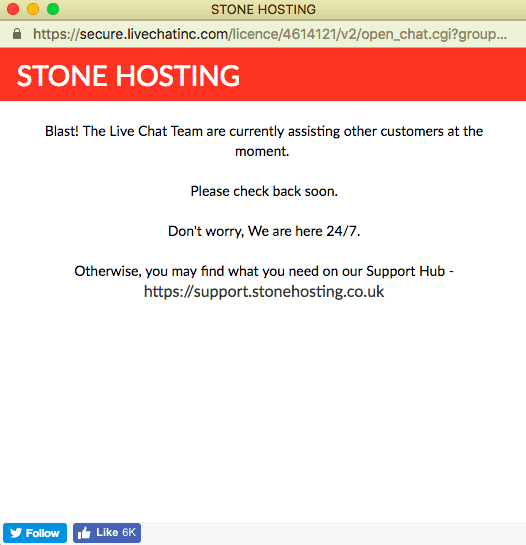 While I was waiting, I submitted a support ticket and, as you can see from the timestamp, I received a response within 30 minutes answering my questions in full.