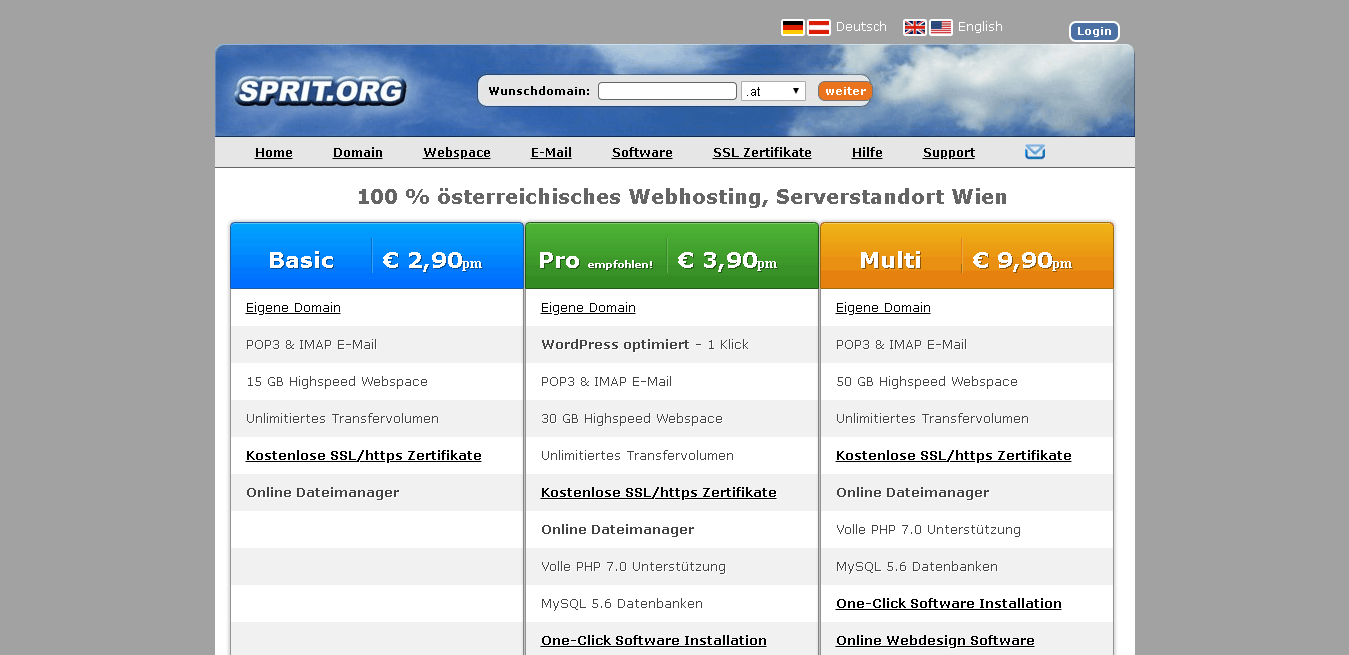 To compare the best web hosts, we hosted the same WordPress website on each one and tested performance, customer service, and value for money.
Check out the results here.
With more than ten years of experience in the industry, SPRIT.ORG is an Austrian web hosting company based in Vienna. More than 30,000 webmasters already rely on their services, and their clients include some big names such as Sony, BAWAG, and ABB. SPRIT.ORG's products are basic shared web hosting solutions with big enough resources for media-rich sites. This provider's website can be switched between the German and English languages.
Features and Ease of Use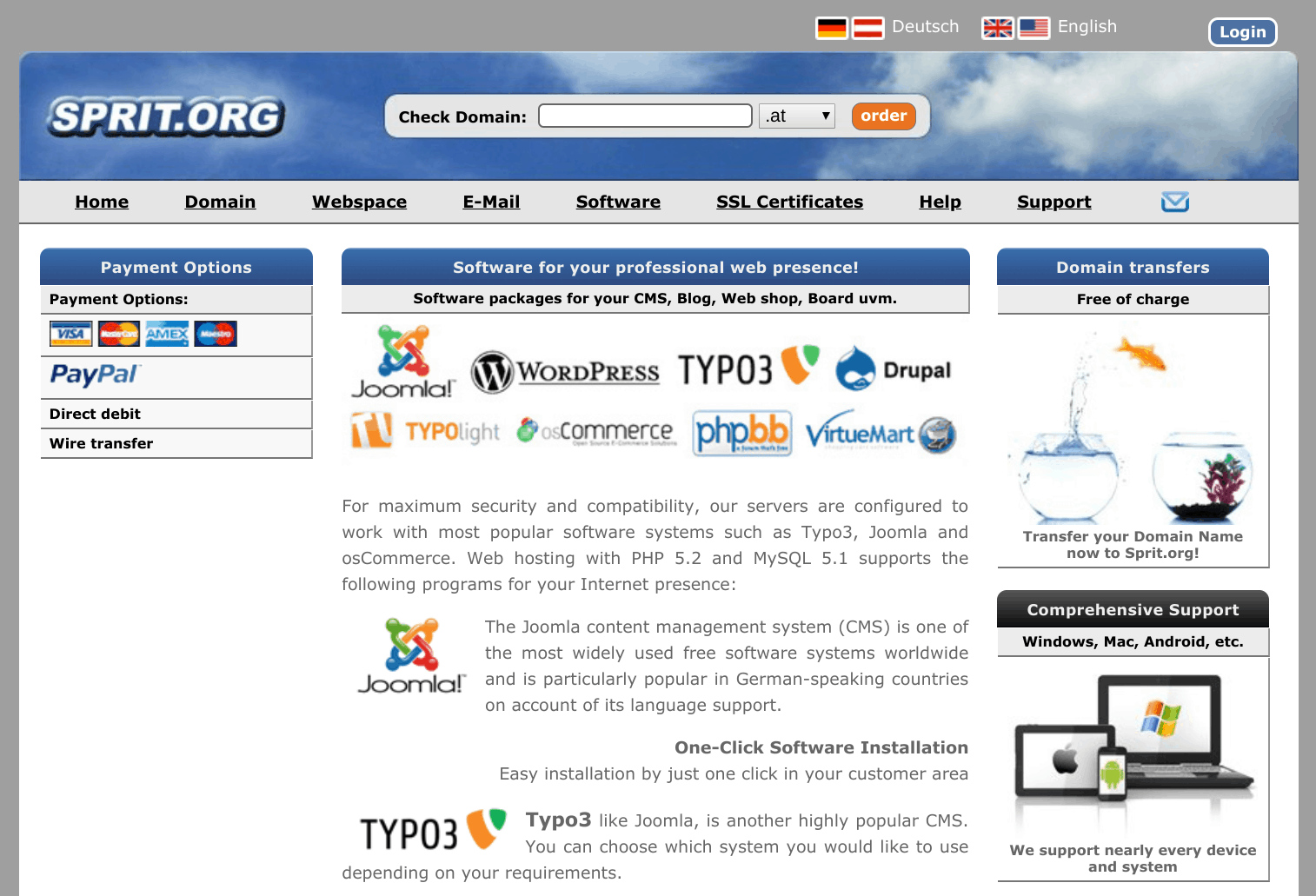 While SPRIT.ORG is missing one or two features, they do provide a basic range of plans with everything you need to successfully host a website on shared infrastructure. They also offer all of the following:
Domain registration (free domain for the first year)
Free SSL certificates from Let's Encrypt, plus purchasable certificates
Data backups
Multidomain hosting for up to 30 domains
Unlimited data transfer
Relatively high storage limits of 15 GB, 30 GB, and 50 GB
SPRIT.ORG's servers are housed within data centers located in Vienna, Austria, which makes this a hub for network infrastructure in the region. With highspeed connections and multiprocessor systems, you should get good hosting performance.
Although the Basic plan is sold for a simple web presence, you should be able to house a large website with 15 GB of storage and unlimited traffic. You also get unlimited subdomains and free Let's Encrypt SSL certificates, but not the multidomain hosting that is limited to the Multi plan.
All products come with a browser-based control panel and a one-click script installer, so you can install the most important web apps such as WordPress, Joomla, and Drupal. PHP, MySQL, and Perl are also provided and supported. Their solutions also come with iWeb support, password-protected areas, and website statistics tools.
The email functionality of the service includes unlimited accounts, 3 GB to 10 GB of email storage, support for POP3/IMAP/SMTP protocols, 256-bit SSL encryption, compatibility with multiple devices, and the ability to blacklist spam. You'll have all the features you need for a complete email experience.
Pricing and Support
While not the absolute cheapest, SPRIT.ORG's simple and straightforward shared web hosting packages are definitely still at the lower end of the price spectrum. What does make their prices almost unbelievably low is the list of additional freebies: a free domain for the first year with annual billing, a free Let's Encrypt SSL certificate, generous storage limits, and unlimited data transfer. SPIRIT.ORG also doesn't charge any setup or registration fees, and will also help you migrate your website for free.
Yes, there's a catch. With no money-back guarantee and no short-term billing option, you need to be confident about committing for at least a year.
SPRIT.ORG doesn't really do 24/7 support, so it's a bit hit-and-miss in terms of whether you'll get a response if you request support outside of their core office hours. Response times during business hours are good, and the excellent support people do have some sense of urgency when solving your issues. They offer a callback service for when they're not immediately available, and they also publish an FAQ section, but sadly no knowledge base.
How much does SPRIT.ORG cost?
SPRIT.ORG offers plans from $3 to $11. The price depends on which type of hosting plan you choose. You can see the updated pricing table (updated weekly) below.

Which SPRIT.ORG plan should I get?
My recommendation is to start with a cheaper plan. You can always upgrade later on. SPRIT.ORG can help you with the migration to a more expensive plan. The increase in visitors many times takes longer than expected and you shouldn't pay a lot of money until the need arises. Of course, your needs may vary, and you can consult with a hosting expert from SPRIT.ORG here.

How good is SPRIT.ORG's customer support?
SPRIT.ORG is not ranked as one of our top web hosts. But that can also be a result of SPRIT.ORG being a small, under the radar, hosting provider. There are advantages to a small hosting company – as a customer, you are more important to them. You can also check out our comparison of the most popular web hosting services here.