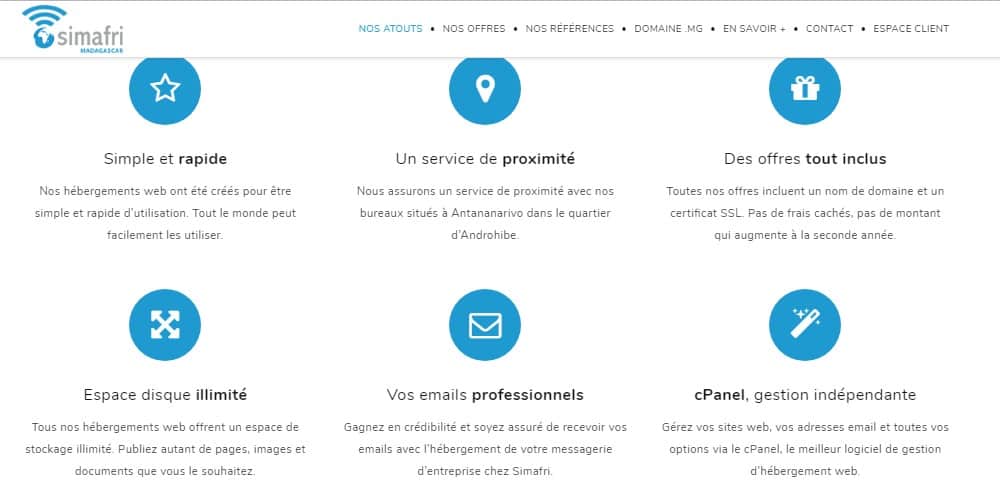 Simafri is a Madagascar-based hosting company offering shared and CMS hosting services. Established in 2002, Simafri currently has over 800 customers. The hosting firm offers an array of web services including
domain name registration, free SSL certificate, and a website builder
.
The Simafri website is only available in French but they offer support in other languages including: English, Portuguese, Romanian, Russian, Svenska, Turkish, Azerbaijani, Catalan, Chinese, Estonian Persian Italian Macedonian Norwegian, Arabic, Danish, and Ukrainian among others.
Features and Ease of Use
Simafri's web hosting solutions contain the following standard features:
Softaculous 300+ one-click script installs
Unlimited MySQL database
cPanel control panel
Antivirus and antispam
PhpMyAdmin
Free SSL certificate
Unlimited subdomains
Supports Prestashop, Magento, Joomla
Simafri's servers are housed in high-end data centers located in the U.K., France, Ireland, the Netherlands, and the U.S. The servers are designed to host even the most demanding websites receiving high traffic volumes, with redundant hardware components designed to avoid frequent blackouts and an internet connection of at least 10GB. By default, Simafri servers run on LAMP configuration which includes Linux, MySQL, Apache, and PHP. That said, customers can also get access to other configurations upon request.
Simafri claims to be the only hosting provider offering unlimited disk space and unlimited traffic in Madagascar. The vendor offers storage space of up to 40GB with servers powered by last generation processors which contain at least 32 cores. Simafri does not offer backup services and encourages users to backup their website in external servers elsewhere.
The vendor offers an easy to use cPanel control panel where, among other things, users can perform their own backups, manage FTP, and manipulate databases with phpMyAdmin. Their website is easy to navigate, but some sections and icons of the website are unresponsive.
Pricing and Support
Simafri web hosting solutions are pretty cheap. Hosting prices are listed in Malagasy ariary. There is one billing cycle where customers can make annual subscription payments. In addition, the plans come with a discount for first-time customers. All of the packages include a free SSL certificate and domain name offered for life for as long as the customer remains a hosting customer. Simafri offers an unconditional 30-day money-back guarantee, but does not offer an uptime guarantee.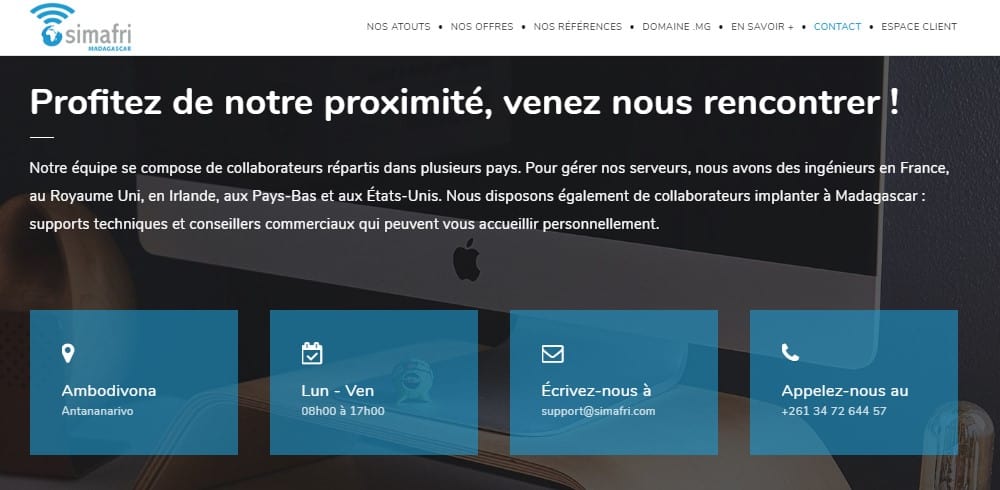 To contact the Simafri technical support team, you can use their telephone, email, or ticketing system. However, there is no live chat support. For more technical issues, customers within Madagascar can visit their offices in Androhibe, Antananarivo during business hours from Monday through Friday 8 a.m. to 5 p.m. EAT.
My conversations with this support team led me to believe that they are knowledgeable in all things hosting. They were also polite and professional. Simafri has not made available a knowledgebase or an FAQ section on their website.